The new 4-inch 2014 4WD Sierra / Silverado Lift Kit by ReadyLIFT is the lift you want for your brand new 2014 GM. If you've got yourself a 4 WD Silverado or Sierra 1500 and you've caught yourself looking at your truck already and wishing it was sitting a little higher, just ReadyLIFT it. The 4-inch SST Sierra / Silverado Lift Kit is here and with it you can get 4 whole inches of lift in the front and 1.75 inches in the rear, maintain your factory ride and fit a set of up to 33 inch tires.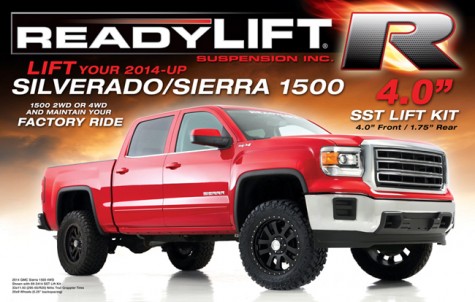 The kits are very similar to the preceding, 2007-2012 but with some improvements and changes in design to accommodate the rear mounted electric steering rack, as well as make this bolt-on part even easier to install. The 2014 4 WD Sierra / Silverado lift kit comes completely ready to install and has all necessary hardware, so now you can get the look and keep the ride you like with a ReadyLIFT 4" SST Lift Kit.
Part # 69-3414 – 2014 4-Inch SST 4 WD Sierra / Silverado Lift Kit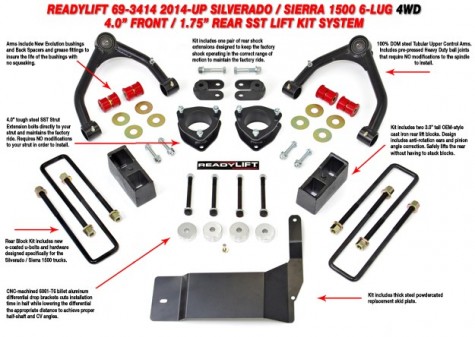 ReadyLIFT maintains one step ahead of the curve with the new 2014 4-inch SST 4WD Sierra / Silverado Lift Kit, making a new system for the differential drop, incorporating a newly designed skid plate. They've also made changes to the spindle and upright that allows use of the super strong heavy duty ball joints which were developed for the GM 2500HD ReadyLIFT kits, and come pre-installed in the tubular steel upper control arms. To make the kit even better it includes newly designed UCA inner bushings and washer backing spacer sleeves, which help greatly prolong the life of the bushings. Still what may be considered the best part about the SST 4-inch 4WD Sierra / Silverado Lift Kit is the versatility which allows the user to install up to 33×11.50 size tires with 5.25-inch backspacing wheels.
To speak to an expert and place an order for this lift kit or other Chevy Silverado parts we carry, give us a call at (866) 250-5542. You can also check out the entire line-up we carry at STILLEN, or see all of ReadyLIFT we carry.