You want to go faster, have a more responsive acceleration and improve the fuel economy of your car? Some may think that this is too much to ask for, but the truth is it is possible and the answer is simple: Get a new air intake kit for your car or truck. Air intakes not only make your engine more powerful, but they also make your engine more efficient. Plus, you get the added benefit of a better sound and improved performance!

Generation 3 STILLEN Cold Air Intake for Infiniti G37
Why Performance Air Intakes Are Better Than Stock Air Intakes:
When designing a vehicle the factory engineers are constantly dealing with compromises. Engineers will build the best vehicle imaginable. Then another set of engineers come in and make sure that vehicle will work for 99.9% of all people. From the young, aggressive, enthusiastic teenager to the middle-aged businessman and the little old lady using the car as a mode of transport. Once the car has been toned down enough for "everyone" to enjoy the accountants come in. Their job is simply to cut costs. Is the door handle necessary? Does the car really need a windshield? We joke, obviously, but the general job is to reduce costs as much as possible. In many cases their reducing the cost of the car without actually reducing the part, working with vendors to streamline their shipping processes, making adjustments to their manufacturing plants so they run more efficiently. Now you may be asking yourself, "what does this have to do with a cold air intake?"
By the time the vehicle has gone through the various levels of engineering, there have been compromises made for various reasons. The end result is a vehicle that has been de-tuned, and softened up. In some cases this is good, in others such as vehicle performance this means the engine isn't breathing as well as it could and the performance isn't as optimal as it could be. This is where we come in. As automotive enthusiasts, we want to hear the air intake. We want to hear the engine breathing. We want to feel the additional power. All of this becomes the character of the vehicle. To accomplish this there are a few things we do differently.
Most vehicles come with a flexible intake tubing that looks like accordion tubing. This tubing creates turbulence as the air passes through. The turbulence is created by the riffles inside of the airstream. The goal when developing a cold air intake is to achieve a laminar airflow through the intake piping.
Additional benefits can come by way of a larger air filter. Factory air filters are generally referred to as "panel filters" as they are simple drop-in squares or rectangles. Most performance intakes take advantage of an oval, circular, or more three dimensionally shaped filter. This allows for a larger surface area thus allowing for better filtration, less restrictive airflow.
In most cases the factory air intakes are undersized and can create a bit of restriction in the intake path. By going with a larger diameter tubing it allows for a larger volume of air to be available to the engine.
Some companies such as Injen technologies will manipulate the airflow to increase the velocity of the air as it travels through the intake piping.
Some companies like AEM performance intakes will include a supplemental computer which can be attached to the factory MAF sensor to alter the signal being sent to the factory ecu. AEM calls this their ETI intake system or electronically tuned intake systems.
When reviewing a cold air intake, the name itself tells the story. The goal is to simply draw air from the coolest place possible. By relocating the vehicles air intake location outside of the engine bay you are getting fresher, cooler air.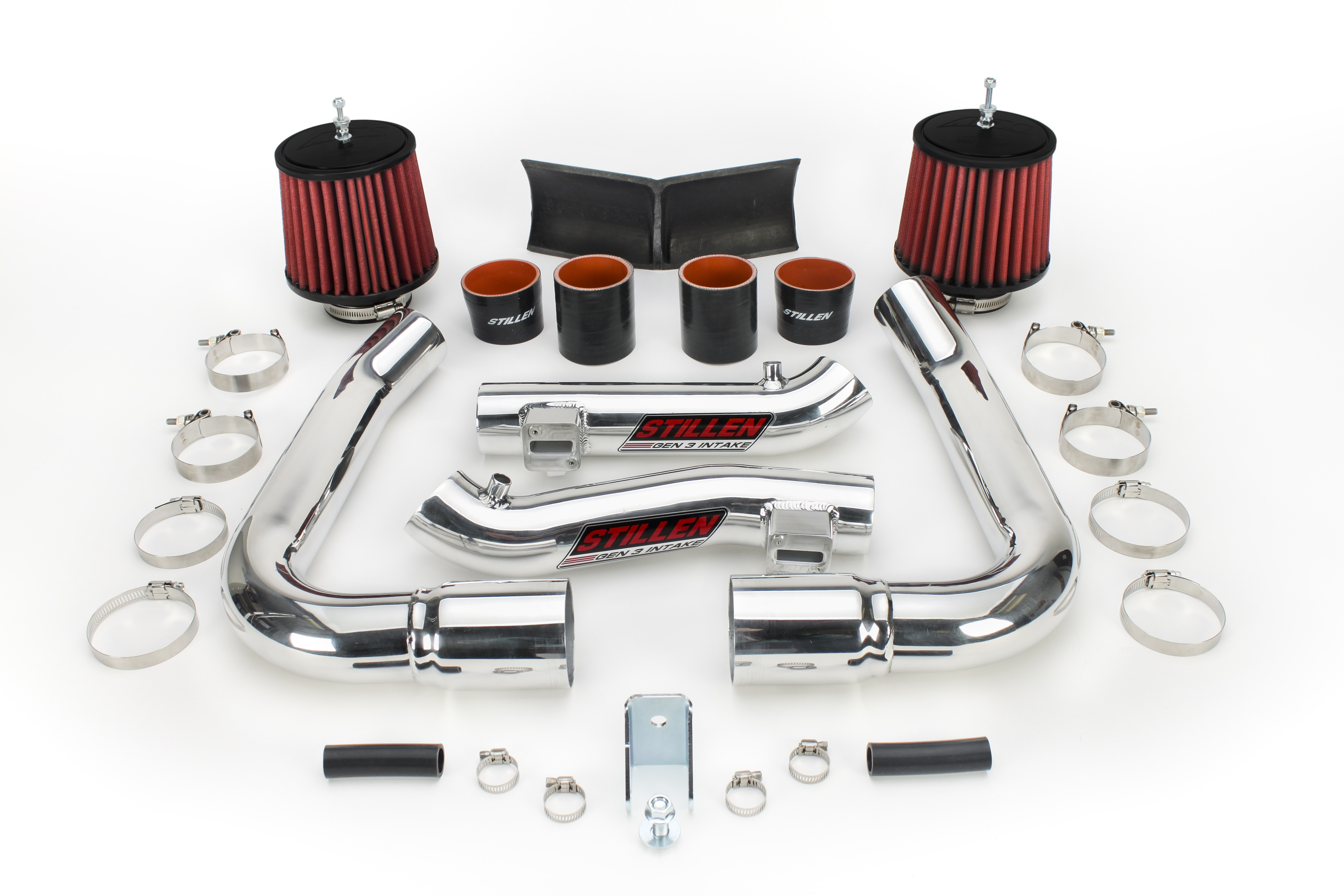 Why It Works:
Unlike stock air intakes, the design of aftermarket air intakes promote improved air flow into your engine. This increases the amount of oxygen that can be used for combustion. In turn, having additional air in your engine allows it to be more efficient – both in terms of horsepower and fuel efficiency.
Air is just like anything else in this world. It is made up of molecules and all molecules expand and contract depending on the temperatures in the environment they're in. As the temperature increases the air molecules grow larger. As the temperature decreases the air molecules shrink and therefore become more dense. By reducing the temperature of the air you are effectively making the air more dense and the same volume of air becomes more oxygen rich.
To get the lowest ambient air temperature possible you have to move the air intake location as far outside of the engine bay as you can. This is the reason we relocate the filters and intake pickups to the front bumpers or between the fender and chassis rails. The goal is always the same, move the intake port to the coolest area getting the most direct airflow as possible.
Types of Intakes Available:
Cold Air Intakes
There are two different types of cold air intakes. Traditionally and most obvious are the intakes that re-locate the air intake pickup to outside the engine bay. These usually require a bit more mechanical knowledge as often times you'll need to remove body parts such as bumpers or windshield washer bottles.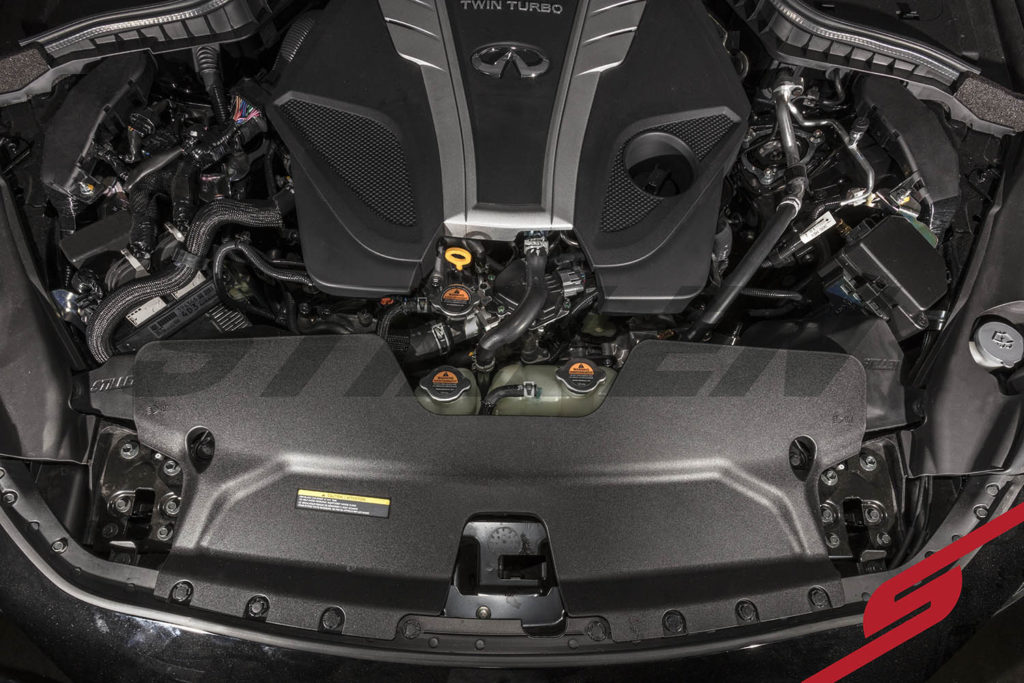 The other type of cold air intake looks similar to a factory intake with a sealed air box. The primary difference is that the air box is generally larger and in most cases re-routes its air intake location to somewhere outside the engine bay. In some cases these sealed boxes can employ ram air scoops with air being directed from lower parts of the vehicle such as behind the front bumper on many full-size trucks.
Many people prefer the OE looks of this style of intake. You also get a large air filter, and a larger air box which allows for a larger air reservoir for the engine to pull from. In most cases, these systems are the easiest "cold air intakes" to install.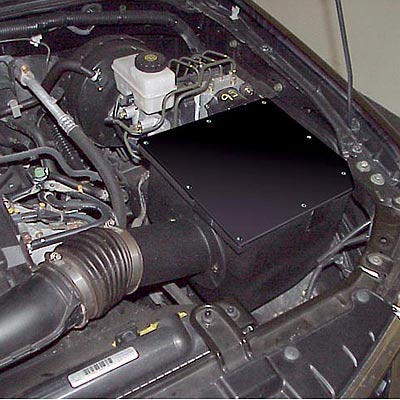 STILLEN Cold Air Intake Airbox for Nissan Titan is CARB Exempt (EO# D-436-14) and good for 15whp / 27wtq
Why We Like Them:
Offers the highest horsepower for basic applications
Prevents Ingestion of Hot Engine Bay Air
Sealed Airbox Design WILL DRAMATICALLY Outperforms an Open Intake In Traffic or Hot Days
Short Ram Intakes
These systems are identified by their short, single tube design with an open air filter at one end. If you are looking for an upgrade in throttle response, then this is the air intake for you. Another major difference between the short ram intake and cold air intake is that the short ram intake is generally louder. In most cases this type of air intake is the easiest modification you can make to your vehicle. It's even easier than changing the oil or headlight bulbs on most vehicles.
Why We Like Them:
Offers a distinctive sound and improved throttle response
Simplicity
Make Sure Your New Air Intake is CARB EXEMPT:
It is important to know your states laws and regulations regarding performance parts on your vehicle. In most states as long as you don't have any check engine lights your vehicle will be passed and you will receive your registration quickly and easily. However if you live in a state that follows the CARB regulations (California Air Resources Board) you will want to make sure that the cold air intake you are installing is legal for use and operation on the roads in your state – intakes that are permissible for use in California will feature a CARB EXEMPT Executive Order number, that exempts that part from emissions regulations. Currently there are only a few states that have adopted CARB regulations, but more states integrate these regulations every year.
If you purchase a CARB EXEMPTED intake, your kit WILL come with a decal which you will want to place somewhere inside your engine bay. We recommend sticking it next to your vehicles factory emissions decals generally located under the hood. Another easy to locate place is on the front core support directly above the radiator.
Dry Filters vs. Oiled Filters
For years the debate has raged on, dry filters are better than oiled filters, oiled filters have better filtration capabilities than dry filters. The factor of the matter is, both types of filters work very well. These days filter technology has come so far and is so good that it really comes down to user/owner preference.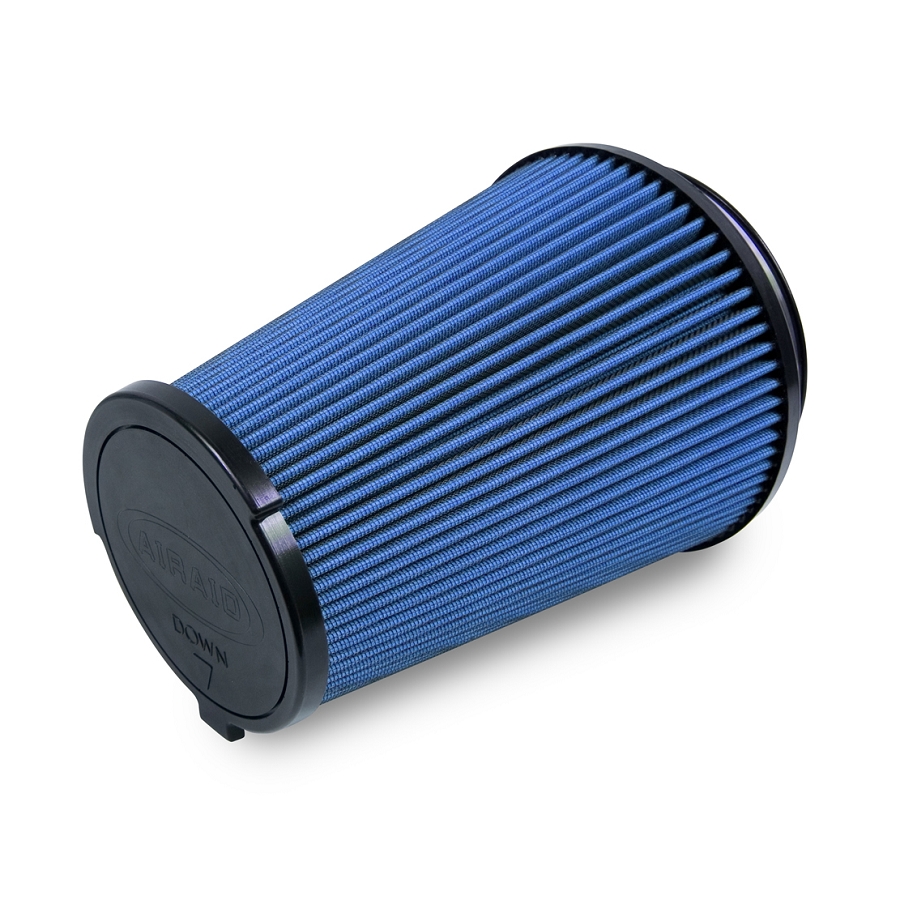 Oiled filters will not damage your MAF sensor. K&N engineering is recognized as being the first company to employ oiled filters in their intake designs. They have been testing their oiled filters for decades and continue to test their filters and oils against the latest technology coming out from the OE's. Every time they test their products they find that there is no damage being done to electronic components or engine internals caused by their oils. For more information on this visit the K&N website here: www.knfilters.com/maf/massair.htm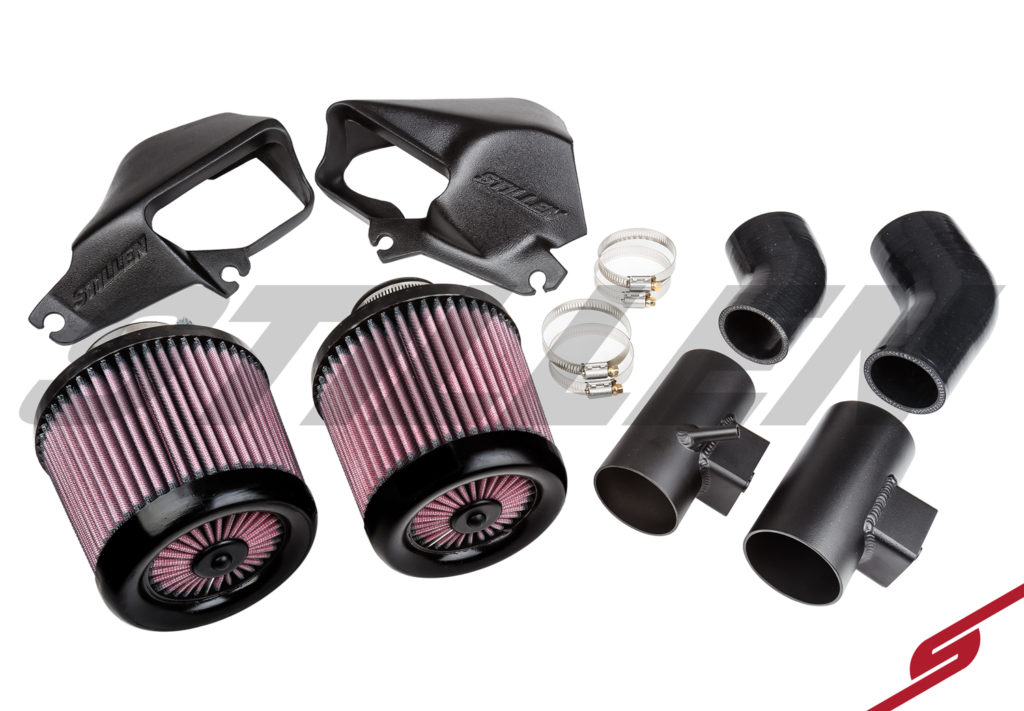 Dry filters do have the added benefit of not even being able to bring up the question about oiling issues or anything like that. As the filter is completely dry there is no way oil can get onto electrical components or into the engine. If you find yourself uneasy about the idea of using an oiled filter even after reading all of the information provided earlier, a dry filter is going to be your best option. Another side benefit is that a dry filter is typically easier to clean
STILLEN
STILLEN is the only major retailer who also designs and manufactures their own cold air intakes, and we make it all RIGHT HERE, in the USA at STILLEN HQ in Costa Mesa. Founded by Champion Racer Steve Millen, STILLEN has been manufacturing cold air intakes since the early 90's, applying our championship-winning race engineering experience to our line of performance parts for street vehicles. After all, if we can build an 800HP race car, why wouldn't we be the people to trust with your street car? STILLEN has been working with CARB to achieve exemption orders for many products since 1995. Not only do we carry all of the major manufacturers such as Injen, Airaid, Volant, K&N, AEM we also manufacture our own intake kits that are seen as the leaders in their segments, often delivering the most horsepower and torque to the wheels in their class.
Warranty
A frequently asked question is, what will happen to my warranty after installing a cold air intake? Your factory warranty will not be affected by installing a non-factory intake. The dealership/manufacturer has to definitively prove that the modification made to the vehicle caused the issue your vehicle is experiencing. It is important to know your rights on this: www.consumer.ftc.gov/articles/0138-auto-warranties-routine-maintenance
Next Steps:
When you're ready to take your car or truck to the next level, give us a call at 1-866-250-5542 and our experts will be happy to help you. We offer a variety of air intake systems including Injen air intakes, K&N air intake systems, AFE intakes, AEM air intakes and STILLEN air intakes.
What are some other ways you are increasing the efficiency of your engine?