For many years STILLEN has been recognized as a leading manufacturer of high performance parts. From exhausts and intakes to supercharger and turbocharger kits, STILLEN has done it all. Over the years questions have been asked as to why STILLEN prefers some of its manufacturing steps over other more popular standards. The best answer to this question is an explanation of the companies history.
STILLEN was founded by Steve Millen. A legendary race-car driver, he won races around the world including the 24 hours of Le Mans, 24 hours of Daytona, numerous championships in many different series, open wheel, sports car, and even Mickey Thompson off-road racing. STILLEN the company, has been manufacturing high performance parts for cars and trucks for nearly 25 years. All of the parts manufactured by STILLEN have many years and hundreds of victories and dozens of championships backing them up. We know what it takes to win races and championships on the race track as well as make parts that last for many, many years on the street.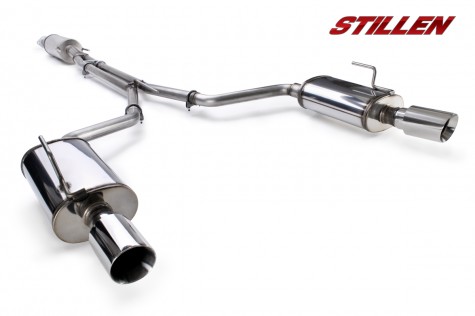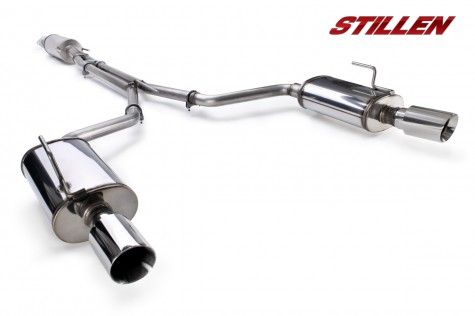 When developing a performance exhaust system the engineers at STILLEN take many things into consideration to help ensure each exhaust meets our high standards.  Here are a few top items the STILLEN team considers when developing a new exhaust system:
Power development
Sound
Quality
Fit
Finish
Ease of installation
Aesthetic appeal
Exhaust Power Development
STILLEN has been known to test many different configurations of exhaust systems before signing off on a particular design.  Many vehicles have seen as many as 15 different exhaust configurations on our dyno before testing is complete.  Our goal is to make the most power possible without sacrificing any part of the cars power band. By improving the exhaust's efficiency we can gain power across the entire RPM band.  STILLEN has been apart of numerous magazine tests on many of our performance exhaust systems and each time we are considered to be among the top performers if not the best.  One of our exhaust systems has been tested by 5 different magazines and each test has shown STILLEN to be the best exhaust system.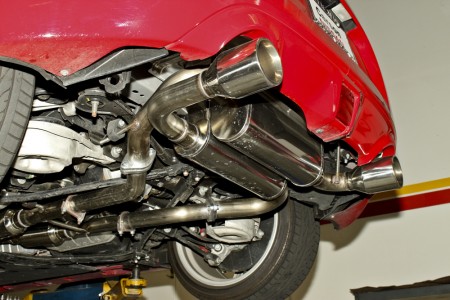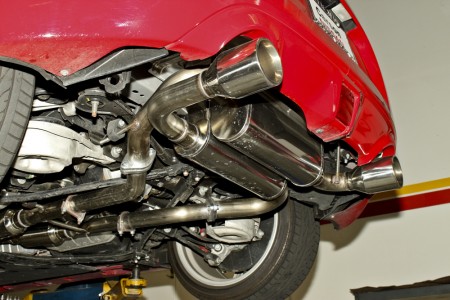 Exhaust Sound
Performance exhaust systems not only need to develop more power than stock, but they also need to offer the driver an enjoyable sound.  A "good sounding exhaust" is purely objective and is open to interpretation.  Some people like one sound while other people like a completely different sound.
STILLEN always strives for a refined sound that offers a nice blend between mild and wild. During normal driving conditions a STILLEN exhaust will offer a mild sound that is barely noticeable over stock.  Under heavy acceleration, however, the exhaust will come alive.  Letting everyone around the car know that you are all about performance and you are moving fast.  It is difficult to get the right mixture of sounds, but it is very important.  The last thing we want for you want is a droning exhaust system that drives you crazy.

Quality of Exhaust System
STILLEN manufactures all of their exhaust systems out of a combination of polished 304 and 409 stainless steel.  All of the pipes are polished 409 stainless steel and the mufflers and tips are polished 304 stainless steel.  After many years of testing and manufacturing it has been determined that the increased carbon levels in the 409 stainless steel material act as a resonance buffer.  Because 409 stainless steel is slightly heavier than 304 stainless steel, due to its higher carbon levels, it prevents harmonic vibrations that can fatigue metal and cause stress fractures.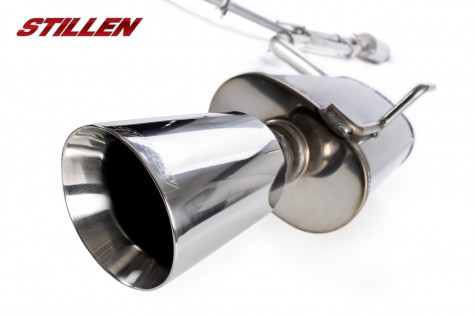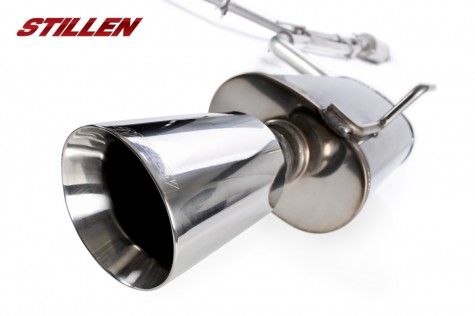 This is also helpful in preventing any drone as the exhaust pulse is less likely to hit the harmonic frequency of the metal.  304 stainless steel is better used in areas like mufflers and exhaust tips because the 304 stainless steel will not lose its luster while 409 stainless steel will dull over time.  On most of our exhaust systems the mufflers and tips are in locations that show off the exhaust system.  Because of this we want to make sure those parts are always looking their absolute best.
Fit and Finish of Exhaust
For many years STILLEN has been using exhaust clamps to secure the pipes to one another.  Exhaust flanges are ideal for one off applications, but they do not always work best in mass production.  For instance, it has been well documented that the factory exhaust on a Nissan 350Z or Infiniti G35 can come from the factory off center.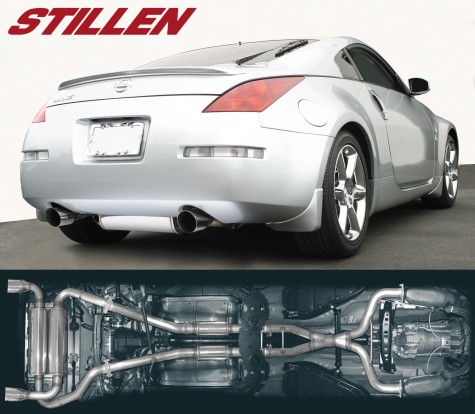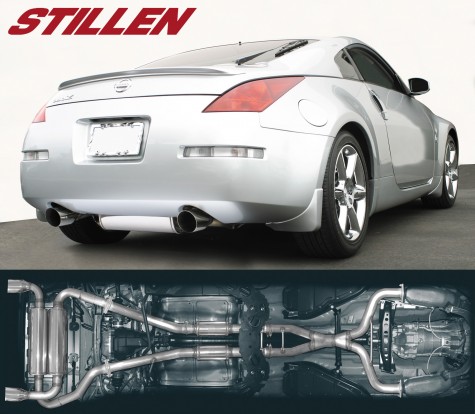 We have seen hundreds of cases where the factory exhaust either did not line up or hung too low on one side.  This problem has to do with the location of the exhaust hangers on the chassis.  Because of this there is no room for adjustment if flanges are utilized.  This means that no matter what, if you have an exhaust that is not perfect from the factory, an aftermarket exhaust will also not be perfect.  However, with the exhaust clamps that we use there is plenty of room for adjustment.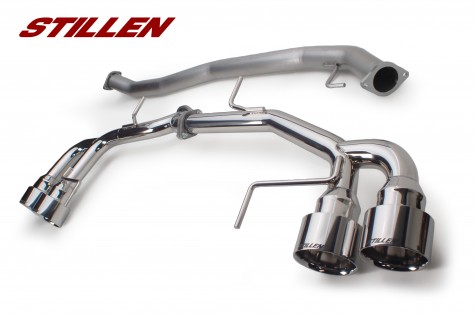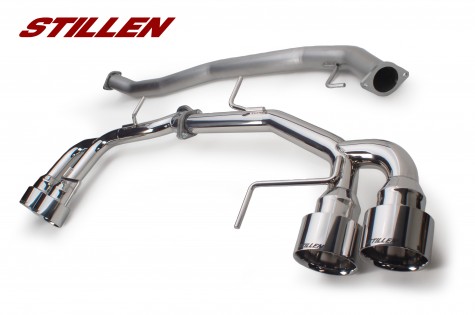 Each connection consists of one pipe that has been cross-cut and stretched to accommodate another pipe inside.  This slip joint connection allows for a tight and secure fit when the clamp is tightened, closing the stretched pipe around the internal pipe.  With this setup we have plenty of room for adjustment and no chance of leaking or mis-alignment.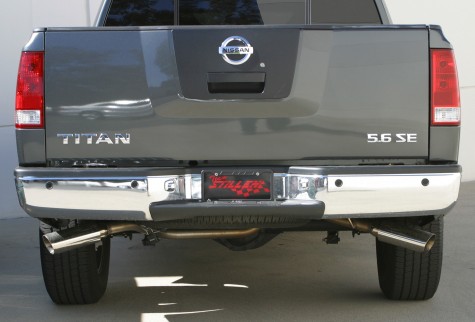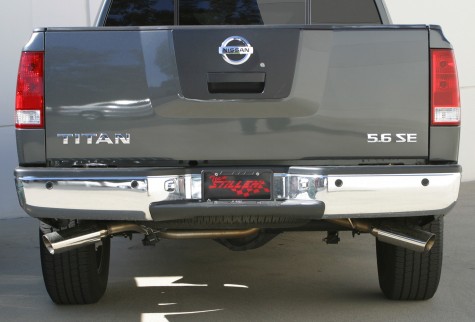 Ease of Installation of Exhaust System
Each STILLEN exhaust system is manufactured in close tolerance fixtures and jigs.  There is one master part for each fixture that is constantly put into the rotation to ensure that the fixture and all parts coming out of the fixture are perfect and identical.
Contact Us
For more information on the different types of exhausts we manufacture, please visit www.stillen.com or call 866-250-5542.