Check out the new T-Rex Torch LED Light Grille for the 10-13 Ford F-150 Raptor! If you're driving an SVT Raptor around, it's probably not your grocery getter and it only makes sense to have the very best visibility possible when you're enjoying the times OFF-ROAD. Let's face it, this is what you bought your incredible machine for!
T-REX LED Light Grilles
If you don't want to deal with the hassle or expense of putting an over-sized, cumbersome and cargo limiting light mounting system on to have a marginal amount of more light, you don't have to worry.  T-Rex has you taken care of with the T-Rex 6315661 2010-2013 Ford F-150 SVT Raptor Torch Grille! Without having to worry about much more than when it will arrive or where you can pick one up, you can have an iconic T-Rex grille in your Raptor, with an amazing array of 2 twelve inch LED light bars set to turn the night ahead of you into a well-lit path, ready for travel.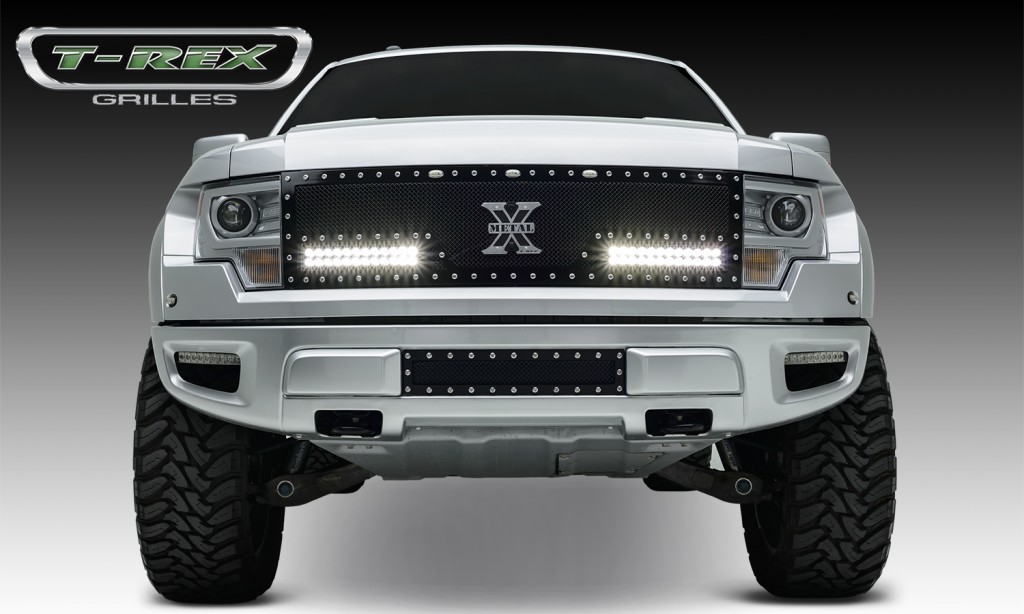 Specially designed for your very special ride and easy to install, this LED Light grille carries the large "Metal X" logo and is ready to fit right on, plug in and illuminate the road less traveled, OR not made yet. As with all of the products this innovative California local, American design and manufacturing company offers, the Torch LED Light grille is made with top quality materials and backed by lifetime structural and 3 year finish warranties.
All of the Torch LED Light grille series can be quickly and easily installed with the Optional T-Rex wiring harness 639HAR1, which is sold separately  but can easily be added to your order.  Just leave a comment in your order during check out or give us a call at (866) 250-5542 and we will adjust your order for you.
Next Steps
Like the idea of some LEDs right in your grille, but don't have an F-150 Raptor? Check out the entire line up of T-Rex Torch LED Light grilles we sell at STILLEN. To speak with and expert and place an order give us a call at (866) 250-5542, or visit STILLEN today.