So you're thinking about upgrading your brake kit, but aren't sure if you want to go with cross drilled slotted rotors vs J-hook rotors. First, both are great options and you will notice significant improvement in braking power over your factory discs. Now, it's time to discuss the differences between the two brake disc options. See below for benefits of each option.
Cross Drilled Slotted Rotors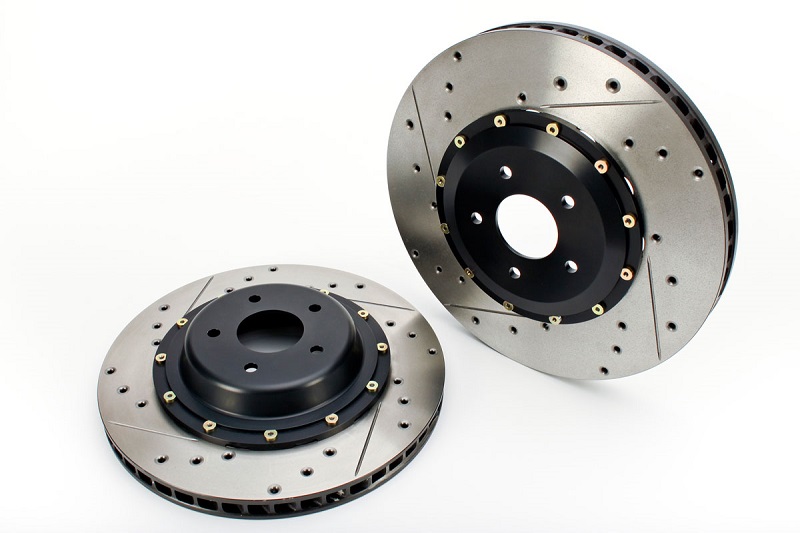 Cross drilled slotted rotors are characterized by the lines or slots that are machined into the disc and span the face of it. They also feature holes that have a chamfered edge that are drilled into the rotor and must align with the internal vanes of the rotor.
Aids in Cooling– The cross drilled design that works with vanes of the rotor to help keep your brakes cool, which allows you to push your car harder and still know that you will be able to stop without a problem.
Provides Extra Bite– Cross drilled slotted rotors improve initial pad bite with the leading edge of the hole and slot. This allows the pad to really grab a hold of the rotor and bring you to a stop faster.
Fresh Pad Surface & Optimum Performance– Get the most out of your high performance brakes with cross drilled slotted rotors. The design of the rotor allows it to evenly go over the pad and also allows for outgassing to keep the pad fresh.
J-Hook Brake Rotors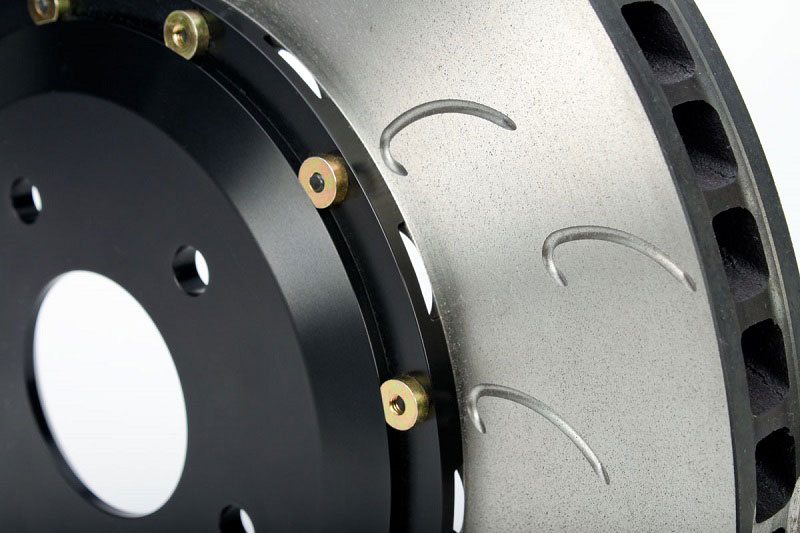 J-Hook rotors prominently feature a hooked pattern that is machined into the face of the rotor. This pattern has previously been utilized on the track and has just recently become available for general use.
Increased Durability– During the machining process, J-Hook rotors are not penetrated through the rotor. This makes the rotor more durable and helps prevent surface cracks. What this means for you is the rotors can be driven harder and at higher temperatures than other comparable rotors.
Additional Bite– If you're looking for extra bite, the j-hook rotors are the brake discs for you. Like cross drilled rotors, they provide a great initial bite on the pad and extra grip, but they take it a step further. The J-hook design provides leading edges for the brake pad that create additional bite you are looking for.
Cleaning & Outgassing– Like the cross-drilled rotor, the J-hook rotor cleans the pad surface and allows for outgassing through it slotting of the rotor face.
More Information About Cross Drilled & Slotted vs J-Hook Rotors
Learn more about the differences between cross drilled slotted vs J-hook rotors at apradical.stillen.com. We feature a full J-hook rotor page and a full cross drilled/slotted rotor page that allows you to get more detailed information about each option. We also feature a full team of specialists that are happy to answer any questions that you have. Just give us a call at 866-250-5542 and we will be happy to help you!