February 6th 1994 was a truly defining day in the career of Steve Millen. Not only did he finish first overall in the Rolex 24 Hours of Daytona, but he also took pole position and fastest lap… automobile racing's version of the Triple Crown! What made this accomplishment all the more remarkable was the fact that Steve had suffered a potentially career ending injury at Watkins Glen only 6 months earlier in which he suffered a skull fracture, broken jaw, nerve damage as well as a broken arm and ribs.
The 1994 IMSA season saw a series that was at the height of its popularity with races broadcast live on CBS, huge crowds and multiple manufacturers with factory teams running extremely competitive races. It was truly a difficult year to win races.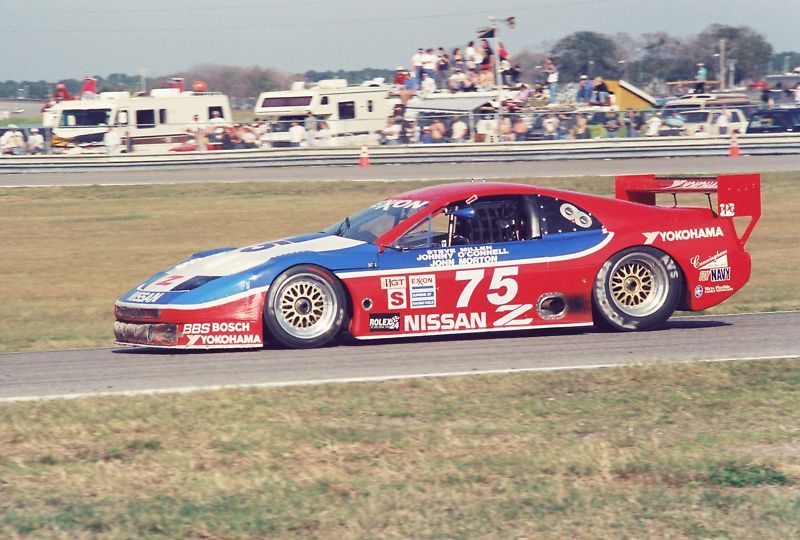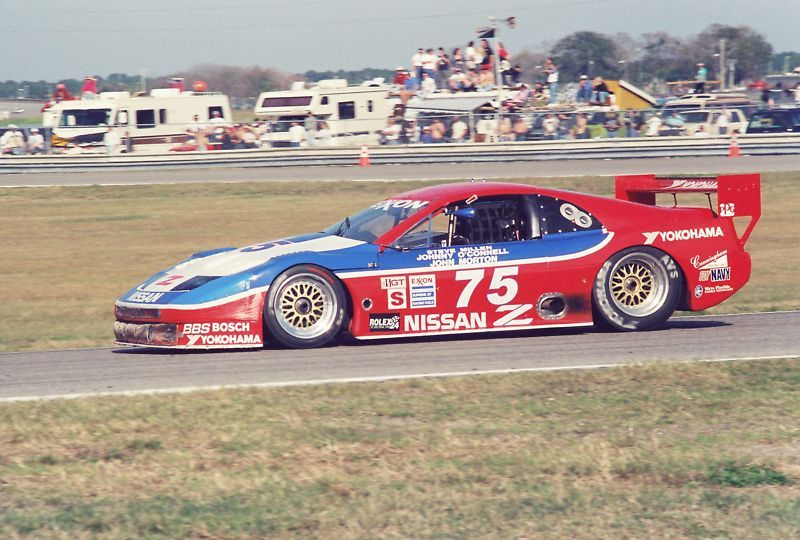 The season started out in Florida with the Rolex 24 Hours of Daytona – the Superbowl of the series, and the race everybody wanted to win. Steve's team came into the race confident after a great off season of testing where the factory Nissan 75 & 76 300ZX-Turbo cars had been run thousand of miles, making both cars fast and reliable.
Pole Position
The first goal at the track when they arrived was to secure pole position which Steve did. Getting the pole at Daytona was extremely important as over 70 cars had entered this prestigious race. Getting the pole here was more important than any other race as you "didn't want to get stuck in the back heading for that first corner with that many cars scrambling for position so early in the race". Once that was achieved, the next most important item was to setup the car so it was not only fast, but comfortable too seeing as it was going to be run for 24 hours.
As the lead driver for the Nissan factory team, Steve had the option to stay out of both cars for the first few hours until they could determine which car would give him the best chance of scoring as many points as possible. And with Daytona a bonus point race due to its length, this was even more important to get the points for the overall championship.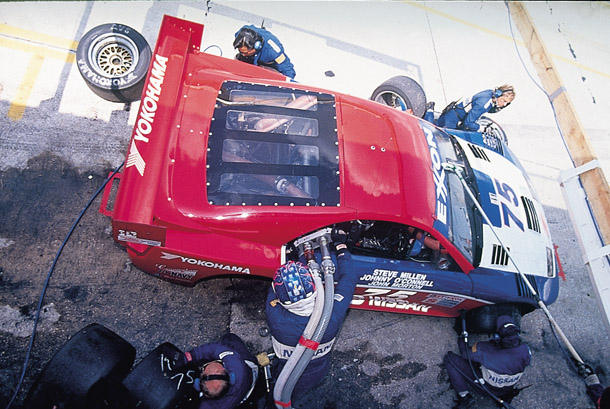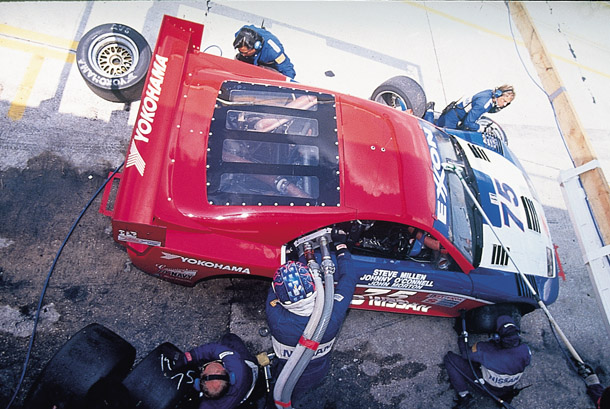 Broken Crank Shafts, Rain & Overcoming Obstacles
The 75 & 76 were comfortably running 1 & 2 after 7 hours of racing, so Steve decided to get into the 75 car he had qualified on pole. Unfortunately, while in the lead, the crank shaft broke, which took his car out of the race. Hours later, however, the heavens opened and it poured rain. Steve was pushed into duty in the 76 car being driven by Scott Pruett, Paul Gentilozzi and Butch Leitzinger.
None of them really wanted to negotiate Daytona's banked track at over 200 M.P.H., so in he went. Steve also happens to be a bit of a rain-master – A la Senna and Schumacher, who excel while running in the wet. (During his entire career, he won every race he had ever been in when it rained… probably due to learning to drive in New Zealand, where it gets its fair share of rain!) As soon as he got in the car, he started to pull away from the field, consistently running fast lap after fast lap in the testing conditions.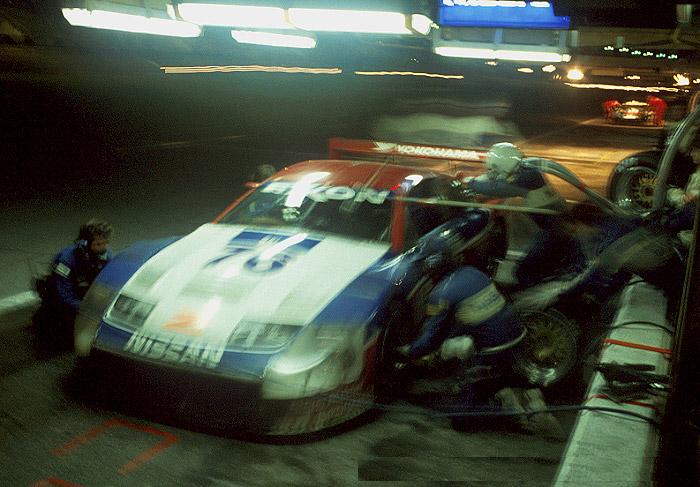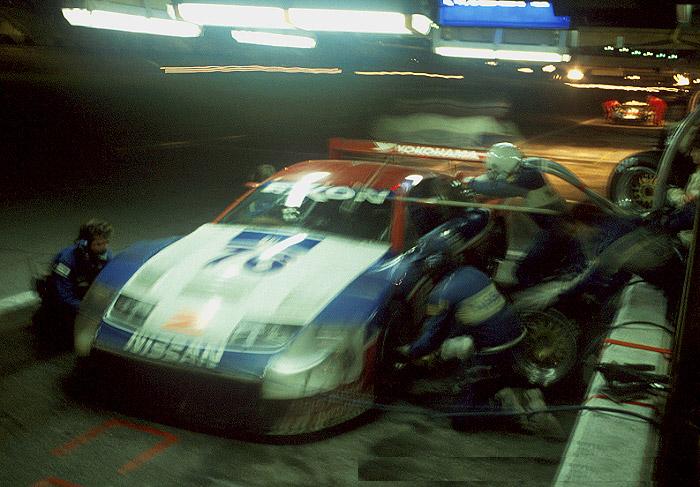 Victory!
The No. 76 Nissan 300ZX-Turbo was steady throughout the rest of the race covering in total 707 laps, 2,516.92 miles and averaging 104.80 mph. Leading for all but 111 laps, including the final 427, the team's margin of victory was a dominating 24 laps.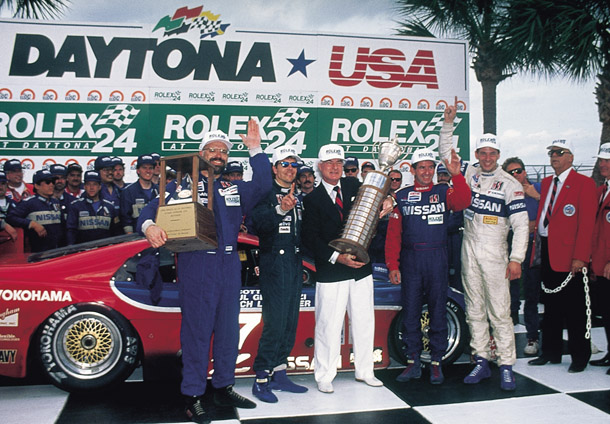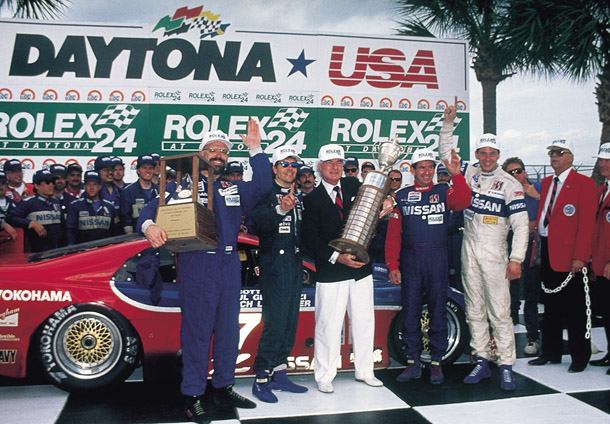 Entered as a partnership between Gentilozzi and Clayton Cunningham, the Nissan 300ZX-Turbo scored the first overall win in the Rolex 24 for a GT car since 1983 and the first win for a front-engine car since 1976.
Speedhunters.com also wrote a top notch expose covering Steve's exploits in the Twin Turbo Cunningham racing cars that season, as well as several others which can be read here.
Hear Steve's description in the video below as well as some clips from the race itself.
Learn More About Steve Millen & STILLEN
If you would like to learn more about Steve Millen and his racing career, please click here. While on the site, you can also learn more about how he turned his professional racing career into the STILLEN brand that is so well respected in the automotive industry today.  Also at STILLEN.com, you can shop a variety of aftermarket and performance parts, including the STILLEN brand of exhausts, superchargers, air intakes, big brake kits and more. STILLEN Costa Mesa, Ca. headquarters also features an expert research and development team and full service performance shop, which allows the STILLEN brand to continue Steve Millen's winning tradition!