In anticipation for what we're sure will be a busy Fall, Team STILLEN is getting ready by learning everything we can about tonneau covers so we're ready for your questions as you start winterizing your truck. To get us started, we invited the guys from Extang Tonneau covers out and had a great training about their product line.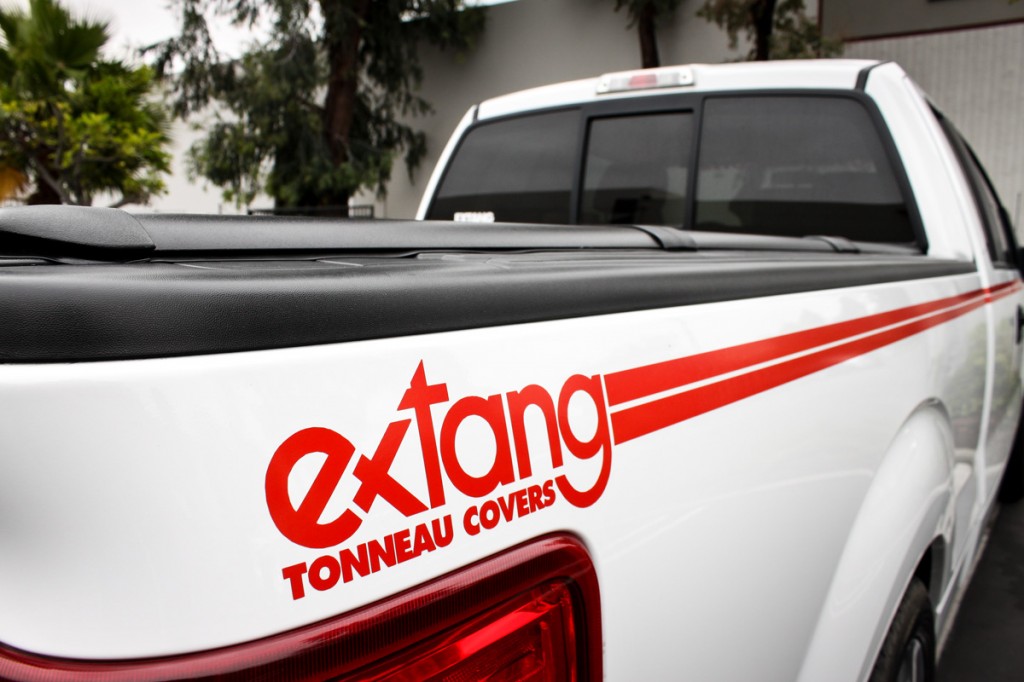 The Extang crew really goes the extra mile for their customers to make sure that they are producing a high quality product that is as long-lasting as it is functional. With their TS 16949 certification and industry's best warranty, it's no wonder they've become synonymous with durability.
Best Extang Tonneau Covers:
After the training, we have a very good understanding of their products and how to help you select the right truck bed cover to fit your needs. Here are a few of our favorites:
Most Convenient Tonneau Cover – Extang e-Max
We love this soft tonneau cover for a lot of reasons, not the least of which is just the pure convenience of it! With the Extang e-Max, you have full access to your truck bed because it folds up to the cab bed at a 90 degree angle. Plus, it's easy to install with Extang's speed clamp system, so you won't have to deal with a lot of hassles and frustration to get the cover on your truck bed. Here are a few other reasons why we like the Extang e-Max so much:
Features corner reinforcement brackets for added durability
Bows attach to the frame
Includes OEM style seals
All hinges are seals for improved water protection
Most Popular Tonneau Cover – Trifecta
With sleek good looks, an easy to use folding design and unmatched durability, it's no wonder the Extang Trifecta is the most popular tri-fold tonneau cover in the world. It also features an easy, hassle free assembly with no drilling. To install, simply position the cover on your truck and tighten the clamps. Here are a few other benefits of the Extang Trifecta tonneau cover:
Made from heavy-duty materials
Includes 45 degree steel corner brackets, commercial grade rails and Monster Bows
Features an ultra-strong, rugged MaxHinges that are made of glass-filled nylon and come with protective padding
Best Protection – Encore
If you're looking for the ultimate protective truck bed cover, then the Extang Encore tonneau is the cover we would recommend for you. With 1″ thick fiberglass reinforced plastic panels; this cover offers UV protection, thermal stability and additional security for your gear. It also comes with a BOLT locking system, which uses your ignition key to lock the front panel. The Extang Encore tonneau cover also comes with the following features:
3 panel hard folding cover – provides easy access to your gear
Powder coated frame with rubber corners for durability and scratch resistance
Rear latch locks ensure your gear is safely stowed in your truck bed
Bonus Pick: Best Work Truck Tonneau Cover -Trifecta Toolbox Tonneau
If you're truck is more than your daily driver and is tied to your livelihood, you'll want to check out the Extang Trifecta Toolbox tonneau cover. This truck bed cover includes all the features of the Trifecta tonneau and is designed to fit most standard 18″-20″ size tool boxes!
Next Steps
If you're ready to get a new truck bed cover for your Ford F-150, Chevy Silverado or Ram truck, then give our experts a call at (866) 250-5542. We will be happy to answer any questions you have about Extang tonneau covers or any of the other truck parts we carry!