Brake Systems 301: Increasing Friction and Surface Area
By Richard Fong
Practice and experience lend to improving your driving skills. As you go faster and quicker, you will inevitably uncover more limitations of your vehicle's hardware setup. In STILLEN University Issue #3-4, Brake Systems 101 and 201, we explored the basic bolt-on upgrades that help to improve initial bite, heat capacity and feel while retaining the stock calipers and rotor dimensions. However, even aftermarket upgrades have their limitations, especially when it comes to heat capacity, which leads to brake fade. This is where upgrading to a big brake kit could prove an effective solution.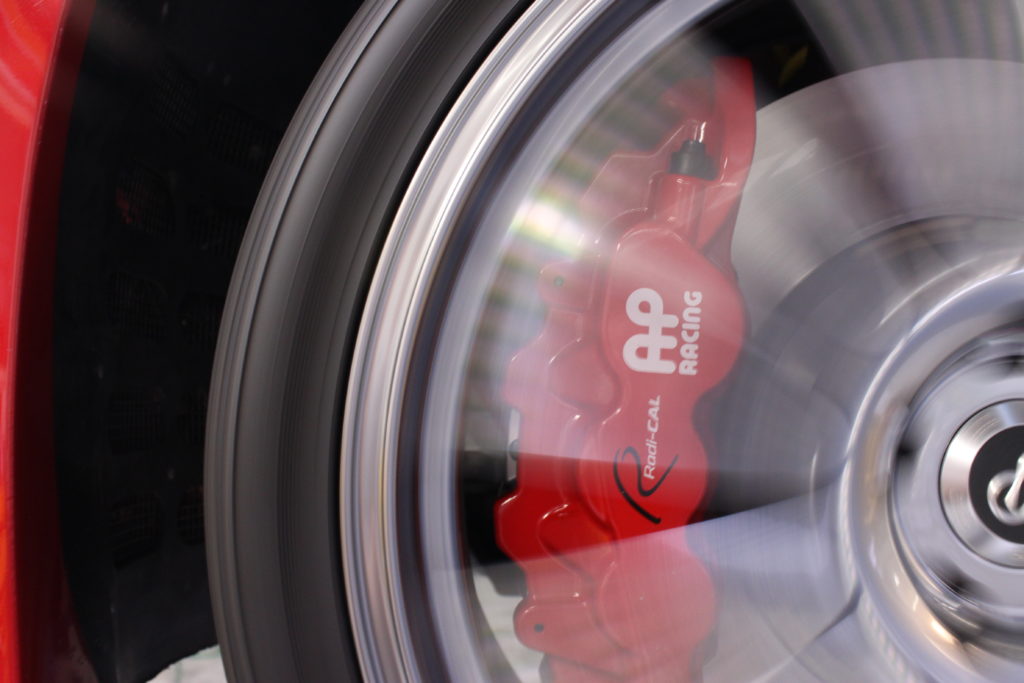 Physics of Braking
Braking is the conversion of kinetic energy (motion) into heat (and stopping power) by way of friction generated between the brake pads and the brake rotor surface. Put simply, the greater the friction produced, the greater the stopping power. However, with more friction comes more heat. While certain pad compounds thrive in specific operating temperature ranges, the collective brake system also has particular temperature requirements. Individual systems begin to fall short once their optimal temperature range has been exceeded. Increasing the temperature capacity by way of fluid upgrades and rotor cooling strategies are logical first steps. To take upgrades a step further, increasing the heat capacity by way of larger rotors and correspondingly larger calipers and pads add to the available rotor surface area and the size of the pads that can be used to generate friction.
Rotor Designs
Most vehicles come equipped with vented rotors up front, which help to facilitate cooling of the rotors in order to mitigate the potential for brake fade. A variety of vent types (radial, pillar and directional) have been developed in the pursuit of efficient rotor cooling. AP Racing by STILLEN employs a curved vane design into some of its rotors, while Disc Brakes Australia (DBA) employs its Kangaroo Paw shaped pillar design.
As mentioned in Brake Systems 101, the various brake pad compounds deliver varying levels of endurance, initial bite and resistance to heat. Pads designed for the street require little warm up and offer great initial bite, but sacrifice braking performance (reduction in friction under conditions of excessive braking and heat build up) when subjected to an endurance or heavy use situation. By contrast, an endurance race pad can take a lot of heat while maintaining optimal friction, but they must be heated to racing temperatures before becoming effective, which is unlikely to be achieved during normal street driving. Somewhere in between, there are pads that offer a balance of performance and endurance that suit a wider variety of driving situations.
Exotic Materials – STILLEN CCM-X Brake Upgrade
Technology and space-age materials have enhanced our world in many ways. When it comes to stopping, STILLEN and AP Racing have worked together to improve on the heavy yet nimble, Nissan R35 GT-R. Their efforts led to the development of the high thermal capacity (HTC) Carbon Ceramic Matrix brake rotor (CCM-X) that offers superior heat capacity compared to its iron counterpart. Once found only in the world's most exotic sportscars, this is the first CCM rotor offering for a production tuner vehicle. In addition, STILLEN worked with Pagid to formulate its RSX1 pad material to offer easy bedding and greater performance for both street and track applications. During extreme performance testing at Auto Club Speedway, the HTC CCM-X rotors and RSX1 pads proved to run 142F cooler than previous generations of CCM rotors (1,346F vs. 1,488F), which validated the test results recorded on the brake dyno at AP Racing's facilities in Coventry, England.
At the Limit
At this point the question is, how do you know when you've reached your brake system's heat capacity? Since the friction between the pads and the rotor generates heat, this heat transfers into the components of the brake system (rotors, pads, calipers and brake fluid.)  If you've upgraded these basic brake system components with aftermarket components (as outlined in Brake Systems 101 and 201) and are still experiencing unresponsive braking and/or a spongy pedal feel after aggressive driving, you've likely reached the heat capacity of the brake system. This condition is referred to as brake fade.
Don't Get Faded
Brake fade occurs because the heat generated by the friction between the pads and the rotor has built up to the point that the pads are no longer able to create friction with the rotors (unresponsive braking) or pockets of air have formed in the brake lines due to brake fluid boiling (spongy pedal feel.) In both situations, heat is the culprit, which drives home the value of cooling the brake system. While adding brake ducts that direct air to the calipers and rotors certainly helps to facilitate cooling, increasing the amount of surface area available offers greater heat capacity and an increased friction surface area for use with larger brake pads and calipers.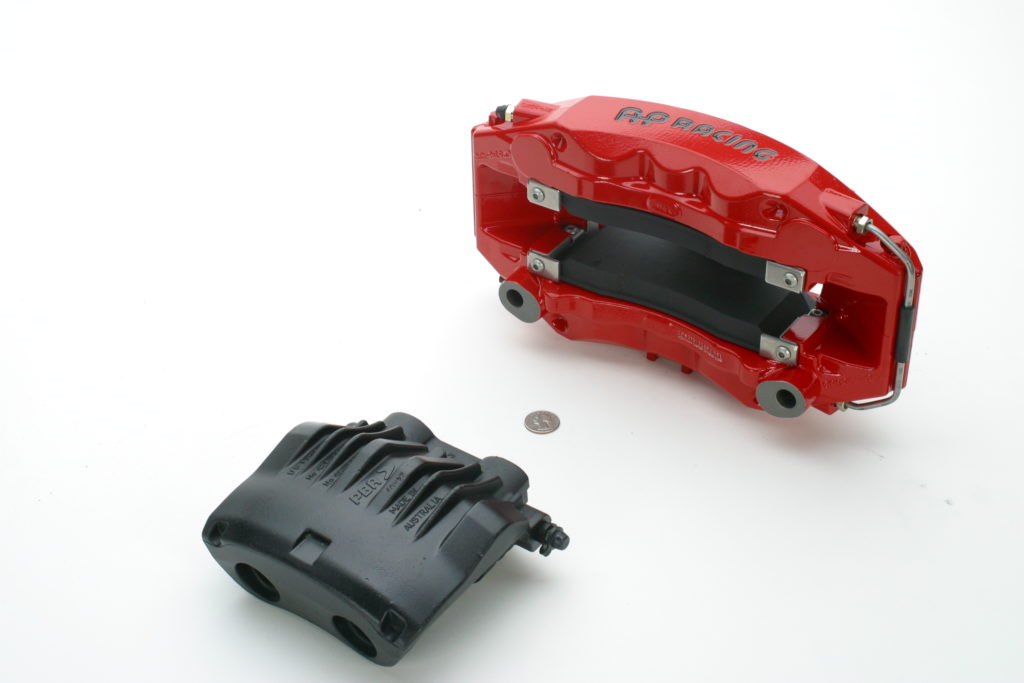 Understanding Big Brake Kits
As had been mentioned before, the factory equipment on most vehicles are selected as a compromise of cost versus performance – meaning that the vehicle manufacturer will offer you a safely adequate braking system necessary for your vehicle within their targeted budget. This opens the door to aftermarket improvements, and a big brake kit usually rides high on the list of upgrades. However, contrary to popular belief, upgrading to a big brake kit is not for the sole purpose of shortening stopping distances. Its greater merit is increasing the heat capacity of the braking system. A big brake kit increases the heat capacity of a braking system by incorporating larger rotors, larger pads and larger calipers. The increased surface area lends to greater heat capacity and an increased friction surface. (NOTE: Before investing in a big brake kit, consider the wheel size you are running, as some kits might require specific wheel sizing and offset to clear the rotor diameter and the larger brake calipers. Contact STILLEN for more information.)
More Surface Area
Generally speaking, improving a brake system's heat capacity typically requires more iron and thus, larger rotors. Larger rotors offer more material to absorb and dissipate heat, as well as a larger friction area for a larger brake pad to be employed. This is also why larger calipers are an integral part of the big brake kit (to be covered in Brake Systems 401). By increasing the amount of friction surface, more heat can be stored before reaching temperatures that cause fade. The increased heat capacity also increases the usable range brake pads have that would not have been practical on a lower heat capacity setup.
Mechanical Grip Improves Braking
While increasing the size of the brake calipers, pads and rotors inevitably improves the heat capacity and overall brake performance, a brake system is limited by another factor, mechanical grip. Mechanical grip refers to the tires, the only thing between your vehicle and the pavement, ground or terrain. In the case of road vehicles, the brake system's ability to slow and stop a vehicle depends heavily on the tires. A vehicle with worn or inappropriate tires (i.e. endurance tires being used at a track day, rain tires when its dry, etc.) will not perform optimally compared to one fitted with tires suited to the purpose at hand.
Continuing on the subject of big brake kits, the next issue of STILLEN University, Brake Systems 401, will go into caliper sizing and selection along with the mechanics of how they work. Do you need a 4-piston or 6-piston caliper? Is bigger always better? Check back with us soon!