K&N  Uncovers More Horsepower from the 2016 Camaro SS 6.2L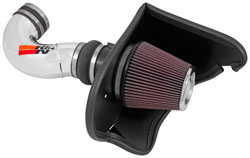 Chevrolet's Generation V 6.2-liter small block V8 provides the 2016 Camaro SS with immense performance and surprising efficiency. The push rod, two valve-per-cylinder LT1 V8 generates 455 horsepower. It is similar to the LS family of small-block engines but features a unique aluminum block casting and cylinder heads, oiling system and an aggressive 11.5:1 compression ratio. It also incorporates advanced technologies such as direct fuel Injection and continuously variable valve timing.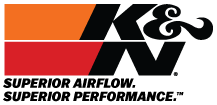 An entirely new intake manifold design was developed to provide a straighter path into the combustion chamber. Although GM engineers invested in the development of the LT1 there is still room for improvement. K&N developed its AirCharger air intake system (p/n) 69-4534TP  for the SS to significantly improve incoming air flow as well as reduce turbulence in the intake tube. This intake has been chassis dyno-tested to deliver an estimated 15.16 horsepower gain over stock and can be installed in 90 minutes or less with simple hand tools. In addition to more power, this air intake system improves engine sound with a more aggressive and deeper tone during acceleration.
The air intake includes a chrome capped K&N high-flow air filter within a heat shield that replaces the original airbox space. The oversized conical air filter is manufactured from multiple layers of oiled cotton filter media, which offers less resistance than traditional paper filters. Air then passes through an aerodynamically-verified polished aluminum intake tube into the engine's throttle body. The intake tube includes fittings for the factory mass air flow sensor and crank case vent hose.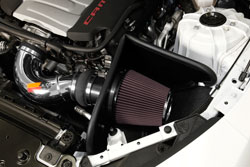 The only maintenance is a service you can do yourself at intervals of 100,000 miles (depending upon your driving conditions) using the K&N 99-5000 recharger kit to clean and refresh your air filter in preparation for another 100,000 miles of driving. This filter is designed to last for the lifetime of your vehicle, which K&N guarantees will perform for up to 10 years or 1,000,000 miles without requiring replacement.
The K&N 69-4534TP cold air intake is designed for both the 2016 and 2017 Chevrolet Camaro SS 6.2-liter V8.