TOP Exhaust: Magnaflow 2016-2018 Camaro SS Exhaust System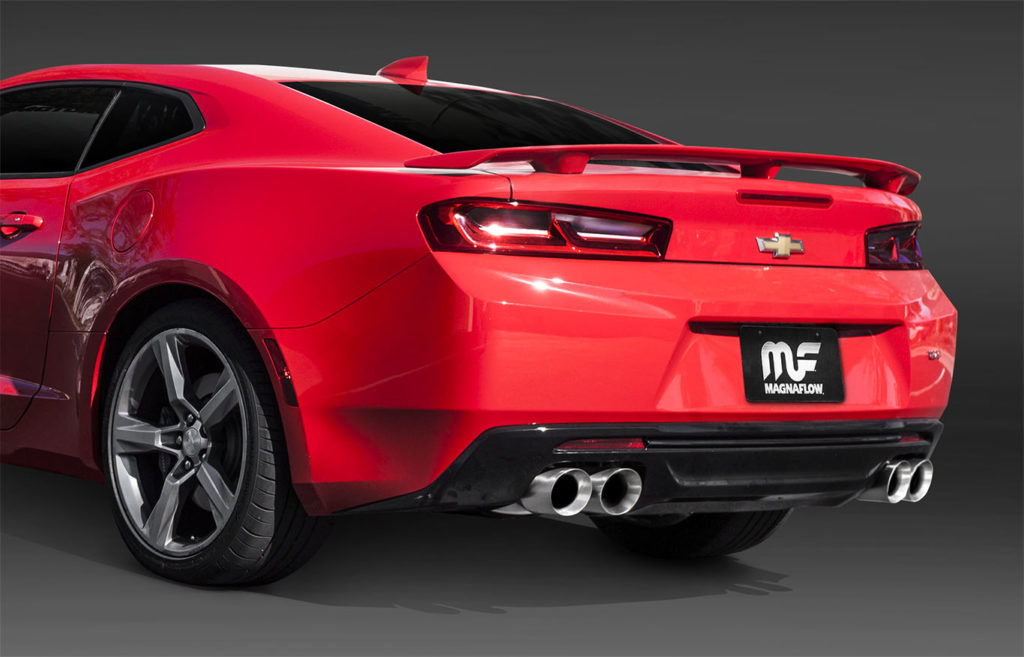 Add Growl and Bark to the Camaro SS with Magnaflow Exhaust Solutions
The 2016+ Chevrolet Camaro SS enjoys the benefit of its 6.2L LT1 engine producing 455 horsepower and 455 lb-ft torque, all in a chassis that is 200 lbs. lighter than the previous model. But, as with most factory vehicles, the ferocity is muffled and sometimes even muzzled. This TOP Exhaust: Magnaflow 2016-2018 Camaro SS Exhaust System is one of the variables that can be upgraded to unleash the fury of the V8.
MagnaFlow released three variants of its stainless-steel Camaro exhaust solution. While each system helps to reduce weight, each accomplishes a different objective. The Magnaflow Dual Axle-back Competition Exhaust for 2016-2017 Chevrolet Camaro 6.2L (19339) features 3-inch piping, retains the factory B-pipes and replaces the factory muffler sections with MagnaFlow's proprietary design. This offers a more aggressive tone without replacing the B-piping. The Magnaflow Quad Cat-Back Competition Exhaust for 2016-2017 Chevrolet Camaro 6.2L (19265) includes an X-pipe and axle-back mufflers manufactured from 4-inch piping. This system reduces back pressure and offers an X-pipe configuration feeding into the axle-back muffler sections. This X-pipe helps to balance the exhaust pulses between the left and right cylinder banks to ensure a steady and uniform exhaust flow.  The Magnaflow Dual Axle-Back Race Exhaust for 2016-2017 Chevrolet Camaro 6.2L (19338) eliminates the mufflers altogether and replaces them with polished 3-inch piping that connect to the factory B-pipes that terminate with 4-inch polished exhaust tips.
MagnaFlow Exhausts enjoy a host of features and benefits, including:
Limited Lifetime warranty against manufacturing defects
Dyno tested products proven to make power
Performance gains in both horsepower and torque
Competition Series: Aggressive Exhaust Note, Reduced System Mass
Race Series: Most Aggressive Exhaust Tone, Muffler-less Design
Easy to Install, Mandrel Bent Piping
Stainless-steel Construction that is Built to Last
---
Check out Magnaflow's full line of exhausts at stillen.com!
For more information about the TOP Exhaust: Magnaflow 2016-2018 Camaro SS Exhaust System, or to place an order today:
Chat with us (866) 250-5542
Email sales@stillen.com
or Via live chat at stillen.com