Top Exhaust: Magnaflow Exhaust 2017 Honda Civic Type R
Honda created quite a buzz when it's new Civic Type R FK8 set a class record at the famed Nurburgring Nordschleife racetrack in Germany. They maintained this momentum with the announcement that the Type R trim would be returning to America for the first time since 2001 and for the first time as a Civic Type R. Introducing the Top Exhaust: Magnaflow Exhaust 2017 Honda Civic Type R.
The Type R FK8 comes from the factory with a turbocharged 2.0-liter engine generating 306 horsepower. As with any turbocharged engine, the easier that the turbo can breathe, the more efficiently it will operate and the greater the potential output. Unfortunately, most factory exhaust systems are built conservatively to keep sound levels and cost down. This is also a common bottleneck for performance.
Exhaust manufacturer Magnaflow prides itself for being at the forefront of development, especially when it comes to supporting new vehicle models and platforms. Magnaflow's latest development is the first cat-back exhaust system to market for the new Civic Type R FK8.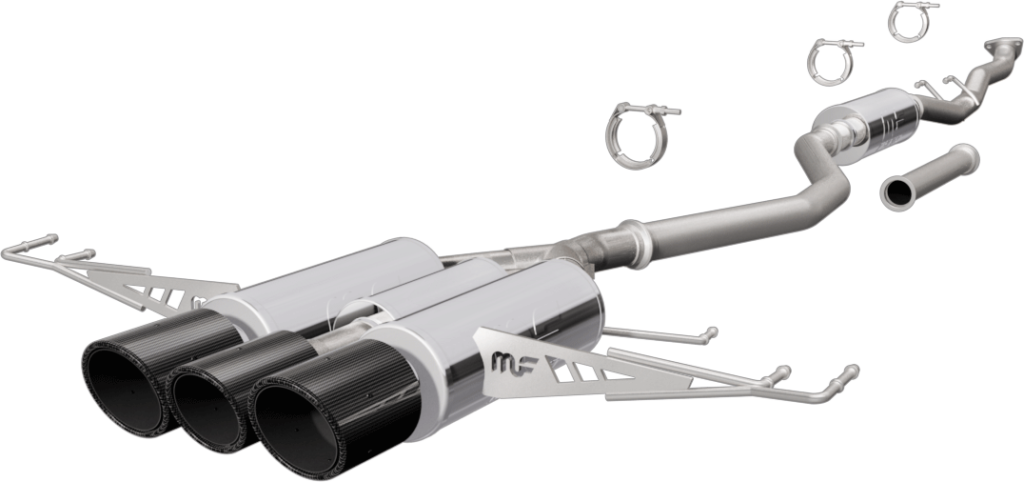 The new Magnaflow Cat-back Exhaust for 2017 Civic Type R [FK8] (19383) is the latest addition to the Competition Series of exhausts. This exhaust features mandrel bent, 2.5-inch 409 stainless steel tubing with V-band clamp connections. A straight through pipe (included with this exhaust system) can be easily swapped with the resonated presilencer for a more aggressive exhaust note. The exhaust terminates into a triple muffler configuration finished with carbon fiber tips. Magnaflow states that this exhaust lends to a more aggressive exhaust note while reducing overall system mass, shedding unwanted, excessive weight. Like all Magnaflow exhausts, the new Civic Type R Cat-back Exhaust features Magnaflow's limited lifetime warranty.
Magnaflow is first to market with this exhaust for the new Civic Type R FK8… Be among the first on the streets with it! STILLEN is taking preorders on this exciting new exhaust, place your preorder today!
---
Chat with us (866)250-5542
Email sales@stillen.com
or
Live Chat at www.stillen.com!