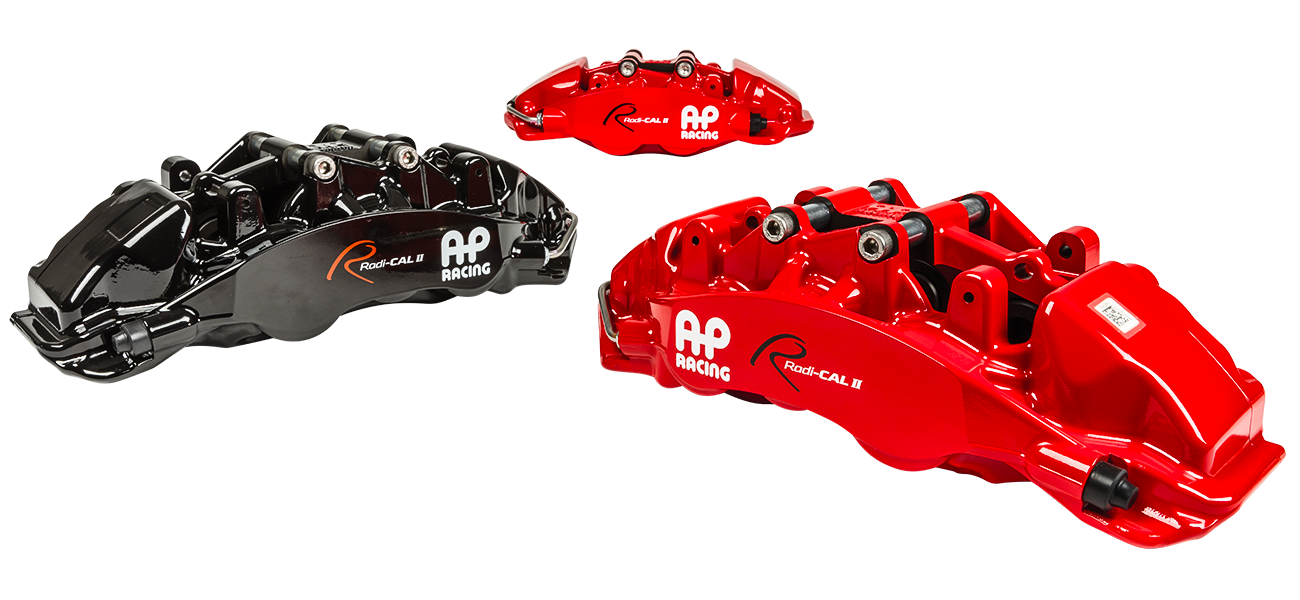 AP Racing World Radi-CAL II Calipers
Where do they come from?
These brakes may look alien but they come from the master minds in the engineering department at AP Racing.  In 2007 AP Racing revealed the original World Radi-Cal brake calipers to the world at Watkins Glen on Tony Stewart's NASCAR race car.  He went on to win the race crediting his brakes with giving him the upper hand over his competition.
In fact, they were so dominant that NASCAR actually outlawed the brakes until all of the other teams were able to have equal access to them!  Since then the race spec calipers have become the spec calipers used on DTM touring cars, Aussie V8 super cars as well as filling out most of the Formula One field and sports cars around the world including LMP1.
When AP Racing were thinking of developing a new caliper they decided to take a very unusual approach… They started with a blank sheet of paper.  They did not want to rely on "what they knew" and instead they wanted to test themselves, their finite element analysis software and challenge themselves to reinvent what a brake caliper is.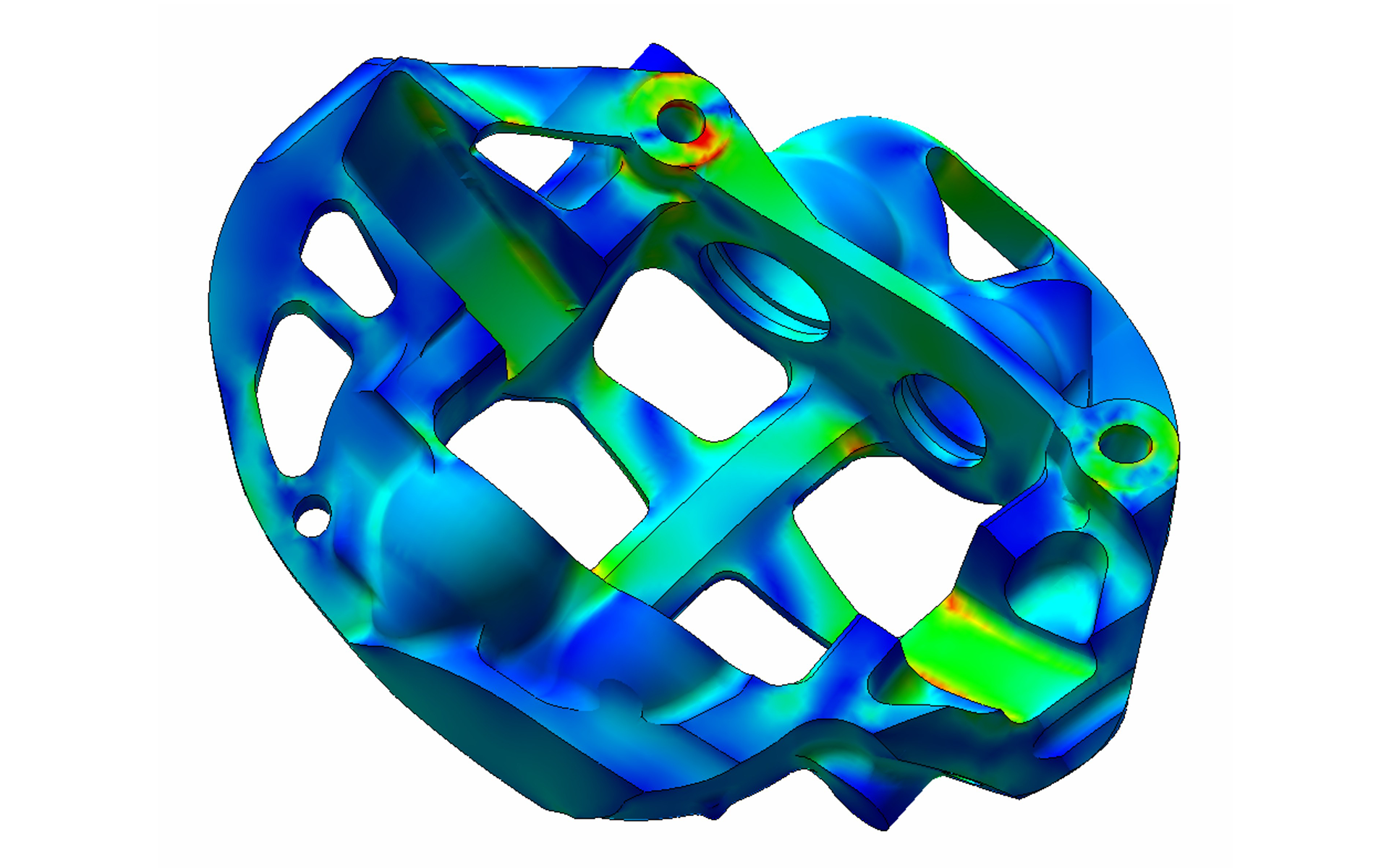 During their testing and development they used an FEA analysis software that is common in the engineering world.  However, they quickly realized that FEA analysis software is designed to introduce a static load and the intense environment of a braking system is far from static.  The heat generated, the RPM of the rotor, the modulation of the brake pedal, all of these factors and more equate to a very dynamic environment that can't be treated like a traditional mechanical part.
AP Racing knew that the only way to move forward was to develop their own proprietary FEA analysis software.  AP Racing began working on developing a software that could replicate the incredibly diverse and ever changing environment that is a braking system.
During their initial testing the AP Racing engineers recognized that the friction between the brake pads and rotors was literally trying to rip the caliper from its mounts.  In a static environment the only way to test the rigidity of a caliper is to introduce a pressure and measure the amount of flex in the caliper.  This flex is basically how much the caliper expands horizontally.
During their dynamic testing they noticed that the caliper was actually twisting diagonally due to the forces created by the RPM and mass of the rotor interacting with the friction created by the application of the brake pads.  The solution was to reinforce and stiffen the caliper in key locations to counteract this force.  In turn, AP Racing realized that they could remove material that was unaffected by these forces.  The end result is an asymetrical design that is incredibly stiff yet also lightweight.  To further improve the rigidity of the caliper AP Racing implemented their patented "stiffening bands" which wrap around the caliper to form a "chassis" of sorts which ties all points together offering an even stiffer design.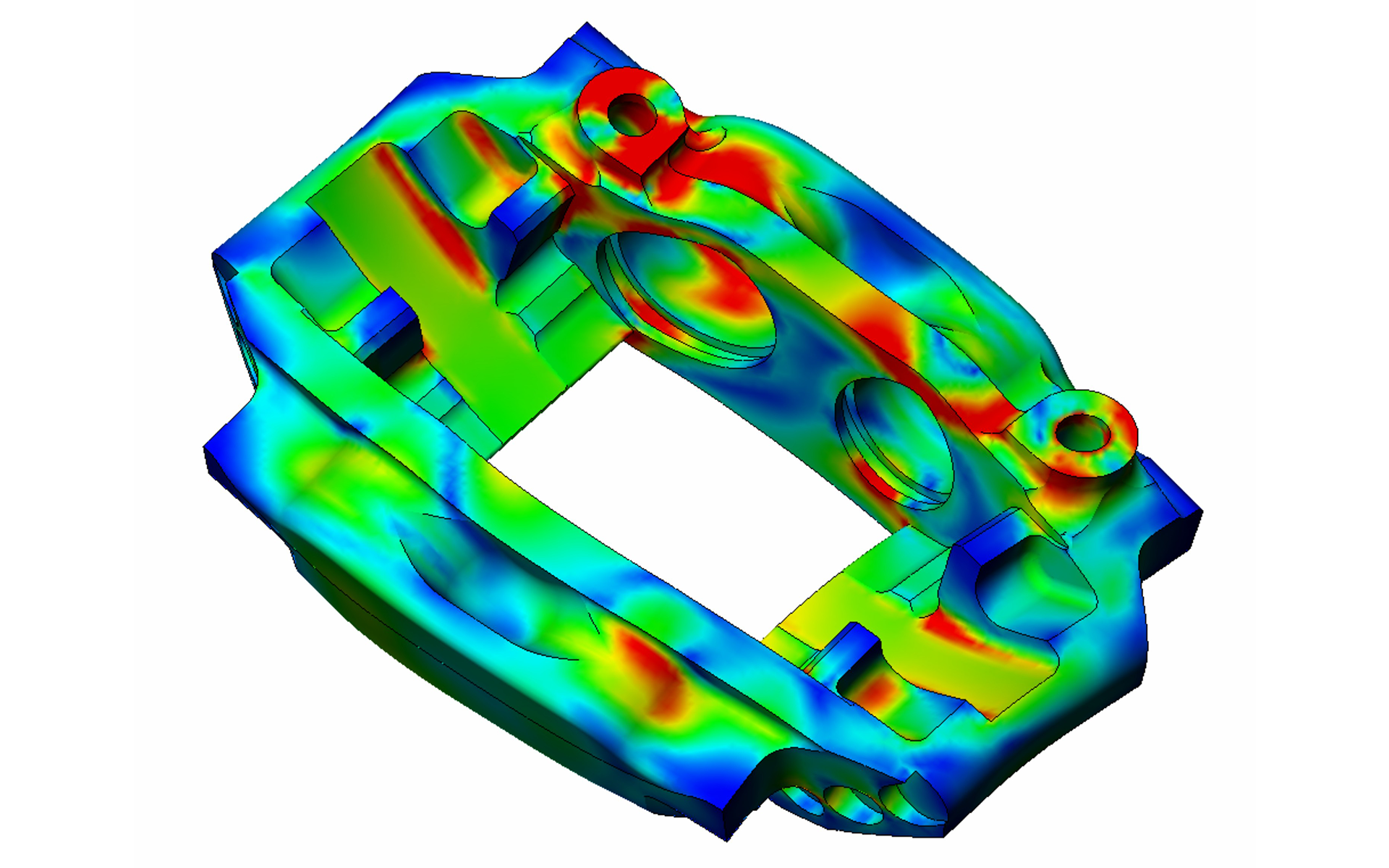 AP Racing knew that the World Radi-CAL brake technology was the way of the future and that they needed to find a way to bring this technology to the road car market.  While race calipers offer a no compromise solution, they also mean higher prices and more regular service intervals.  AP Racing leaned on their expertise in developing a road car brakes for the Bugatti Veyron and Chiron as well as McLaren, Lotus, Holden, and more.  By applying their OEM manufacturing standards and test procedures AP Racing was able to launch the World Radi-CAL I road car calipers with STILLEN at the 2014 SEMA show.
These road car calipers employ all of the features of the race calipers but also add other features that make them suitable for daily driving as well as high performance environments.  Road car calipers are manufactured out of pressure forged aluminum.  This manufacturing process is less expensive than a Monobloc caliper which makes these fantastic brakes accessible to the average road car enthusiast.
Additionally, these calipers are equipped with dust seals which prevent road debris and dust from entering the hydraulic circuit or caliper pressure seal over time.  Road car calipers also feature anti-rattle clips to prevent any issues with pad knock back or residual noises.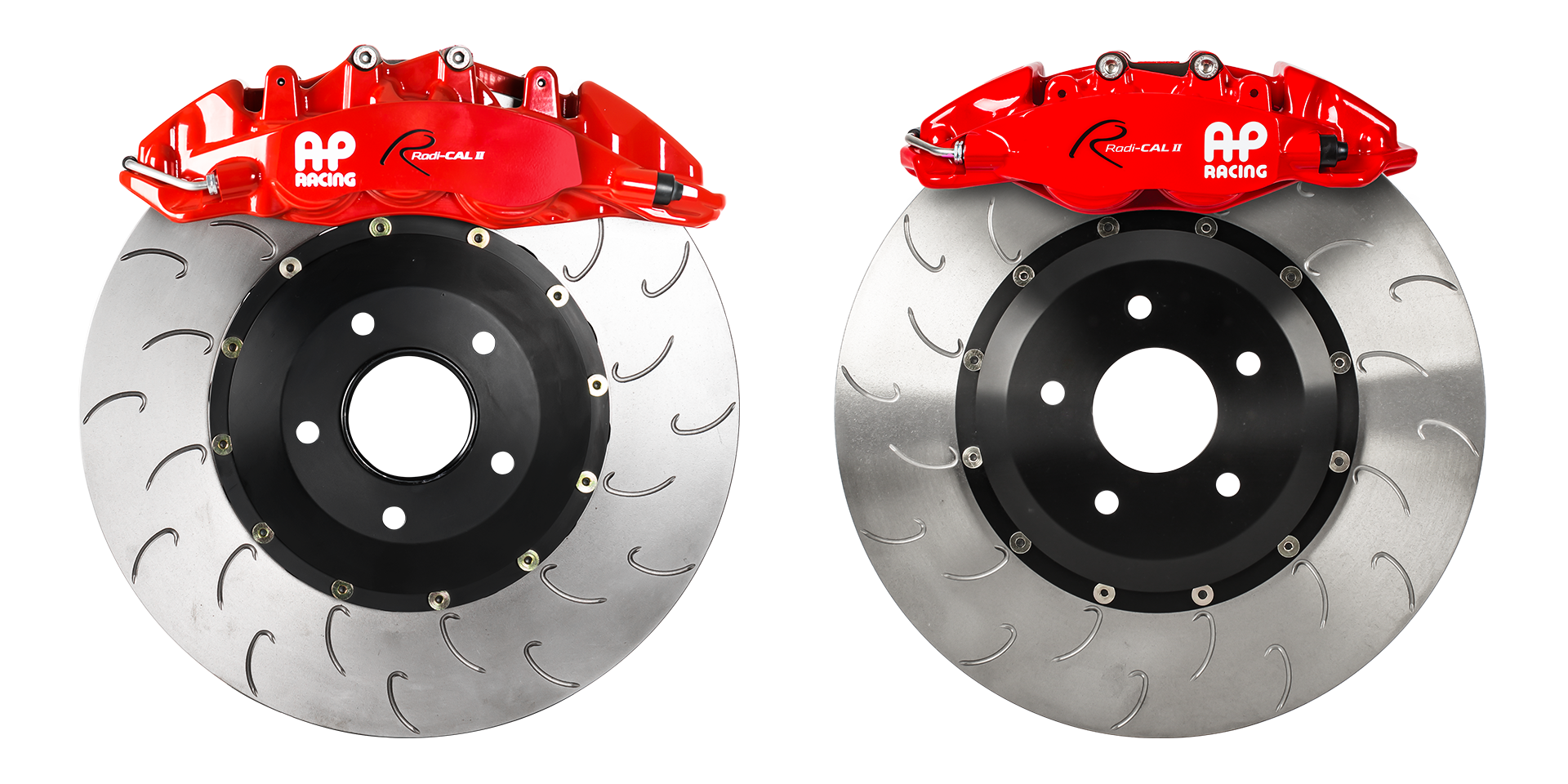 Never ones to settle, AP Racing again went back to the drawing board to develop a range of calipers that would take even more from the racing world.  Enter, AP Racing World Radi-Cal II Big Brake Kits.  AP Racing WRII calipers offer the unique look and style that is associated with the Radi-Cal race brakes.  The goals for Radi-Cal II were simple: Make the caliper stiffer, lighter and look even more aggressive.  We are excited to say that each of those goals was achieved with unbelievable results.  The Radi-Cal II calipers also feature the superior stiffening bridge that not only ties the caliper together horizontally but also vertically by connecting the top and bottom of the caliper.  Even with this incredible rigid structure the design still allows for quick pad swaps that do not require removal of the caliper.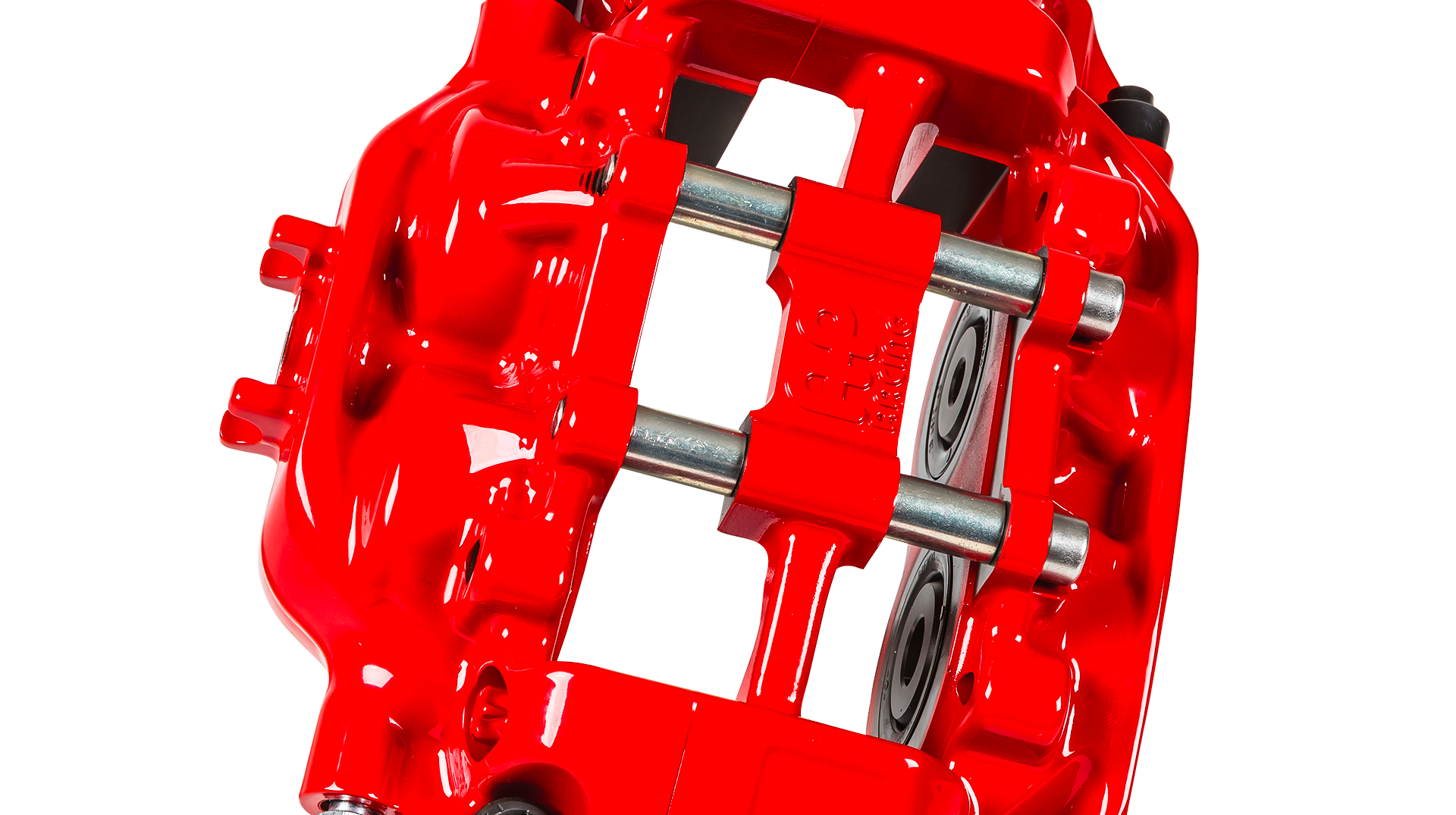 Further improvements were made to the calipers by removing additional material and pocketing around the calipers and non-structural areas of the caliper.  One of the benefits of removing this material is not only the weight savings but also the improvements with the unobstructed airflow around and through the caliper.  This airflow improves cooling and reduces overall operating temperatures.
Not only is World Radi-CAL II the most technologically advanced caliper ever made.  The aggressive design also makes it the best looking caliper available today.  World Radi-CAL II calipers are sure to draw attention with their unique futuristic styling and their performance numbers to back it up.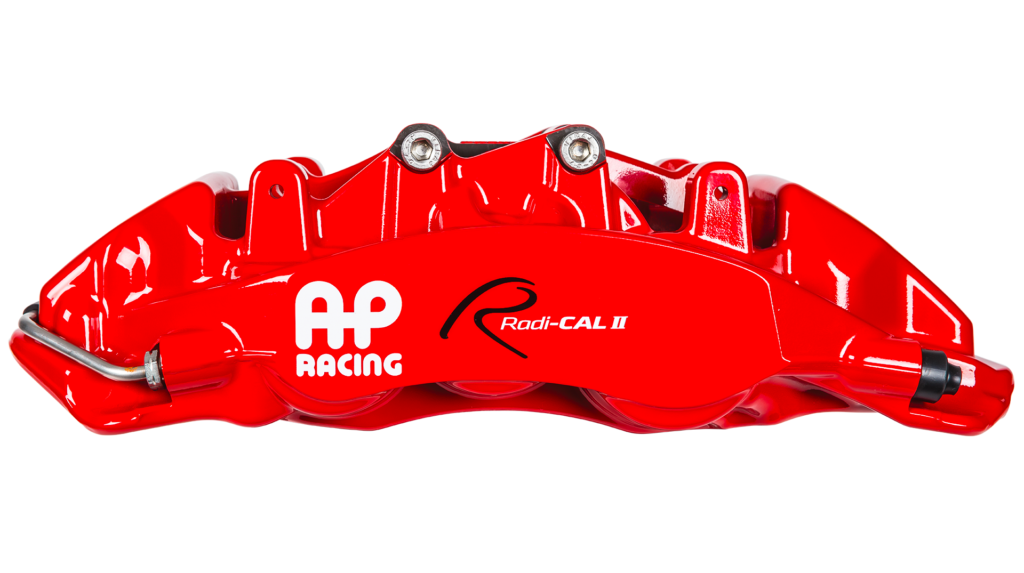 AP Racing patented asymmetrical, forged aluminum WR2 6 piston brake calipers
6061-T6 aluminum high strength bracket and billet aluminum rotor hats
DOT Compliant stainless steel braided brake lines
Designed to work with OEM brake master cylinder and ABS system
Unique scannable QR code for authenticity
6 piston calipers are 150g lighter and 33% stiffer than Radi-CAL I calipers
4 piston calipers are 100g lighter and 28% stiffer than Radi-CAL I calipers
Engineered to fit most 18 inch wheels (370mm rotor applications)
Toughest testing standards in the industry
Engineered for compatibility with OEM brake master cylinder and ABS systems
Finished in OEM quality red or black anti-corrosion finish
In 2014 STILLEN introduced AP Racing World Radi-CAL road car brakes at SEMA show which very quickly became recognized as the best aftermarket big brake kits available.  For the past 3 years our customers have been reporting back that the STILLEN AP Racing brakes are adding improved looks and style to the car as well as reducing lap times when used at high performance driving days!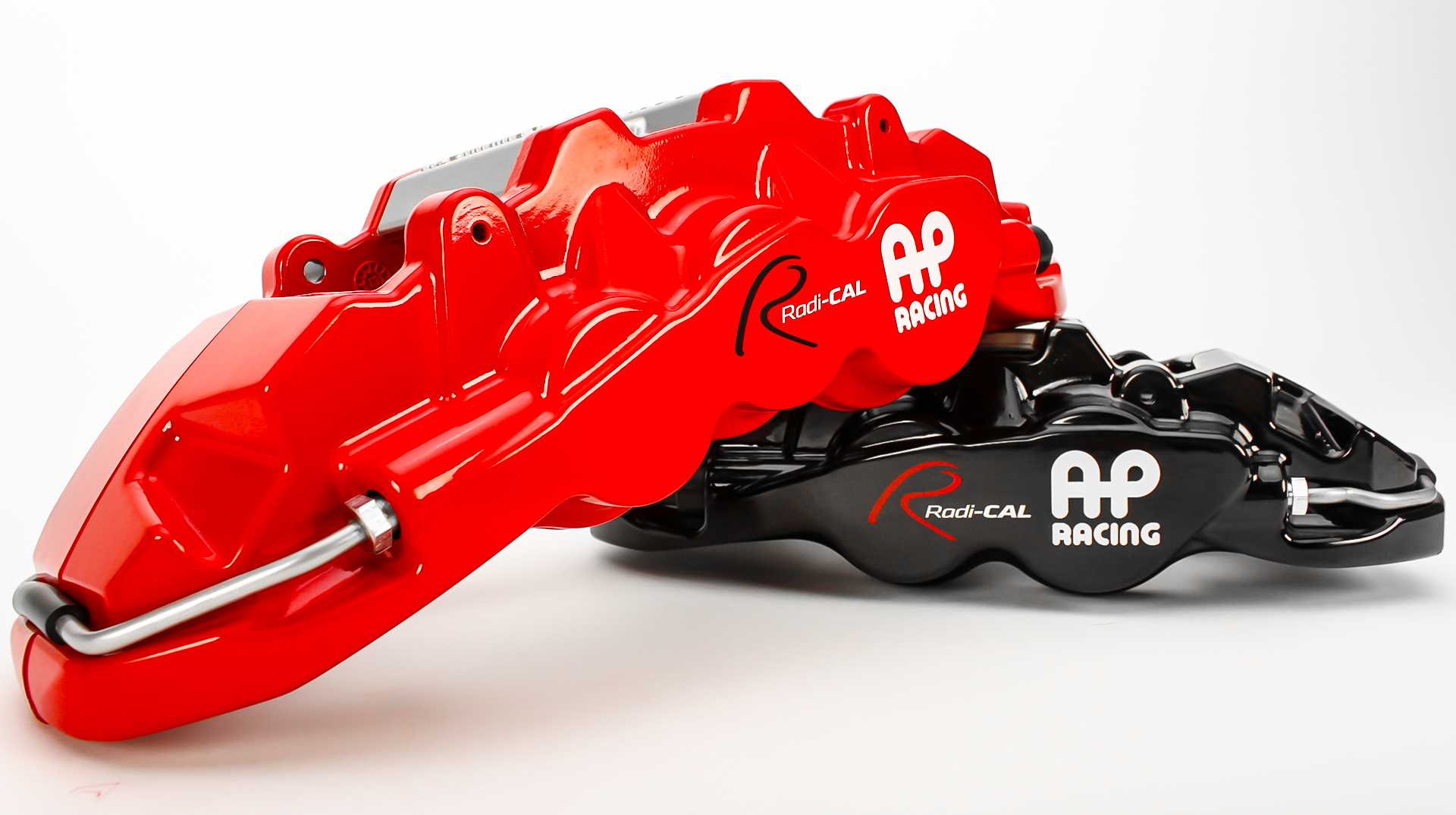 AP Racing World Radi-Cal road car calipers take the features of the asymmetrical design, reinforced stiffening bands and pair them with a cost effective, strong and lightweight pressure forged aluminum manufacturing process to deliver superior results for the road car market.
Following on from the success of motorsports Radi-CAL™ brake systems, AP Racing has brought the same design philosophy to the road performance market in the form of the new World Radi-CAL II calipers.  These new pressure forged aluminum 4 and 6 piston calipers incorporate AP Racing's patented technology allowing the road user to experience the superior performance that World Radi-CAL™ offers.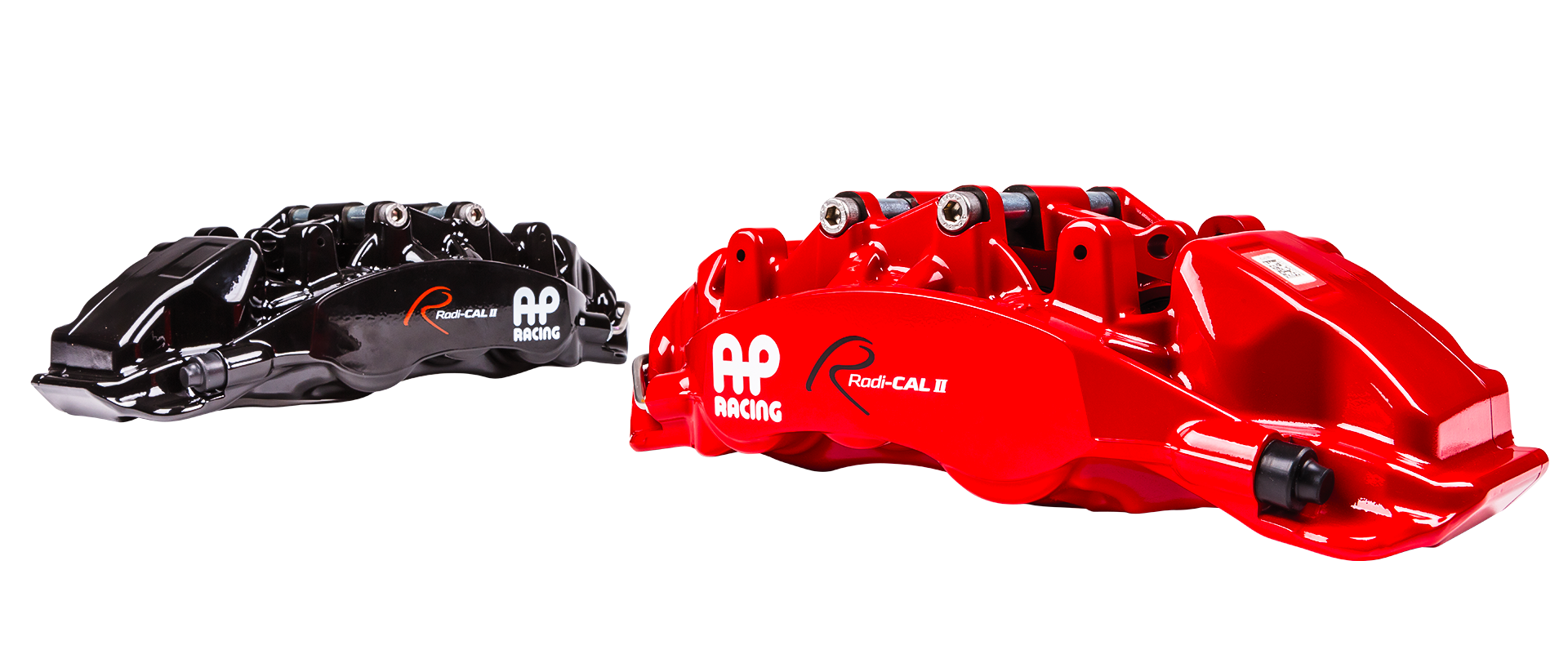 World Radi-Cal II calipers incorporate all the features demanded by the road performance market including boot type dirt seals, advanced anti-corrosion attractive paint finish and noise abatement solutions.  Compared to WR1 calipers, WR2 calipers are stiffer (6-piston: 33% stiffer, 4-piston 28% stiffer) and lighter (6-piston: 150g lighter, 4-piston 100g lighter). Utilizing the latest FEA (finite element) analysis software and brake dynamometer testing, it was designed to implement the latest technologies learned through 40+ years of highly successful motorsports participation and an unparalleled 700+ F1 Grand Prix victories.
AP Racing pressure forged aluminum caliper bodies are tested at over 500,000 cycles of pressure and torque to meet AP Racing's stringent OE and high performance road use validation testing to ensure maximum stiffness and durability required for use on road registered vehicles. The forged aluminum process was chosen as it offers a 25% stronger and lighter caliper than similarly sized units using a casting process. These larger, lightweight AP Racing calipers replace the typical heavy cast iron OE calipers that are designed for low cost and little regard to high performance driving.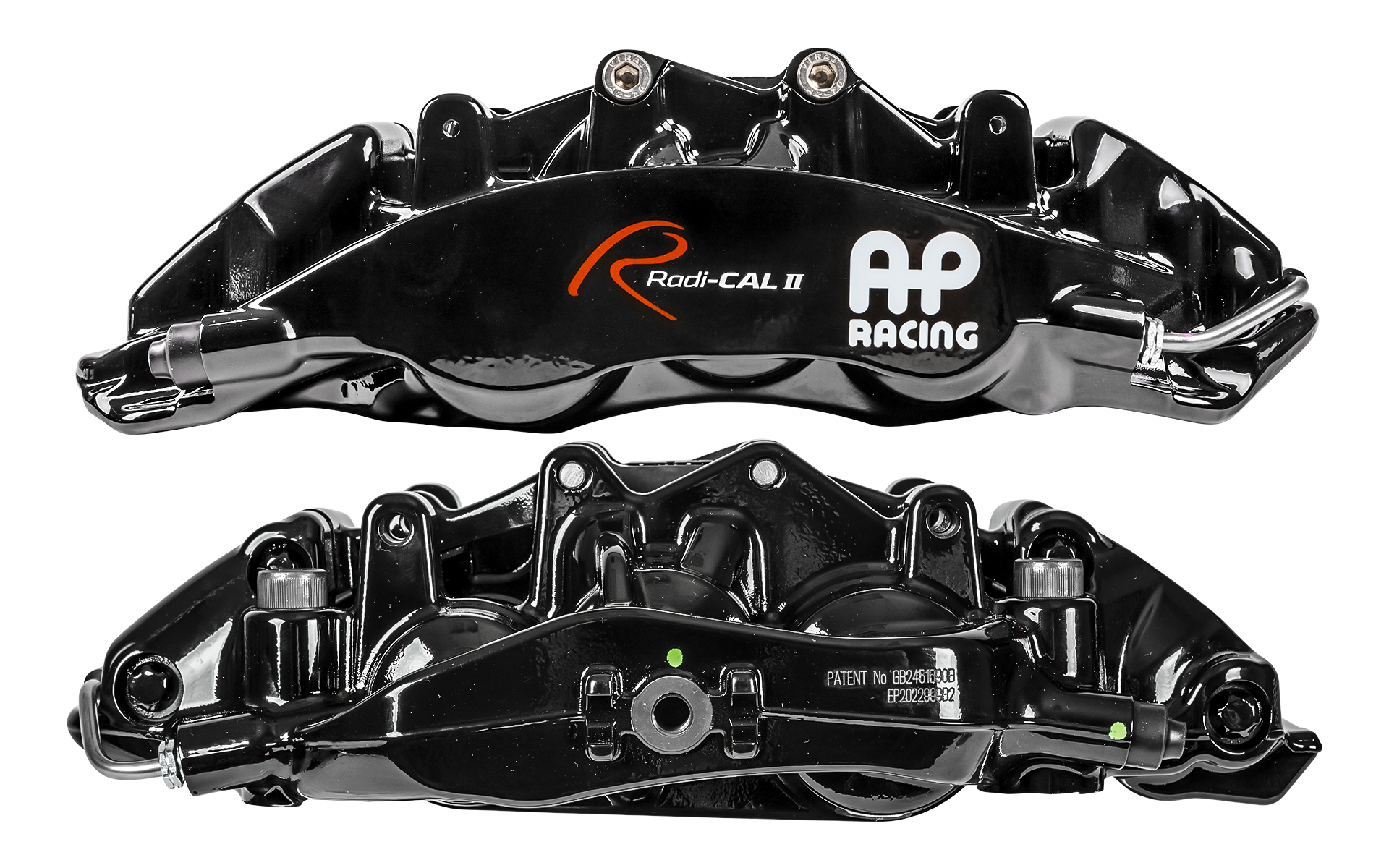 The opposed piston design guarantees maximum stiffness for better pedal feel, modulation and immediate braking action from the drivers input. Four piston and six piston designs allow a larger pad area to be used which decreases heat at the friction point between the pad material and disc surface while maintaining the same brake torque. This single detail increases both rotor and pad service life. Additionally, a larger caliper aids in braking performance by acting as a more efficient lever on the rotor. This in turn applies more torque to the rotor thus increasing the force applied to the rotor.
The asymmetrical design achieves improved stiffness while also reducing weight by removing material where there is little dynamic load and relocating that material to areas that need additional reinforcement due to the dynamic forces that occur during high performance driving.  This revolutionary caliper design guarantees maximum stiffness for better pedal feel, modulation and immediate braking action from the drivers input.  Additionally, AP Racing WR2 calipers offer the largest pad possible.  The larger pad decreases heat by distributing the kinetic energy generated during braking across a larger surface area thus better controlling the thermal dynamics of your braking system.  Additionally, this larger piston/pad surface area applies superior clamping force to the rotor.  Furthermore, the larger diameter rotor allows us to move the caliper further out thus increasing the brake torque applied to the rotor assembly.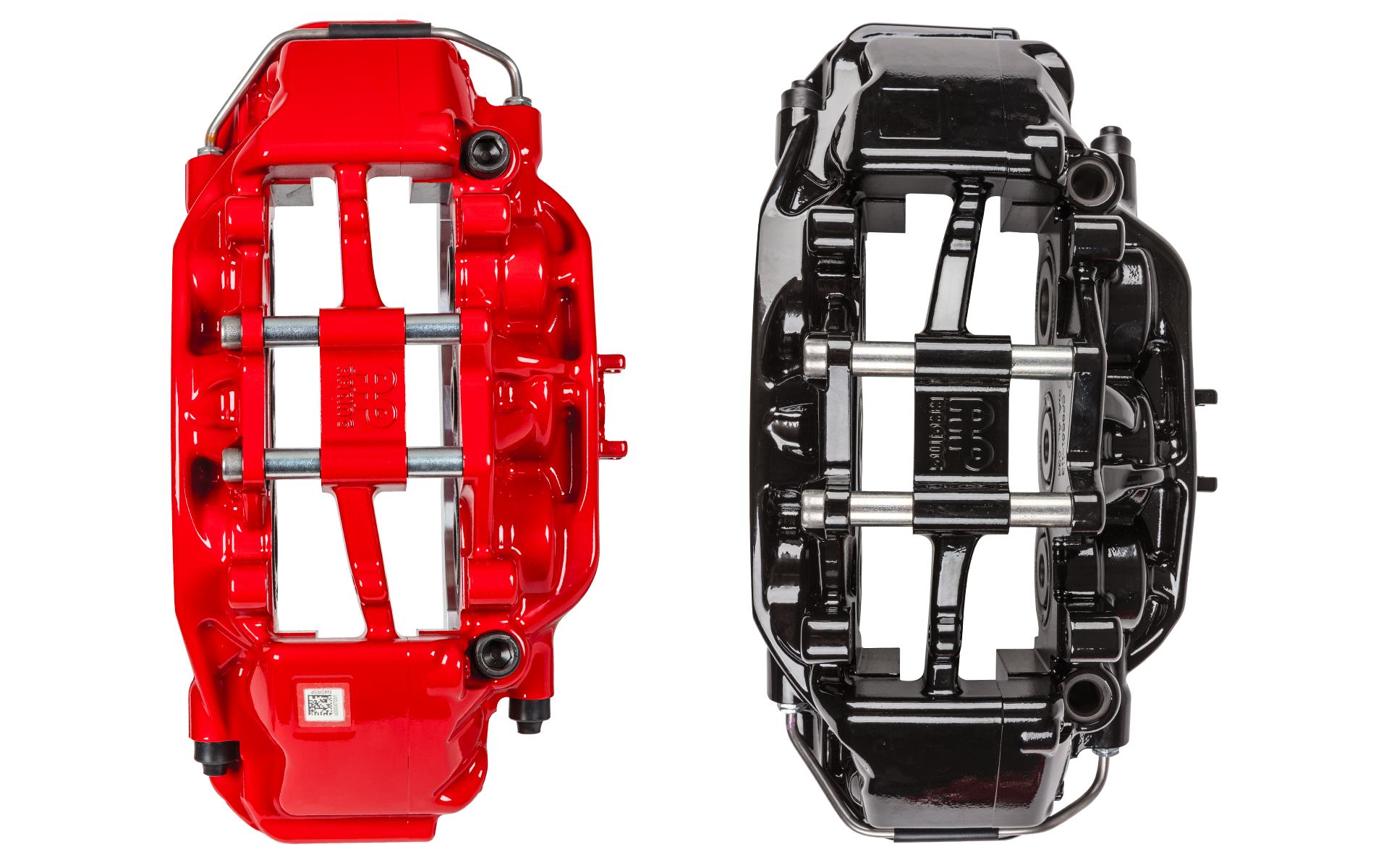 By controlling the operating temperature caused by the friction between the pads and rotor we are able to better manage the performance of the big brake kit. Controlling the temperature in a braking system is one of the biggest goals when engineering a system. A vehicle will create the same amount of heat when stopped from the same speed, the brake component choices will control how that heat is managed. Both pads and rotors have optimum operational temperature ranges. For a street car, we must make sure the brakes work flawlessly at sub-zero temperatures but still offer excellent performance when being pushed in a high performance environment and being pushed to their limits. All calipers are double sealed to protect piston bores and pressure seals from road debris. High temperature seal material is used to ensure safety at high temperature use. These seals are designed to minimize off brake pad drag on the disc which will increase pad and disc life.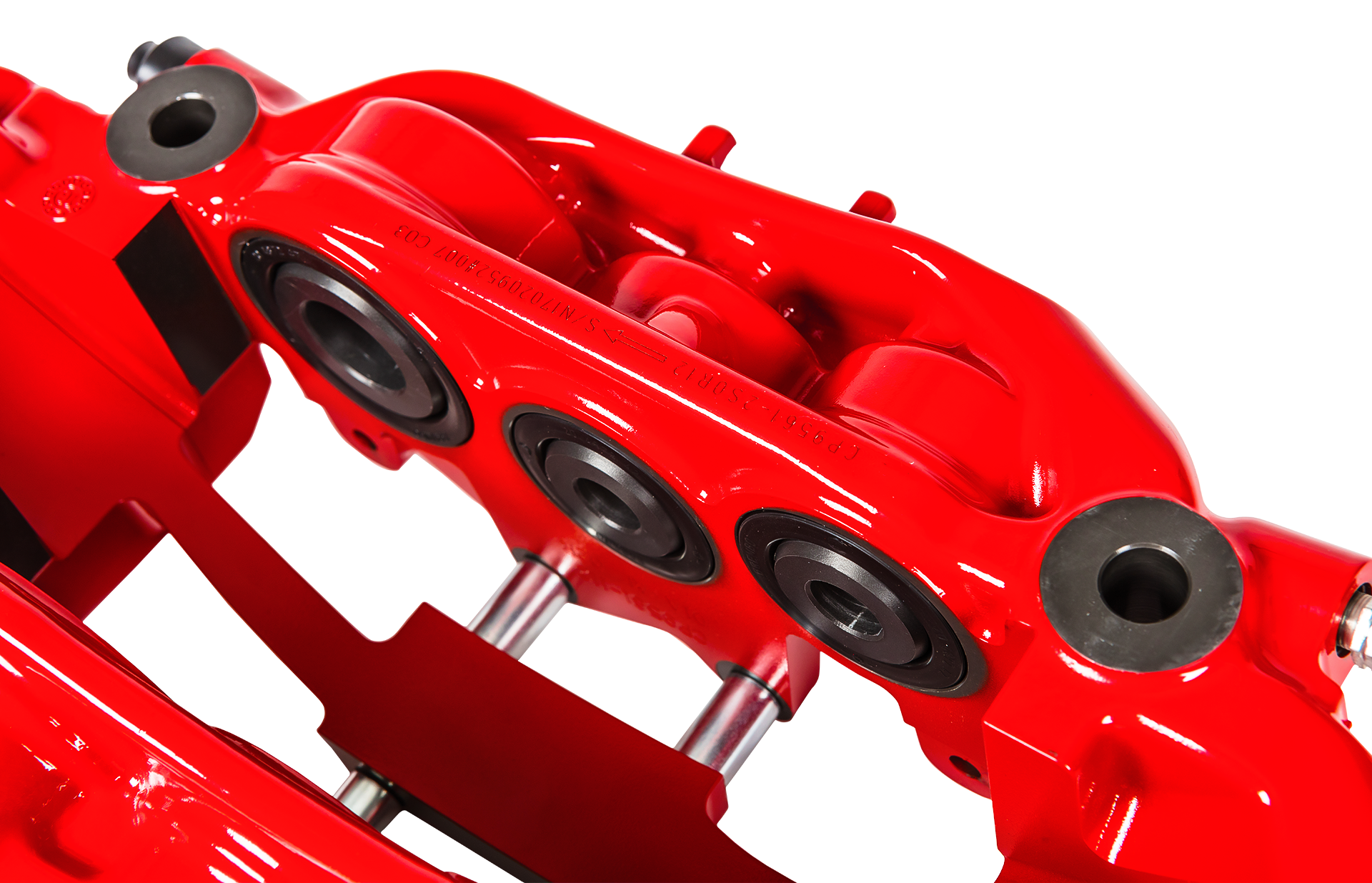 Light weight, improved rigidity and better cooling characteristics than other competitions' conventional brake caliper designs.  AP Racing World Radi-CAL™ concept represents a major innovation in braking technology.
Rotors: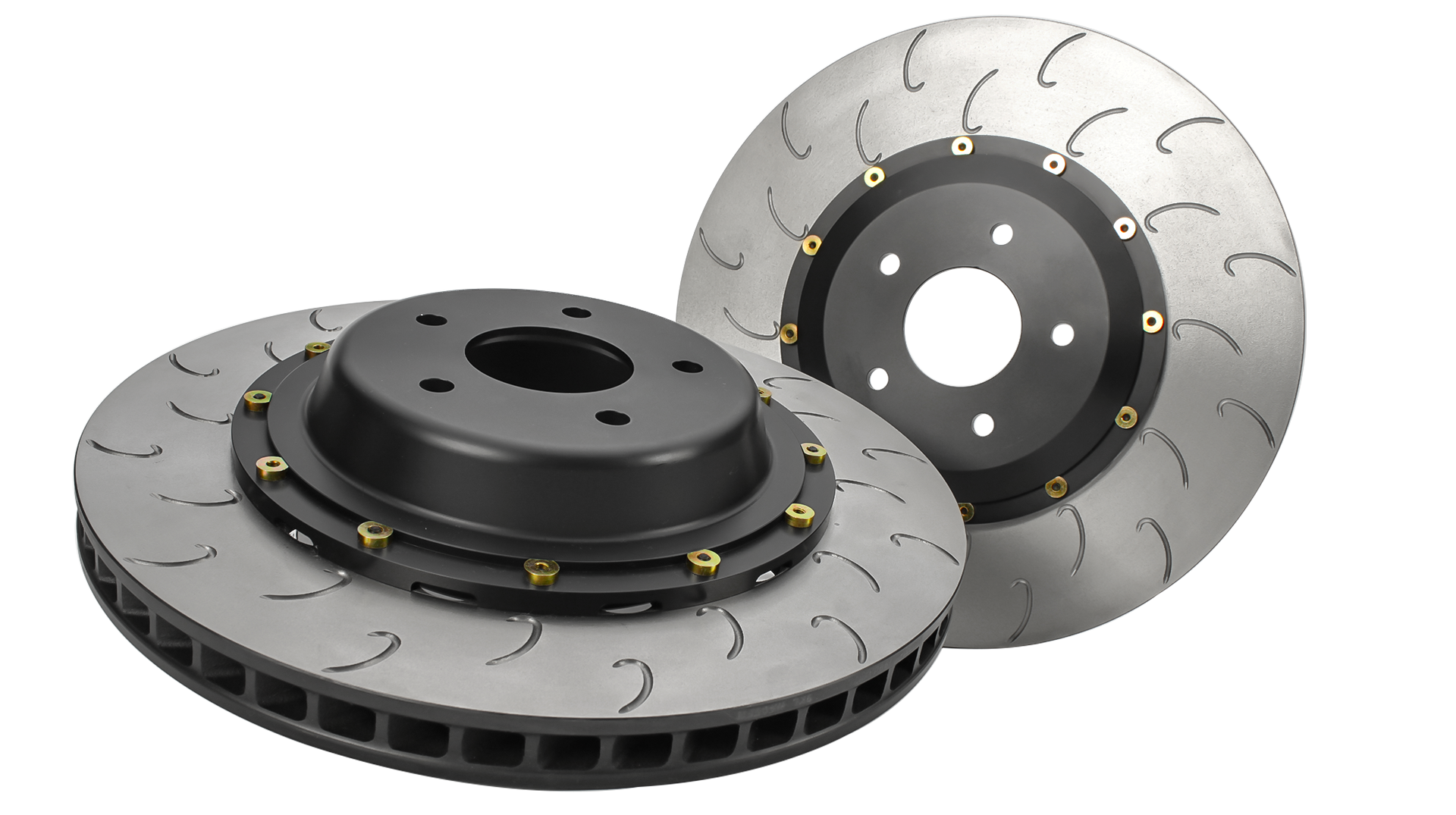 The AP Racing discs in the Radi-CAL big brake kits are directionally curve vane vented for maximum air flow through the disc. AP Racing's unique curve vaned discs are Dyno and race proven as the best designed rotors for optimized cooling. The curve vane rotor acts as an air pump pulling air into the center of the rotor and blowing it through the veins and out of the top of the rotor. This act allows the rotor to be self-cooling and work extremely efficiently.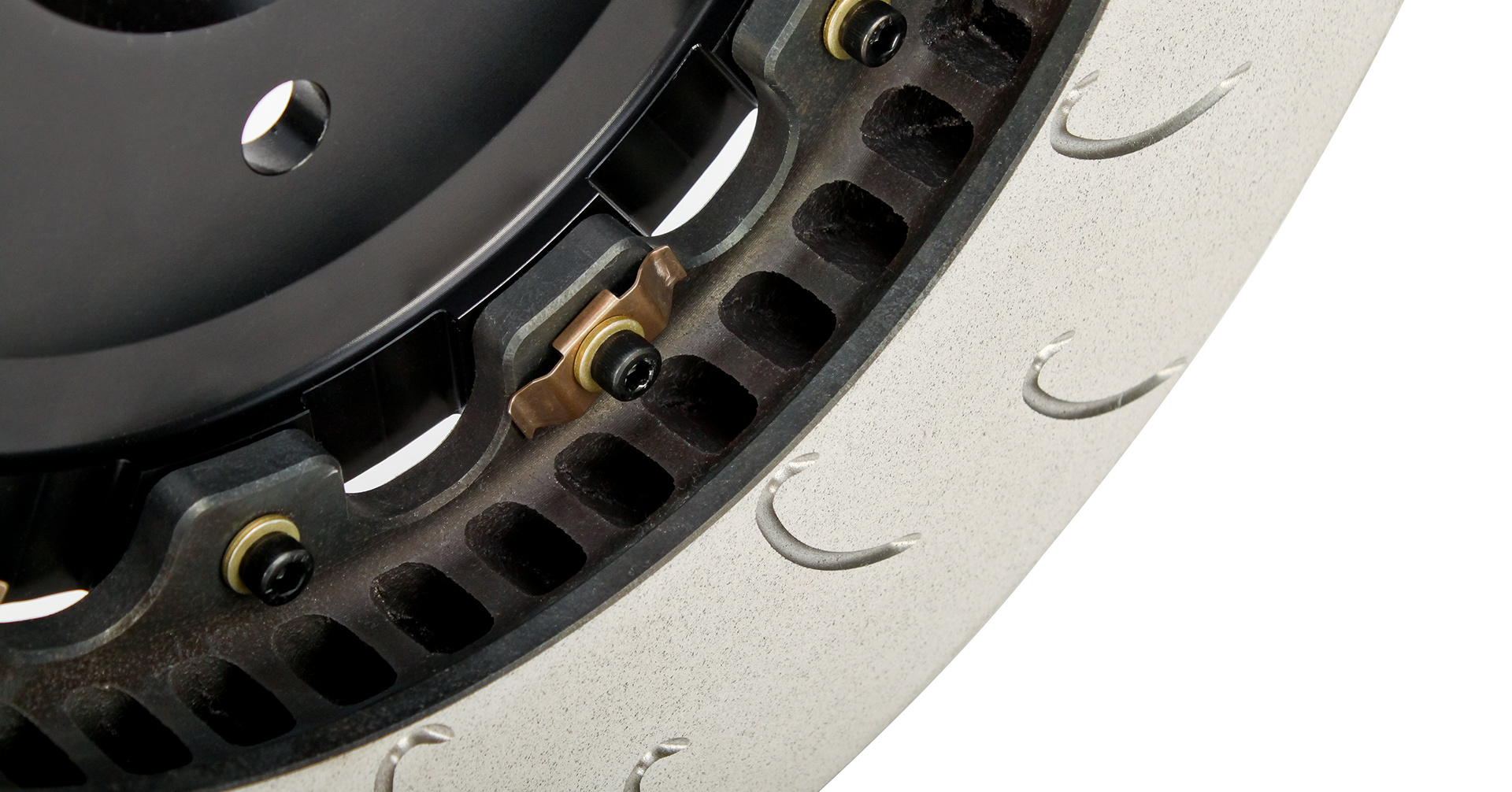 AP Racing's Wide Disc Technology (WDT) is used for the most efficient way to transfer heat to from the disc. Designs using wider discs with larger air gaps increase air flow rates within the discs as proven by AP Racing's FEA, CFD and TSA testing. This goal was achieved while also  decreasing disc weight and  disc stress as well as  decreasing disc temperatures by up to 300 degrees F.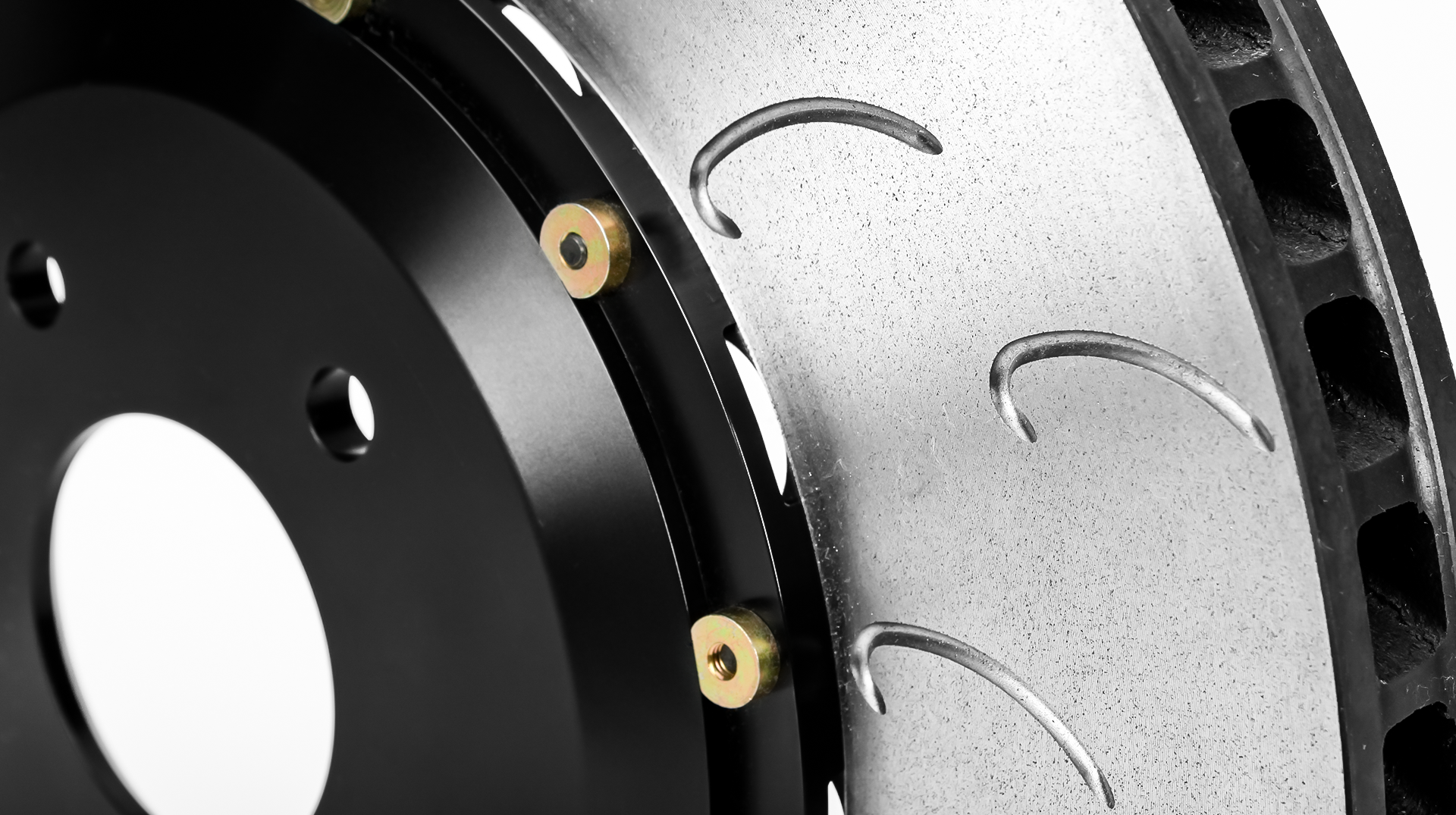 Larger two piece rotors allow for greater thermal capacity with an eye on weight by using aluminum center bells (hats) that minimize the unsprung weight of the overall disc assembly. This means greater heat management without increasing corner weight. It also increases the effective radius (leverage point) of the brake system which creates more brake torque with same braking effort.
Floating rotor assembly hardware is used to allow the brake disc and bell (hat) to move freely radially and axially to allow the disc to expand and contract under thermal stress without  binding or cupping. This allows the disc to stay centered to the caliper and reduces pad knock back. STILLEN utilizes McLaren tension springs on all floating assemblies to reduce any noises or rattles and to meet our NVH standards.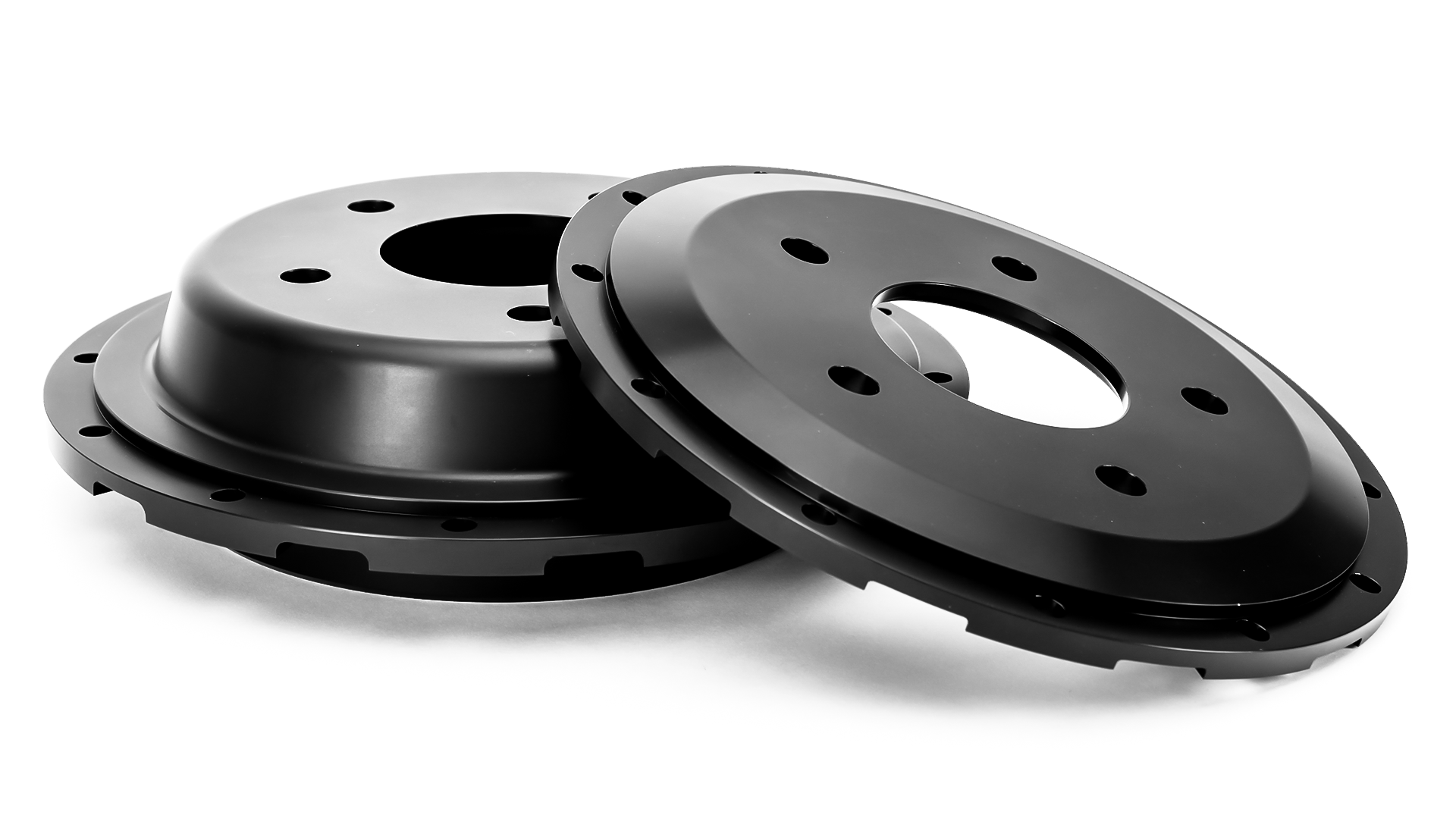 Lightweight billet aluminum bells (hats) are made vehicle specific to match the OE bell (hat design) for a perfect match to the OE hub. For the AP Racing Radi-CAL brakes STILLEN has selected an aircraft grade 6061-T6 billet aluminum. This is the same material used by AP Racing in their aluminum hats.   6061-T6 aluminum is considered the standard aluminum used in all aerospace applications and offers excellent strength and durability along with excellent longevity and service life.  Caliper and rotor location is optimized during the hat and bracket engineering phase by moving the caliper and rotor as far inboard to the wheel well as possible.  This ensures that AP Racing by STILLEN big brake kits fit the widest range of wheels possible.
"Industry standard" is to use a 10 point bolt pattern to connect the rotor and hat assemblies.  AP Racing and STILLEN have chosen to go with a 12 point bolt pattern configuration.  This means that the stresses and loads put on the braking system is distributed more evenly across both the rotor and the hat thus reducing the stress and fatigue placed on the system components.
All kits feature 2 piece full floating rotors for lightweight and high durability
All rotors are available in either J hook or cross drilled slotted patterns
Rotors feature AP Racing wide disc technology to allow for better cooling and longer service life
Directional vanes are used in every rotor to allow optimal airflow and cooling efficiency
The friction material used in the brake system is a key factor for the overall performance of the system. There are many variables to consider including pad material heat range, dust, NVH (noise, vibration and harshness) issues and of course performance characteristics. Most OE and aftermarket brake pad materials concentrate on low dust and NVH issues while sacrificing performance levels. AP Racing and STILLEN consider all four points in the selection of the supplied brake pad material.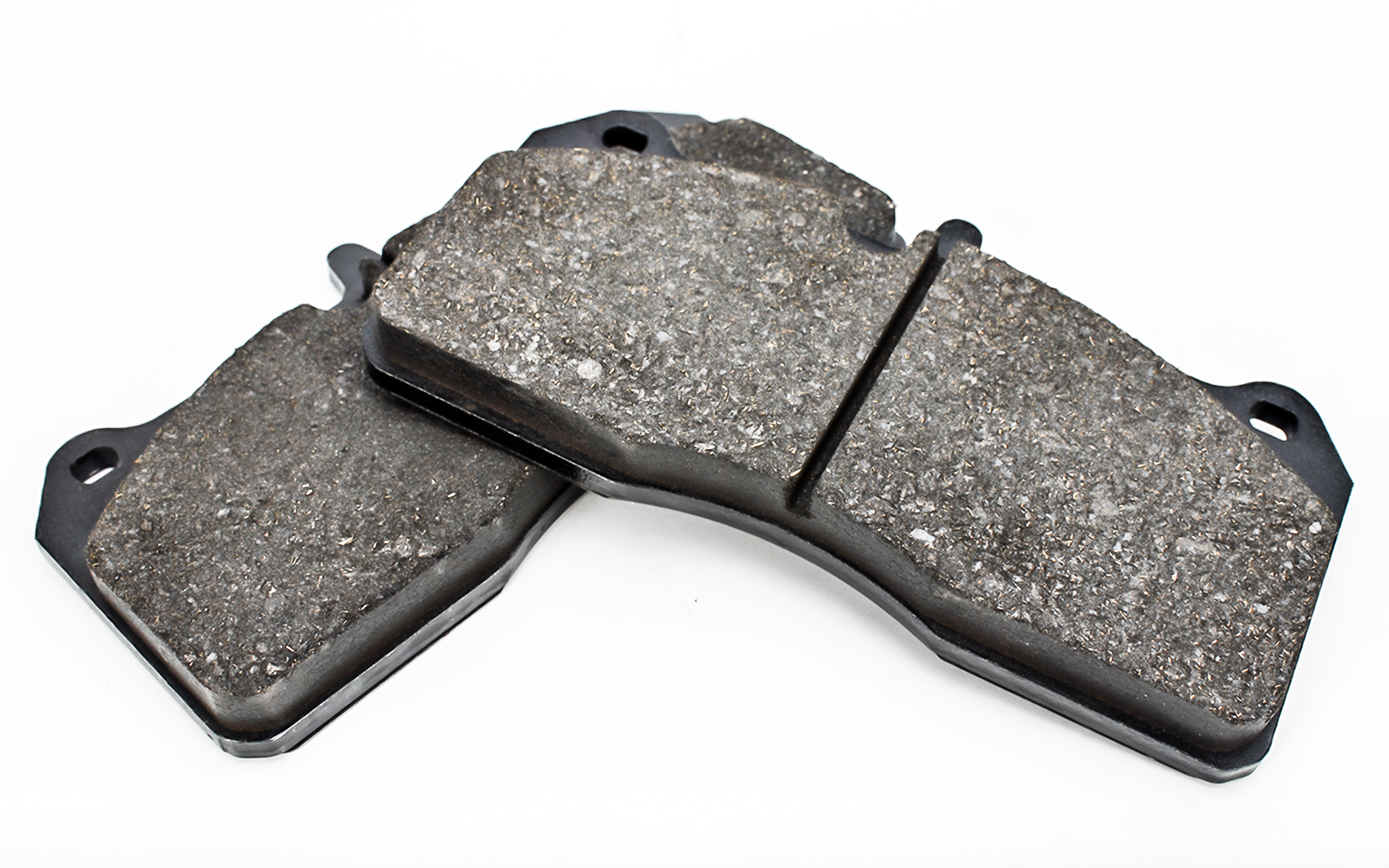 The result is a material that produces a high, linear mu level for high initial bite and consistent grab through a wide heat range. These low dust brake pads are equipped with noise abutment shims that control NVH issues. Unlike carbon pads or ceramic pads, our high performance pad material is also environmentally complaint to the upcoming California and Washington legislation (pending in other states) that requires the elimination of copper and other harmful pollutant byproducts in brake dust that eventually make their way into our water systems.
STILLEN has also worked hard to ensure a wide range of pads are available for this caliper.  All kits come with the standard brake pad optimized for low dust, NVH and performance driving however race pads are available upon request.
Performance street brake pads included (various pad compounds available)
Standard pads feature low dust composition with performance street driving in mind
Optional brake pads for enthusiasts looking to take their driving to the next level
Stainless Steel Brake Lines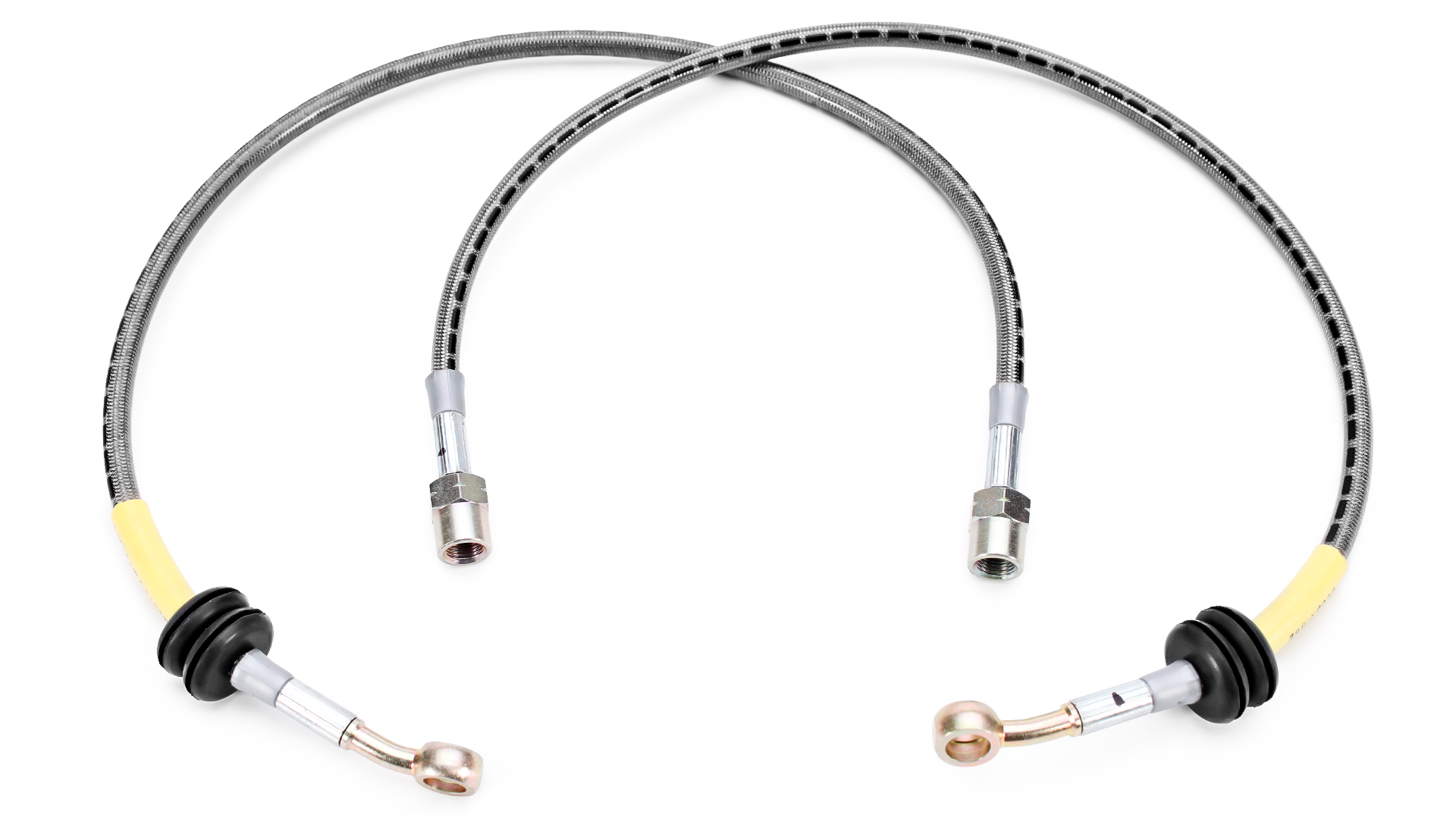 This is an often overlooked component in performance braking. Brake lines used in the AP Racing Radi-CAL kits are built using extruded PTFE hose that is wrapped in corrosion and fire resistant stainless steel braided hose and then covered with a clear plastic coat for additional protection. Each brake line design goes through rigorous testing and must pass the whip test, where the line is whipped through thousands of cycles, before being approved for production.
The result is the most efficient delivery of fluid pressure to the brake caliper, bringing a solid feel to the brake pedal sure to inspire confidence at every brake zone. By reducing the factory rubber lines ability to swell or expand means a quicker response, firmer more consistent pedal feel that allows for great brake modulation.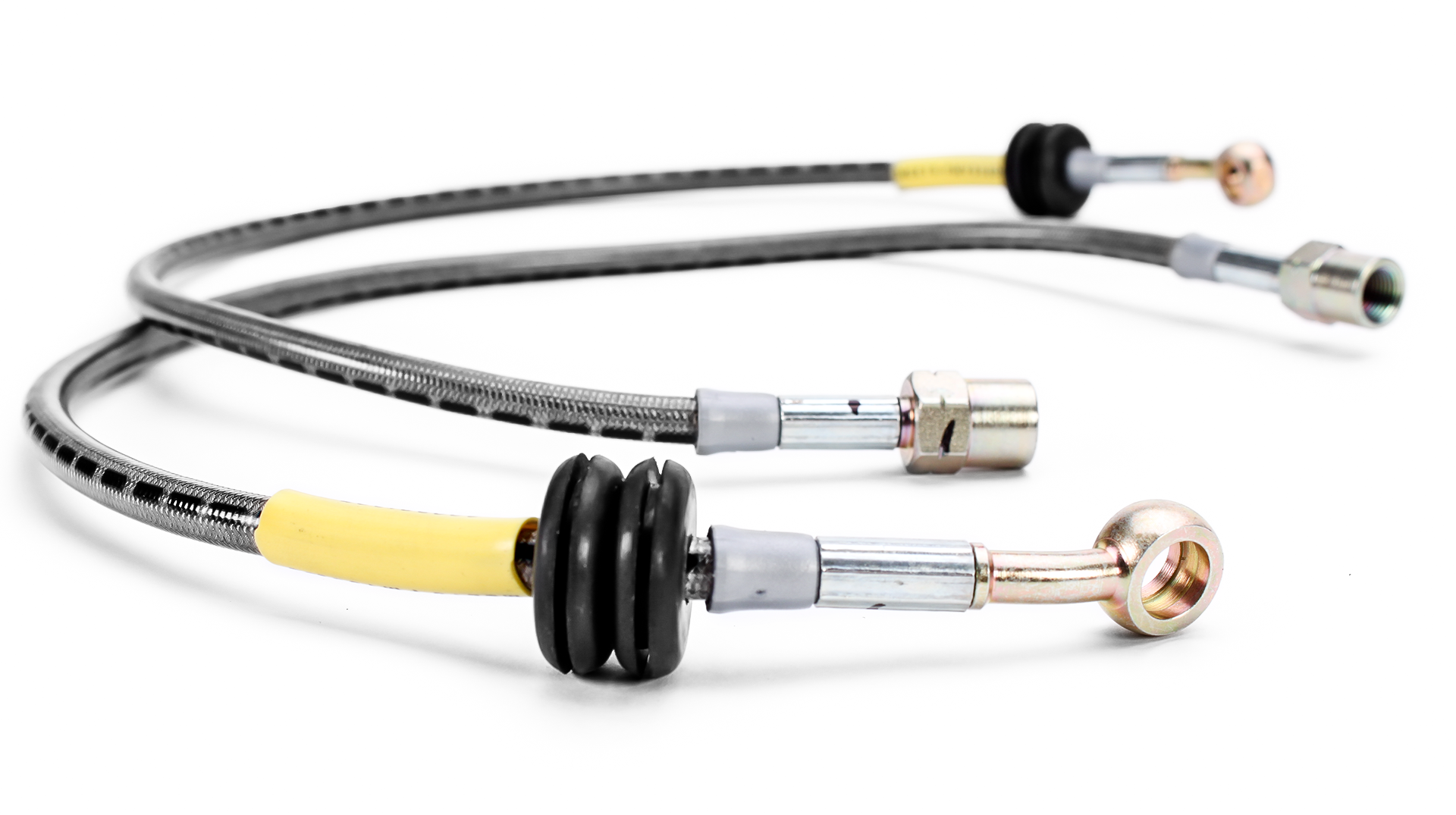 All AP Racing by STILLEN brake lines are provided by Goodridge.  Goodridge is the leading brake line supplier in the industry and one of the only companies to achieve DOT compliance.
Who is AP Racing
For over 50 years AP Racing has been recognized as the leader in motorsport friction technology.  In 2016 alone AP Racing supplied brakes and/or clutches to over 30 champions across multiple disciplines of motorsport.  AP Racing is the primary brake component supplier to NASCAR, WRC and other major forms of motorsport around the world as well as the spec clutch supplier for Formula One while also supplying half the field with racing brake components.  To date AP Racing has won over 700 Formula one Grands Prix.
There is no other friction manufacturer that has the experience, or track record to match AP Racing.
Who is STILLEN:
In 1990 STILLEN company founder Steve Millen was testing at Mosport International Motorsport Park only one day after joining his team in a successful campaign at the 24 hours of Le Mans.  The purpose of the test was to develop a new braking system for the world famous IMSA 300ZX twin turbo race car which Steve would later take to victories at Daytona, Le Mans, Sebring and multiple world championships.  During the test Steve discussed his passion for tuning high performance roads cars and that he was looking for a solution to improve the brakes.  He was making the cars more powerful, handle better and as an experienced racer knew that this improvement in speed needed to be matched with an improvement in braking.  Since this initial conversation in 1990 STILLEN has continued developing high performance big brake kits for all makes and models of cars, trucks and SUVs.