Lightened Flywheels for 2003-06 Nissan 350Z [Z33], 2003-07 G35, Nissan 370Z [Z34] & Q60 3.7
Don't Miss this Upgrade When Upgrading or Replacing your Clutch – Get More WHP & Faster Response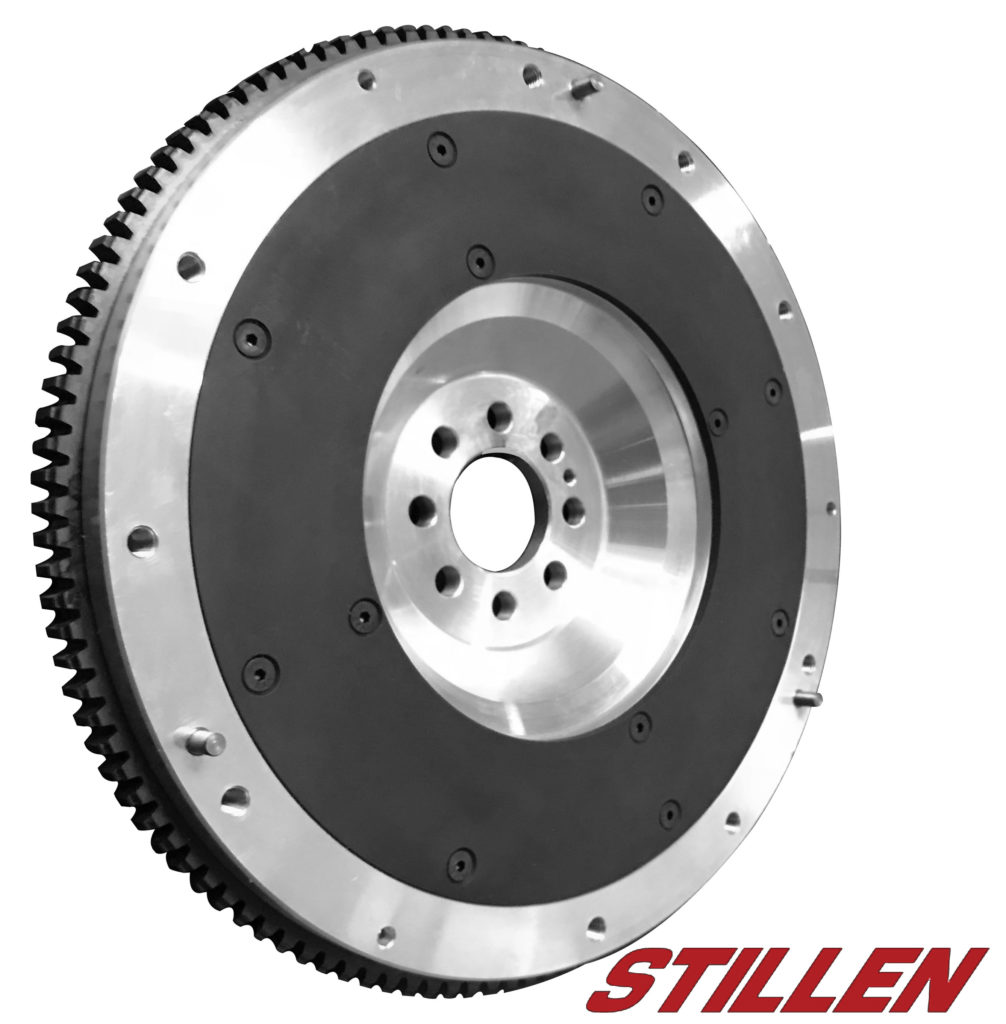 Most enthusiasts know that replacing the OEM clutch with a high performance unit transfers more power to the ground, improving acceleration and performance. What not everyone realizes is that there are two sides to the clutch system besides the disc and pressure plate – the flywheel is just as important.
When it comes time to replace your OEM clutch, or if you're thinking about upgrading to a high performance clutch in your Nissan 350Z or Infiniti G35, 370Z, G37 or Q60 3.7, you're likely worrying about stuff like how many pucks your clutch has and its friction material – but you're probably not thinking about your flywheel and really, missing this upgrade while you have everything apart during a clutch install is doing yourself and your Z, G or Q a disservice.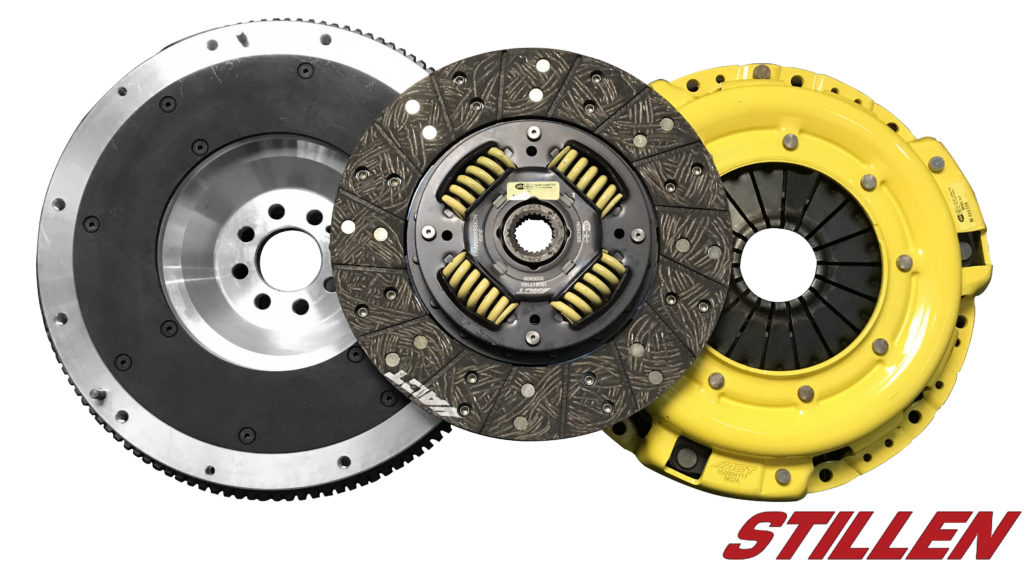 What not everyone realizes is that a lightened flywheel is one of the best modifications you can make to any manual transmission vehicle. So? The engine feels much more powerful and responsive- the whole car generally feels more lively. A lightened flywheel won't ADD horsepower or torque, but rather, with it, you regain power and response that is normally consumed by drivetrain loss. By reducing some of the loss from the drag of the drivetrain on the engine, more engine power makes it to the wheels.
Flywheel Animation via Wikipedia Commons 
What does a flywheel do, anyway?
To understand why a lighter flywheel makes such a big difference in performance and response, you need to understand how a flywheel works. To put it simply, a flywheel is an energy storage device – the flywheel stores inertia energy. The purpose the flywheel in your car serves is smoothing out the fluctuations of torque on the crankshaft, as well as helping to maintain engine speed (RPM) at a designated level. In other words, the flywheel helps keep your engine from stalling as you feather on the clutch when taking off from a standstill, for example.
How does a flywheel work in practice?
Ever play with one of those "pull-back" toy cars as a kid? Those pull back toy cars rely on a flywheel to work. The wound up spring spins a flywheel, the spinning mass of the flywheel creates inertia, meaning the flywheel wants to keep spinning, thus keeping the toy car moving after the spring has delivered its initial thrust.
Imagine trying to run in work boots. Now  imagine trying to run again after changing the work boots for a pair of running shoes. Same idea. As your engine turns, it takes some energy to get the weight of the flywheel moving. In turn, the flywheel wants to keep moving, helping smooth operation and idle. The more mass a flywheel has, the more energy it will take for your motor to gain RPM. Most manufacturers opt for a heavier flywheel, the reason being that it makes the engine less likely to stall and much easier to use in stop-start traffic. When you reduce the weight of the flywheel, the vehicle feels more powerful as a result, because less energy is required to overcome inertia and get the flywheel moving. As a result, more of the engine's motive power is transferred to the wheels, and since there is less weight holding back the engine, it will gain and drop revs more quickly as well.
There's an anecdote that illustrates this brilliantly, funnily enough from an old Kung Fu movie, but hear us out here. So, there's this climactic fight between two skilled fighters. The whole movie, one fighter is always seen wearing heavy ankleweights… but even with the weights on, he's very quick, but his opponent is even faster. Just before the fight, to everyone's surprise, the guy removes his ankle weights. With the resistance of the weights gone, the fighter has use of his full potential, giving him the extra performance needed to best his opponent. That's effectively what's happening when you fit an engine with a lighter weight flywheel.
Removing the unnecessary resistance unleashes your engine's full potential.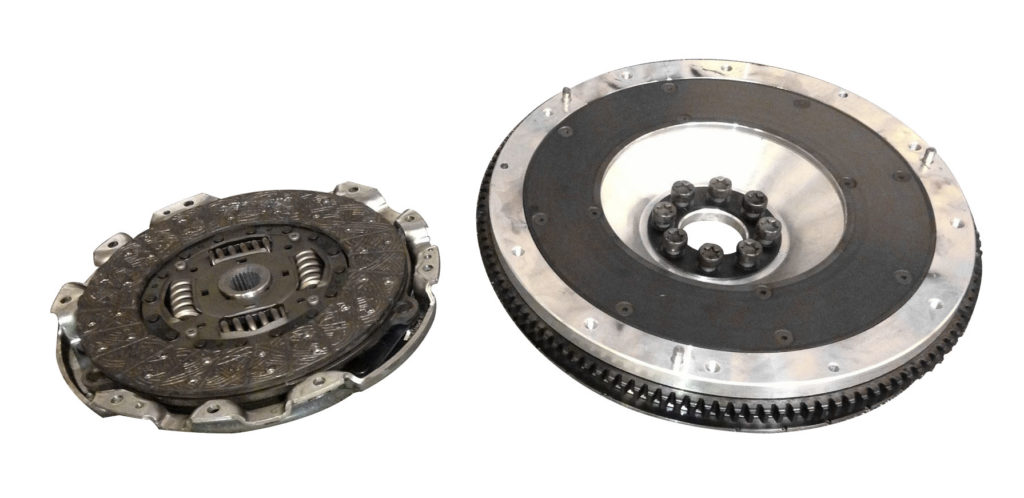 Your Flywheel & Clutch Are Both "Wear Items"
Most people don't consider that your flywheel wears out, just like your rotors wear away on your brake system. Not everyone realizes the flywheel's friction surface wears out too, so some folks neglect to resurface or replace their flywheel when installing a new clutch disc, and that's really only doing half of the job. The clutch grabs onto the flywheel's face, wearing it out as well as the clutches' friction material, so like your brake pads, rotors and clutch, it too is a wear item and should also be serviced whenever you're replacing the clutch.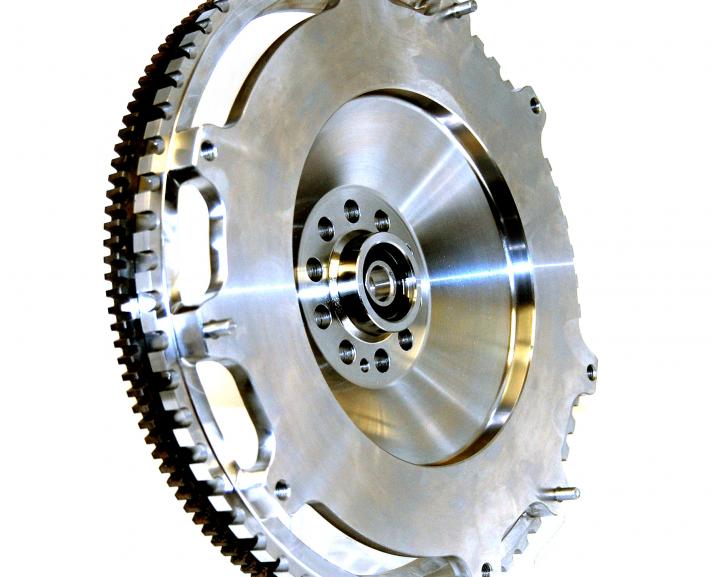 On the Nissan VQ engines used in manual transmission-equipped 350Z, 370Z, G35 , G37, and Q60 3.7 the difference is especially noticeable. In the 370Z and its VQ engined sisters, the OEM flywheel weighs in at a whopping 25-26lbs – by contrast, the STILLEN Flywheel for Nissan 370Z and Infiniti G37/Q60 tips the scales at only 14.25 lbs, a difference of more than 10lbs. For the earlier Z and G models, the STILLEN Flywheel for Nissan 350Z / G35 offers similar weight reduction.
As the flywheel turns, centrifugal force and inertia make the flywheel act as if it is many times heavier than it is, which holds your engine back significantly.
ALTERNATIVE OPTIONS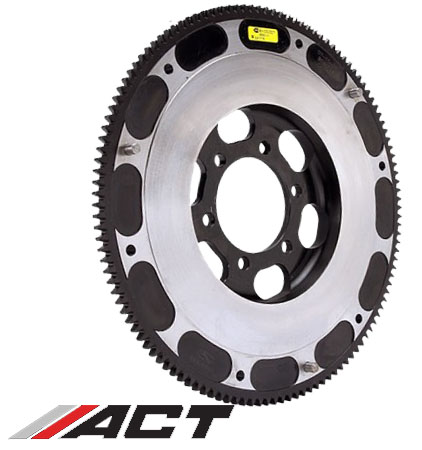 As an alternative, the ACT Streetlite Xact Flywheel for 370Z, G37 and Q60 3.7 is slightly heavier at 17.4lbs, and that's still a big improvement over the stock 25lb part. The additional mass makes it just a bit friendlier on the street while still offering the benefits of a lightweight flywheel, and it's a good bit less expensive at just $366 (as of press time).
The tradeoff is that this flywheel is non-serviceable, so once you've worn it out, you'll need a new unit (as opposed to resurfacing or replacing it), and of course, it will be a little slower to drop or gain revs compared to the STILLEN unit because the ACT unit is 3lbs heavier, but it's still a significant improvement over stock.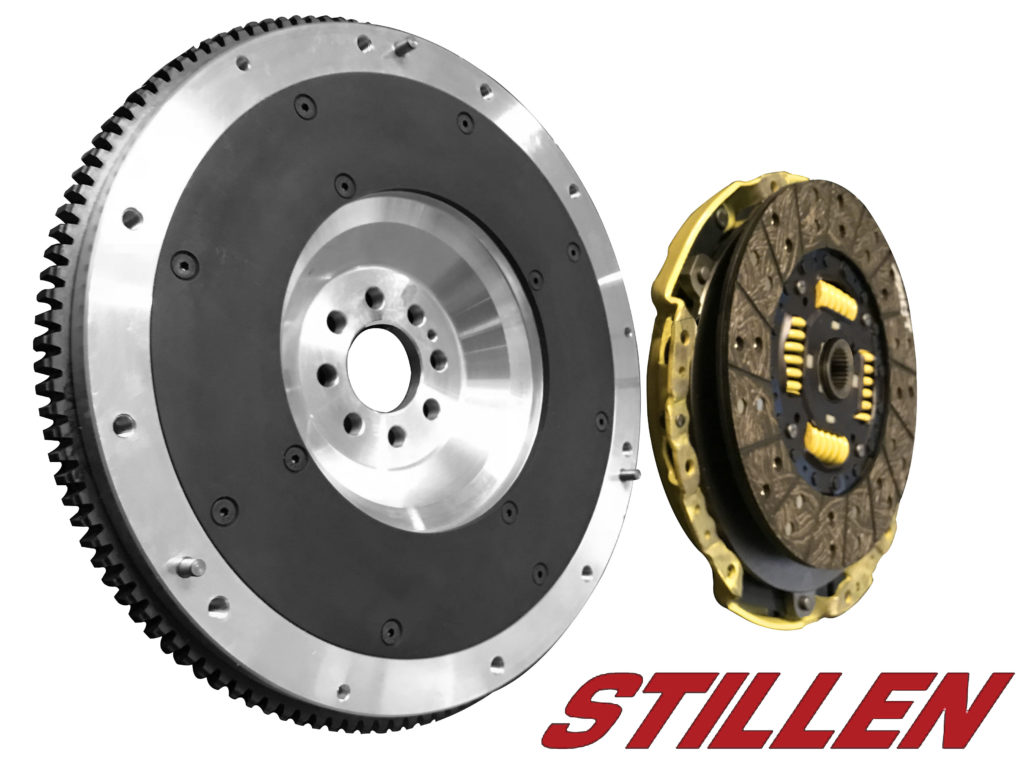 Face to Face: The black disc on flywheel is what makes contact with the face of the clutch
The clutch and the flywheel are as critical to each other as peanut butter and chocolate are to a Reese's cup – it's not a Reese's without both, so be sure to service your flywheel whenever you replacing the clutch. Doing one without the other is kind of like replacing just your brake pads without servicing the worn out rotors. While yes, it'll bolt together if you skip replacing the rotors during a brake job or resurface the flywheel when doing a clutch, it'll 'work', but it won't perform as well as it should or could.
More Affordable Than You Think
The other thing is, the 370Z, G37, Q60 3.7 and late-production 350Z models use a dual mass flywheel. What this means is that the average machine shop cannot resurface it, it has to be sent out to a specialty machine shop, meaning that for many people, an expensive OEM replacement flywheel is the only viable option.
Trouble is, a replacement OEM flywheel is a whopping $1200 USD at press time. By comparison, the STILLEN flywheel is less than half that at $535 USD (at press time), saving you nearly $650. What's unique to the STILLEN Lightweight Flywheel for 2008-10 Nissan 370Z is that unlike virtually every other lightened flywheel available for these cars, the STILLEN flywheel is rebuild-able. This means that when its friction surface wears out, you're only buying a $125 replacement component. With a flywheel that is not rebuildable, you'll be stuck buying a whole new flywheel when it wears out.
The reality is, if you're upgrading or replacing your clutch, you're already doing the majority of the labor needed to install a lightweight flywheel. That makes a lightweight flywheel the perfect "While I'm At It" mod.
For your convenience, STILLEN also offers a flywheel and clutch package, the STILLEN High Performance 350Z / 370Z / G37 Clutch / Flywheel Combo, which includes the STILLEN Flywheel, an ACT Clutch / Pressure Plate and of course, a new Pilot Bushing with clutch alignment tool. Available for $989.50 (as of press time), this package saves you some green when compared to buying the included items one-by-one.
We've covered the performance benefits and potential cost savings, there is one more CRITICAL item you really should replace while you've got your car taken apart, and not replacing this one little part can really bite you in the behind later on, and take your Z, G or Q out of commission when it goes.
DON'T FORGET THE SLAVE CYLINDER! OR ELSE…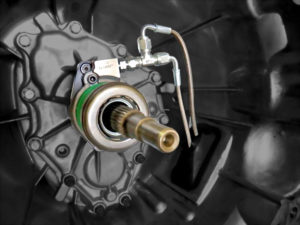 One of the notorious issues specific to the 370Z, G37 and Q60 3.7 is the clutch slave cylinder. The OEM Nissan unit is a rather brittle little plastic part – and ludicrously prone to failure.
The Problem
If you're installing an aftermarket performance clutch in your 370Z or G37, it is a GUARANTEE that your OEM Nissan clutch slave is going to fail on you in the very near future. We don't say that kind of thing lightly. The OEM clutch slave might survive with a stock clutch, but it can't manage an aftermarket clutch. Yes, you can use an OEM Nissan replacement for your failed clutch slave, but remember, the design and materials are still the same, which means the replacement will also inevitably fail too.
The frequency of failure isn't an exaggeration, either. The OEM slave really is that bad on the 370Z, one only needs to google "370Z problems" to see just how frequently the CSC's fail, and we've even seen it firsthand on customer vehicles – in one case, the customer opted to skip the clutch slave when installing a new clutch disc despite our warnings, and unfortunately, within 2 months the OEM CSC unit failed, just as we had cautioned it would. The customer's 370Z had to be taken apart all over again to replace it, and when you consider paying for the labor of dropping a transmission twice, that's a rather pricey gamble.
The Solution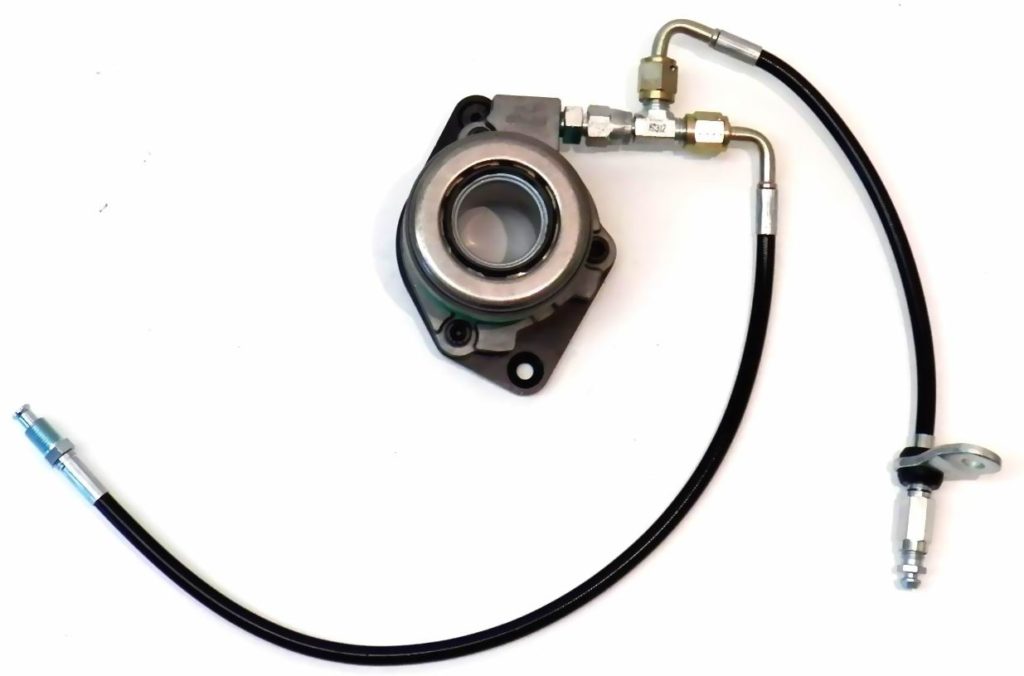 This brittle and leak-prone plastic OEM CSC was such a nuisance, it drove ZSpeed Performance to develop their heavy duty ALL-METAL Concentric Clutch Slave Cylinder for the 370Z and G37 (and late 350Z's with the HR engine), and given the ridiculous failure rate, the experts at STILLEN highly recommend ZSpeed Performance's Heavy Duty Clutch Slave as a part of any G37 or 370Z clutch service. On the earlier 350Z and G35, the slave was serviceable from the outside of the transmission… on the 370Z and G37, you've got to do all the work you'd normally do while replacing the clutch in order to replace it.  We STRONGLY recommend installing this upgrade with any clutch replacement – take our word for it, you'll regret it later if you skip the slave when replacing or upgrading your clutch.
A replacement OEM plastic clutch slave from Nissan is around $125, while the ALL-METAL Heavy Duty Zspeed Clutch Slave is a bit spendier at $325 (as of press time), but consider, for that additional cost, you're getting all metal construction. That means you have peace of mind to drive and enjoy your car, as you've replaced the ticking time bomb of failure with a more durable version that will serve you reliably for many miles to come.
We realize we're beating a dead horse a bit here, but seriously, save yourself the tow truck, the labor and the heartache and replace the slave while you have everything apart. After all, it's not a matter of if, but WHEN your clutch slave is going to fail, and it would suck to have to pay for the labor twice. You'll thank us later.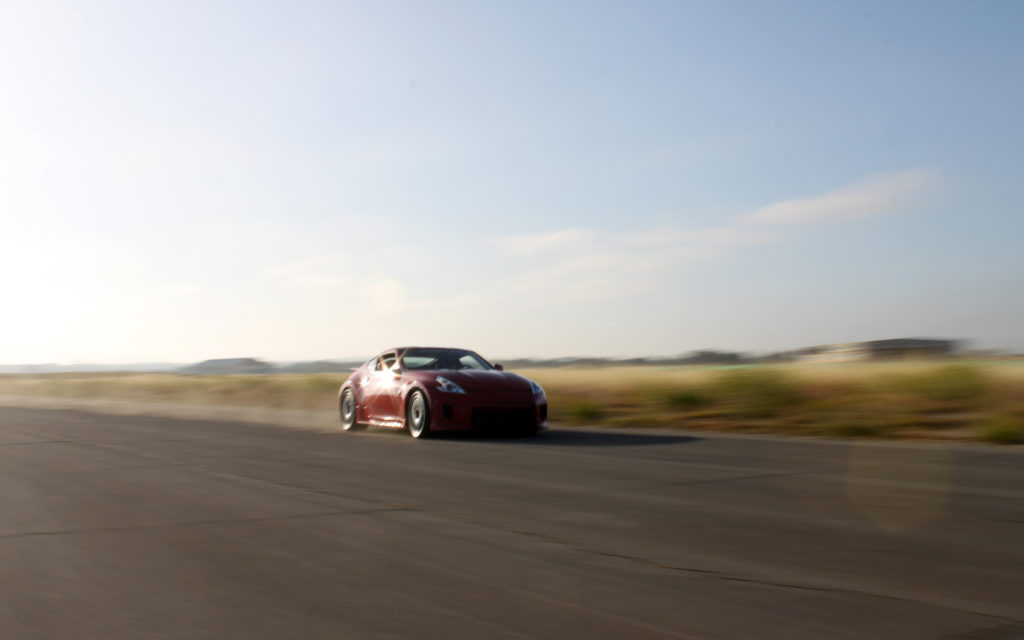 Is a Lightweight Flywheel Street-Friendly?
The caveat to a lightweight flywheel is that going too light can cause driveability problems and make stop-start traffic challenging. The STILLEN Flywheel is designed with streetability in mind, offering both significantly enhanced performance and response while also keeping enough mass to ensure the car won't stall out in stop/start traffic like it may with an ultra-lightweight RACING flywheel. The experts at STILLEN have spec'd out a flywheel with a great balance of weight reduction and real-world usability.
We do want to note here that a lighter flywheel will cause some light gear chatter- but pretty much any flywheel other than the OEM unit will chatter, too. If mild gear chatter is an issue for you, resurfacing or replacing your OEM flywheel could be a possible alternative option.
Conclusion
In short, the STILLEN flywheel offers a major improvement in performance and response you'll really feel on the ol butt-dyno and it's less than half the price of a replacement OEM flywheel. Even if you add in the Zspeed Clutch Slave, you're still spending hundreds less than an OEM flywheel for an increase in performance and response that few other mods can offer.
That about wraps it up – if you have questions or would like to order your own, reach out to us at 866-250-5542 to speak to our knowledgeable staff, and if the phone's not your thing, you can always email us at sales@stillen.com or talk to us in real time by using the Live Chat on STILLEN.com