How to Pick the Perfect Aftermarket Swaybars
Every week our automotive experts get questions about swaybars from automotive enthusiasts.
No wonder…swaybars, a.k.a anti-roll bars, are a popular and cost-effective way to significantly improve vehicle handling in corners, through slaloms and during evasive maneuvers.
There's no one-size-fits-all answer to the question: "Which swaybar is right for me?" Picking your perfect swaybar requires consideration of key factors including:
The make and model of your car or truck
How and where you'll drive it
What you hope to gain from suspension upgrades like sway bars
This sway bar buying guide will help you decide which anti-roll bars are right for you.
Soon you'll be on the road to happier handling!
How Do You Drive, And Where Are You Driving?
By which we mean:
The best sway bar for you depends on how you'll use your vehicle. Is it your daily driver, canyon carver, weekend track car, full-time race car, rock crawler or desert mauler?
The right sway bar is part of an integrated suspension system that reflects your primary vehicle use. For track days or racing, the optimal suspension setup may include shocks, springs and wheel alignment changes along with aftermarket sway bars.
THE BASICS – What Sway Bars Do
So what is a swaybar exactly? Simply put, it's a metal crossbar that ties the driver and passenger side chassis and suspension together. When a car is traveling straight down the road or track, a sway bar has little effect on handling.
But as soon as you crank on the steering wheel and enter a corner, a sway bar 'springs' to life to help control the weight shift that occurs during cornering.
Here's how a swaybar works:
As your vehicle turns into, say, a left-hand corner, a portion of vehicle weight transfers ('rolls') to the right-hand side of the vehicle.
This rolling effect loads the suspension, steering and tires on the right-hand side of the vehicle. Some side loading is desirable and necessary as long as it's controlled.
A sway bar helps control this rolling effect 

by twisting along its axis as the chassis and suspension moves.

As the bar cycles through its range of travel, it offers progressively more resistance to twisting.
The sway bar's ever-increasing resistance to twisting works to counter the force of vehicle roll.
Check out this cool animation showing a swaybar in action:
Not all Plants are Potted
After installing a swaybar, the effect you'll notice from the driver's seat is that your car feels level or 'planted' as you take a corner.
This 'planted' stance is the result of better weight distribution and traction.
Not only does it feel good, it offers big benefits:
A car that's more planted through a turn allows for better rotation and more control
A car that's more planted lets you get back on the gas sooner, resulting in quicker acceleration out of the turn
With the right sway bars on board, you'll soon be taking familiar corners at higher speeds than you used to.
And grinning a lot more too.
Stiffer Isn't Always Better
Is an aftermarket swaybar always necessary?
Given that STILLEN is a leading manufacturer of aftermarket sway bars, our answer may surprise you.
The answer is: No, an aftermarket sway bar isn't always the best solution for every vehicle, driver or environment.
Here's why:
In most cases, an aftermarket sway bar is going to be stiffer than the factory sway bar
In most cases, this is going to improve the performance and handling of the car
For most drivers, these improvements are going to make them happy and they'll quickly adjust to the improved handling characteristics of their car
But we won't tell you that installing a swaybar is the right thing for all drivers vehicles and situations.
Real World Results May Vary
For instance, suppose you're looking to improve the handling of your daily driver and you install a sway bar rated at 200% stiffer than stock.
Rather than improve, your cornering performance, ride quality and traction will suffer on real world road surfaces. Potholes, mid-corner dips, and road kill will all fight against your uber-stiff setup.
Say your left side front wheel hits a bump mid-turn. Stock suspension or a moderately stiff aftermarket sway bar will transfer some of the energy to the passenger side front wheel – no biggie.
But an extremely stiff sway bar will transfer much more of the energy – maybe enough to unsettle the suspension and reduce traction by creating tire lift on the inside wheel and excessive sidewall flex on the outside tire.
The swaybar you installed to improve handling can work against you, especially paired stock springs and tires (more on this later).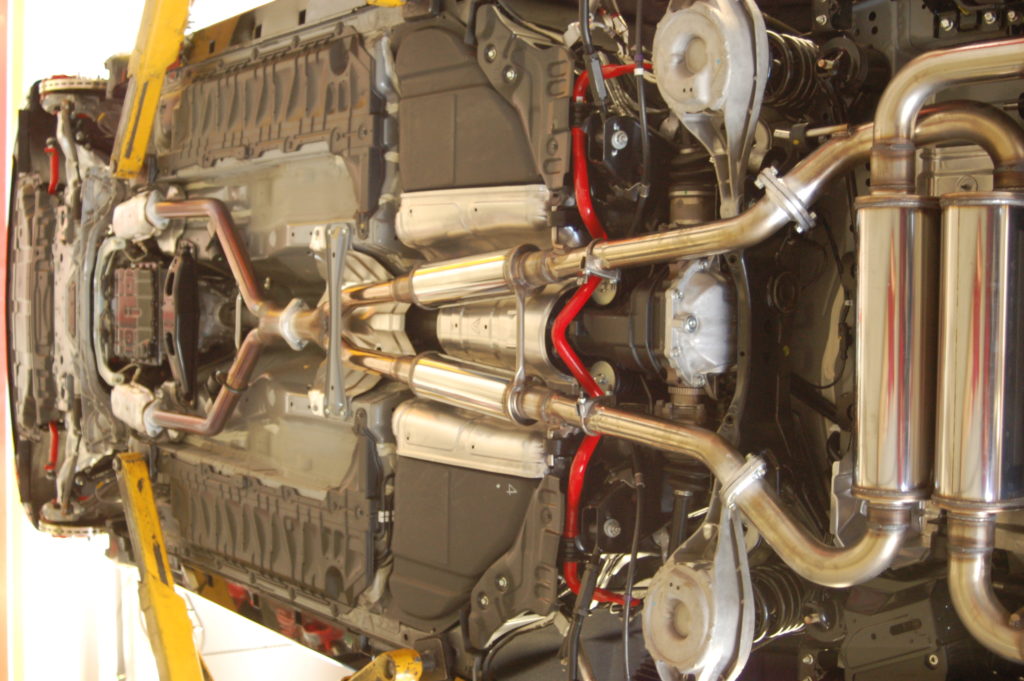 Newfound Glory
Even world-class car handlers like STILLEN founder Steve Millen don't automatically run stiffer sway bars.
Here's a great example of a situation where an aftermarket sway bar wasn't optimal for the conditions:
In 2009 the STILLEN rally team headed to Newfoundland, Canada, to compete in the Targa Newfoundland rally with a NISSAN GT R. Prior to the trip, the team engineered new Penske coil overs and new sway bars along with a host of other performance parts designed to enhance the already formidable GT R.
They also packed the factory front sway bar into the trailer.
You might think: "Well Duh, rally car….if you crash you need spares."
But in reality, the team wasn't convinced the stiffer sway bars they'd developed and tested on smooth roads during the Southern California summer were going to be suitable for the rough roads of Canada.
Especially when the forecast called for plenty of rain North of the border.
When driving in the rain, tire compliance is key to maintaining traction. When the road is dry and offers plenty of tire grip, you can stiffen the suspension and make the tire work harder.
But when traction is limited, a stiffer setup overworks the tires and traction suffers. Better to soften the suspension and make it more compliant to conform to the road surface.
In the end, the team found that the optimum setup for the STILLEN GTR on the Targa Newfoundland roads: run the OEM front sway bar and the STILLEN rear sway bar.
By retaining the stiffer rear sway bar they reduced the car's natural tendency to understeer and made the car rotate better through the turns.
The next year when they took the car to the Targa Rally in New Zealand, they re-installed the STILLEN front sway bar and ran stiffer coil springs on the Penske shocks.
The roads in New Zealand are faster and offer more grip even in rainy conditions. The stiffer setup was spot on for maximum control in the challenging environment of rally racing.
Check out the results in this video from the 2011 Targa Rally:

Moderation for the Masses
For the vast majority of drivers using their vehicles for daily driving, canyon carving or occasional track use, sway bars that impart a moderate increase in stiffness are the best choice. The incremental stiffness will retain factory-like ride quality while offering improved handling in the corners and slaloms.
For even more versatility and fine-tuning, adjustable sway bars might be your best option.
The more adjustability a sway bar offers, the more you can fine tune your suspension to suit your needs and preferences.
What's more, adjustable sway bars allow you to set up your suspension to favor:
Oversteer (when a car turns more sharply than desired by the driver), or
Understeer (when a car turns less sharply than desired by the driver), or
Neutral Handling (when a turns exactly as desired by the driver)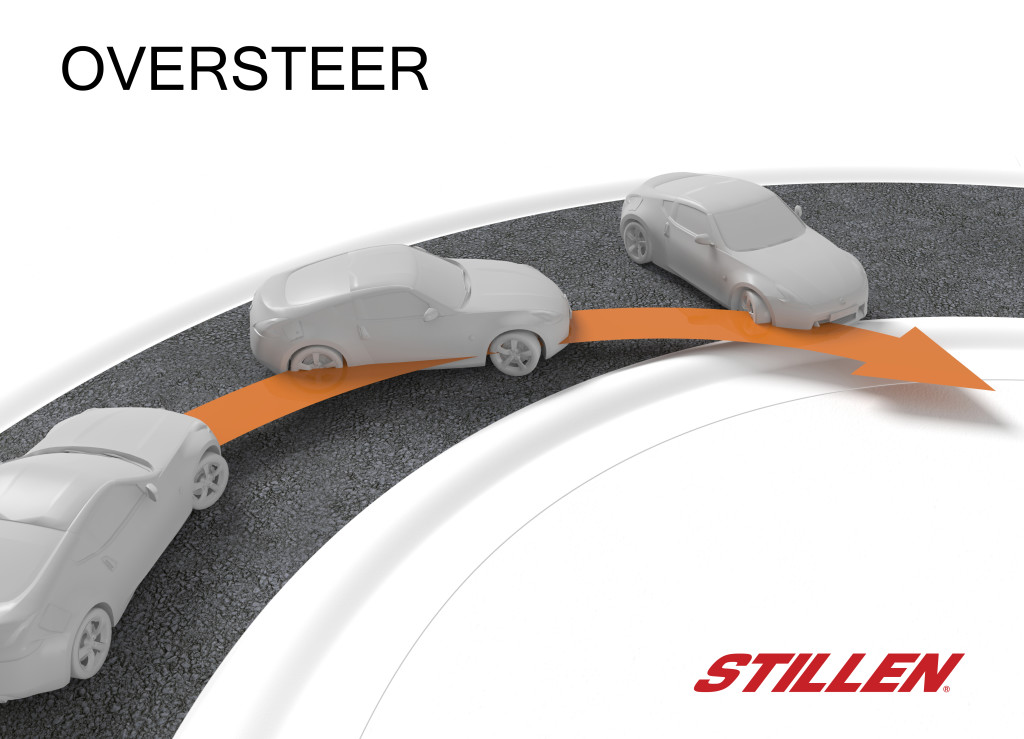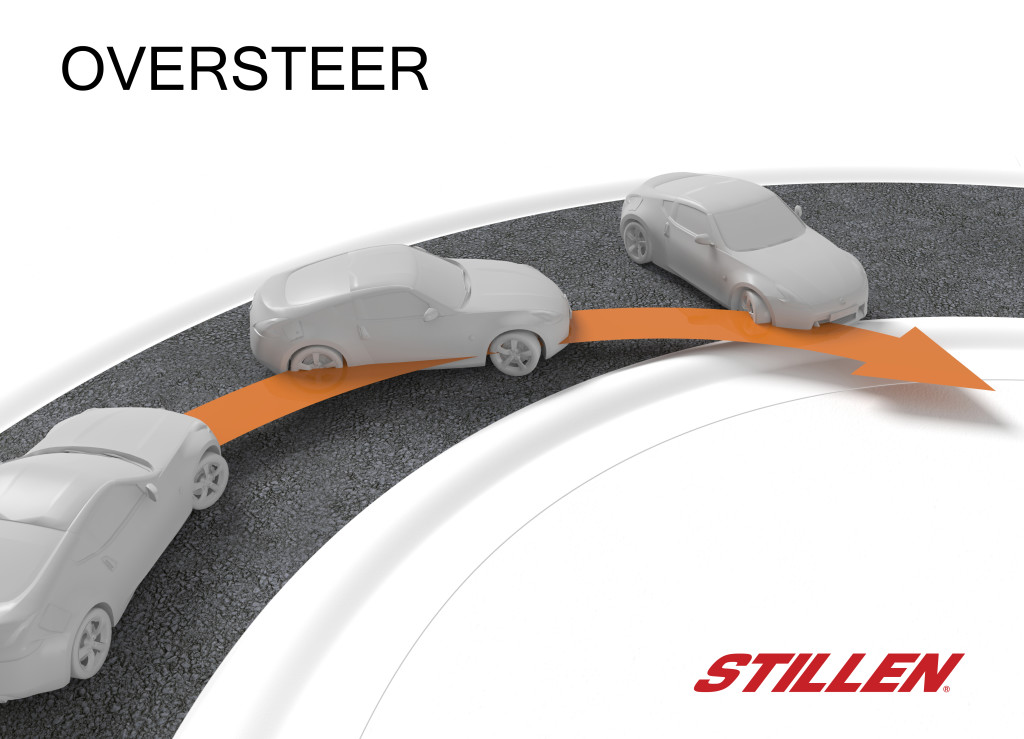 Z Well Adjusted Z
The Nissan 370Z is ideal for explaining understeer and oversteer and for illustrating the versatility of adjustable sway bars.
Check out the stiffness ratings of the 370Z sway bars listed in the below chart.
Brand
Front
Rear
Adjustable
(F/R)
% Stiffer (F/R)
Best For
Size (F/R)
Color
Construction
Endlinks
Bushings
Stock
Yes
Yes
No
Stock
N/A
26.5mm/24mm
Black
Hollow
Stock
Stock
Nismo
Yes
Yes
No
N/A
N/A
27mm/25.5mm
Black
Hollow
Stock
Uses Stock
Eibach
Yes
Yes
2 way / 3 way
76, 117% / 67, 98, 130%
Street & Light Track
32mm/29mm
Red
Hollow
No
Yes
Hellwig
Yes
Yes
No / 3 way
N/A
Track & Occasional Street
35mm/25.5mm
Grey
Hollow
No
Yes
Hotchkis
Yes
Yes
No / 3 way
205% / 40, 75, 120%
Track & Occasional Street
35mm/28mm
Grey
Hollow
No
Yes
STILLEN
Yes
Yes
5 way/ 3 way
21-48% / 37-70%
Street & Light Track
27mm/25.5mm
Red
Hollow
No
Uses Stock
Suspension Techniques
Yes
Yes
2 way / 2 way
55, 88% / 30, 66%
Street & Light Track
28mm/24mm
Green or Black
Solid
No
Yes
You'll notice the STILLEN option is a little different. We conducted extensive (and fun) road and track testing to get a feel for the 370Z and determine the best sway bar setup to optimize handling without diminishing the inherent nature of the car.
Like the majority of vehicles on the road today, for safety purposes the 370Z is set up from the factory to understeer a little.
The reason for this is liability and safety.  Auto manufacturers like Nissan have to build their cars for typical drivers who aren't trained to handle a car in high-stress situations.
When the average driver experiences understeer, their natural reaction is to panic, let off the gas, and apply the brakes. Conveniently enough, this is exactly how to counter understeer.
With less gas and more brake, the vehicle will slow down, the tires will regain their composure and the vehicle will resume traveling in the desired direction. 
Too bad, because one of the biggest advantages of a rear wheel drive car like the 370Z is the ability to power through turns. With the factory setup favoring understeer, this advantage is lost.
All that beautiful power going to the rear wheels is pushing the car in a direction you don't want to go.
Using a STILLEN adjustable sway bar, a 370Z the driver can fine tune the suspension to balance and improve the handling of the car.
This balanced feel will a give the Z pilot the confidence to  carry more speed through a turn as they begin to feel the car rotate through the turn as opposed to pushing through it.
Through extensive testing and refinement, STILLEN identified stiffness increments we selected offer the 370Z driver great options. The STILLEN sway bars can be adjusted for a good balance of road comfort and crisper handling for spirited daily driving and canyon carving.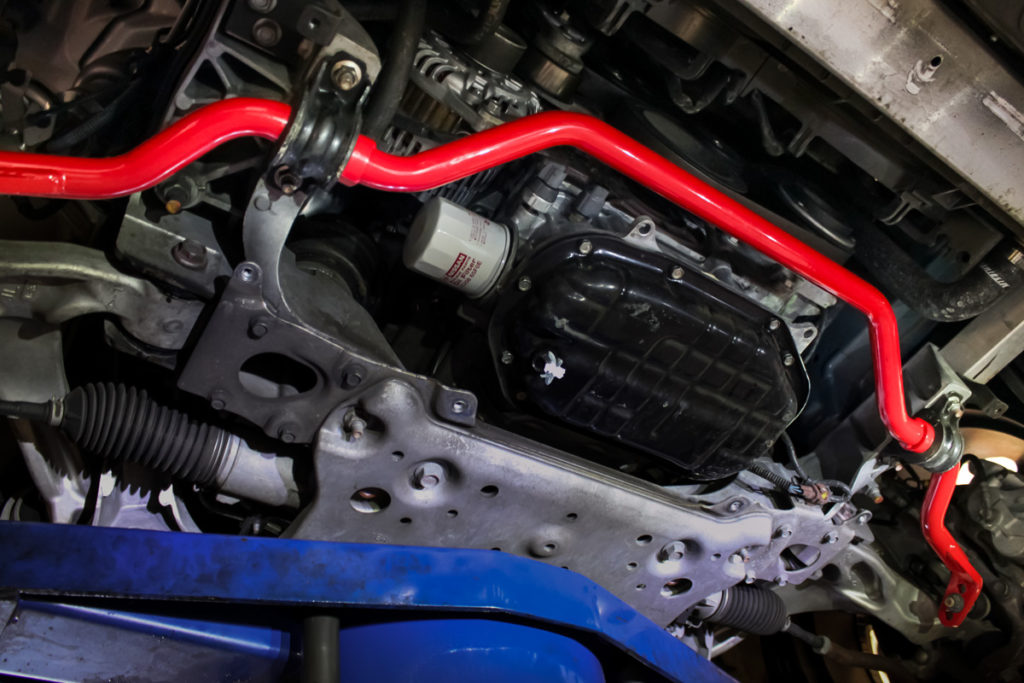 At the other end of the spectrum, drivers looking for maximum performance can adjust the bars to a stiffer setting for track days.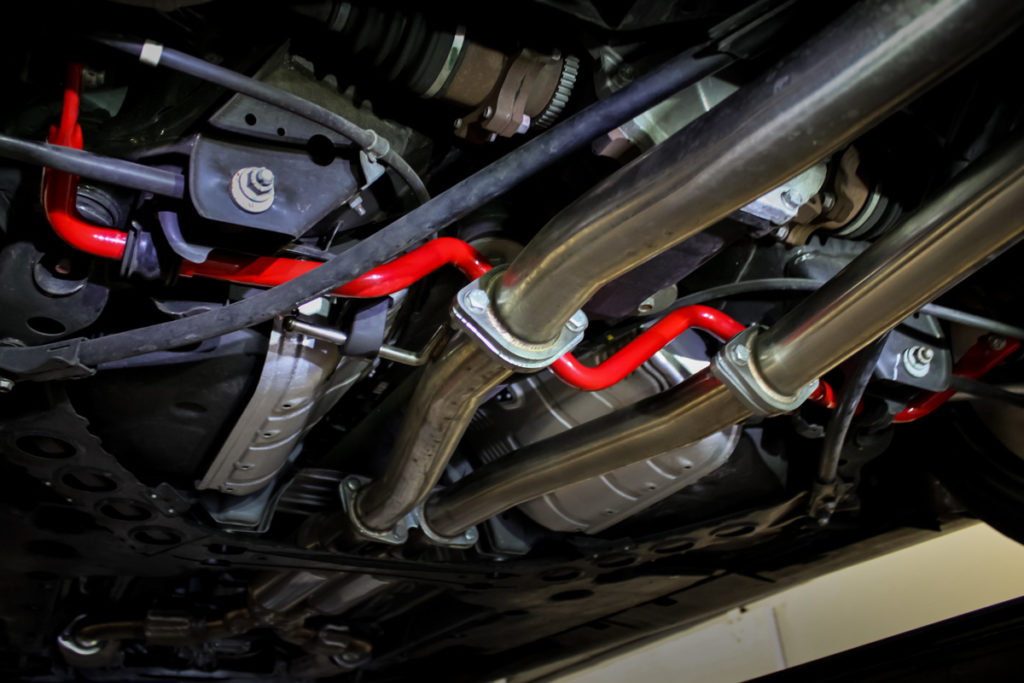 All Together Now
Along with a stiffer sway bar, for track or racing use, the key to maximum control and handling on the ragged edge may include shock or spring upgrades, tweaking wheel alignment and selecting the proper tires.
Here's what the STILLEN experts recommend:
Determine which tires you are going to run
Select the springs you'll run based on tires, track layout and conditions
Select which sway bar is right for you
Adjust wheel alignment to suit, keeping in mind a more aggressive sway bar usually requires more aggressive alignment settings
For example, for track use you might run an aggressive tire like a Nitto NT-01 or a Nitto NT-05. If you don't mind running an aggressive alignment specification, a really stiff sway bar should work well.
However, if you're using your car primarily for road use, you might run tires like the Nitto NT555 or an Nitto INVO. The ideal sway bar will be slightly stiffer than the factory bar. 
Sway Your Opinion
Bottom line: a properly matched set of sway bars will really improve the balance of your car or truck and is a great way to fine tune handling.
The result: major improvement in the joy you get out of hustling your ride through your local canyon roads or on your favorite race track.
Most drivers will be happiest with a moderate increase in stiffness. An adjustable sway bar offers the versatility to fine tune handling as desired.
STILLEN has been designing and manufacturing sway bars in-house for more than 20 years.  We private label manufacture swaybars for some of the largest "suspension manufacturers" in the industry.
We have also manufactured sway bars for OEM vehicle manufacturers as well.
In addition to our swaybar manufacturing expertise, we design and develop complete suspension packages for use on street, track and off-road environments.
Bottom line: you can buy and install STILLEN swaybars with confidence!
Got more suspension questions?
Call one of our Automotive Counselors for expert advice at (866) 250-5542.