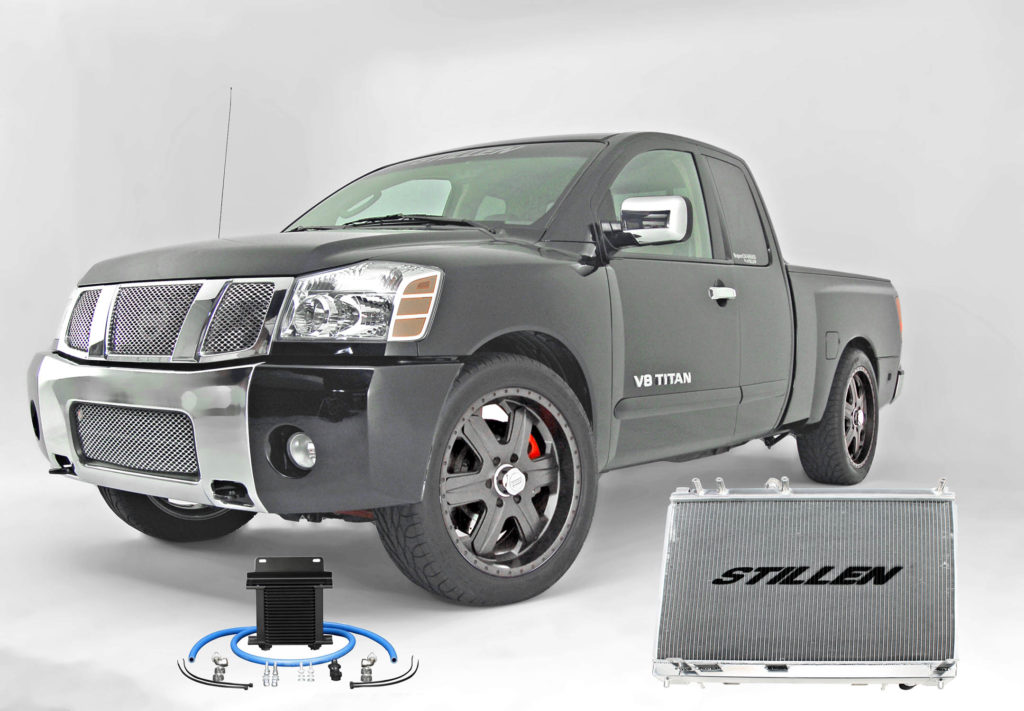 The Aluminum STILLEN Nissan Titan Radiator & STILLEN Titan Automatic Transmission Cooler Go Together Like PB & J
The old saying goes, an ounce of prevention is worth a pound of cure. For years, enthusiasts have known about the cooling issues of the Nissan Titan, Pathfinder Armada and Infiniti QX56, and we here at STILLEN have known about for just as long. It's combination of aluminum and plastic end tanks seem to constantly crack, dumping all of the engine coolant, leaving you helpless and stranded. While the Titan and its sister vehicles the Pathfinder Armada and Infiniti QX56 are no race cars, we're reminded of one of founder and SuperTrucks Racing Champion Steve Millen's nuggets of wisdom:
"(In a performance car) Heat is the enemy, and this applies to brakes, transmissions, engine intake, engine oil and water, steering etc-  Until the vehicle has cooling all these areas under control, the vehicle will not be able to reach its potential consistently. " – Steve Millen
He's not wrong, and the Nissan Titan, Pathfinder Armada and QX56 in particular have some specific cooling issues that are a real nuisance for many owners and enthusiasts. STILLEN has offered several solutions to the Nissan Titan radiator headache for years now, but with summer here again, it's worth talking about before it really heats up. Between the OEM Radiator's plastic endtanks popping more frequently than champagne bottles at a New Years Eve Party and the transmission's reputation for not being able to handle a lot of abuse, there's a lot of room for improvement to be had to help keep your Titan, Armada or QX56 on the road and performing its best simply by beefing up its cooling system.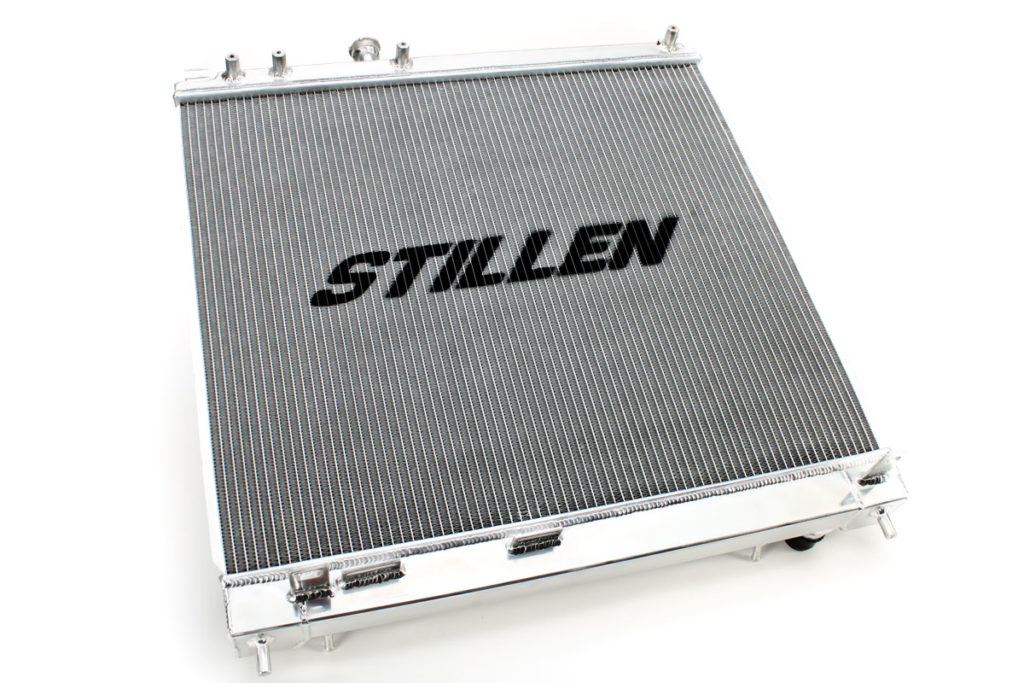 Over a decade ago, we became aware of the Titan's radiator being an issue, and developed several iterations of upgraded radiators for the VK56, first with two rows, then when we redesigned it in 2013, we went to a 3-row core for even greater cooling capacity. By eliminating the plastic upper and lower end tanks, two major points of failure have been removed, and the all-aluminum construction with welded endtanks contribute to a part that will outlast the OEM versions by quite a bit. By increasing the fluid capacity of the radiator, it will take longer for that fluid to overheat. Think about it – it takes much longer to boil a giant pot of water than it does a small one, right? Same idea. More fluid means more thermal energy can be absorbed and transferred.
The STILLEN Aluminum Nissan Titan Radiator offers double the capacity of the OEM radiator, and features an 18-1/2″in transmission cooler section as well, which gives your transmission some much needed additional cooling.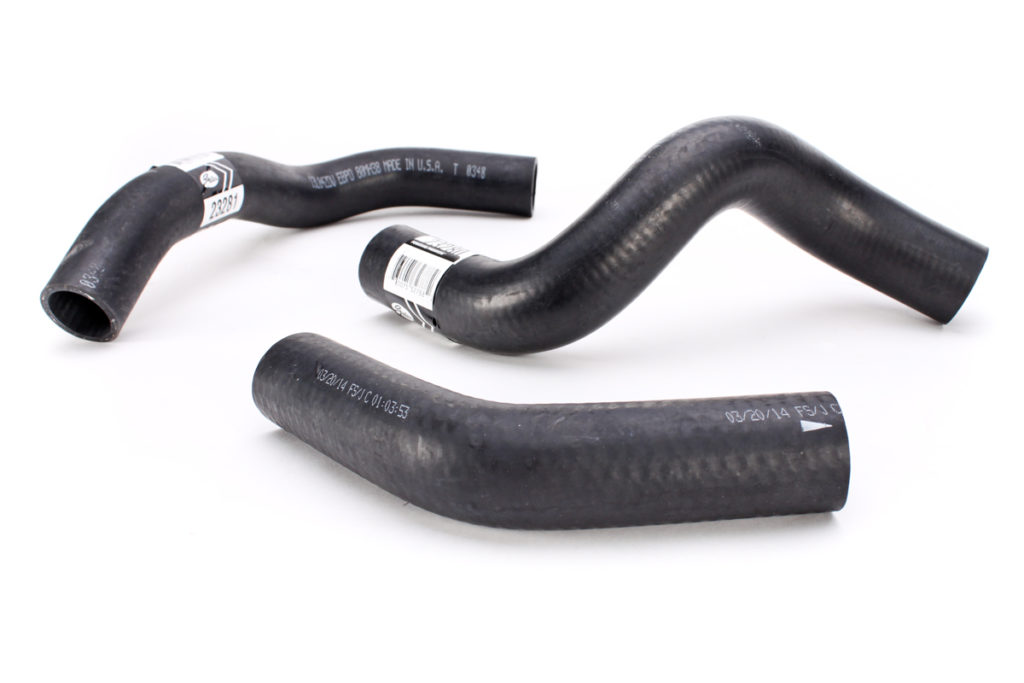 It's worth saying that rubber doesn't last forever – and when coolant hoses fail, it's messy and never convenient. Save yourself the headache and replace your radiator hoses while you're at it – it's great preventive maintenance. A few extra bucks now while you're in there can save you hours of headache later.
Available as a 6-piece kit with Upper & Lower Radiator Hoses, Reservoir Tank Hoses, Water Hose, and Thermostat Assembly or as a 3-piece kit with just the upper and lower radiator hoses and Water Hose.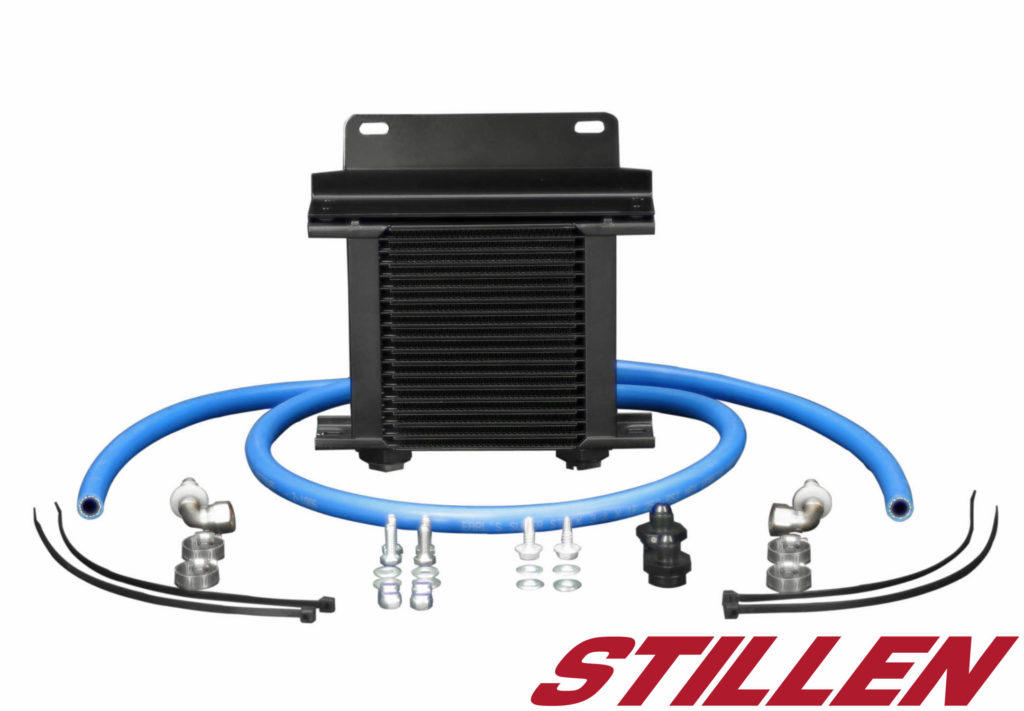 Do you know what the #1 cause of failure is for automatic transmissions? Heat.
Heat wears out the various clutches of the transmission, and like oil, heat boils off the protective additives in the fluid, so it no longer lubricates or protects like it's supposed to. Your automatic transmission doesn't like sudden starts and stops (like drag racing light to light), and obviously, driving your Titan, Armada or QX56 hard will wear out the transmission faster – that much is obvious. The STILLEN Automatic Transmission Cooler for Nissan Titan, Armada and QX56 offers increased fluid capacity and increased surface area for superior heat dissipation, keeping your transmission happily in its safe operating temperatures.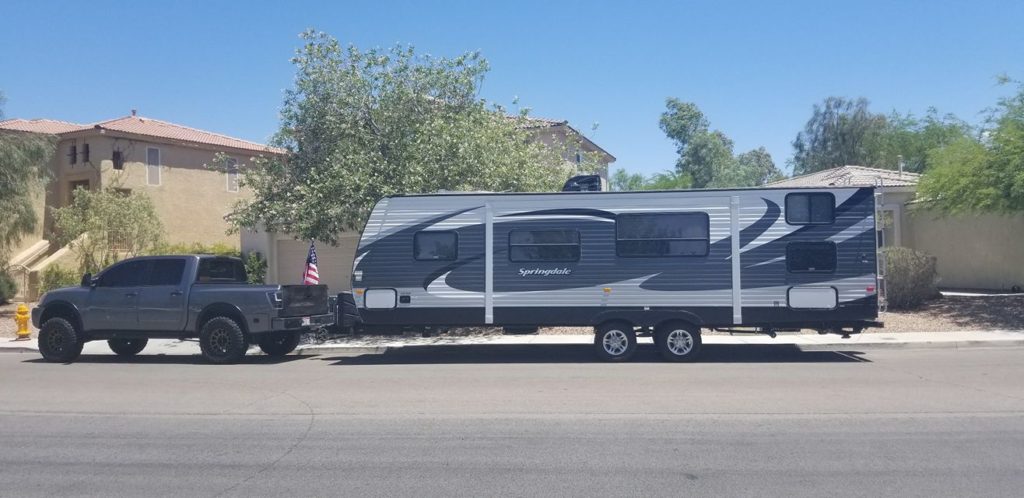 A STILLEN Transmission Cooler is Especially Handy if you Tow
Did you know if you run off-road tires like 35's (or larger) or live in a hotter part of the country, you should consider adding a transmission cooler. Especially if you have stock gears. Running 35in tires with stock gears with any kind of power adder is going to dramatically shorten the life of your transmission, however a transmission cooler can mitigate that quite a bit. Use in conjunction with the integrated-into-the-radiator OEM transmission cooler, adding a STILLEN transmission cooler is a great preventive measure to help extend the life of your transmission, whether your VK56 is stock or STILLEN Supercharged making 420 wheel horsepower.
If you tow AT ALL, a transmission cooler is virtually a must-do cooling system modification. Consider that even U-Haul recommends them, whose whole business model revolves around towing, it's safe to say that a transmission cooler does indeed do what it claims to. As you can imagine, suddenly having to move another few thousand pounds is a lot more work for your engine and transmission to move. More work translates to more heat and thermal load, so more fluid capacity and surface area to transfer that heat out of the transmission is a good thing.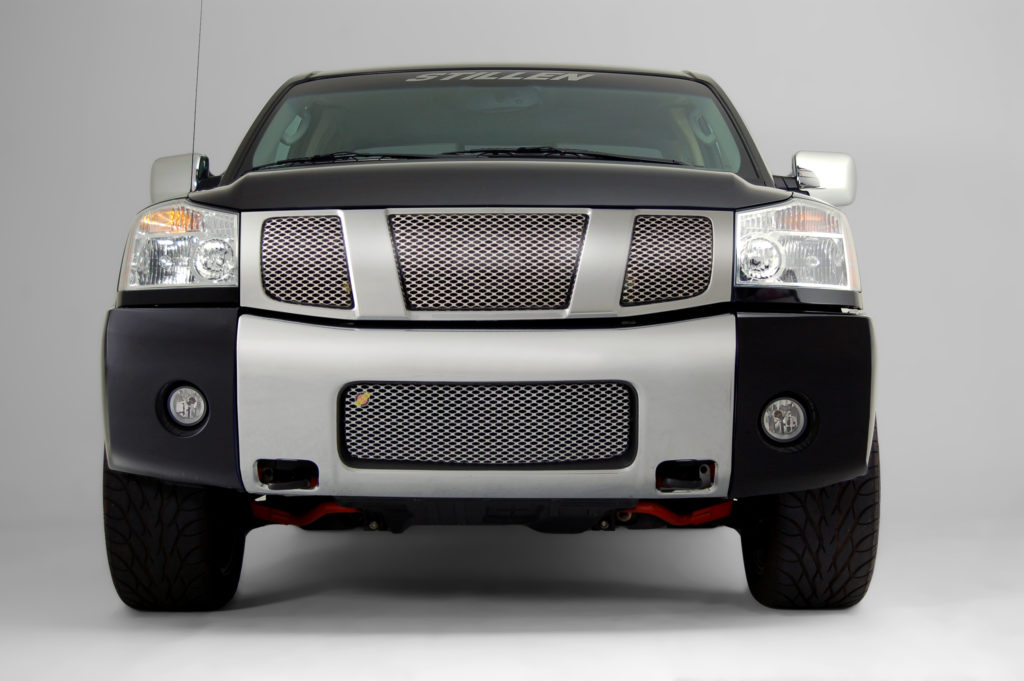 In short, with a STILLEN Titan Radiator and STILLEN Titan Transmission Cooler together, your engine and transmission will last longer and be much happier in the heat this summer, keeping your Titan on the road and off the flatbed.
Ready to order yours? Call us today at 888-250-5542, chat with our experts LIVE right on the website at STILLEN.com, or just stop by the showroom any time during business hours.