STILLEN manufactures a wide range of performance parts for numerous cars and trucks, both domestic and import. Each set of STILLEN Sway Bars is influenced by founder Steve Millen's years of championship winning Racing experience and knack for chassis dynamics to create suspension parts that truly improve the vehicle, tailored to each application. We wanted to so show you what goes into making our sway bars, so taking inspiration from the How It's Made series, we decided to make our own version and give you an inside look at just how a set of STILLEN Sway Bars is manufactured.
In this video, we'll walk you through the manufacturing process from start to finish and show you that everything really is Made In The USA, right here in Costa Mesa, CA.
Sway Bars are an important part of a performance vehicle suspension system, and serve to tie the left and right side of the suspension together for better balance and more composed handling.
A stiffer or softer sway bar can alter the behavior of a car towards understeer or or oversteer, making them a particularly attractive way to tailor your car's handling characteristics to your driving style.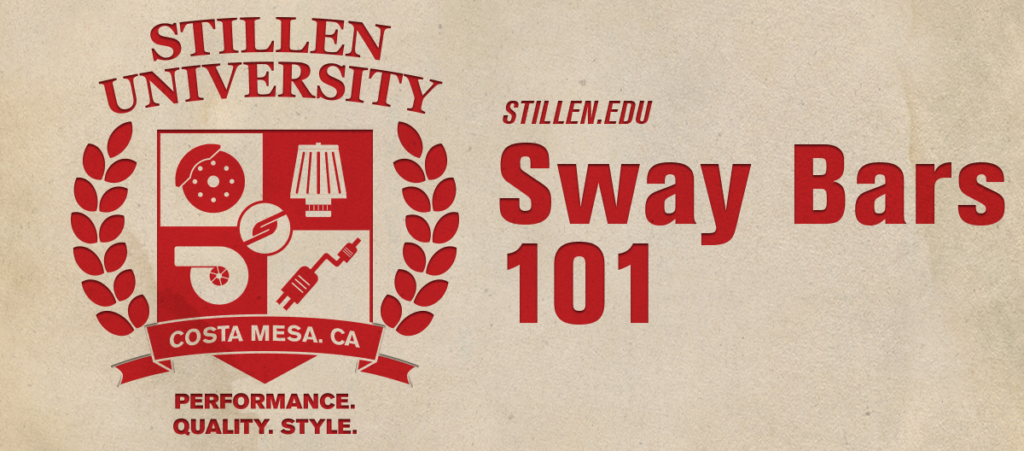 If you'd like to know more about sway bars, check out our SWAY BARS 101 STILLEN U Post here.
STILLEN has been designing and manufacturing sway bars in-house for more than 20 years.  We private label manufacture swaybars for some of the largest "suspension manufacturers" in the industry.
We have also manufactured sway bars for OEM vehicle manufacturers as well.
In addition to our swaybar manufacturing expertise, we design and develop complete suspension packages for use on street, track and off-road environments.
Bottom line: you can buy and install STILLEN swaybars with confidence!
Got more suspension questions?
Call one of our Automotive Counselors for expert advice at (866) 250-5542.