Kia's new STINGER GT sedan has already been making waves with its turbocharged 3.3L V6 and RWD-oriented layout (with optional AWD). The plucky little Korean compact car manufacturer has grown up in a major way – and if all you remembered about Kia was what 90s Kias were like, boy, are you in for a surprise.
The Teutonic reckoning is here, and the Kia Stinger GT has the numbers to give the Germans cause for concern.
A far cry from the Kias of 20 years ago, the Stinger boasts some serious horsepower – giving quicker acceleration than a Mustang GT — and it's no one-trick pony either, the Stinger GT also offers stellar handling, massive brakes and enough space to whisk 4 adults from LA to Vegas at triple-digit speeds (though we don't actually advise doing that).
Seemingly out of nowhere, Kia jumped into the RWD performance sedan market, offering a sportier foil to the more luxury-oriented Hyundai G70, the Stinger GT hopes to entice buyers away from other sport sedans, and certainly has the performance stats to back that up.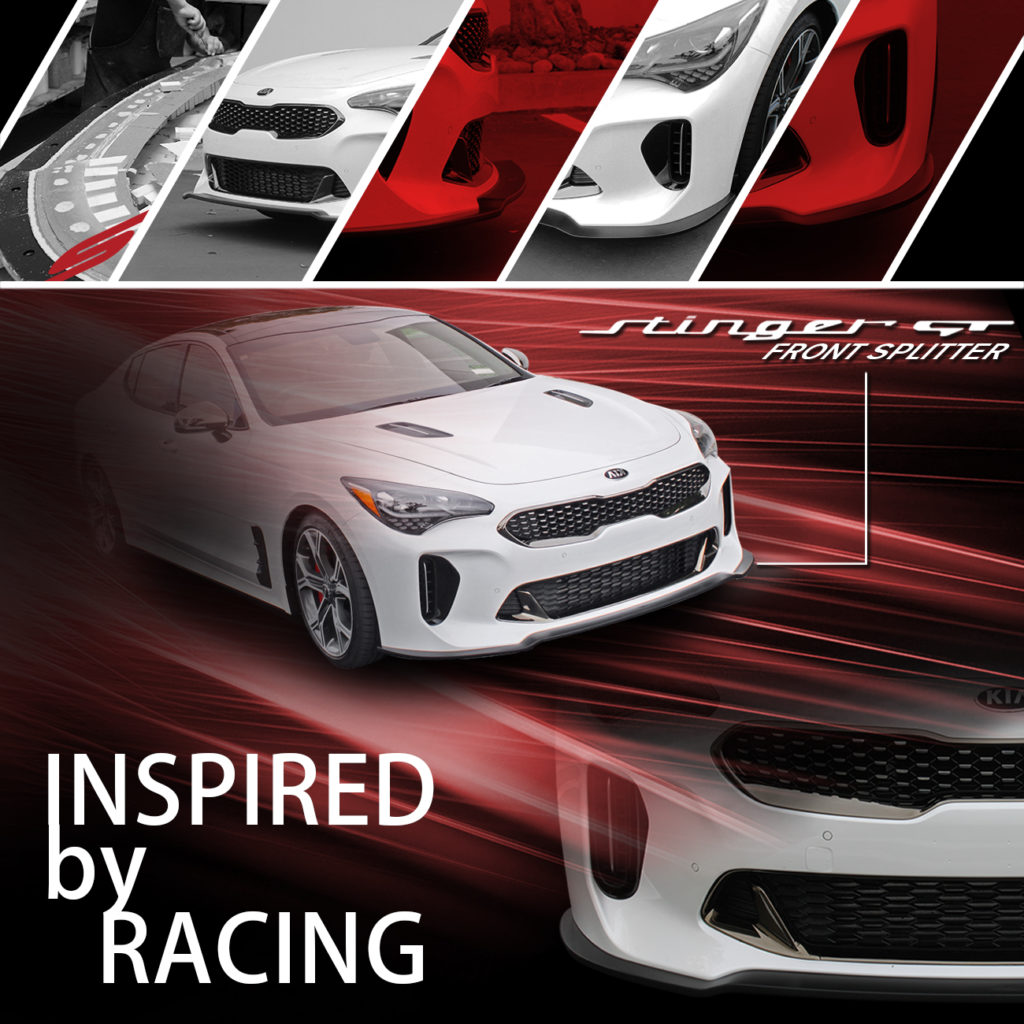 Recognizing the performance potential of this all-new platform, STILLEN is proud to introduce our first two offerings for the Kia Stinger. Designed and manufactured totally in house in the USA at STILLEN HQ in Costa Mesa, CA, our designers set out to come up with something both aesthetically pleasing and functional in principle.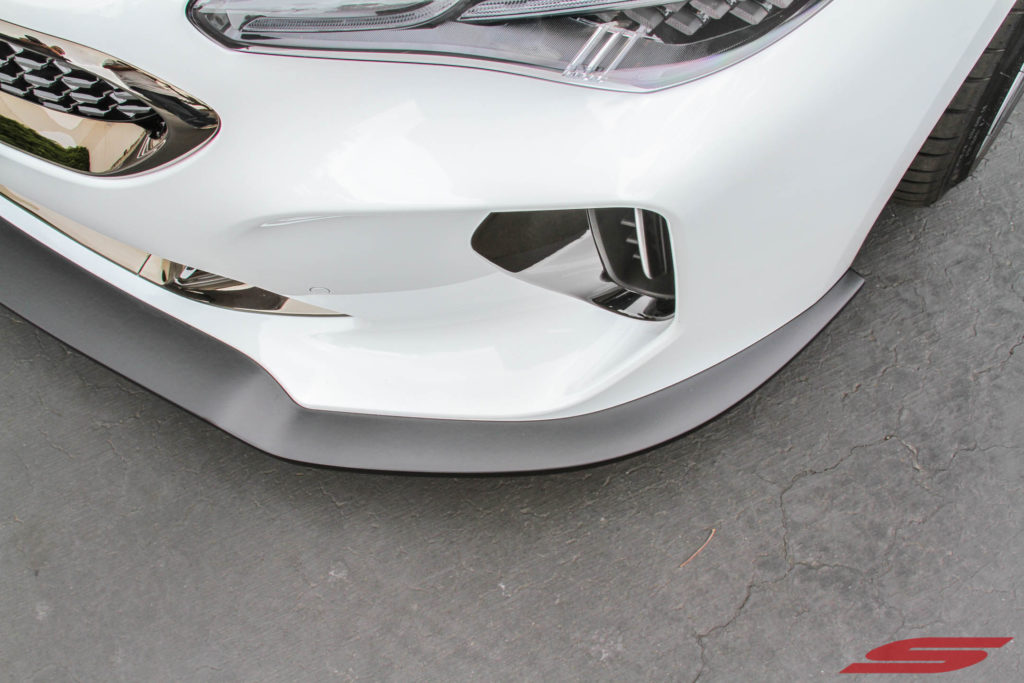 Drawing inspiration from what we learned during Racing Champion Steve Millen's experience, we sought to bring racing function and aesthetics to the street. Inspired by the front splitters used in racing (such as the one on our famous #75 300ZX Race car) the STILLEN Front Splitter for 2018+ Kia Stinger features a wide front plane to increase downforce thanks to mild aerodynamic effects, and thus improve front end grip at speed, meaning this splitter offers function as well as form.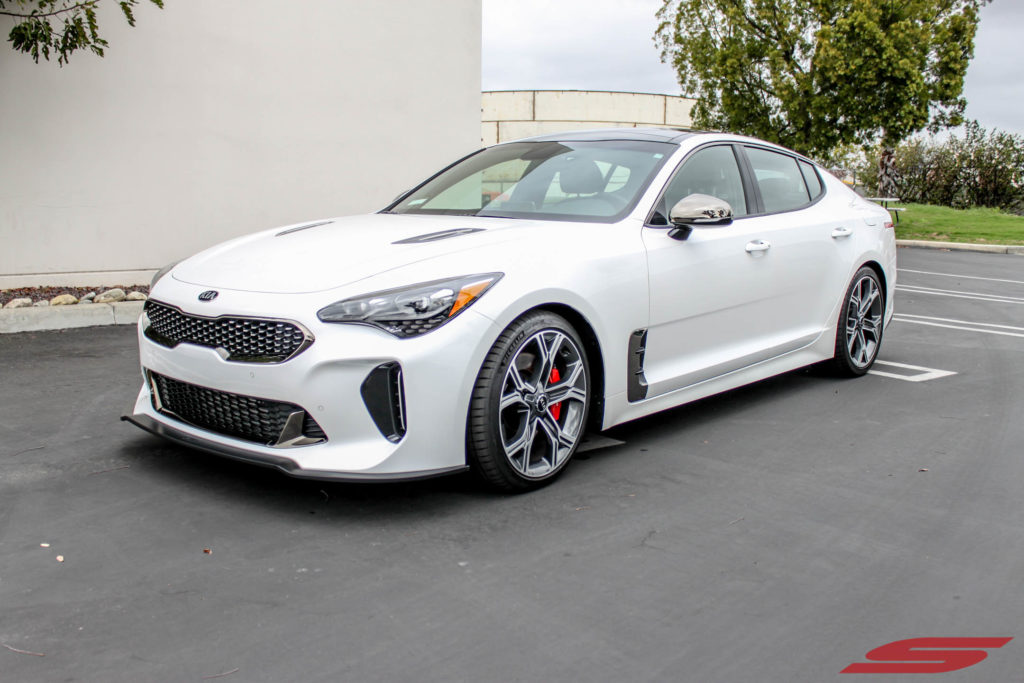 In addition, the wide front plane also gives the car an aggressive edge and channels more air directly into the radiator, intercooler and condenser for a slight improvement in cooling.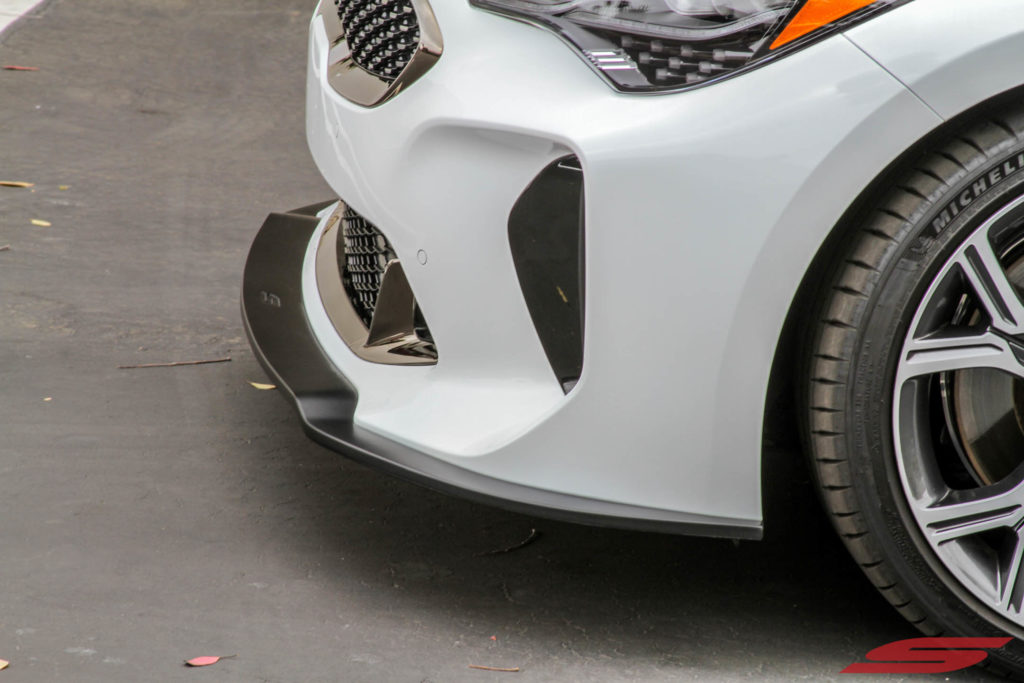 Each STILLEN splitter features an embossed STILLEN "S" logo, so you know you've got a genuine STILLEN aero part. With its distinctive styling, this splitter is sure to set your Stinger apart from the crowd.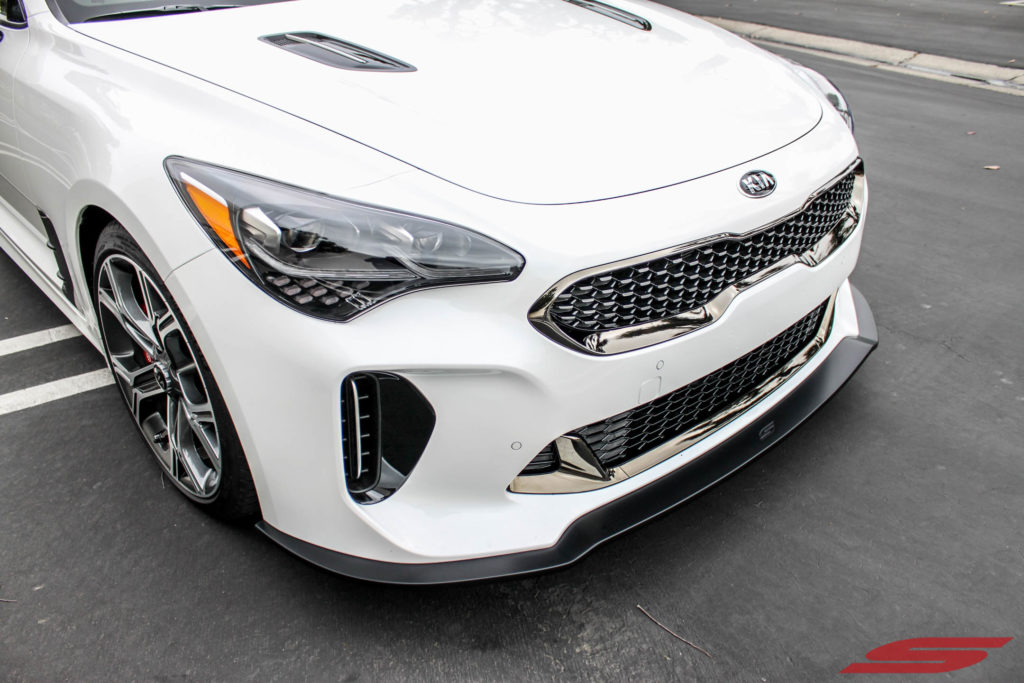 The STILLEN Front Splitter for Kia Stinger GT is available prepainted matte black as seen here (ready to install), or raw and unfinished, ready for you to prep, prime and paint the color of your choice. Molded in durable and resilient polyurethane like virtually all STILLEN aero and styling parts, it's tough enough to stand up to the harsh realities of street driving in the real world. This is a front splitter you won't break the first time you come into a steep driveway a little too hot or if a small rock hits it on the freeway.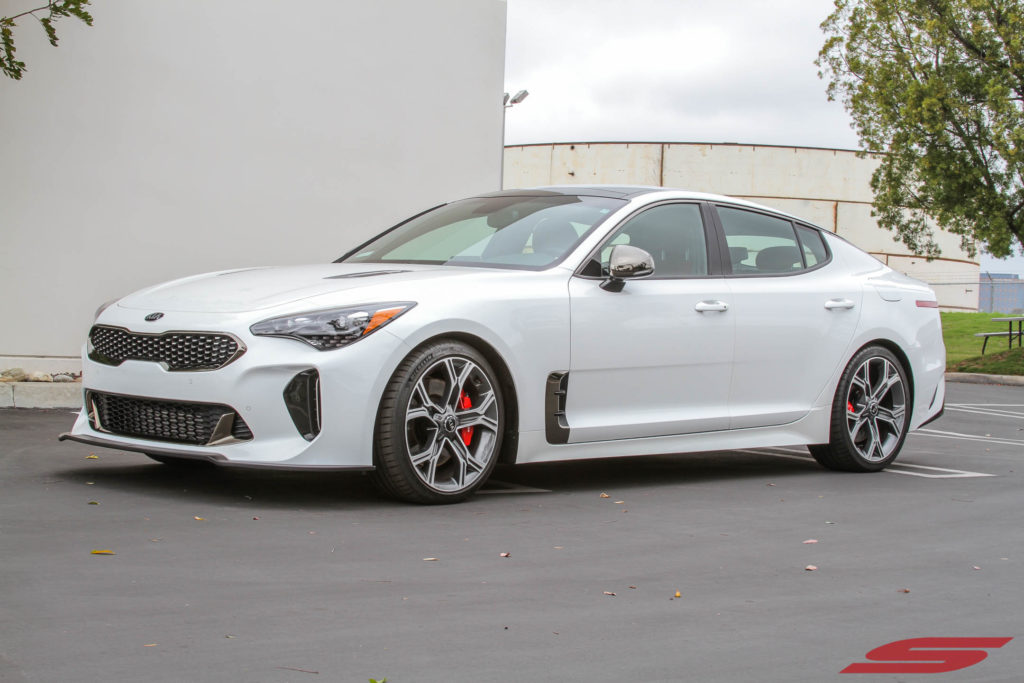 Thanks to its durable polyurethane construction, the STILLEN splitter flexes when stressed and then returns to its original shape, rather than cracking like carbon fiber or fiberglass can, helping to ensure your splitter will have a long service life on your vehicle. Available now, call today 1-866-250-5542 or visit the STILLEN Website to be among the first to have this sleek splitter.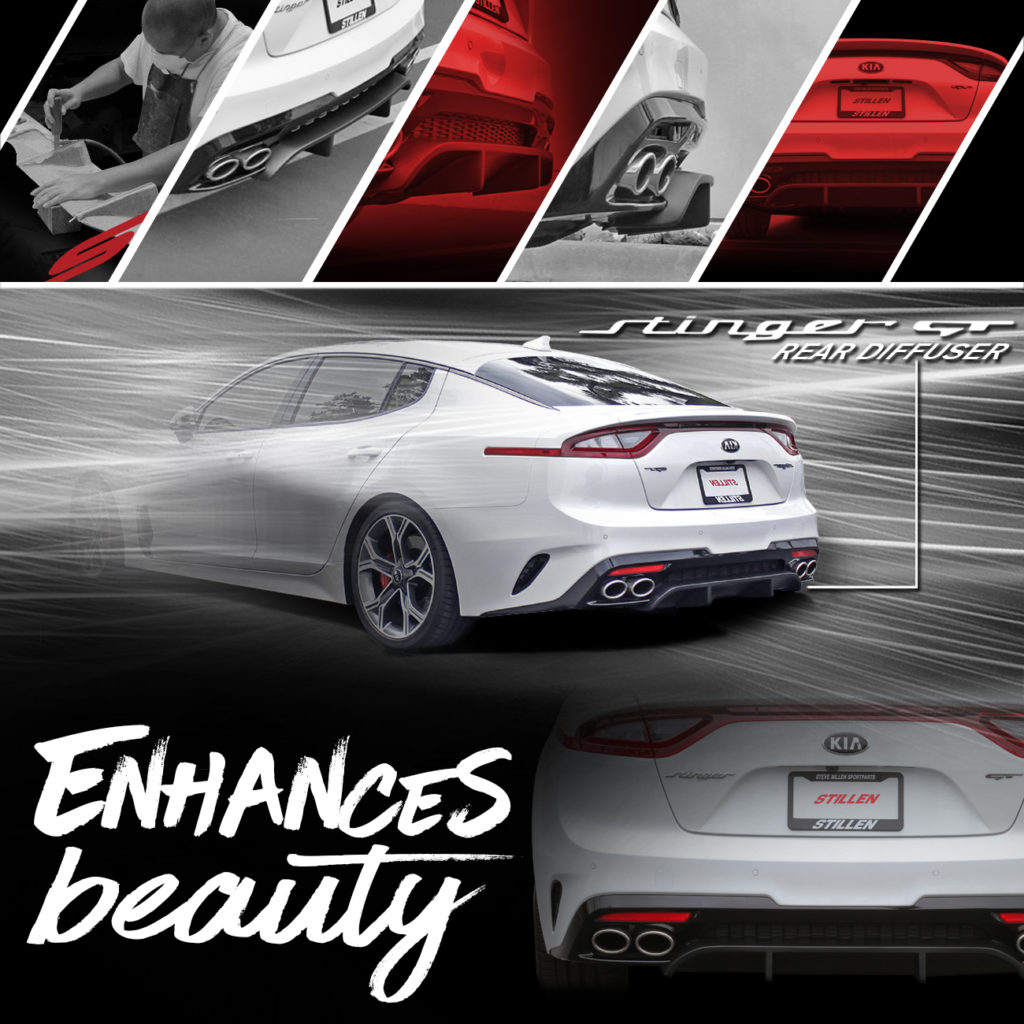 Continuing with the same racing-inspired aerodynamic design language as the front splitter, we spiced up the rear end of Korean sport saloon with the STILLEN Rear Diffuser for 2018+ Kia Stinger. Offering a much more striking appearance, we designed a rear diffuser that compliments the athletic styling of the Stinger. Like the front splitter, the rear diffuser is handsome and aerodynamically functional.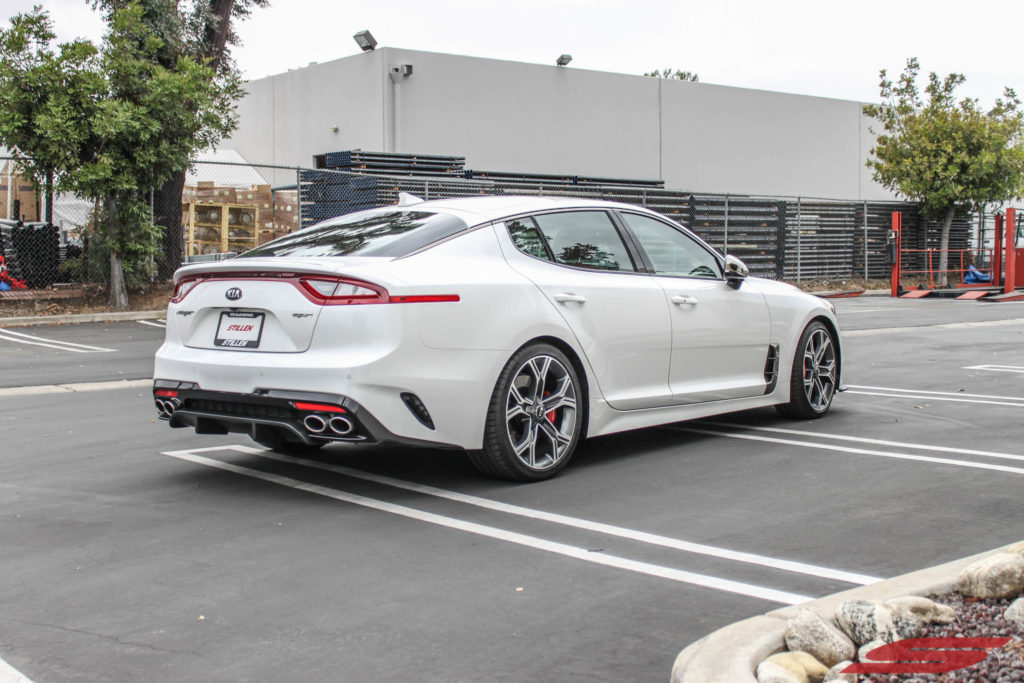 It's worth saying that diffusers can be really effective – here's an example. Back in 2009, Brawn GP dominated Formula 1 – for much of the season, they were so much quicker than everyone else, they were nigh untouchable for most of the season thanks to its clever and innovative rear diffuser design, demonstrating just how much of an effect this one aerodynamic component can have.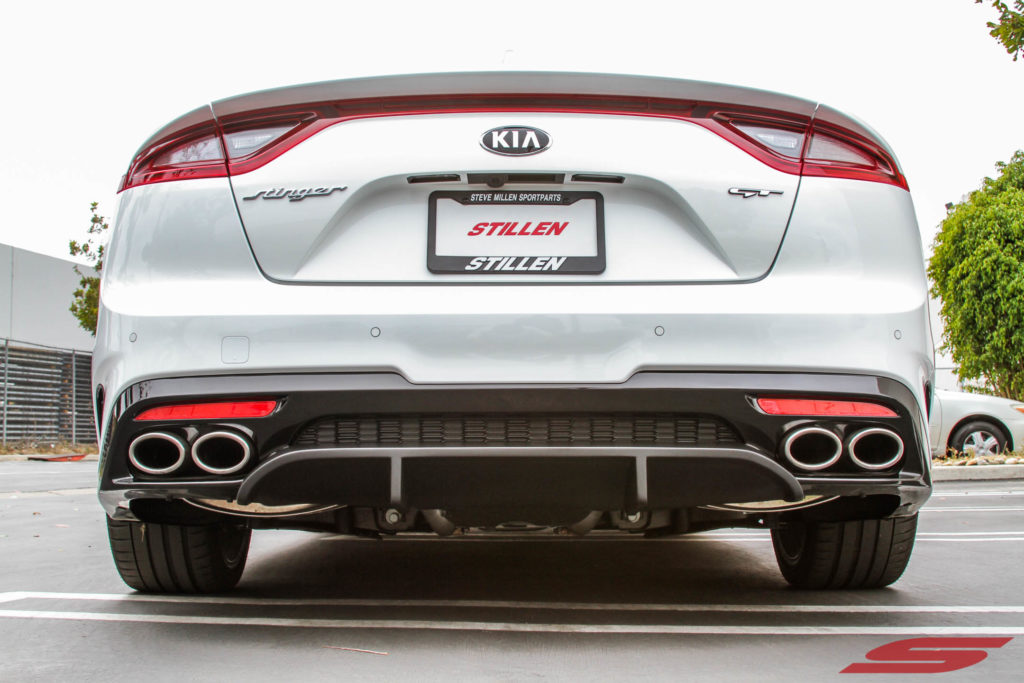 Much like the diffusers seen on the cars of the contemporary ALMS and production-class LeMans racing vehicles like our #75 racecar, the STILLEN Rear Diffuser for Kia Stinger features deep air channels and pronounced fins to better control airflow under the car, improving the aerodynamics of the car as a whole. With its sharp lines and pronounced fins, it's sure to make people take notice.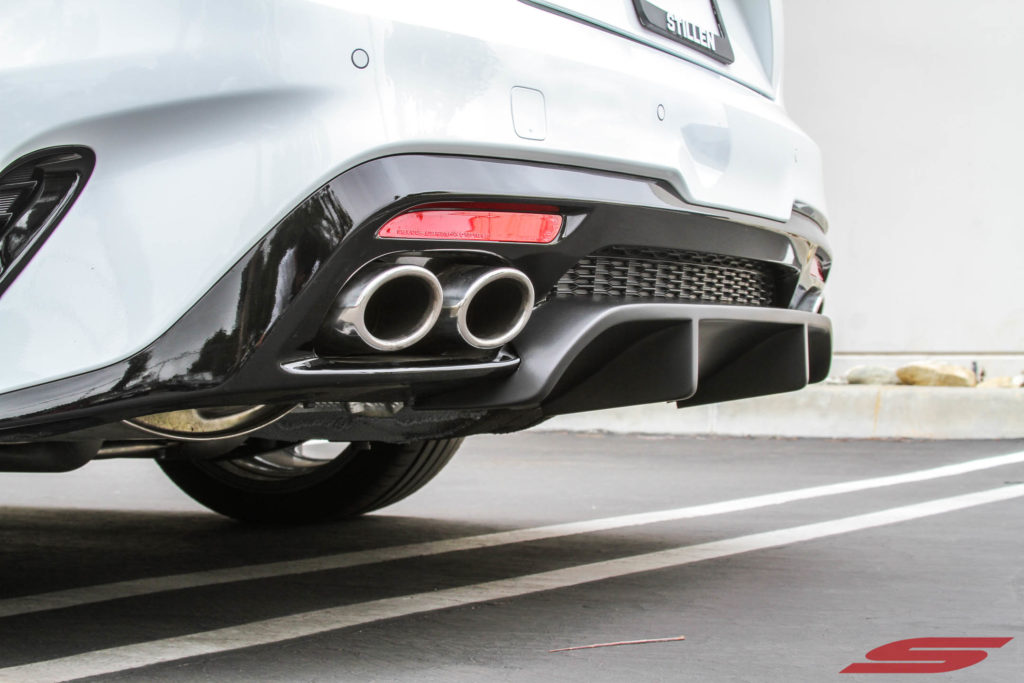 At speed, these air channels can help clean up the airflow exiting from beneath the car, increasing the aerodynamic 'ground effect' and enhance downforce for a slight increase in grip. While a street car rarely goes fast enough for aerodynamics to take effect, at triple digit speeds, it can offer a minor improvement in grip.
Besides the mild aerodynamic benefit, the STILLEN Rear Diffuser For Kia Stinger gives the car's rear end a much more performance oriented aesthetic, giving the car a purposeful, sporty look.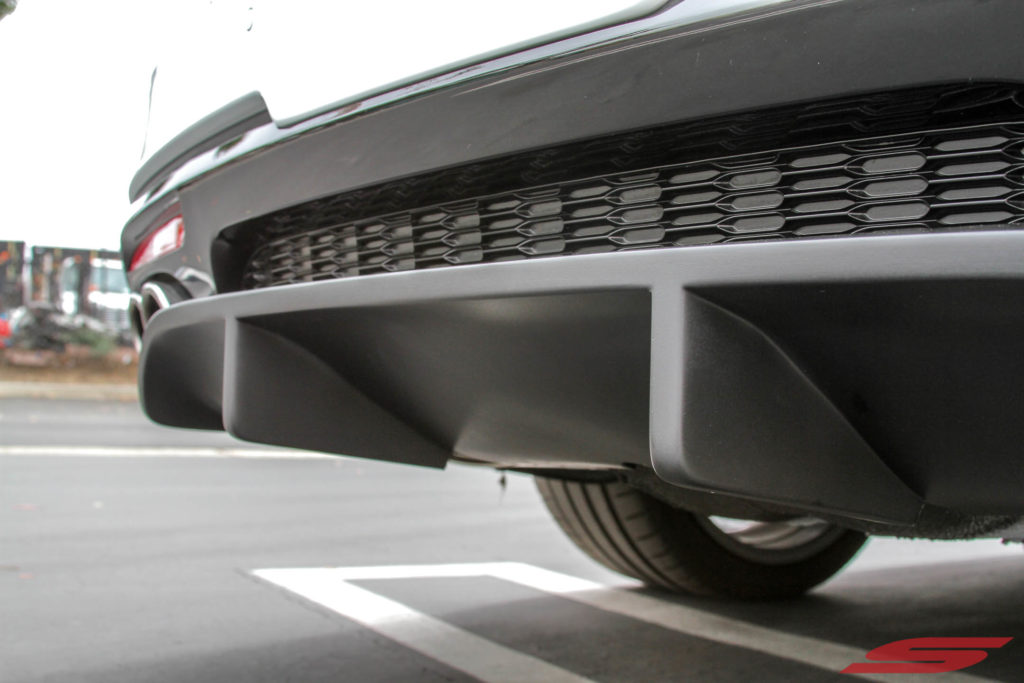 Molded precisely to follow the contours of the Stinger's rear bumper, this diffuser installs over the OEM rear valance and with the painted matte black finish, this diffuser looks like it came from the factory that way for an OEM+ look.
This rear diffuser is a wonderful compliment to any exhaust system, and is designed to pair perfectly with the STILLEN front splitter and works flawlessly with the STILLEN Cat-Back Exhaust for STINGER GT as well.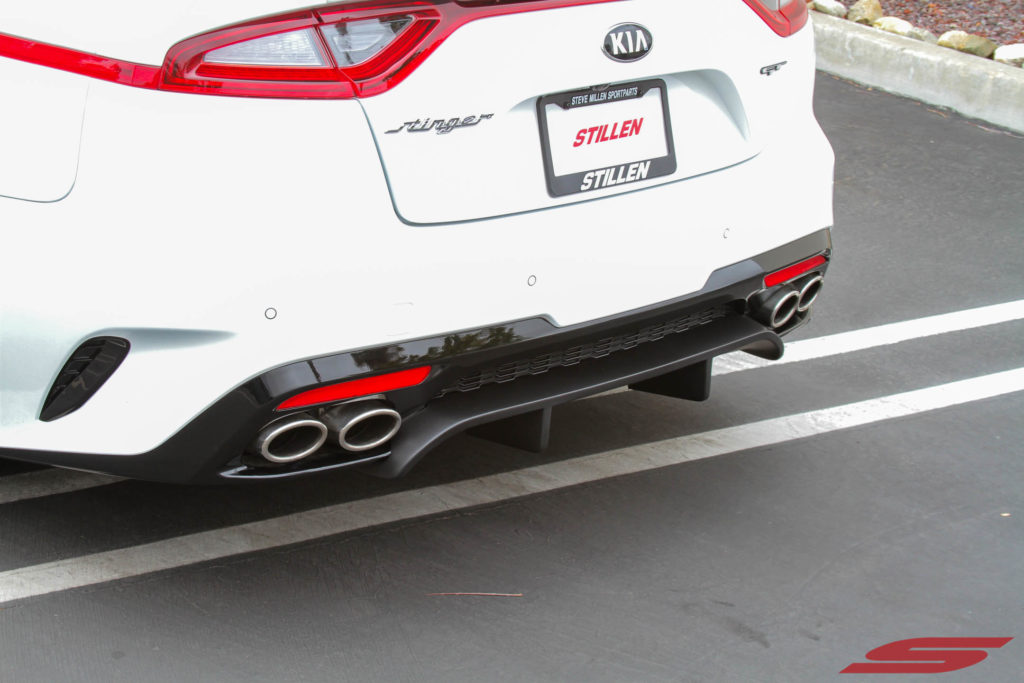 Like the front splitter, the STILLEN Rear Diffuser for Kia Stinger GT is designed and manufactured in house at STILLEN in Costa Mesa, CA in durable and resilient polyurethane. While a rear diffuser doesn't have to deal with as much abuse as a front splitter, the flexible urethane construction allows it to survive transitions over steep driveways/roads and steeper speedbumps that would damage a fiberglass or carbon diffuser.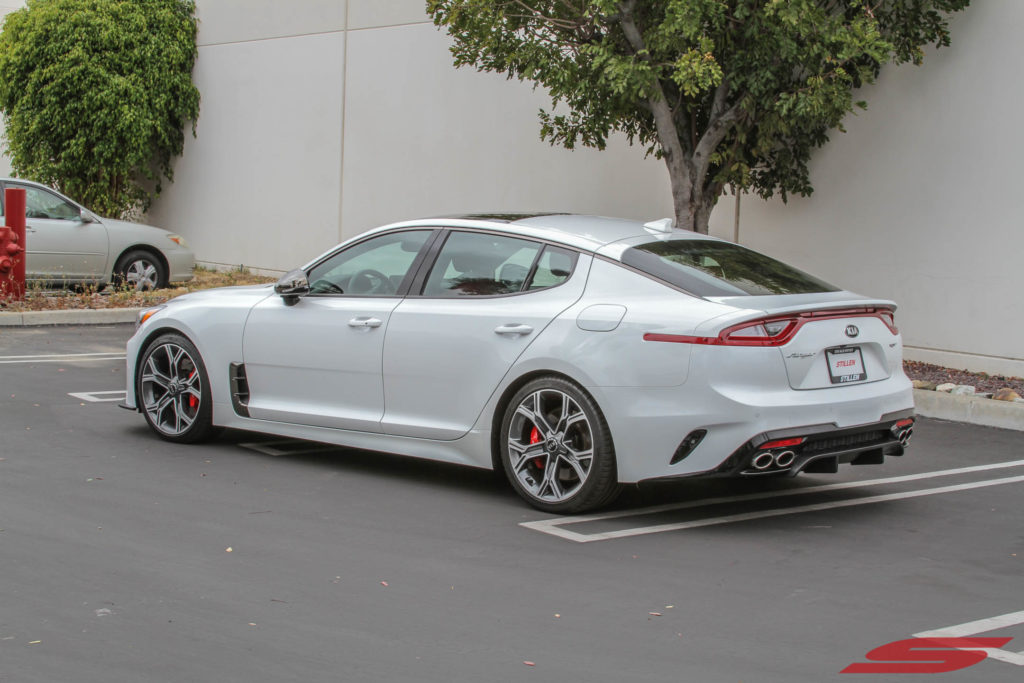 Available in your choice of prepainted matte black or also available raw and unfinished for you to prep, prime and paint the color of your choice, you have options to suit your style whether you prefer an OEM+ look or something more custom. In stock and available now, call us today at 866-250-5542 to order yours or order online at STILLEN.com.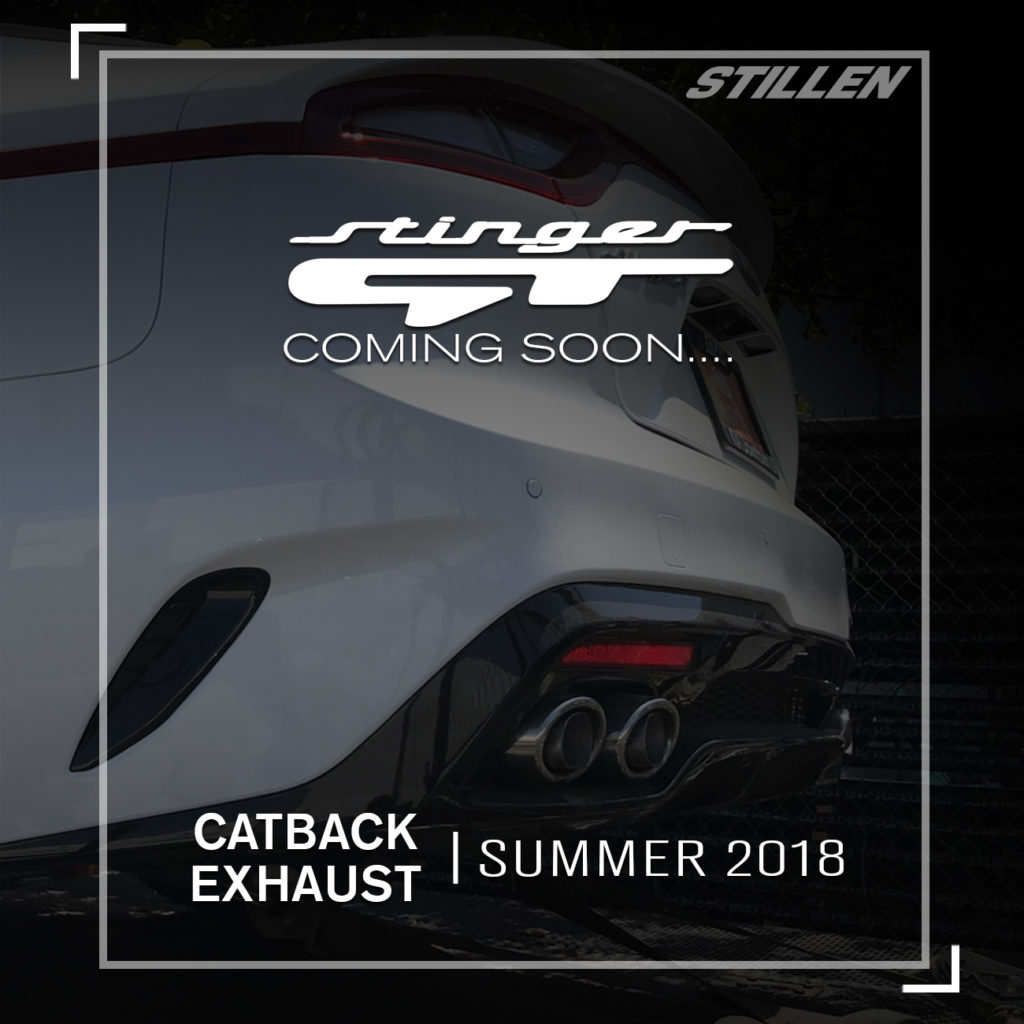 This is just the beginning, stay tuned as for the unveil of the STILLEN Cat Back Exhaust for Kia Stinger GT and the matching STILLEN Cold Air Intake for Kia Stinger GT late this summer. We're really excited to unveil these soon, because our intake and exhaust have yielded fantastic power gains in our early testing, we were pleasantly surprised with power gains exceeding even our own expectations – so you can imagine how stoked we are to bring them to market for the Stinger community.
Thanks for joining us, see you next time!
Need help installing your STILLEN Aero parts? Check out this helpful video which offers some tips and tricks to help your STILLEN aero install go as smoothly as possible and look its best.
WE WANT YOU!
Do you have a Hyundai G70 with the 3.3L Turbo V6? If so, we want YOU! Lend us your G70 for testing and score STILLEN parts FREE! If you're in SoCal and available to bring your G70 in for testing, email us at media@stillen.com today.