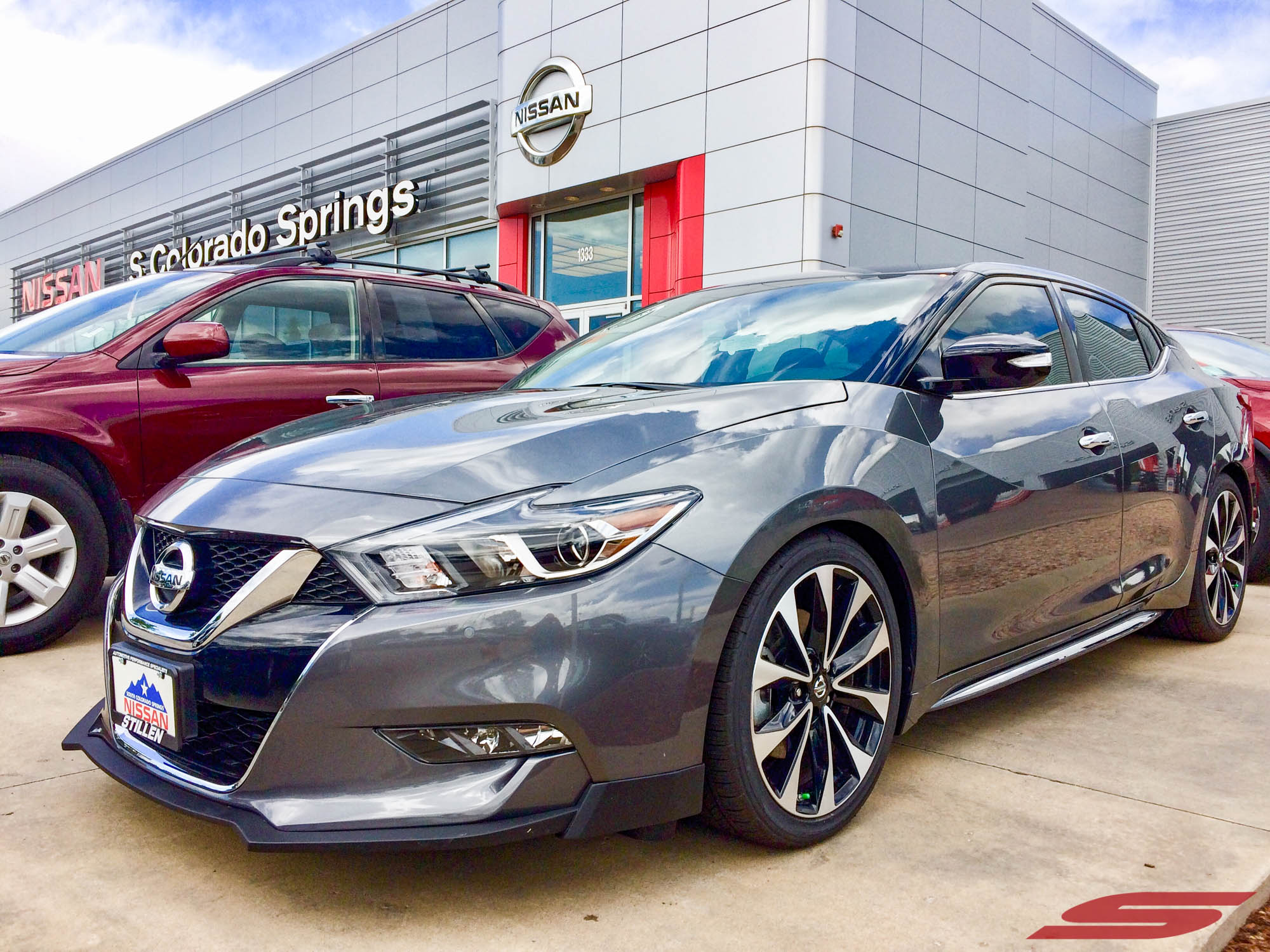 During its initial rebranding from "810" as a Datsun to become the "Maxima", the car underwent a curious time – Nissan needed a way to make their offering stand out amid a swath of blah Detroit iron or a 'typical Japanese' appliance. With its sporty handling and Nissan's strong racing heritage, they realized that what they had on their hands was a 4-Door Sports Car – and thus the 4DSC moniker was born.
The 8th Generation Maxima is the latest iteration of the #4DSC concept and Colorado Springs Nissan has made a few STILLEN additions to this 2018 Nissan Maxima to bring out the car's sporting character.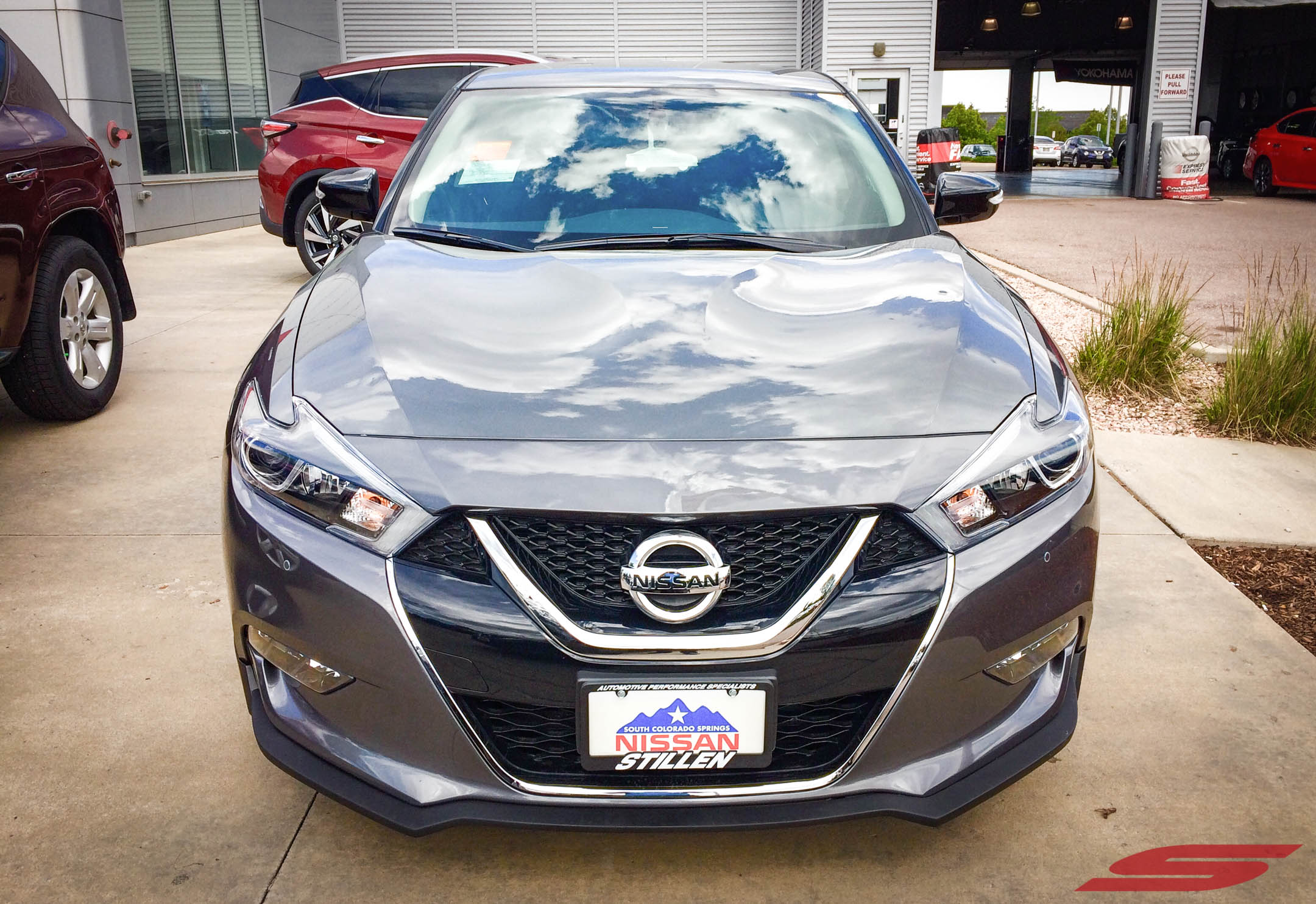 Up front, the Maxima's been fitted with a matte black painted STILLEN front Splitter for 2016-2018 Maxima to give the somewhat restrained sport saloon a more aggressive character. The Painted Matte Black finish works especially well, giving it the appearance as if it were a factory accessory. The aggressive look compliments the impressive performance of its big V6 under the hood and really captures the feel of that original "4-Door-Sports-Car" aesthetic.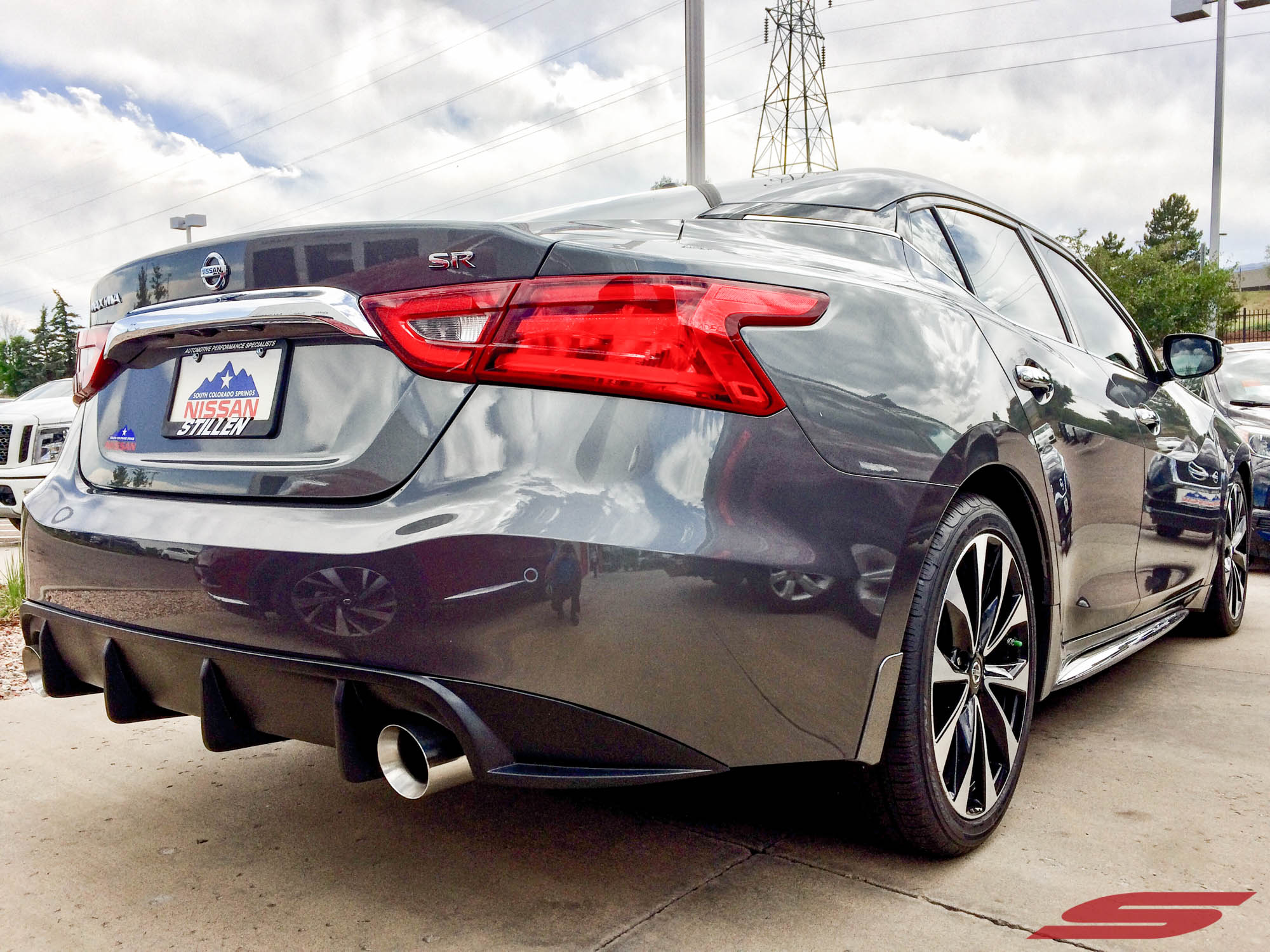 Rounding out the package with both power and style, Colorado Springs Nissan has fitted this Maxima with a Matte Black painted STILLEN Rear Diffuser for 2016-18 Maxima models along with a STILLEN Exhaust for 2016-18 Maxima which gives the car quicker acceleration, sharper response, but most importantly, a deep satisfying exhaust note when you stomp the go pedal that announces your arrival, but refined to virtually eliminate unpleasant drone when cruising to allow you to best enjoy Nissan's big 4-Door.
Interested in picking up a Maxima that's more fun right from the get go? While we don't offer an SMX Package for the current generation Maxima, you can pick up this example at South Colorado Springs Nissan at 1333 S Academy Blvd, in Colorado Springs, CO or call 719-493-9566. Thanks again to our friends at South Colorado Springs Nissan for sharing these photos with us. Tired of your Maxima looking stock? Doesn't matter what year, give us a call at 866-250-5542 between 7-5 Mon-Fri Pacific Time or chat live with the STILLEN team using the LiveChat on STILLEN.com – and of course, you're always welcome to come by during business hours.
Thanks for joining us, we hope you enjoyed the photos.