The STILLEN® Cat-Back Exhaust System for the VR30DDTT Infiniti Q50 and Infiniti Q60 3.0t has an aggressive tone under hard acceleration, but mellow during cruising, with that unmistakable STILLEN sound. STILLEN engineers unlocked a 26WHP and 29WTQ Gain. Those numbers are nothing to sneeze at, and you'd be hard pressed not to notice an additional 29lb/ft of torque.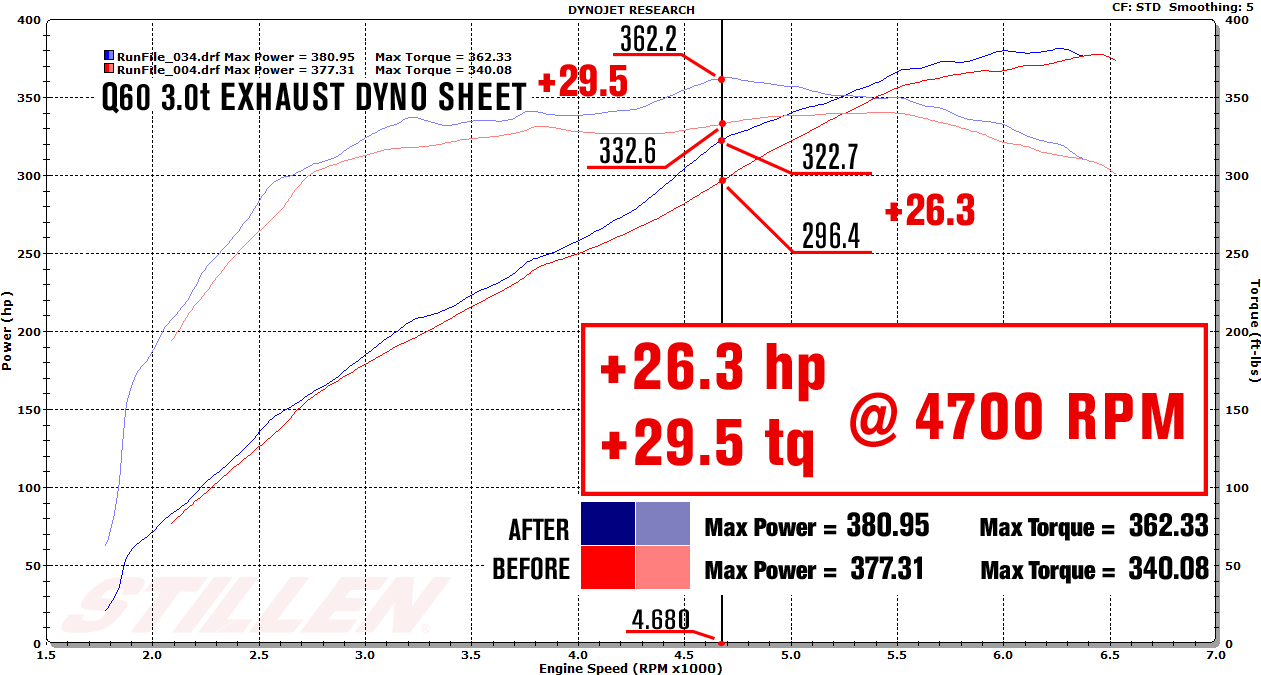 STILLEN went through extensive design, engineering and testing to ensure the STILLEN Infiniti Q50 and Infiniti Q60 Cat-Back Exhaust Systems would be the best available for our customers. Designed to fit beautifully into the OEM valance or as a compliment to a STILLEN® Rear Diffuser, this system looks as good as it sounds. Available with three tip options to suit your tastes – choose from Carbon Fiber, Polished or Burnt-Titanium Look Tips to give your Q's rear end that 'extra something' it needed.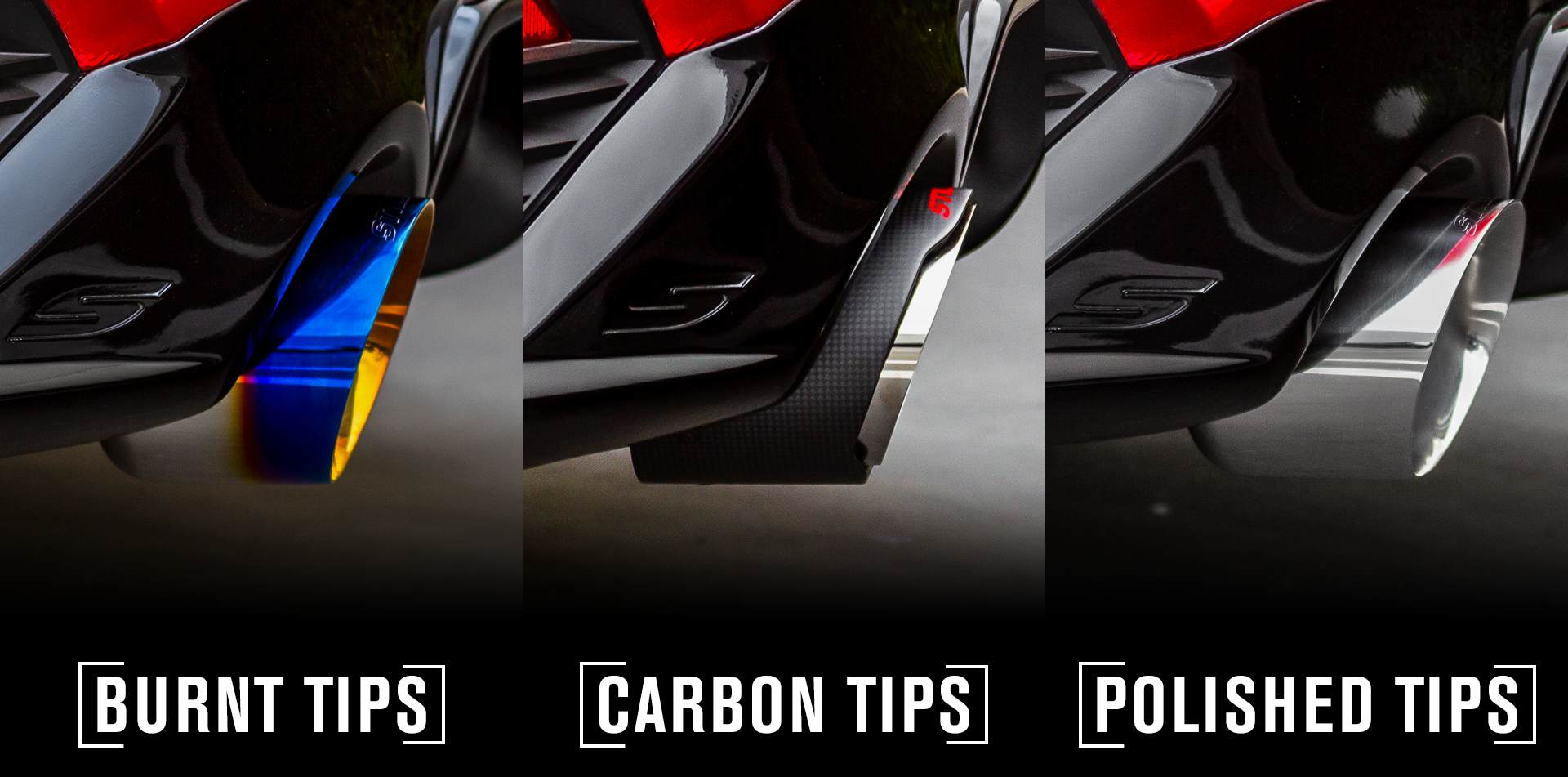 Years of racing and product development have taught STILLEN that relying on computer software simulations or using comparable product data is not enough to produce the best possible product for our customers. There is no substitute for physical validation especially when it comes to the Nissan's VR30 Engine. Numerous Infiniti Q50 and Infiniti Q60 Cat-Back Systems were tested through dyno pulls and extensive data logging. STILLEN's rigorous procedures even included testing different merge angles between pipes. The result of STILLEN's rigorous program found a "Y-Pipe" layout similar to what is found on the Nissan GTR VR38 Engine produced the best result.
The STILLEN Cat-Back Exhaust System consist of a Y-Pipe, Mid- Pipe, and Dual Mufflers w/ Interchangeable Tips. The 2.5″ diameter Y-Pipe configuration allows for better airflow. The Y-Pipe than connects to the Mid-Pipe. The 3″ diameter Mid-Pipe than carries the exhaust gases to the rear of the vehicle where it branches back into 2.5″ diameter dual rear exit. Upon meeting the rear exhaust pipes the exhaust gases flow through the STILLEN engineered and manufactured mufflers. The 4.5″ diameter bolt-on exhaust tips enable you to adjust the tip position for a proper fit no matter what bumper or aero you choose to run at the back. Finally, the exhaust note is mild and well-mannered under normal driving conditions, but quickly turns aggressive and authoritative when under throttle. The overall size of the STILLEN Cat Back Exhaust System will differ to the Infiniti Q50 and Infiniti Q60 respectively.
STILLEN's use of mandrel bent 304 Stainless Steel backed by a limited lifetime warranty ensures your cat-back exhaust will last. The VR30DDTT Infiniti Q50 and Infiniti Q60 Cat Back Exhaust is proudly engineered and manufactured in the USA at its facilities in Costa Mesa, California.
---
For more information or to place your order about the Infiniti Q50 and Q60 VR30DDTT Cat-Back Exhaust from STILLEN®
Chat with us 866-250-5542
Email sales@stillen.com
or Live Chat at stillen.com!
---