June 26, 2008
The folks over at NADAGuides.com, a leading new and used vehicle information site have today launched a new segment, the NADAGuides Garage Blog, aimed at delivering their massive amount of content, new vehicle information, industry news, and enthusiast happenings in a slickly designed blog.
Be sure to subscribe to their RSS feed, and you'll never be out of the loop with all of the new and upcoming vehicles.
NADAGuides was on hand for the 2008 STILLEN Customer Appreciation Day to see the new 2009 Nissan GT-R, 2009 Maxima, and the 2009 Infiniti FX50 in person.  You can see their thoughts here.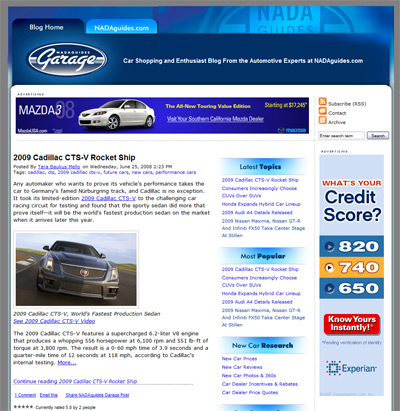 June 26, 2008
STILLEN's G37 Dual Exhaust and Hi-Flow Cats are featured in the Power Pages section in the June issue of Import Tuner. These two parts combined for a total increase of 20 hp and 18.4 lb/ft of torque at the wheels!
Check out the full article in the pdf below, then check out the rest of the Power Pages articles archived on Import Tuner's Site.