March 20, 2012
STILLEN is proud to announce the release of the new brake cooling option for 370Z owners looking to improve track times and lower brake temperatures.
These kits can be used with both Stillen Sport Rotors and Metal Matrix brake pads, AP Racing Brake Kits, and other 370Z Brakes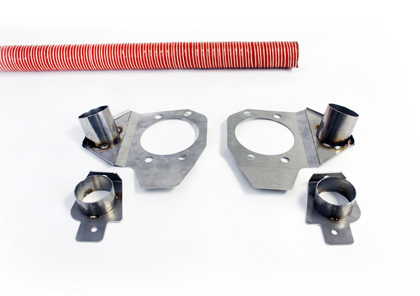 The efficient design of the STILLEN 370z brake cooling kit can lower brake surface temperatures by as much as 25%.  Or as much as  140F. (Yeah that's a lot of heat).  The best part about this kit is it can be used with just about any brake set up and it works perfectly with the STILLEN 370Z front bumper or the Stock 370z front bumper, WITHOUT any cutting.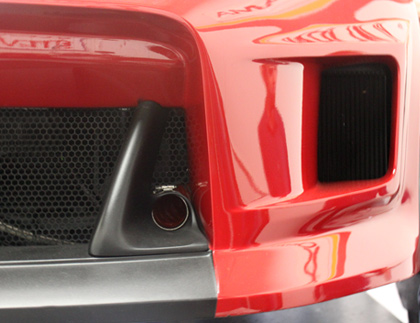 We spared no expense in the quality of components of this kit, from the High Temperature hoses to the CNC machined stainless steel mounting brackets. We made sure that everything fit perfectly and worked perfectly.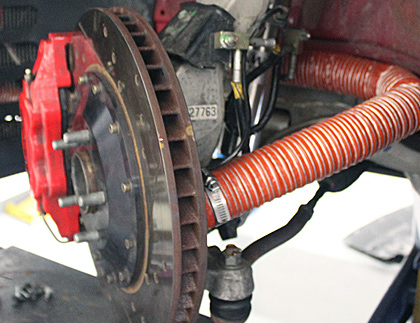 After we made sure all the components of the kit fit properly, we decided to take our test vehicle to the Auto Club Speedway in Fontana, CA for some serious testing.
We installed the 370z Brake Cooling kit on one side of the vehicle and left the other side untouched. We then installed temperature sensors on both sides of the vehicle to give us our comparison figures.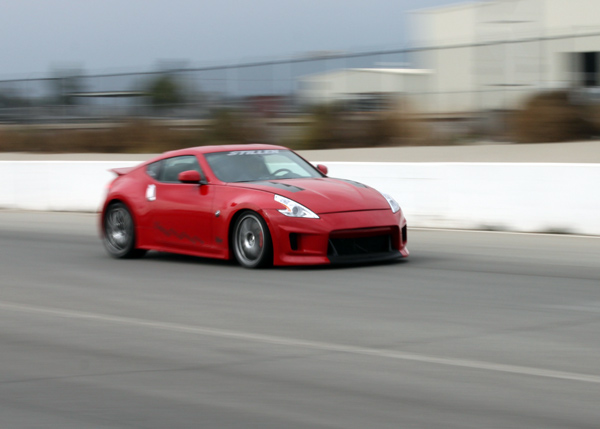 The results ended up being much better than we expected, and we saw a difference in over 140 F between the two sides.  In case you're wondering what the advantages of running cooler brakes are, here's a quick list:
• Decrease in braking distance – Reduction in brake fade
• Prevents warping – Reduced chance of pad glazing – Extends life of brakes
• Reduces the chance of brake fluid boiling
• Decreases the chance of catastrophic damage to brake system
• Improved track time and longer track sessions
Below is an illustration on how brake discs vent out heat under operating conditions, as you can see from the illustration, brake temperatures will substantially increase under periods of prolonged use. Our 370z Brake Cooling kit is specifically designed to reduce brake surface temperatures by supplying a constant stream of fresh air to the brake rotor, allowing it to vent out heat more efficiently.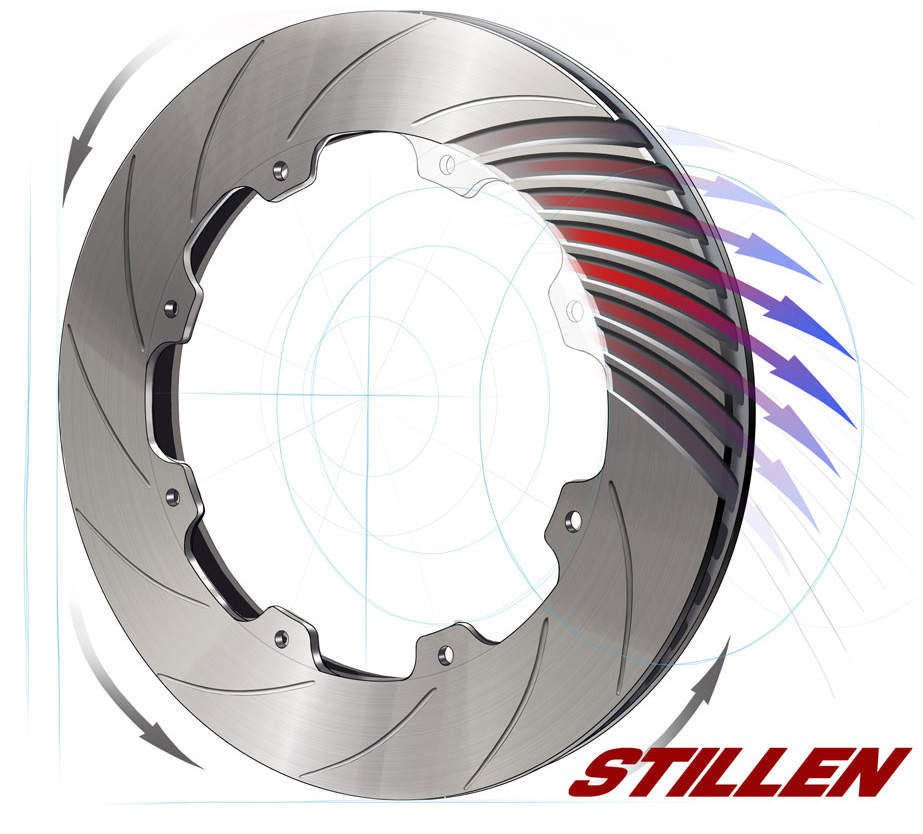 From weekend warriors to the occasional autocross 370z owners, The STILLEN 370z Brake Cooling Kit is sure to become a "must have" item.
February 13, 2012
It's not every day that we release our Nissan 370Z demo car into the wild but when the guys from The Smoking Tire asked to stop by and take the car for a spin we had to oblige!  Matt Farah has been here before and went for a spin with Steve in the team STILLEN GT-R Targa rally car.  During that visit Matt saw the 370Z in multiple pieces as it was receiving the STILLEN treatment.  After multiple phone calls, emails, and text messages we were able to schedule a visit for Matt to get into the drivers seat of a STILLEN tuned 370Z.
This car has been reworked from the inside out and from front to back.  With KW Variant III coil overs, adjustable sway bars, adjustable control arms, AP Racing brakes, Enkei GTC-01 wheels and Toyo R888 tires, cat-back exhaust, 370Z supercharger (CARB legal and warrantied) to the urethane 370Z body kit by STILLEN along with the Seibon carbon fiber hood.
Or check out the video at TheSmokingTire.com.
February 9, 2012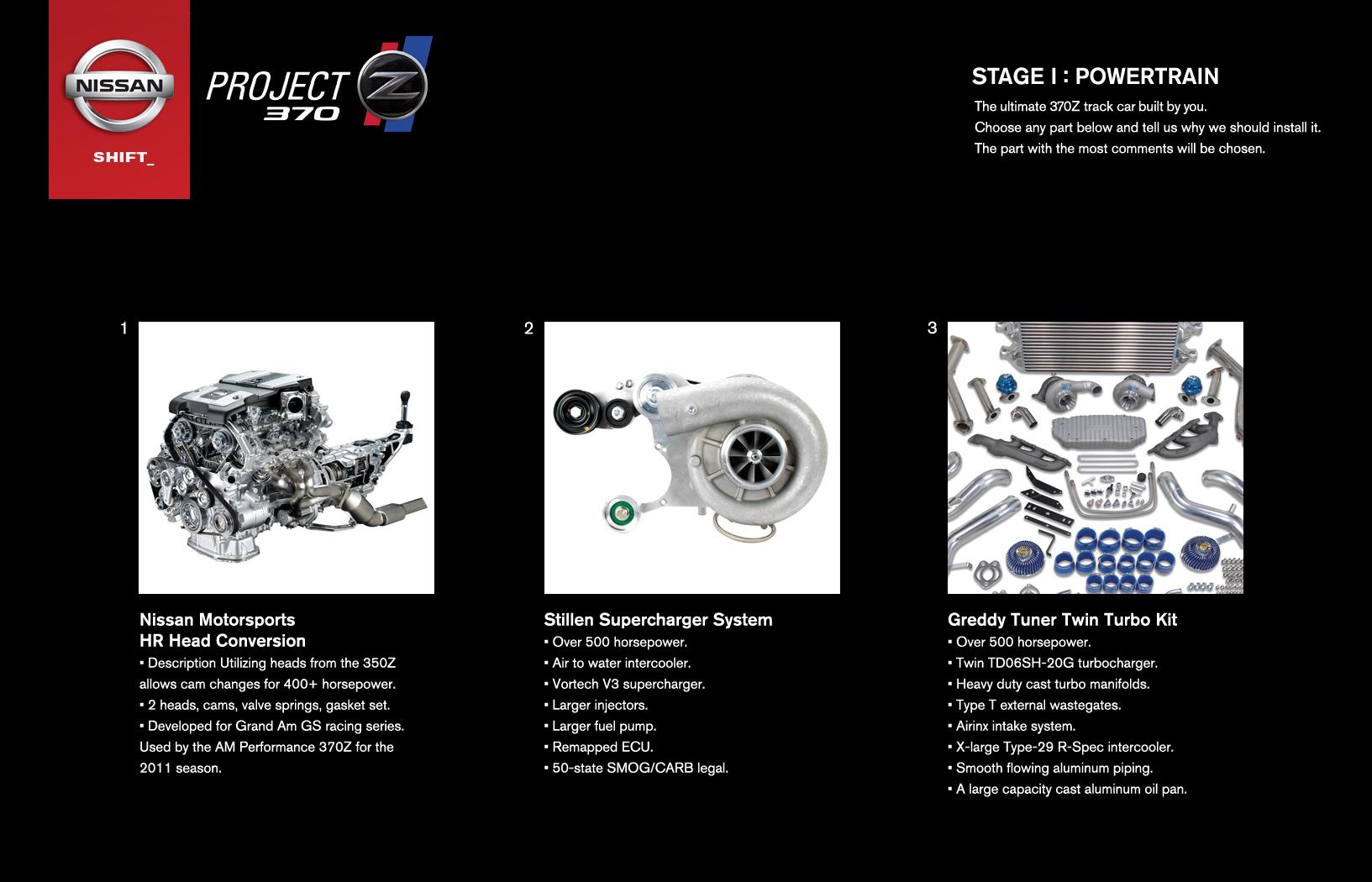 The race is on! Nissan Performance is building a 370Z based on feedback on their facebook page. Check their wall for the post with the picture above and leave a vote for STILLEN.
January 9, 2012
Our friends over at Newmarket Infiniti/Nissan in Ontario, Canada have made getting quality aftermarket parts straight from the dealership possible for Nissan and Infiniti owners in Newmarket.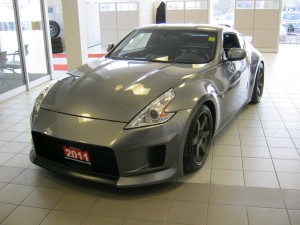 These 370Z's don't just look fast, they are fast; outfitted with Stillen performance cat back exhausts, Gen III intakes and more.
Newmarket Infiniti Nissan is a fully authorized Stillen performance center, offering a full line dealer of all Infiniti and Nissan models.
If you have a Versa, 307Z, G37 M37 or anything in between, Newmarket will make it look great and go fast.
Call Tom in the parts department at (905) 895-8785 and he will get you all the STILLEN style and power you need!
To make your 370Z look like this, pick up the STILLEN 370Z Fascia or Full Body Kit.
September 7, 2011
For over 25 years STILLEN has been recognized as a leader in Nissan/Infiniti tuning. With a history of setting "first time" milestones in the aftermarket for these great vehicles, STILLEN has established themselves as the company to follow when it comes to Nissan and Infiniti product development. STILLEN was the first company to develop the HICAS eliminator system for the 300ZX Z32 platform. When the Z33 350Z was introduced, STILLEN was once again the leader with the first forced induction solution, as well as the first to offer CARB legality, and AGAIN the first with a 3-year/36,000 mile engine warranty.
Well, STILLEN has done it again as Team STILLEN is proud to announce the CARB approval of the Nissan 370Z (Z34) G37 Supercharger Kit.

STILLEN has not only been the first company to achieve CARB legality of a forced induction solution on the VQ37, we have also been the first company to achieve such an accomplishment while tuning through Nissan's sophisticated ECU with larger injectors. This is a major accomplishment for Team STILLEN and one that will join the many other first time landmarks STILLEN has achieved in the Nissan/Infiniti tuning world.

CARB (California Air Resources Board) is the division of the California state government that controls all aspects of air quality and standards. With standards getting stricter it is getting more and more difficult to achieve CARB legality. CARB is recognized as the toughest emissions control in the country and is therefore recognized in all 50 states as an emissions standard for all performance parts. If a performance part achieves CARB legality, it is recognized as 50-state legal.

The power the STILLEN Supercharger system delivers is dramatic, taking the factory 3.7L V6 from 332hp to over 500hp! The system is designed to work with both automatic and 6-speed vehicles, including convertible and AWD models.

The STILLEN VQ37 Supercharger features a new cast aluminum intake manifold engineered specifically for this kit, complete air-to-water intercooler system, and boost is derived from a Vortech V-3 Supercharger unit. The V-3 features a quiet V-belt design, and a self-contained oiling system for easy maintenance.

In the past year STILLEN has shipped supercharger systems around the world. Fantastic reviews and reports are coming in from:
Australia
New Zealand
Singapore
Russia
Thailand
Korea
Canada
Switzerland
Taiwan
France
Unite Arab Emirates
China
Hong Kong
United Kingdom
Not to mention all of the kits that have been installed with great success across the United States at Nissan/Infiniti dealerships and performance shops. This is a bolt-on system, capable of being installed by any qualified ASE-certified automotive performance shop, or at hundreds of Nissan and Infiniti dealerships across the country, or right here at STILLEN at our in-house install facility.
Once again, STILLEN has successfully accomplished all of its goals with another great forced induction solution for the Nissan/Infiniti vehicles.
STILLEN 3.7L Supercharger System Features Include:
Vortech V-3 Centrifugal Supercharger Unit
STILLEN purpose designed cast aluminum intake manifold with long runners for increased torque
Installs under the stock hood – No modifications needed
Complete system includes pre-assembled Vortech V-3 supercharger assembly, air intake with polished air charge pipe and genuine K&N intake filters, fuel injectors, air-to-water intercooler, UpRev ECU Tuning cable/software and detailed installation instructions.
Made in the USA
50-State Emissions Legal (E.O. Number D-436-17)
httpvh://www.youtube.com/watch?v=RRpUC72wV8M
About STILLEN
STILLEN, located in Costa Mesa, CA, is a premier manufacturer and distributor of a select line of high performance products for late model import and domestic vehicles — developed by enthusiasts for enthusiasts. Founded in 1986 by renowned professional driver and race car builder, Steve Millen, STILLEN incorporates cutting edge race proven technology and advanced aerodynamic designs into the company's proprietary performance and appearance product lines. Millen is known worldwide for achieving the greatest number of wins in IMSA GT history during the course of an impressive racing career that spans 30 years and numerous wins in series around the globe – from Le Mans to the 24 Hours of Daytona. Still family owned and operated, STILLEN branded products include exhaust systems and components, superchargers, fuel systems and components, brake kits and components, and urethane body styling products. The company's race heritage and continued participation in motorsports has added special focus on motorsports proven R&D, manufacturing processes and materials, and expert, enthusiast-based customer support, distinguishing STILLEN in the field of performance manufacturers. In addition, STILLEN is an online reseller of many high performance products for late model cars and trucks, import and domestic, and creator of unique, one-of-a-kind performance project vehicles.
May 13, 2011
STILLEN is proud to announce the availability of the VQ37 supplemental warranty for the STILLEN 500HP Supercharger System!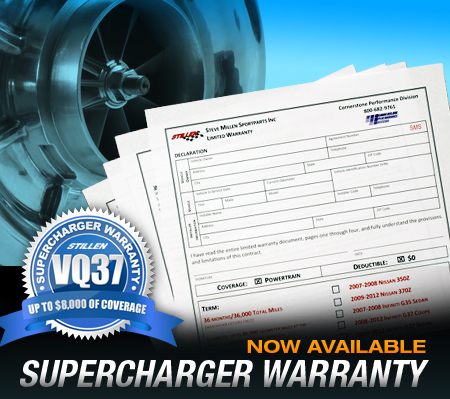 The VQ37 Supercharger supplemental warranty program is available as a 3-year/36,000 total mile term (whichever occurs first), with liability coverage of up to $8,000.  This coverage warrants engine components (including the STILLEN Supercharger), transmission and rear axle components.  The supplemental warranty is valid in the United States and Canada, has a $0 deductible, and is available for $395.
One of the biggest concerns we hear from our customers is the worry of voiding their warranty with the use of aftermarket parts, and we've outlined some information in previous posts regarding this subject, and with the combination of an engine/drivetrain warranty, can give solid piece of mind.
For more information, please contact your STILLEN representative at 866-250-5542.
April 6, 2011
Last month we brought you the information on the new high end Goodridge Phantom Gstop Brakelines, and as these are arriving soon, we wanted to get the word out, and get these in the hands of our customers, so we're giving away 2 sets for free!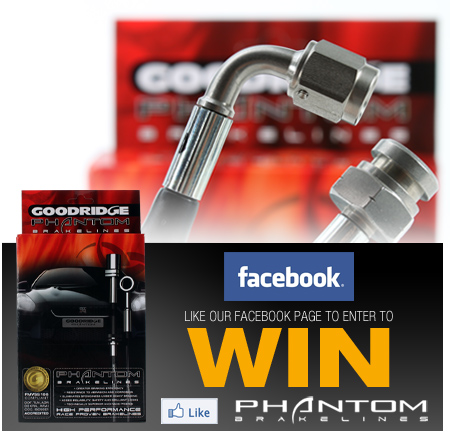 Simply head over to the STILLEN Facebook page, give us a 'Like' and you'll have access to the entry form on the Sweepstakes tab, just pop in your information and you'll be entered to win.  We'll be picking a winner on April 15th, and again on April 30th!
The Phantom Brakelines are new from Goodridge, and are designed to replace the factory rubber brake lines on your car, improving safety, reducing stopping distances and deliver a much better brake pedal feel, just like the popular Goodridge Gstop Brakeline kits.  The Phantom series upgrades the hardware and fittings to stainless steel, features a black coating on the stainless steel lines, a beautiful upgrade, and we couldn't encourage our customers more to consider upgrading your brake lines if you haven't already, it's an inexpensive upgrade that has huge benefits.
Good luck!  You can read the full giveaway rules here.
August 17, 2010
The STILLEN / Vortech V-3 series supercharger is unique in that it uses a self-lubricating oil.  This means there is no need for running additional oil lines, or tapping the oil pan.  All of those inconveniences (and future leaks) from previous versions are a thing of the past.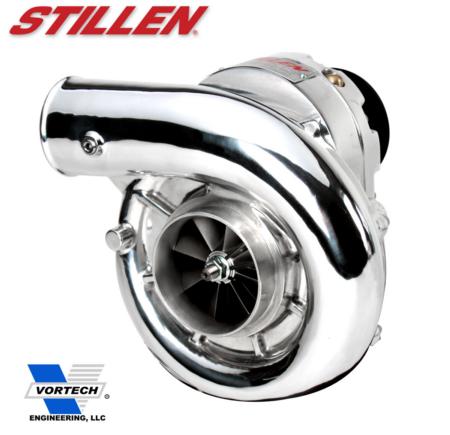 The V-3 utliizes a very simple stainless braided hose that is designed to hang down near the shassis of the car.  Oil changes are made easy by simply removing the drain bolt, and refilling to the specified level.  Please follow these guidelines in servicing your supercharger unit. DO NOT OVERFILL!
STILLEN / Vortech V-3 Supercharger Mainteance Schedule & Procedure Read more
April 3, 2010
Recently we lauched the press release and information regarding the STILLEN 3.7L Supercharger for the Nissan 370Z and Infiniti G37, along with some video of track testing and data logging as we put the supercharger through it's paces in a demanding environment.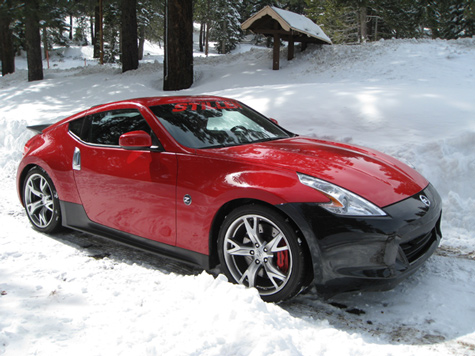 Our testing doesn't stop there.  Steve Millen personally has been putting thousands of miles on the STILLEN 370Z in all types of environments, altitudes, deserts, long trips through surrounding states, and earlier this week spent some time in the snow and cold for some cold weather endurance testing, including freezing temperatures, cold starts below freezing, etc. Read more
March 18, 2010
News Release
FOR IMMEDIATE RELEASE
March 18, 2010
STILLEN Introduces 500+HP Supercharger System for Nissan 370Z / Infiniti G37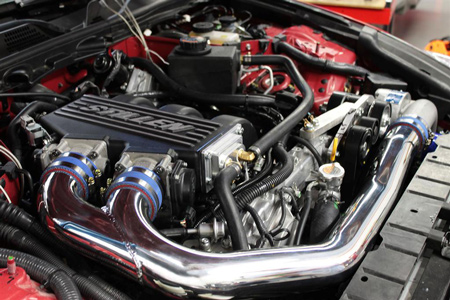 (Costa Mesa – CA) – After more than a year of development and testing, Steve Millen Sportparts (STILLEN) is proud to announce the release of the STILLEN Supercharger System for the Nissan 370Z and Infiniti G37 with the 3.7L VQ37 engine.
This complete bolt-on kit includes everything needed to increase the factory 332 horsepower to a tire shredding 500+ horsepower on 91 octane pump fuel! Read more