STAND OUT FROM THE CROWD AND MAKE THE VALET STOP AND STARE!!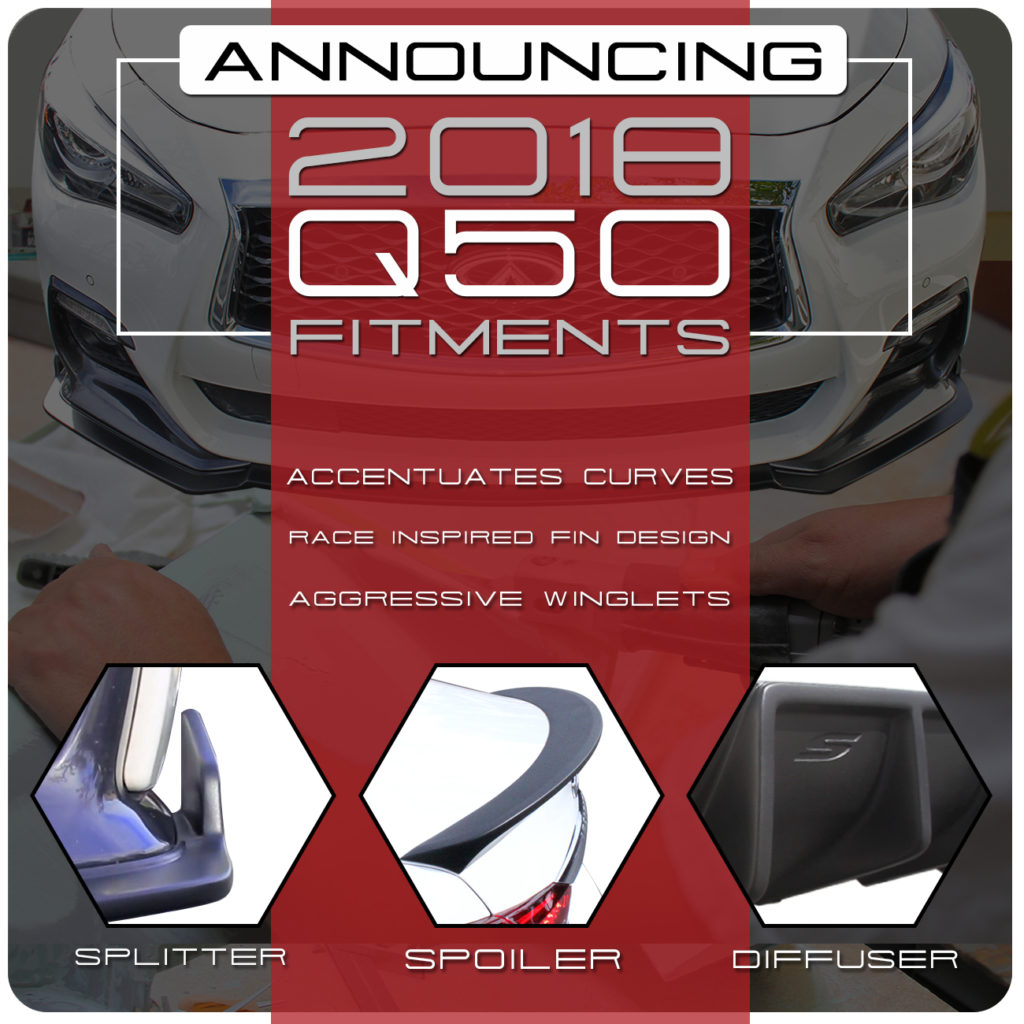 A VERITABLE CORNUCOPIA OF OPTIONS TAILORED SPECIFICALLY FOR YOUR ELEGANT SPORT SEDAN.
At STILLEN, as with all the performance vehicles we offer parts for, the goal with Infiniti Q50  was to enhance the car's natural good looks, accentuating its curves and bodylines as well as increase power output and give it a more sporting exhaust note– all without taking away from the comfort or drivability of the car. We continued that work with our new line of performance offerings for the facelifted-for-2018 Infiniti Q50.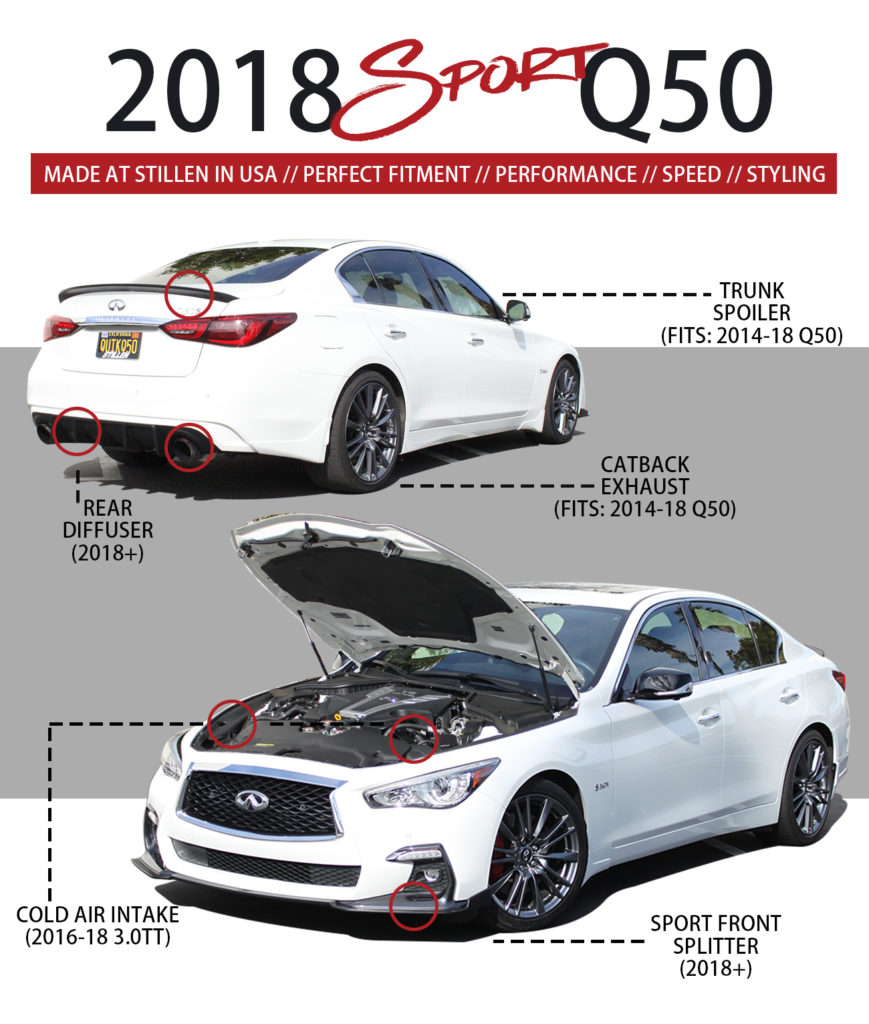 Power and Style are both on the menu here, but let's start with the power and performance side of things.
For 2018, the Q now has the option of several variants of the VR30DDTT, a Turbocharged Inline 4 or the VQ37HR.
With 2018 fitment confirmed, we are proud to offer the STILLEN 2016-18 Infiniti Q50/Q60 3.0TT Intake System for the twin turbo V6 VR30DDTT.
Good for 17whp and 28wtq, these intakes are sure to make your twin turbo V6 much more responsive, and the extra oomph will give you the power you need to embarrass your jerk neighbor the next time you pull up to him at a red light.
Rounding out the power package, we've also confirmed the fitment of the STILLEN Catback Exhaust for 2016-2018 Infiniti Q50 / Q60 3.0TT. Available with your choice of Polished Tips, Burnt Tips or Carbon Fiber Tips, this exhaust system looks as good as it sounds – and with an astonishing 26whp / 29wtq gain, this exhaust system offers power, style and sound all in one package.
If the exhaust note doesn't catch your passengers attention, that extra nearly 30 foot pounds of torque (remember, these are at-the-wheels numbers, not 'at the crank'.) is sure to sink you and your passengers into your seats when you put your foot to the floor.
And of course, that brings us to style.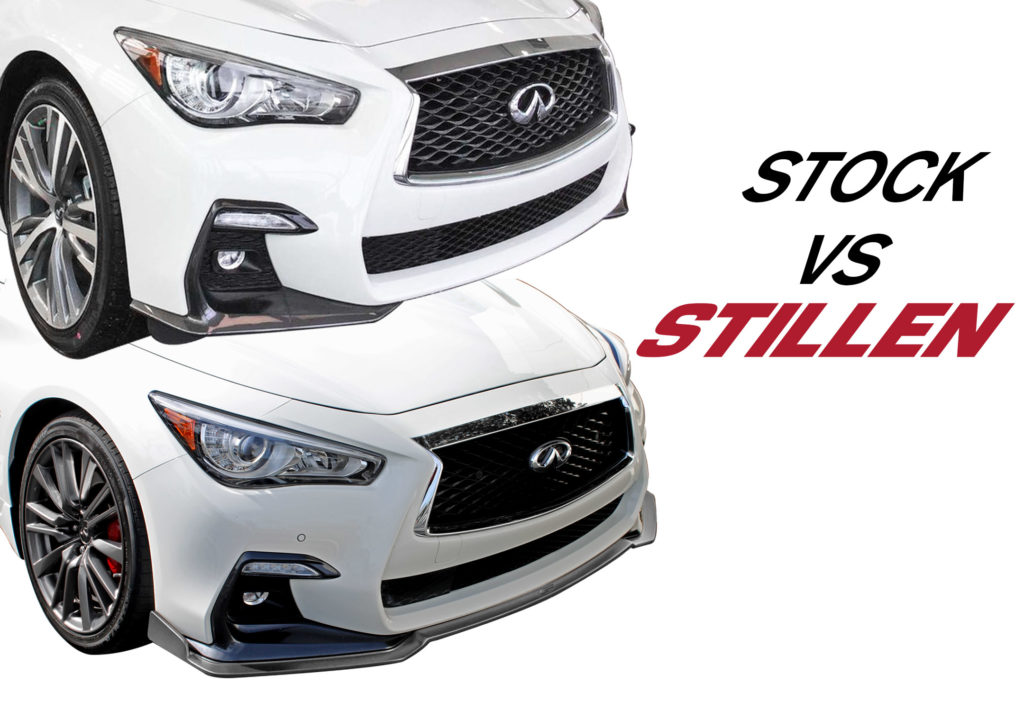 We've designed an all new urethane STILLEN Front Splitter for 2018 Infiniti Q50, custom fitted to the new 2018 front fascia. As with all our splitters, this offers a mild aerodynamic benefit as well as looking sharp. Available in Painted Matte Black finish (ready to install), or unfinished, ready for you to prep, prime and paint the color of your choice.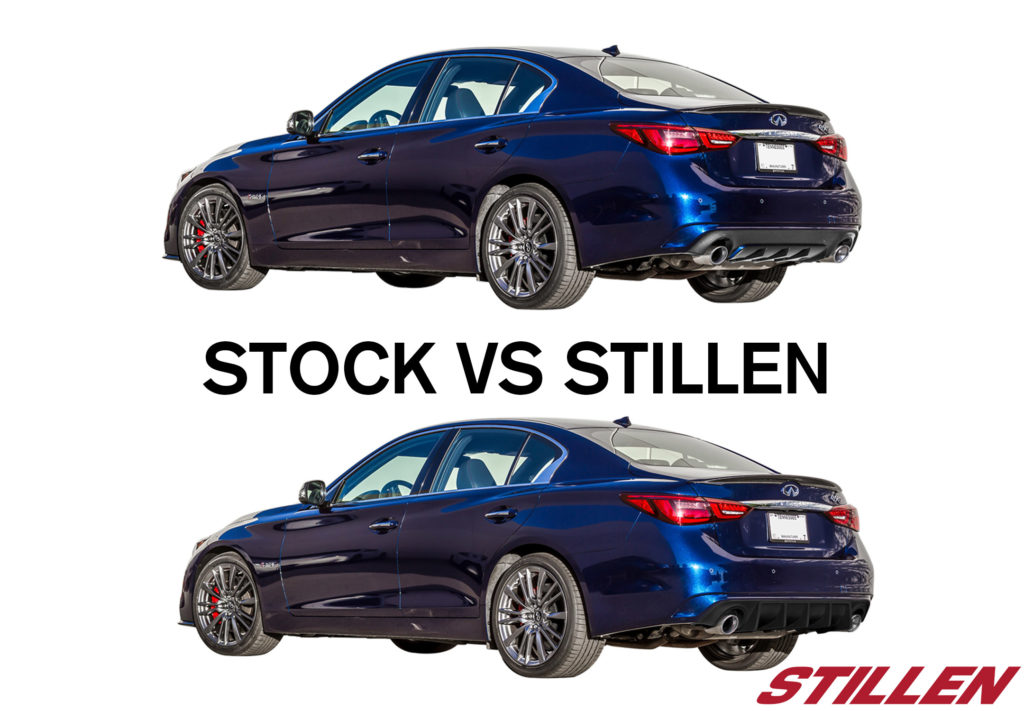 Pairing with the front splitter, we've also redesigned a new rear diffuser as well. Installed over the OEM rear splitter, the urethane STILLEN Diffuser for 2018 Infiniti Q50 accommodates both the OEM and STILLEN Q50 Exhaust system.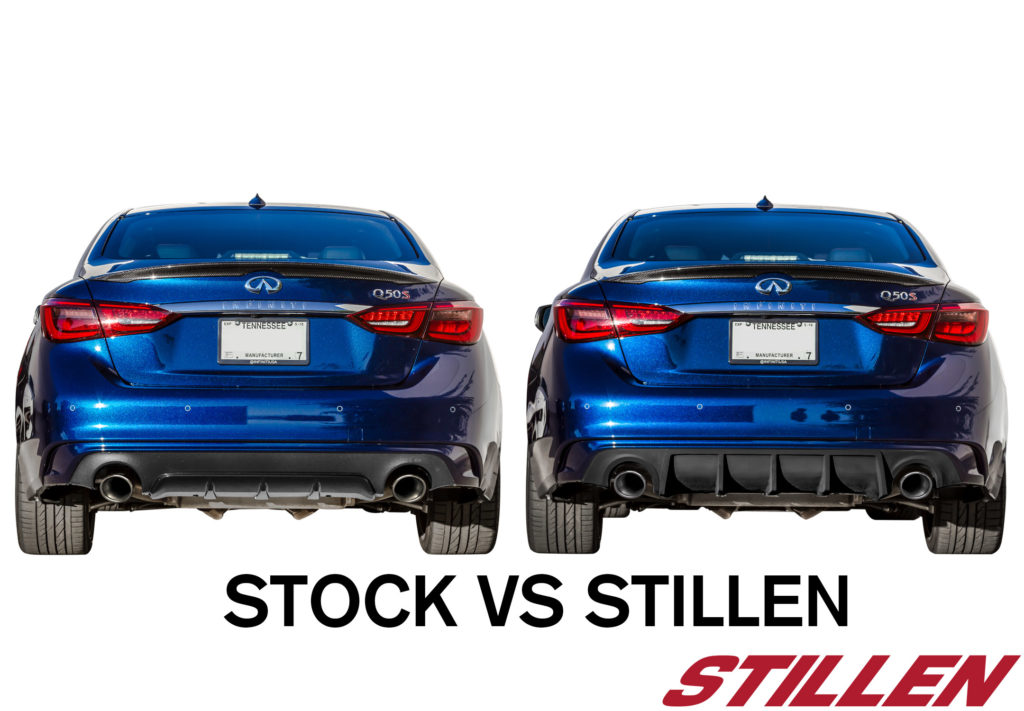 This diffuser dramatically spices up the rear end of your Q50 for a much more dynamic appearance. Also available painted matte black or Unfinished, this rear diffuser is the perfect compliment to any Q50 build.
Rounding out the package is the STILLEN Trunk Spoiler for 2014-18 Infiniti Q50 models. Designed with retaining the rear camera in mind, this custom trunk spoiler fits as if it was factory equipment, and fitment was confirmed through 2018 Q50 models. The STILLEN 2014-18 Infiniti Q50 Roof Spoiler is also available for added spice, and also fits through 2018.
Interested in getting any of the newest Q50 performance parts for your vehicle? Give us a call at (866) 250-5542, Chat Live at STILLEN.com, or come by the showroom any time during business hours.
Thanks for reading, see you next time!