STILLEN Product Announcement: Edelbrock E-Force Supercharger x Eaton TVS R2650 Rotors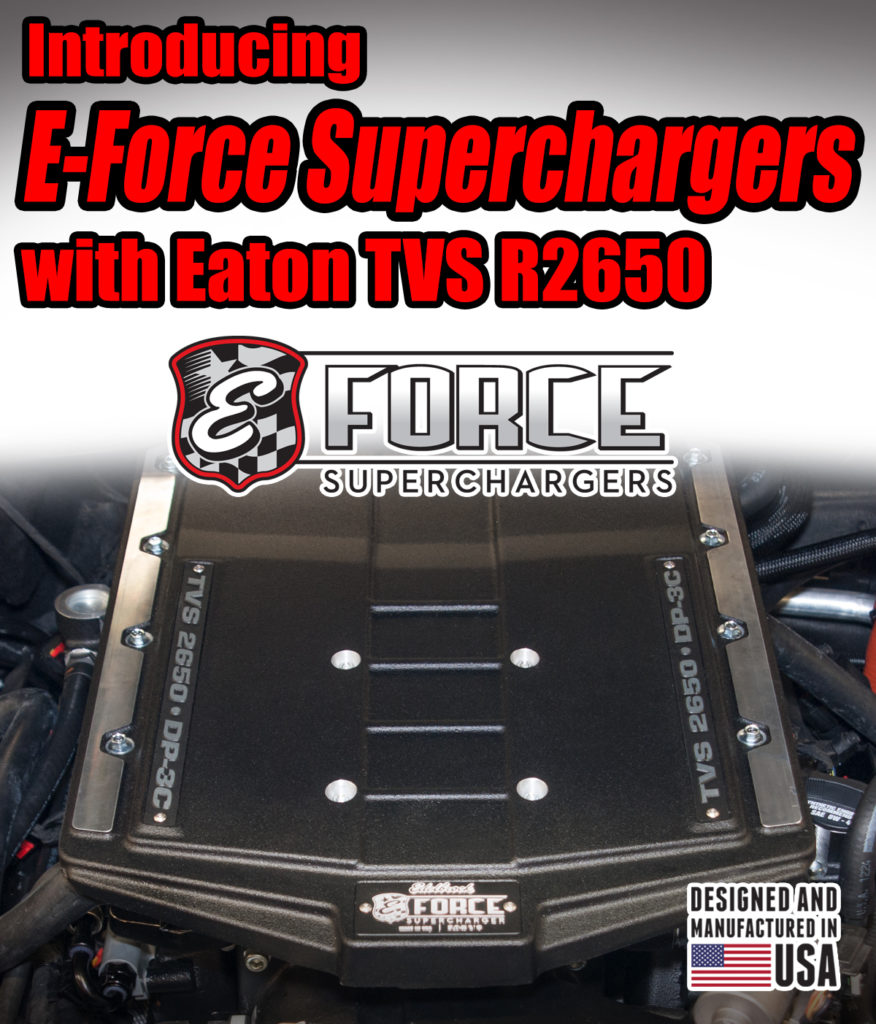 Edelbrock announced the release of its E-Force Superchargers that now feature the new Eaton Gen VI R2650 TVS rotor pack for 2015-17 Chrysler 300, Dodge Challenger, Charger and Ford Mustangs. Compared to the TVS R2300 rotor pack used in previous E-Force Supercharger kits, the R2650 rotor pack is 15-percent larger, yet it does not impact the overall supercharger dimensions, allowing it to continue to clear your stock hood without modifications.
Eaton TVS R2650 Rotor Pack Features:
Larger bearings and thicker timing gears for durability
Pressure relief ports in the bearing plate for reduced friction
170 degree twist vs 160 degree twist on the R2300 series
Delivers 25 percent more air flow at 18,000 rpm and 14 psi boost compared to the R2300 series
More efficient, requiring 18 percent less input power compared to a competitors 2.9L design
Eaton TVS rotor packs are designed and manufactured in the USA for the best quality
These systems also utilize the Edelbrock exclusive DP-3C intercooler design which features 45 percent more surface area compared to the previous design. This allows the system to achieve lower intake air temperatures for improved power output and more tuning options such as spark advance. Together, the TVS R2650 and DP-3C are the ultimate forced induction combination for your high performance HEMI or Coyote equipped vehicle.
E-Force Supercharger Description
With

Tuner 

Without Tuner
Stage 1 – Street Systems
2015-17 Chrysler 300, Dodge Charger, Challenger 5.7L
1517
15170
2015-17 Ford Mustang 5.0L
15865
158650
Stage 2 – Track Systems
2015-17 Ford Mustang
15864
158640
Stage 3 – Pro-Tuner Systems
2015-17 Chrysler 300, Dodge Charger, Challenger 5.7L
–
15171
2015-17 Chrysler 300, Dodge Charger, Challenger 6.4L
–
15174
Are you ready to step up to forced induction performance? Contact STILLEN for more information or to order your Edelbrock E-Force Supercharger system today! If you're not comfortable with the installation, be sure to ask a STILLEN associate about having your supercharger installed at the STILLEN Performance Shop! Call us at 866-250-5542, send us an email to sales@stillen.com or hit us up on Live Chat at stillen.com!