Exedy started developing their racing clutch options for vehicle manufacturers in 1964 and since has amassed wins in a wide array of events, capturing titles in the racing world from rally and Gymkhana to F1 and Super GT300. You can have the same Exedy racing clutch technology that led these drivers to the podium, and you don't have to buy the kit meant for a professional racer to start seeing serious performance and durability improvements.
Check out the available stages of Exedy Racing Clutch kits and see which one fits you and the use of your vehicle best.
Exedy Stage 1 Racing Clutch – Street Performance Kits
Exedy organic friction racing clutch composition, with the fibers held together by high heat resins
So strong it doesn't need a steel backing to pass SFI burst test.
Maintain the drivability of an OE-style disc
40% on average increase in the clamp load with high performance cover
Extra capacity to allow for common street car upgrades to fit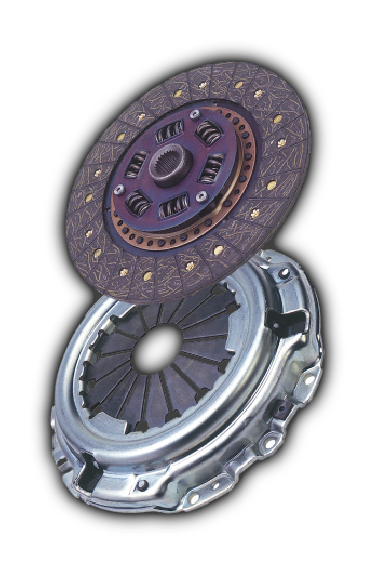 Exedy Stage 2 Racing Clutch – Street and Track Cerametallic Disc Kits
Cerametallic racing clutch friction disc handles much more heat, and more horsepower than a stock type without slipping or fading
High performance cover has 40% more clamp load on average
High-strength, anti-burst protection
Extra capacity to accommodate common street car upgrades
Normal (thick) disc is recommended for street, drag or rally uses
Thin (~50% thickness of stock) disc is for circuit track use only
Exedy Stage 3 Racing Clutch – Hyper Single Kits
Exedy exclusive Ceramettalic racing clutch friction disc 6-pad design
Heavy duty hardened spring damper
Heavy duty bonding agents used for low wear and high heat resistance
Forged aluminum covers average 40% increase in clamp load over stock
Forged design is much stiffer, meaning no clamp-load deflection
Extra capacity that's capable of fitting both street or race car power upgrades
Forged chromoly flywheel, which combines low weight with high heat capacity
Provides snappier throttle response and quicker shifting
Chromoly flywheel was designed for rally, drag and hi-performance street
Tested at 18,000 rpm without failure
Ring gear cannot separate and the friction surface cannot warp
Can be resurfaced for future clutch service
Exedy Stage 4 & 5 Racing Clutch – Hyper Multi-Plate Kits
Cerametallic racing clutch friction disc, 6-pad design
Low wear and high heat capacity
Heavy duty hardened spring dampers and bonding agents
Smaller and thinner discs reduce weight for quicker shifting and less wear and tear on synchros
Forged aluminum cover averages 100% increase over stock clamp load
Extra capacity to hold street or race car power upgrades
No clamp-load deflection
Some have choice between SD and HD clamping configurations to match wheel torque numbers
SFI approved chromoly flywheel is tested up to 18,000 rpm without failure
Designed for drag, rally or hi-performance street driving
Low weight, low inertia, providing snappier throttle response and quicker shifting
Most of these flywheels are designed to increase airflow and help cooling
With one piece forging means the starter teeth are machined in place
Ring gear cannot separate nor can the friction surface warp
Can be resurfaced
To speak with an expert and place your Exedy Racing Clutch order, give us a call at (866) 250-5542. You can check out all the Exedy racing clutch products we carry, or explore all the items we have for sell here at STILLEN. You can also schedule anything from a routine maintenance or install to a full scale racing build on the Performance Shop site.