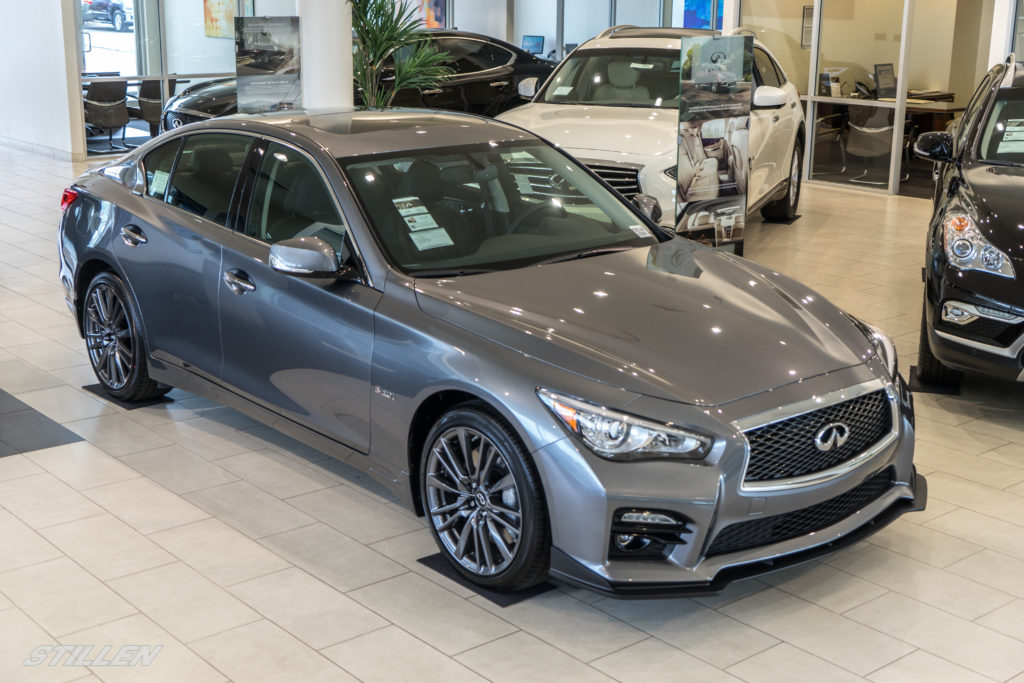 With Nissan/Infiniti recently announcing the release of their new Twin Turbo V6, we wanted to take a closer look at this motor and what is means for the Aftermarket industry and Automotive Enthusiasts.
The all new 'VR' 3.0 Liter V6 Twin Turbo motor is touted by Nissan/Infiniti to be the most advanced V6 they have ever offered. With features like Direct Injection, high efficiency turbos, electronic wastegate actuator, etc, there is a lot to talk about.
Let us start with the pros of this engine when thinking about aftermarket tuning and modifications.
Twin Turbos…I repeat…Twin Turbos! Some of the most exciting times in the Tuning Scene were in the 90's when most of the big import sports cars featured factory turbos. When a car comes factory equipped with a turbo charging system, many of the inherent challenges are solved. Is the engine bay properly designed to manage the heat generated? Is the engine able to handle the pressure of forced induction? Is the engine bay big enough to house turbos? All of these potential hurdles are instantly removed because the turbos and infrastructure are already there.
Direct Injection! Direct Injection systems have much higher flow ratings than they use so when adding power there is no need to upgrade the fuel system (to a point).
Electronic Wastegate Actuator. In the past the turbo wastegates were controlled by pressure and dictated by a boost controller. With an electronic wastegate actuator, you can control the wastegate and the amount of boost you make more accurately and variably. Nissan is using this to make more power on the 400 hp variant of this motor, and we should be able to have a lot of fun with it once we have an ECU control. If it is not possible to control the wastegate through the ECU there is always the option of using an aftermarket diaphragm style wastegate actuator and using a standalone boost controller. If and when ECU control is available it will be the most cost effective and best option.
Oxygen Sensor & Exhaust Pressure Sensor. Oxygen (O2) Sensors are obviously a crucial part of tuning. However, on forced induction motors the way O2 sensors record data is different because of the change in air properties under pressure. The addition of an Exhaust Pressure Sensor allow for more accurate scaling, tuning, and data in regards to the gases coming out of the cylinders. This means better and safer tuning when adding power.
Square Engine (1:1 Bore to Stroke Ratio). Utilizing a 86mm Bore and 86mm Stroke the new VR Motor is a "Square Engine". The Square design gives a balance of Torque and Horse power (Torque is more dependent on total displacement while Horsepower is more dependent on valve area). With Square motor, you also get a smoother transition between the torque and horsepower power curve.
Other nice things we have noticed about the new VR 3.0 TT V6.
V-Band Coupler from Turbo to Down Pipe. This will make replacing the factory catalytic converter with a free flowing down pipe easy and leak free. V-Bands are one of the most effective ways to fasten exhaust parts together (especially areas of higher pressure and heat). Because the V-Band Coupler applies an inward radial force compressing the flange together, you have less chance for an exhaust leak with less effort of tightening.
No VVEL! Not that VVEL was inherently bad, but it was a major culprit in the heat issues experienced in the outgoing VQ engine. Nissan/Infiniti has switched to a new Valve Timing System (controlled by an electric motor accord to them).
Standard Turbos. With no mention of twin scroll technology, this could mean for more options when it comes to possibly upgrading the turbos.
Exhaust System. It looks like the cat-back section of the exhaust has not changed with the new motor. This would mean the current cat-back and axle-back options would still work. Do note, most cat-backs were not designed with forced induction in mind. STILLEN does have an advantage here because we designed our Cat-Backs to work with forced induction. This mainly applies for the Q50 as it will be the first Nissan/Infiniti to get the new Turbo motor.
Oil Filter. The location of the oil filter look very convenient for installing an oil cooler. While we don't anticipate the VR 3.0 TT to have the same heat issues that the VQ's had, it is always beneficial to keep those oil temps in check.
There will be some challenges, hurdles, and limitations. From what we have seen in diagrams and specification here are going to be some of the limiting factors of this motor and some possible solutions (these are just possibilities that cannot be confirmed till we have this motor to actually look at in person).
Integrated Exhaust Manifolds. While this does help reduce the size of the motor and provide some nifty emissions benefits, it does limit the capabilities of what we can do aftermarket.
Optical Turbo Speed Sensor (only available on 400hp variant). While this is an amazing tool for tuning and being able to run the turbo at peak efficiency, it does not come on the 300hp variant of the motor. This might make tuning less accurate. We won't know till we take a closer look, but there is a huge advantage to being able to tune based on both boost and turbine speed.
Water-Cooled Intercooler System. While Air to Water intercoolers are great, they do provide some potential stumbling blocks on this motor. If you look at the location, it will be difficult to upgrade them. While upgrading the heat exchanger in front and possible the pump is fairly easy, big power would most likely require a Air to Air setup and the turbos are positioned to feed directly into the factory coolers. Just means more piping than what we'd like to add if that becomes the case.
Intake Manifold. You can see there might be some major restrictions, bottle necks, and harsh turns on the factory unit. This may be simple to remedy, but depending on how the manifold is designed and what the reset of the manifold and lower plenum look like it could be difficult and expensive. At first glance you can see some areas that look restrictive, but from other angles you can see how it is just a design feature, and not a bottle neck.
Air Boxes. Because we know the core support design has not changed in the new Q50, new air intake systems will require some major testing to see if we can place the filter outside of the engine bay. This is more crucial on the Turbo motor than the old VQ37 because turbo motors generate much more heat in the engine bay. When the new Q60 and Z are released we can see if the design is different than the Q50.
While all of this is based off of the information provided, and images available, we cannot say for sure what the potential is until we have one to do testing with. Never the less, we are very excited for the newest V6 from Nissan/Infiniti and can't wait to start tuning them.
*Photos courtesy of Nissan & Infiniti.