Get major HP and torque with the new K&N Blackhawk 5.0 Mustang cold air intake for the 2011-2014 Mustang GT, and it's a serious performance upgrade that will make your stallion gallop faster and breathe better. The Blackhawk Mustang cold air intake gets its name from the stylish, all black design and the story goes deeper for this K&N 5.0 GT Mustang cold air intake, because on the dyno, it made over 14HP and 16ft/lbs torque for the pony wearing it!
The Mustang Cold Air Intake That's Made to Last
Just as they do with every product, K&N backs their new Blackhawk Mustang cold air intake with a million mile warranty. However, with this quality system, chances are you'll never find or have a reason to use this industry leading guarantee. The Blackhawk Mustang cold air intake is easy to mount and requires no more than a few common hand tools. It's also washable and comes with a with a Dryflow filter and heat shield, which utilizes the fresh air scoop in your pony to push air through your intake.  Once you have this cold air intake kit installed, you'll know the difference the first time you press the gas!
K&N makes the intake tube out of aluminum and then black powder coats it to match the heat shield. Each Blackhawk Mustang cold air intake has a K&N engraved name plate welded onto the tube and comes with the RU-3102HBK Dryflow filter, which doesn't require oil and can go for up to 100,000mi between cleanings in certain environments. So, if you're looking for a stylish, affordable performance upgrade that's long lasting, high quality and makes for a killer engine sound, what you're looking for is the K&N 71-3527 Blackhawk 5.0 GT Mustang cold air intake.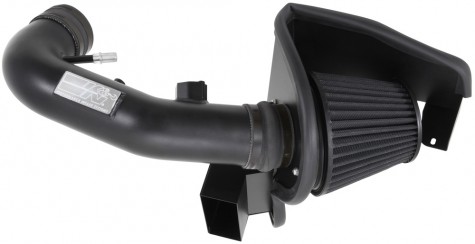 Next Steps
Give us a call to speak to an expert and place your order today at (866) 250-5542. If you have another Mustang and would like to see what K&N can do for you, check out all of the available K&N Mustang products or look over all of the K&N we have to find nearly any vehicle's K&N product options. Also, look around at the whole lineup of products available at STILLEN.