When it comes to your 2014, 2015, 2016 Chevrolet Silverado or GMC Sierra 1500 there are quite a few options for a more aggressive look. One of the best ways to add an aggressive look to the already beefy styling of these trucks is to add some bigger tires. From the factory, the Silverado and Sierra come with a staggered stance, where the rear of the truck is higher than the front. This limits the tire size you can add to the front of the truck without experiencing tire rub on the inner fenders and suspension components. Adding a leveling kit is a great way to raise the truck enough to clear bigger tires, increase the off road potential of the truck and improve the look – all without spending a tremendous amount of money and maintaining the factory suspension characteristics. Below, we've listed some of our favorite leveling kits for the 2014-2016 Silverado and 2014-2016 GMC Sierra.
ReadyLift Leveling Kits for 2014, 2015, 2016 Chevy Silverado & GMC Sierra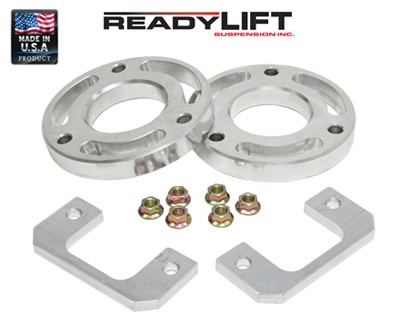 ReadyLift offers two different leveling spacer kits that work with both 2WD and 4WD 1500's 6-lugs. The first kit is an upper strut spacer that offers 1.5 inches of leveling. This spacer allows for up to a 32.5 inch tire. The second kit offers 2.25 inches of leveling using a billet upper and lower strut spacer.  The larger leveling kit allows you to run a 33 inch tire without any rubbing.
Part Numbers
2014, 2015, 2016 Chevy Silverado and GMC Sierra Leveling Kits by Icon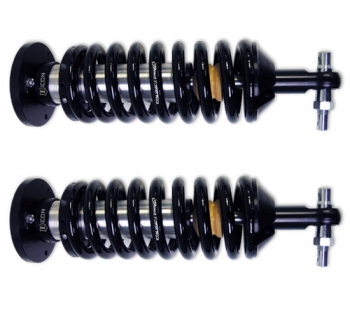 Icon Vehicle Dynamics offers a more advanced style of leveling kit. Icon's kit is a standard coilover kit. The coilover kit replaces the stock strut unit with an adjustable coilover unit. This unit is designed to allow you to adjust you ride height from the stock height to an additional 2 inches of ride height with keeping the same stock control arms. This will allow you to clear 33 inch tires at the 2 inch adjustment. The advantage to getting a coilover is getting a drastically improved suspension, both off-road and on-road use. Icon also offers an extended travel coilover that can work with aftermarket control arms to give you an extra inch of adjustment and clearance.
Part Numbers
Next Steps
These leveling kit options are just the start to the options available for your 2014, 2015, 2016 Silverado or Sierra 1500. We also have full lift kits available for a more extreme look and off road capability, superchargers, exhausts and more. For more information on our full line of Silverado performance parts and GMC Sierra performance parts, please visit www.stillen.com or call us at 866-250-5542 and we will be happy to help you. If you live in the Orange County, CA area, be sure to stop by our performance shop in Costa Mesa, CA. Every day, we are installing exhausts, body kits, superchargers, brake kits and more. We'd love to talk with you about any ideas you have for upgrading your truck!