Over the past 30 years, Street Scene has served as the leading manufacturer of aftermarket exterior accessories for cars, trucks, and SUVS.  Whether it's front splitters, custom grilles, or body kits, Street Scene has it all.  Offering a wide selection of body styling kits for all major vehicle makes and models, Street Scene has cemented its place in the hearts and minds of car enthusiasts everywhere as the go-to for when they want to take their vehicle's look to the next level.
Keeping in line with this tradition, Street Scene now seeks to be one of the first on the scene with a stylish 2016 Chevy Camaro SS body kit.
2016 Chevy Camaro SS – New and Improved
The Camaro – one of America's true automotive icons – is back and better than ever.  The new 2016 Chevy Camaro SS is a fire-breathing monster parading around in a sleek, sexy body.  Equipped with an impressive 6.2L V8 producing 455 HP, the Camaro SS feels responsive and powerful right off of the line.  However, its new and improved suspension makes sure that this muscle car is more than just a straight-line performer.
All in all, the 2016 Chevy Camaro SS feels more balanced, mature, and refined.  It sports new, sleeker lines that actually manage to give the car a more aggressive look in both the front and the rear.  The Camaro has also gone through quite the diet, boasting a significant weight loss of over 200 lbs compared to the previous model.  Tipping the scales at around 3685 lbs, the new Camaro SS now has a lighter weight to match its new sleek appearance.
Sharp, Sleek, and Aggressive

Street Scene's 2016 Chevy Camaro SS body kit – composed of a front splitter and side skirts – were made to subtly accentuate the car's new sharp, sleek body lines.  These Street Scene products flow nicely with the existing Camaro exterior, offering an aggressive appearance that could easily pass for OEM parts.  However, the end result is a unique look that will definitely turn heads.
Both the front splitter and the side skirts (composing of two door rockers and two smaller rockers mounted behind the rear wheels) are proudly Made in the USA.  They are manufactured with high quality Polyurethane and are backed by Street Scene's limited warranty (against cracking or breaking under normal use).  Each of the body components comes shipped ready for final prep and painting.  They even come equipped with heavy duty adhesive tape that makes installation a breeze.  You can purchase the splitter and side skirts individually or as a cohesive body kit package.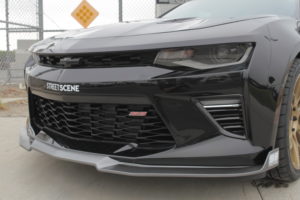 Product Number
Street Scene SSE70239 Front Splitter
Street Scene SSE70234 Side Skirts
Street Scene SSE70248 Body Kit (Splitter + Side Skirts)
Contact Us
As you can see from the photos, STILLEN's own Joseph Tu has upgraded his 2016 Chevy Camaro SS with Street Scene's body kit, serving as the official test vehicle for the new products.  We're quite pleased with the sleek, aggressive stance it provides the new Camaro.  It's launch at our recent Car-B-Que gathering went over very well with the crowd, drawing admirable gazes from onlookers throughout the night.
If you have any questions about the Street Scene 2016 Chevy Camaro SS body kit, please give our experts a call at 866-250-5542. They'll be happy to answer any questions you have, and help you order your new Street Scene body kit!