May 29, 2009
STILLEN is proud to release something we've been developing and fine-tuning for quite some time, our Secondary Cat Delete Y-Pipe for the Nissan GT-R!
The factory equipment this replaces contains two flow-robbing cats and weighs in at a hefty 30.25 lbs!  Our new Y-pipe replaces those cats with polished 304 stainless steel resonators and drops an astounding 47% of that weight, coming in right at 16 lbs.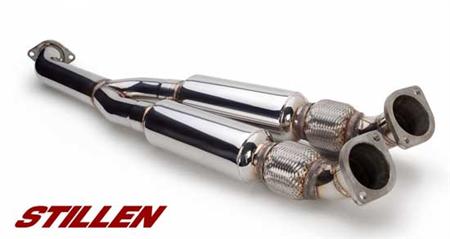 There is a lot of power held back by the factory exhaust system on the Nissan GT-R. By eliminating the factory catalytic converters, STILLEN has successfully improved flow, creating power gains as well as dramatically improving sound. Read more
May 29, 2009
STILLEN is excited to announce the release of our premier Nissan GT-R Exhaust System.  After numerous systems were designed, fabricated and tested; Steve Millen selected this configuration as the one to put into production.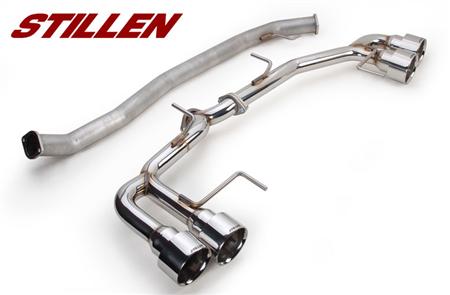 Meeting all of his criteria for power, sound and appearance this cat-back system uses 304 Stainless Steel, is TIG welded throughout, 27% lighter than stock (30 lbs versus 41 lbs for stock) and results in an aggressive (but not obtrusive) tone. Read more
May 1, 2009

Hopefully you are following our build of the 2009 Nissan GT-R as we prepare it for the upcoming Targa Newfoundland Tarmac Rally in mid-September.
We decided it would be a neat idea to build a promotion around sending a lucky person and a friend along with the STILLEN team.. and the STILLEN 2009 Targa Newfoundland Sweepstakes was born! Read more