May 9, 2012
Last week, we told you about the IMPORT TUNER Power Pages article that featured our Supercharged 370z with just 3 magical parts on it.
STILLEN 370Z INTERCOOLED SUPERCHARGER KIT
STILLEN 370Z DUAL EXHAUST SYSTEM
STILLEN UP REV ENGINE TUNE
As you can see from the previous article, those three parts alone gave the 370z a 139HP boost at the wheels and 90lb/ft of torque. While we would LOVE to equip our customers cars with superchargers all day, the $8,000+ price tag might be a little too much for every budget. So today, we figured it would be fitting to cover a more cost effective approach to the "magic number."
While navigating through the wonderful world of YOUTUBE this morning, I stumbled upon a video from EFI LOGICS that features the magic number of 3 in a much more affordable combination.
For their customer (Richard Park) EFI LOGICS  combined the
370Z GEN 3 STILLEN LONG TUBE INTAKE $499
370Z STILLEN CAT BACK DUAL EXHAUST SYTEM $1269.61
370Z UP REV OSIRIS ECU TUNE $499 (plus dyno time)
For some pretty amazing horsepower and torque gains.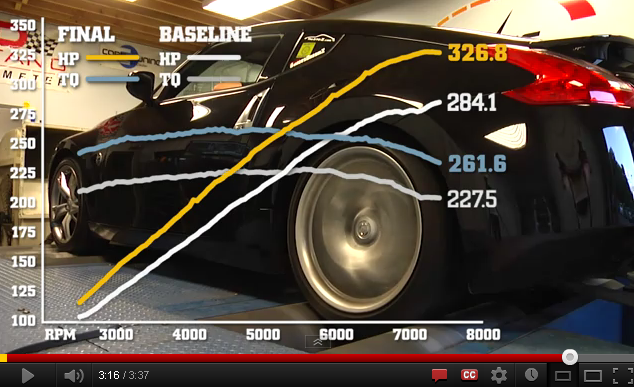 As you can see, it turns out 3 is in fact the magic number on the 370z for gains good for +40HP at the wheels and +30 lb/ft of torque. All for a price that's roughly around $2500.
If you are interested in taking your 370z to the next level, give us or EFI LOGICS a call and both of us will gladly help point you in the right direction.
April 19, 2012
The connection with STILLEN and anything NISSAN is extremely obvious, but many people aren't aware that we also can help many other nameplates reach their peak power potentials.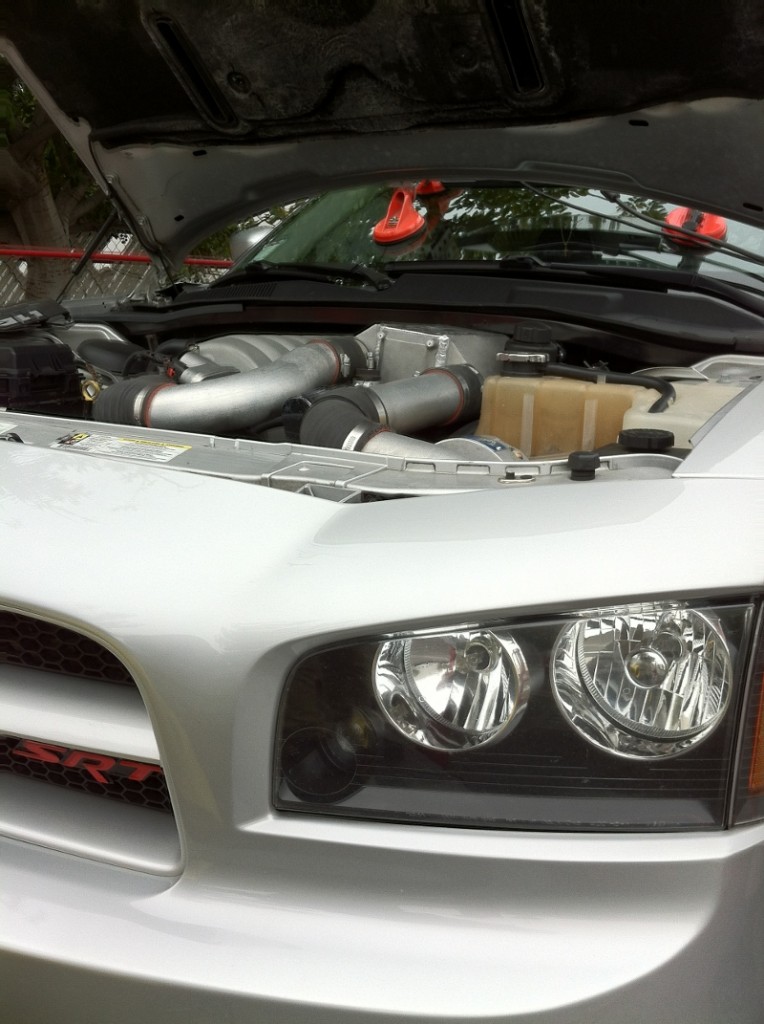 In the case of this 2011 SRT8 Dodge Charger, the customer just wasn't happy with the factory performance levels, he turned to us to help him build a very mean machine. With the help of our Performance Department, we addressed as many areas in the engine as we could that would fit into our customers budget.  He told us he wanted to make some serious power figures with his Vortech supercharger kit, and instead of just slapping a big pulley on there and calling it a day. We did what any respectable shop would do and started with the basics.
First, we installed forged pistons and rods in order to handle the larger volume of air in the cylinders. Then we of course, added larger injectors and upgraded the fuel pump to provide the engine with plenty of fuel for safety. In order to keep things flowing properly, we then ported and polished the head and made sure to beef up the hardware holding everything together. After all the known weaknesses in the engine were addressed we installed the Vortech Supercharger and gave the customer a smaller pulley, raising his boost to 7lbs.  With all that serious engine work done, the customer opted to go for the more smog friendly route and installed some high flowing cats and a cat back exhaust.
After everything was bolted back together, it was time to get some baseline dyno runs and begin the tuning process to keep everything working in harmony.
While I can't release the final numbers just yet, I will leave you with a quick vid of the Mopar beast laying down some serious power on our dyno….  I apologize for the quality of the video (shot with my iPhone) but it most definitely get's the point across.
All you MOPAR fans make sure you get yourselves acquainted with our Performance Center as soon as you can. We got you covered.
March 29, 2012
It's safe to say that we are firm believers in the "Form follows function" principal, all the parts we put our name on serve a purpose OTHER than just looking good. Our 370z front bumper is a testament to that. Not only did we want to make sure that it would channel air to crucial areas of the vehicle (As every front bumper SHOULD do) we also wanted to make sure that it looked good while doing it's job.  We feet as though we combined the two very well with this bumper and apparently so does Tiago's Drifthobby drift team.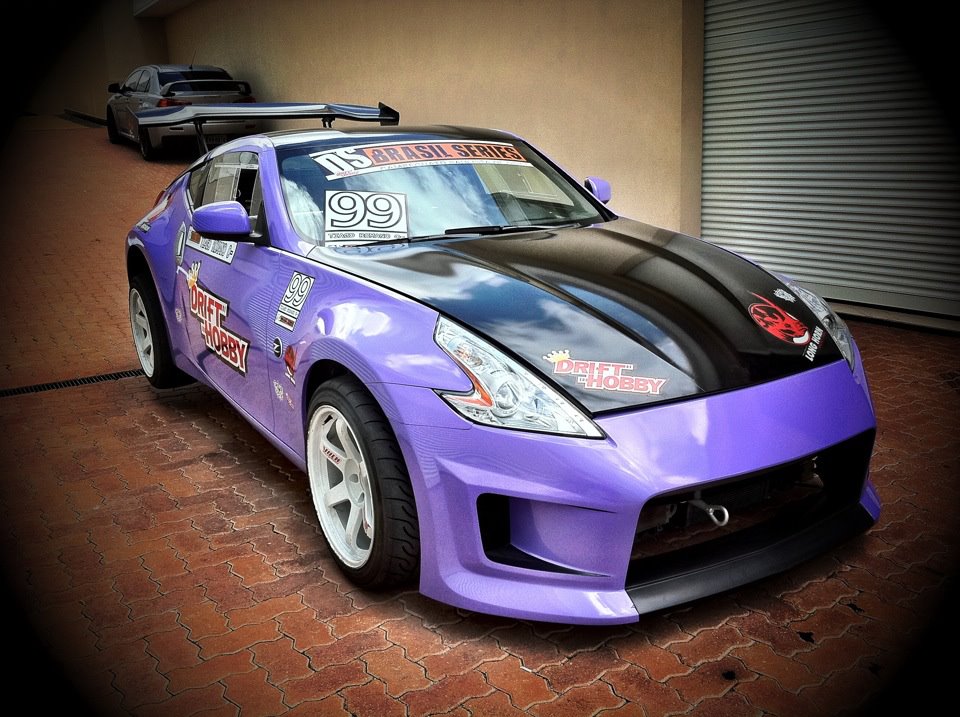 It actually looks pretty good in purple don't you think?
Well if a picture isn't enough for you, check out the quick video these guys put together of this car in action…
February 13, 2012
It's not every day that we release our Nissan 370Z demo car into the wild but when the guys from The Smoking Tire asked to stop by and take the car for a spin we had to oblige!  Matt Farah has been here before and went for a spin with Steve in the team STILLEN GT-R Targa rally car.  During that visit Matt saw the 370Z in multiple pieces as it was receiving the STILLEN treatment.  After multiple phone calls, emails, and text messages we were able to schedule a visit for Matt to get into the drivers seat of a STILLEN tuned 370Z.
This car has been reworked from the inside out and from front to back.  With KW Variant III coil overs, adjustable sway bars, adjustable control arms, AP Racing brakes, Enkei GTC-01 wheels and Toyo R888 tires, cat-back exhaust, 370Z supercharger (CARB legal and warrantied) to the urethane 370Z body kit by STILLEN along with the Seibon carbon fiber hood.
Or check out the video at TheSmokingTire.com.
October 29, 2011
Well, the week long Targa rally has come to a close here inNew Zealand.  It was a great week and Steve and Jen did a very good job.  Before arriving for the start of the week we installed larger fuel injectors, a new tune, and some stiffer springs in the shocks.  We figured this would be a fairly natural and reliable progression.  We had no idea what the other GT-R teams had in store!  Tony Quinn arrived with bigger turbos and an engine that had been bored and fitted with larger pistons, 410mm brake rotors and more.  Proctor had a stroker motor with stock turbos as well as larger brake rotors.  Steve said that as Proctor's GT-R launched off the line he would spin all four wheels.  Dodson's R35 also came in with heavy modifications and increased horsepower.  Last year, we were all on a similar playing field and ran tight all week.  This year everyone brought the big guns.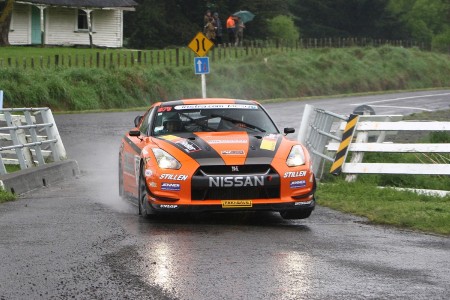 Steve and Jen pushed hard all week and were able to bring the car home with a fourth place finish.  The event winner, Tony Quinn in his R35, won the event for his fourth time.  Glenn Inkster in his high horsepower Mitsubishi Evo 6 came home in second place just a few seconds behind Quinn despite having a couple of offs and having to take a tire penalty.  Glenn Smith rounded out the top 3 in his 600+ horsepower Mitsubishi Evo X which looked like it had just come out of a video game!
Steve was pushing hard the last day of competition and had a bit of an off.  He was able to carry on with the stage and never actually stopped moving.  We don't think he lost more than a few seconds after it was all said and done.
These Targa rallies are a great way to test as well as develop new products.  This year we brought down a few new STILLEN products like adjustable camber arms and some other performance components as well as the new generation Dunlop Sport Maxx tires.  These Targa events are run on roads that would normally be open to the public so you can really see how the parts are going to perform in all conditions in the real world.  The new Dunlop tires are an amazing tire and proved to work well all week long.  In an event like the Targa where you only get 8 tires to last the week it's important that your tires will offer supreme grip without wearing too quickly.  The Dunlop Sport Maxx tires worked great in the wet and dry conditions all week long!
The 2011 Targa New Zealand rally ran the way these rallies are supposed to be run.  There were hot days, there were rainy days, and all in all it was a lot of fun!  Steve and Jen did a great job and really fought hard for a top five finish!  On the drive North after the rally was over we had already started planning for next year and coming with ways to improve the car to make it even more competitive for next year!  We have some pretty wild ideas forming and we're excited to show you all what we come up with!
Check out the video below for a taste of the action, and more photos below!
httpv://www.youtube.com/watch?v=XUYTzOKVisI
All 2011 Targa New Zealand Coverage
================================================