November 14, 2013
Exedy started developing their racing clutch options for vehicle manufacturers in 1964 and since has amassed wins in a wide array of events, capturing titles in the racing world from rally and Gymkhana to F1 and Super GT300. You can have the same Exedy racing clutch technology that led these drivers to the podium, and you don't have to buy the kit meant for a professional racer to start seeing serious performance and durability improvements.
Check out the available stages of Exedy Racing Clutch kits and see which one fits you and the use of your vehicle best.
---
---
---
---
To speak with an expert and place your Exedy Racing Clutch order, give us a call at (866) 250-5542. You can check out all the Exedy racing clutch products we carry, or explore all the items we have for sell here at STILLEN. You can also schedule anything from a routine maintenance or install to a full scale racing build on the Performance Shop site.
August 14, 2012
Muscle cars are built for one reason and one reason only… to go fast! While doing burnouts and donuts in the local empty parking lot is always fun, it's not necessarily legal. In the case of this Ford Mustang, the owner wanted to take the "go fast" concept to a whole new level and build his mustang to be a drag strip king so he could have as much go fast legal fun that he wanted.
Upon first glance this pony looks relatively stock.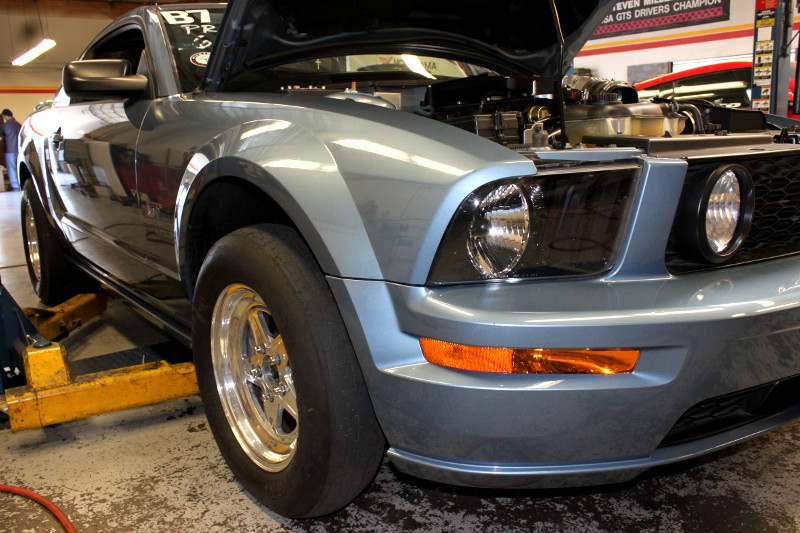 "stock" until you notice the full set of slicks that the car is sporting. This isn't one of those weekend warrior mustangs that just throws a set of slicks on to impress the slowpokes in the bracket racing classes. This thing is build for speed…
Check out the gutted interior and cagework.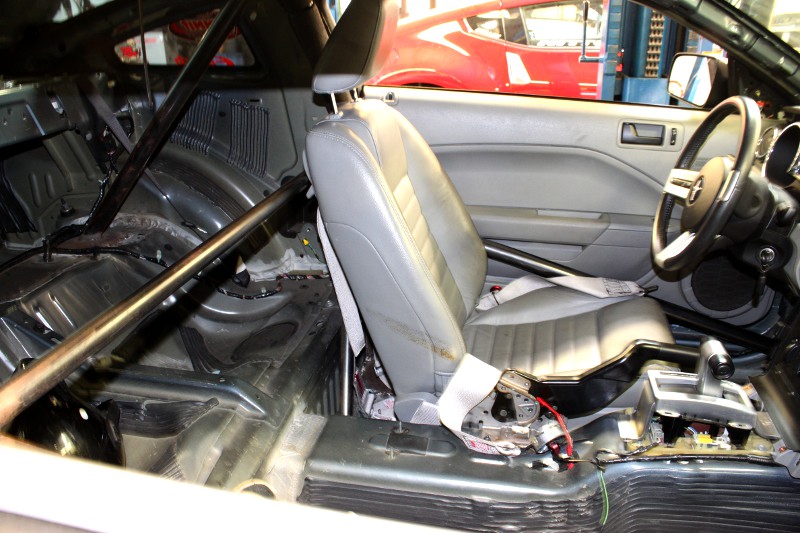 The stock drivers seat helps keep the "sleeper" look but the roll cage and harness that are part of it are hints that this thing can move.
And speaking of moving… how about a SALEEN blower?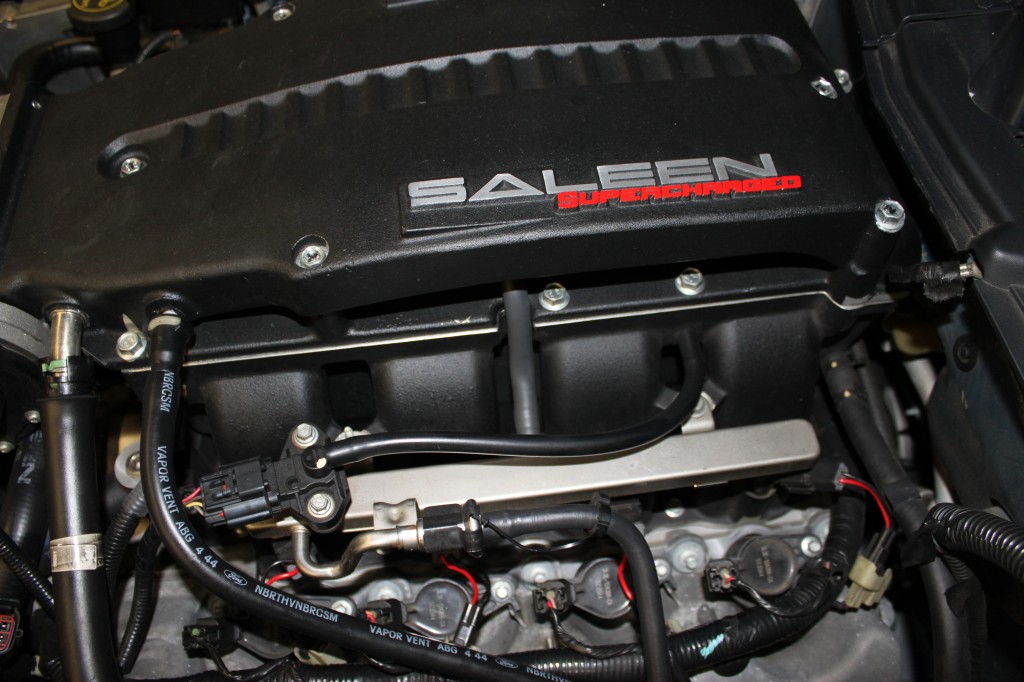 While I don't have all the details on what's in the motor. I hear this car can do 9′s in the 1/8th mile at 109 and lifts the tires all the way through 1st.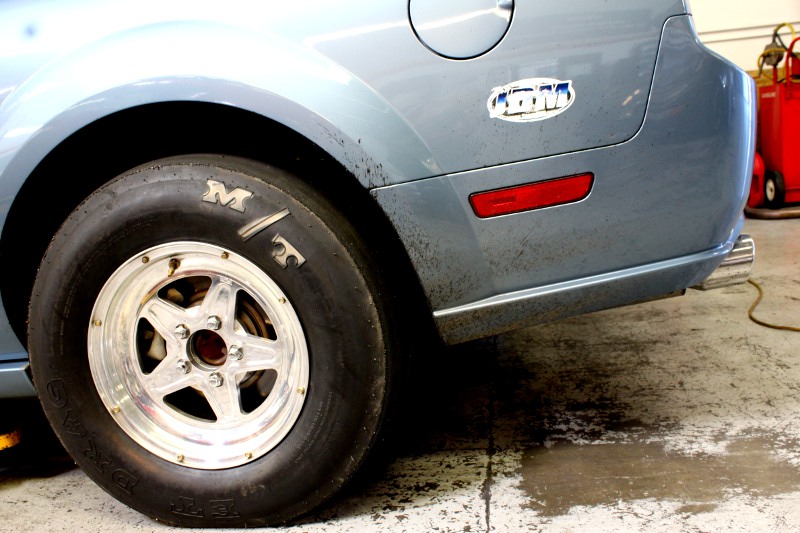 Evidence of a weekend well spent.
Since the customer was so satisfied with our supercharger install and tune, he drops the car off to us on a regular basis to make sure we take care of all the maintenance on this pony as well.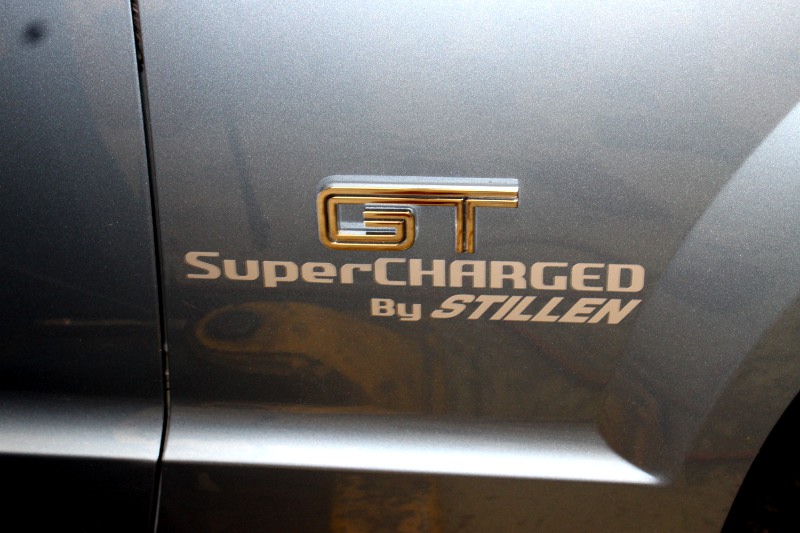 Feel free to give us a call at anytime if you have any build questions or need to dial in your pony to rule the street or strip.
STILLEN Performance Center
(866) 250-5542
sales@stillen.com
3176 Airway Ave.
Costa Mesa, CA 92626
May 14, 2012
Last week, we briefly touched on the STILLEN equipped GT-R's that signed up for this year's ONE LAP OF AMERICA. Needless to say, we were really excited to see how things would shake up for 2012. All weekend long, I was glued to blogs and twitter feed's (shout out to The Smoking Tire for keeping me updated all weekend long) that were broadcasting the highlights of the race and after all the dust settled the STILLEN equipped GT-R's took spots 1 and 2 on the SSGT1 Big Bore podium.
Last year's winner TOP SPEED MOTORSPORTS ran our AP RACING J-HOOK rotors and STILLEN sway bars during their 2011 campaign. They were more than happy with the performance level of those products last year, so they decided to go with the "if it ain't broke than don't fix it" formula for 2012. Our J-hook rotors and sway bars combined with the rest of the products on the vehicle plus some skilled driving secured them another victory this year.
Nipping at the heels of TOPSPEED MOTORSPORTS all weekend were the guys from SPEED CONCEPTS. Featuring our AP RACING J-HOOK rotors and STILLEN sway bars, along with Password JDM widebody front fenders they made some pretty serious changes for 2012. Combine those parts with the skills of Tyson Timperley, and Todd Treffert behind the wheel and you have a formula for a second place victory.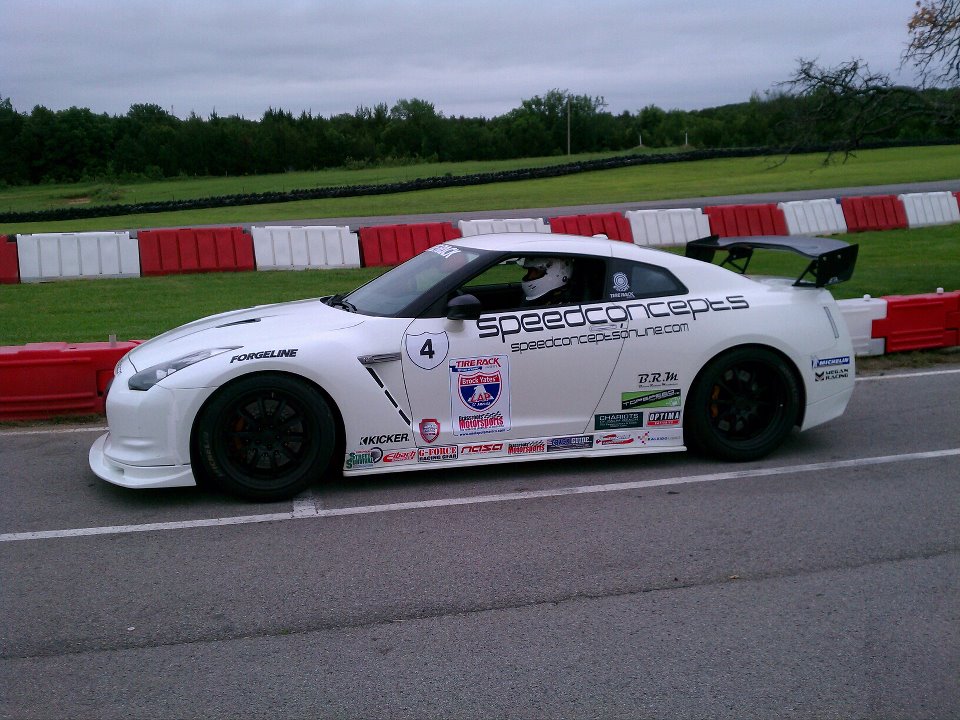 We congratulate both teams on their 1, 2, victories and can't wait to see what these guys have in store for next year.
GOOD LUCK GUYS!!
May 3, 2012
Remember a week ago when we told about those crazy Russian dudes from DRAGTIMES.info who race the best of the best in a standing mile for bragging rights? Well we stumbled upon a video from those guys today that is nothing less than amazing.
Like we mentioned earlier, these guys frequently take their GTR's up to speeds well over 170mph. Slowing a 3800 lb car from those speed's time after time will undoubtedly wreak havoc on the stock Brembo rotors and pads. It turns out, our R35 GTR Carbon Ceramic Matrix brake kit is a very popular option among these guys, because of their resistance to brake fade and warpage.  Watch the video below and you will understand why

.
(Note: Did any else notice the "rocket booster" mod on the GTR at the 3:04 mark of the video?)
April 18, 2012
Dealing with fast car's all day long rarely gets boring, but sometimes the luster of seeing a "dream" car like a GTR simply just parked in our parking lot day after day can wear off. Thankfully some of our customers in Russia like to put their GTR's through their paces. They also like to challenge their buddies with some other dream machines while doing so.
If you haven't heard of DRAGTIMES-IFO, make sure you cruise over to their YouTube page and subscribe immediately! Their goal is to bring you the best Racing videos from Moscow, and their video of the UNLIM 500+ races are simply awe inspiring. That race is automotive greatness at its best.  Six categories of vehicles from the Italian, German, American, British and Japanese automotive industry all with a MANDATORY horsepower MINIMUM of 500+ are all competing to see who can post up the fastest standing mile time.  Lucky for us, those cars need a way to scrub off such immense speed numbers and that's where our GTR Carbon Ceramic Matrix rotors come in.
These rotors represent the best of the best braking technology and are available for one of the best cars on the road today. As it turn's out, they are very popular with the guys who regularly compete in the UNLIM 500+ series.  I'm sure you can imagine how quickly stock brakes can get warped when consistently stopping a car from 150+ mph, because of the CCM-X's rotors ability to run 140 degrees cooler than the stock setup up, they are less prone to warping.  Check out the vid below for some jaw dropping standing mile action courtesy of DRAGTIMES-IFO.