April 8, 2014
STILLEN is proud to announce the launch of the Nissan Altima rear sway bar. This rear sway bar has gone through extensive R&D and testing to eliminate the common Nissan Altima rear sway bar defect. Due to many complaints from customers and vehicle owners, STILLEN decided to take a very close look into the design of the factory 2007 to 2013 Nissan Altima rear sway bar. In doing so, our engineers discovered that the cause of the failures is the design of the bar and the way the leverage is applied to the bar.
Finding the Nissan Altima Sway Bar Design flaw
The first thing the STILLEN engineers did was examine the entire suspension of the Altima rear end. To do so, we started by removing the driver side rear spring. This allows us to put a jack underneath the rear of that control arm and compress the rear suspension. By doing so, this simulates the cars suspension travel and shows the engineers what the rear suspension and most importantly the rear sway bar goes through during a full cycle.
Factory Nissan Altima Sway Bar Broken Due to Poor Design
Right away our engineers could see the problem. Due to the design of the sway bar, the suspension is not actually twisting the bar. Instead, as the suspension compresses up into the wheel well the sway bar actually bends at the middle rather than twist like it should. Illustrated in the pictures below, you can see what our engineers saw. To start with this is what the sway bar looks like when both corners are at "full droop." This means there is no load applied to either corner and the sway bar is "at rest." In these images we have included a straight edge to better illustrate exactly what we're talking about.
Factory sway bar at rest:
Here is an image of the factory sway bar with one corner compressed:
Not only was the sway bar not twisting properly but the factory rubber bushings were also deflecting in a manner they shouldn't be.
Fixing the Problem
To remedy the situation our engineers started by throwing out the factory design of the 2007 Nissan Altima sway bar altogether. After looking at the design of the bar, it was easy to see that the angle of the sway bar from the end link to the middle of the bar is simply insufficient and does not actually allow the bar to twist.
When looking at the factory sway bar compared to the STILLEN sway bar you can quickly see the entire design is different. By adding the additional bends in precise locations the sway bar now applies the torsional load from the suspension travel to the center of the sway bar in a twisting fashion as opposed to a leveraging angle. During the testing the STILLEN engineers performed the same test on the STILLEN sway bar as the factory sway bar. Here are the results:
STILLEN sway bar at rest:
STILLEN sway bar with one corner compressed:
STILLEN sway bar with one corner compressed, stock bushing very little deflection:
Due to the new end link mounting angle of the sway bar our engineers were uncomfortable re-using the factory end links as the angles did not match in a satisfactory position. Because of this STILLEN's engineers designed new end links for the Nissan Altima, utilizing high durometer urethane couplers with high tensile strength steel hardware finished with a black powdercoating to protect from road debris and corrosion.
More Reasons Why You Should Upgrade To A STILLEN Altima Sway Bar
The STILLEN sway bar is more than a Nissan Altima replacement sway bar. By upgrading to STILLEN's performance sway bar, you not only get a higher quality, better designed sway bar, but you also get to enjoy better handling it brings. Here are a few of the other benefits you can enjoy:
Better Handling – This sway bar is designed to handle comfortably on the street, while also making your Altima more fun to drive.
Warranty – Buy with confidence knowing that you are getting a genuine STILLEN sway bar that is made with the highest quality materials and comes with a manufacturer's 1 year limited warranty.
Made in the USA – know that you are supporting American workers when you purchase STILLEN parts. For each STILLEN part, we make every effort possible to ensure that it is designed and manufactured in the US.
STILLEN 304236 – 2007-2013 Nissan Altima Sway Bar (Fits 2007-2013 Coupe or 2007-2012 Sedan)
Next Steps
If you have any questions about the STILLEN replacement sway bar for Nissan Altima Coupe or Sedan, please contact us at 866-250-5542 and we will be happy to answer any questions you have. If you live in the southern California area and would like to get your new sway bar installed by the experts, please stop by the STILLEN performance shop. We feature an expert team that will be happy to install your sway bar for you or other Nissan Altima performance parts you may be considering like exhausts, air intakes, and more!
April 3, 2014
Select STILLEN Air Intake Kits are now available with the option of an AEM dry intake filter! Dry filters don't require being oiled routinely for maintenance, which helps remove the guesswork involved with keeping an intake's filter clean. Instead, these high-quality dry filters use AEM's synthetic air filter cleaner at intervals of 50,000 miles (depending on driving conditions). This cleaning method loosens dirt and grime particles in the air filter so that they can be easily rinsed away with water.
STILLEN chose the AEM Dry Filter option for its high performance nature. It exhibits high air flow qualities while maintaining proper engine protection.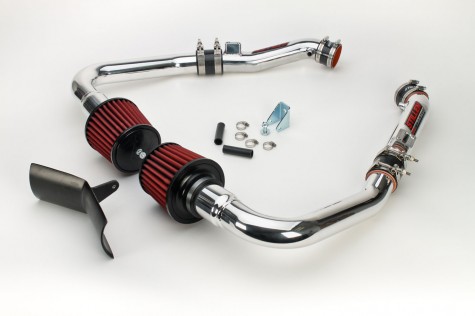 All STILLEN air intakes are developed in-house by our engineers, who optimize each intake for peak horsepower and increased torque.  Because the process is so intensive, we only select a few applications each year to develop intakes for. This allows us to take as much time as we need to ensure that we are able to produce the best air intake for each vehicle application. When you use a STILLEN air intake, you know you are using the best intake available and are sure to get the performance gains you are looking for!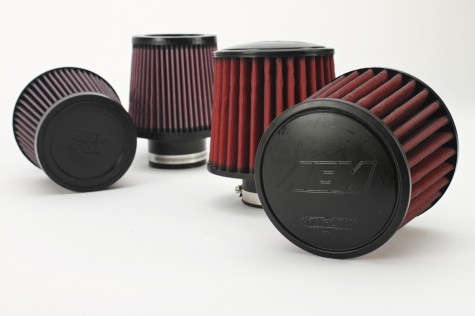 STILLEN Intake Kit with Dry Filter Vehicle Applications
The STILLEN air intake kits with dry filters are now available for the following applications:
Contact Us
If you have any question about the new STILLEN dry filter intake option for intake kits, please contact us at 866-250-5542 and we will be happy to help you. We also feature a full service performance shop in our Costa Mesa, CA headquarters. We specialize in all performance work including installing brakes, superchargers and more!
April 1, 2014
While some may say that imitation is the most sincere form of flattery, in the automotive manufacturing world it is not. In fact, terms like knockoff, copycat and more are all just a nice way of saying counterfeit, which is illegal an illegal activity that costs the US economy billions of dollars every year. Read below to learn more about counterfeiting, why it is a problem, how to spot a counterfeit STILLEN product and what you can do to help.
What Is Counterfeiting?
Counterfeiting is creating and selling an imitation of a brand-name product.  The counterfeit product is typically made of low quality materials and do not have the quality and attention to detail that STILLEN has built its reputation on
Why Is Counterfeiting a Problem?
Counterfeiting hurts everyone involved, but most especially the customers that purchase the knockoff STILLEN product. It is not uncommon for us to read negative reviews on third party websites about counterfeit items.  As one customer said of the counterfeit urethane part they purchased from a counterfeiter, "Poor quality. I just wasted my money." Unfortunately, this happens all too often and once you have purchased, there is very little we can do to help you get your money back.
How to Spot a Counterfeit?
Knowing a product is counterfeit can be difficult. This is especially true when shopping online where counterfeiters can make a few subtle changes to their listing to make it look as though you are purchasing genuine parts. Would you know that the listing below is a listing for a fake STILLEN product?
Because of their low barriers to entry, most counterfeit sellers peddle their products on popular marketplace sites like Amazon, eBay, Craigslist and more. Now, just because you find a STILLEN product listed on one of these sites, DOES NOT mean that the product is automatically a fake. STILLEN actually sells on Amazon and eBay and has several other authorized retailers that do the same. Keep reading below for more information on how to identify counterfeit STILLEN parts.
Price
Because of the high quality materials and detailed manufacturing process, genuine STILLEN products are priced at a certain level that all reputable manufacturers will be following. If you find a reseller that is priced significantly lower than everyone else, this seller is likely selling counterfeit goods.
Now you might be wondering how counterfeiters are able to manufacture such in expensive products. The answer is simple – they copy the STILLEN design and use lesser quality materials. As an example, counterfeiters that sell urethane body parts cheaply are able to do so because they use urethane chemicals with a high amount of filler (typically calcium or silica). In contrast, STILLEN only uses pure urethane polyols made in the USA. The filler in the counterfeit body components will make the part brittle with little flexibility, causing it to crack easily. This is why STILLEN is able to offer limited lifetime warranty against defects on our urethane parts. Whereas the counterfeiter does not or they will tell you go to STILLEN for your warranty – which we cannot honor because it is not our product.
Images
Each authentic STILLEN part will have the STILLEN logo in the photo – either in one of the corners of the image or on the part itself. If it does not, there is a good chance that the part you are viewing is not an authentic STILLEN part.
Name of the Part
Most often, counterfeiters will use names that imply the part is a STILLEN product. Here are a few popular aliases used by counterfeiters in their product titles:
STL
STL Style
STILLEN Style
STILEN
STILLIN
Be wary of these products. These are NOT STILLEN products and are made by counterfeiters who are trying to trick unsuspecting purchasers into believing these are genuine products.
STILLEN Packing and Stamp
Each STILLEN part that leaves our facility will do so in a STILLEN box with STILLEN tape.  Additionally, each part that we manufacture will have the STILLEN logo and part number stamped into the part.
What You Can Do to Help
Don't Purchase Counterfeit Products
The best action you can do when you run across a counterfeit item is do not purchase. By not purchasing, you are not financially supporting the counterfeiter and are removing their monetary incentive. If enough people do this, they will be forced to shut down their operation.
However, that being said, we know that the price is a main factor in deciding whether or not to purchase a knockoff or the real thing. When you are faced with this issue, be sure to keep in mind that despite how tempting the price may be, you are not getting an authentic STILLEN part. This means that the part is not made of our high quality materials by expert craftsmen, does not come with the customer support we pride ourselves on and does not come with the manufacturer's limited lifetime warranty that all STILLEN parts come with. If you have problems with your knockoff part, unfortunately, we cannot assist you.
Let Us Know
The next best action you can take is to let us know that you have come across a counterfeit part by calling us at (866) 250-5542 or email us at Sales@stillen.com. When you contact us, please include as much of the information listed below as possible:
Name and contact information of the seller
Type of location (swap meet, online, retail store, etc.)
Location (physical location or URL)
Do the items say STILLEN, have a STILLEN logo on it or a variation of the STILLEN name or logo?
Please note that all information you provide us with will be considered anonymous.  We thank you for your help in the fight against counterfeiters of STILLEN performance parts!
March 31, 2014
STILLEN is proud to announce the addition of six (6) all new T-REX Upper Class mesh grilles for the 2013-14 Ford Fusion model lineup. These new additions to the T-REX Grilles Upper Class Series line were specifically crafted to satisfy the diehard customizer looking for a fresh look to the newest Ford Fusion model.
Move Your Ford Fusion Into….The Upper Class
The Upper Class Grille Series features embedded fine woven formed mesh set in precision laser cut frames. These new T-REX Grilles were designed in house to compliment the recently redesigned 2013-14 Ford Fusion and are manufactured to exacting specifications in the U.S. for a perfect fit and finish every time. T-REX Grilles makes transforming the look of the 2013-14 Ford Fusion simple!
All 2013-14 Ford Fusion T-REX Grilles are available in polished or black finish and are backed by an industry leading Limited Lifetime Structural Warranty and 3 Year Limited Finish Warranty.
Polished Stainless Steel T-Rex Upper Class Mesh Grilles
T-Rex 54531 – Upper Class 3 Window Main Grille – Replacement
Polished Stainless Steel
3 Window Mesh Grille
T-Rex 54532 – Upper Class Main Grille with Full Opening – Replacement
Polished Stainless Steel
Full Opening Mesh Grille 
T-Rex 55531 – Upper Class Bumper Grille – Replacement
Polished Stainless Steel
Matches Upper Grille Selection
Black Powdercoated T-Rex Upper Class Mesh Grilles
T-Rex 51531 – Upper Class 3 Window Main Grille – Replacement
Black Powdercoated Mild Steel
3 Window Mesh Grille
T-Rex 51532 – Upper Class Main Grille Full Opening – Replacement
Black Powdercoated Mild Steel
Full Opening Mesh Grille
T-Rex 52531 – Upper Class Grille Bumper – Replacement
Black Powdercoated Mild Steel
Matches Upper Grille Selection 
Contact Us
If you have questions about the Trex Upper Class grilles or any of the Trex grilles we carry, please contact one of our experts at 866-250-5542 and we will be happy to help you. We also carry a wide variety of Ford Fusion parts and offer a full service performance shop in Costa Mesa, CA. We specialize in dyno tuning, exhaust installation, air intake installation and more. Just call to make an appointment!
March 25, 2014
STILLEN is proud to announce that all current production STILLEN superchargers have achieved CARB exemption through 2014!  For many years, STILLEN has been recognized as the leader in NISSAN/INFINITI performance products and we continue our commitment by continuing to invest in tuning these fine vehicles. Our dedication to the NISSAN/INFINITI vehicles and the pride we have for the parts we manufacture for them shines through with this latest accomplishment.  The new CARB exemption order numbers (EO # D-426-19 and EO# D-436-20) cover all single and dual throttle body supercharger systems for the VQ35, VQ35HR, VQ37, VQ40 and VK56 engines.
Not only is STILLEN the only company to offer CARB exempt performance parts for these vehicles, but STILLEN is the only company in the world to achieve CARB legality when tuning through the factory ECU with larger fuel injectors.  In the past, the only way to achieve CARB approval was with a piggyback ECU.
With the latest extension of CARB Exemption Order numbers, STILLEN is also excited to announce the extension of the powertrain warranty programs already in place for these supercharger systems.  When you purchase your supercharger kit you have the option of adding a 3 year/36,000 mile powertrain warranty.  STILLEN is the only NISSAN/INFINITI tuner in the world to offer this with their supercharger systems.
Note: CARB (California Air Resources Board), a division of the California state government, is widely recognized as the strictest emissions control in the US and is recognized in all 50 states as an emissions standard for all performance parts. If a performance part achieves CARB legality, it is recognized as 50-state legal.
STILLEN CARB Approved Superchargers:
Single Throttle Body Superchargers (EO# D-436-19)
Dual Throttle Body Superchargers (EO# D-436-20)
Want to see more photos of the of the STILLEN dual throttle body superchargers? Check out the slide show below!
Next Steps
For more information about STILLEN's 50 state legal superchargers, please call us at (866) 250-5542 and we will be happy to help you. We also feature wide variety of other performance parts and a full service performance shop that specializes in dyno tuning, laser alignment, supercharger installations, and more!