We received the first batch of Mine's Silence VX Pro Titan II Titanium Cat-Back Exhaust Systems for the R35 Nissan GT-R's, and pulled one out of the box to get a closer look at this completely titanium system, see what all of the fuss is about, and shoot some pictures.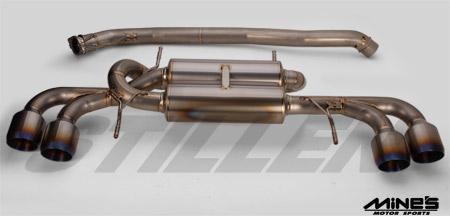 The construction on this exhaust system is beautiful, with every flawless weld point showcasing that signature heat treated titanium color band.
This system is extremely light weight, with the rear section weighing in at 19lbs, and the center section at 5lbs, for a total exhaust system weight of 24lbs.
Specifications:
Full Titanium Construction
Bolt-On Application for R35 GT-R
80mm Main Pipe Diameter
(4) 120mm Exhaust Tips – Heat Treated
These systems are in stock and ready for shipping, more information at the STILLEN Product Page.
As you can see in the following photos, this exhaust has a very striking appearance, and will reduce weight compared to the factory exhaust.
Other Nissan GT-R Products available from the folks at Mine's:
Mine's Super Catalyzer II
Mine's VX Rom Engine Control Unit
Mine's Super Outlet Pro II
Mine's VX Air Filters
Mine's Esta Full Spec Suspension II / III
Mine's Eibach Spring Kit
Mine's Big Brake Rotor Kit
Mine's PAGID Brake Pads
Mine's Carbon Fiber Accessories