Keeping an eye to the future includes everything from new vehicles, new products, and even new enthusiasts.  This past Wednesday, December 15th, Steve Millen and the STILLEN crew delivered a modified Nissan Altima to the Coastline ROP Automotive Technology class at Laguna Hills High School.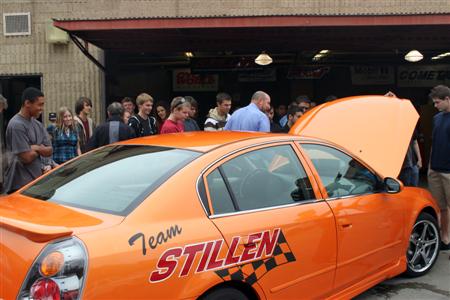 This car was one of the main display vehicles for Nissan when they released the new model Altima, and was also an R&D project and show car for STILLEN for many years.  The car has been outfitted with a long list of performance modifications, suspension improvements, brake upgrades, aesthetic enhancements by way of a body kit and custom interior.  The car is even sporting a 3 part paint job featuring Lamborghini Orange.
Students get a chance to check out the car and meet and greet with STILLEN.

Laguna Hills High School offers its students a first-rate facility to learn about everything from proper maintenance to performance improvements.  The students at Laguna Hills are guided by their teacher Tim Chambers.  Mr. Chambers has already had the students build a Class 11 VW Beetle and a current ongoing project consists of a Ford Maverick drag car!
We enjoyed our time spent with the students discussing these projects.  It was especially neat to see how excited they were about their work and their enthusiasm in continuing on with modifying vehicles in the future, and being part of the automotive industry.  By giving the students a vehicle with aftermarket parts the goal is to allow them the opportunity to learn how performance parts work and how they can improve their own vehicles safely and legally.
It's unfortunate that these awesome types of programs are few and far between, and with budget cuts and educational programs being trimmed all the time, we feel it's vital for all of us to do what we can, and support automotive programs that can attract new young enthusiasts.
List of modifications performed to the Nissan Altima: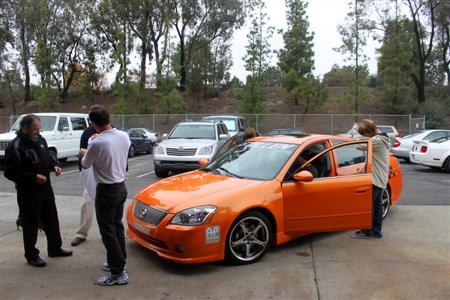 Performance
STILLEN Race Pipe
STILLEN Exhaust
STILLEN Intake
Suspension
STILLEN Front Strut Brace
STILLEN Rear Sway Bar
Eibach Pro-Kit Lowering Springs
Body / Aerodynamics
STILLEN Front Lip Spoiler
STILLEN Side Skirts (Rockers)
STILLEN Rear Corners
Street Scene Grille Shell and Mesh Grille
Brakes
STILLEN AP Racing 4-Piston Calipers / 13″ Cross-Drilled / Slotted Rotors, Brake Pads, Stainless Steel Brake Lines
STILLEN Cross-Drilled Rear Brake Rotors
STILLEN Metal Matrix Rear Brake Pads
Wheels / Tires
Enkei Forged Wheels 18×8
Yokohama Advan Tires 225/45ZR18
Interior
Classic Soft Trim Custom Leather Front Seats
Classic Soft Trim Custom Leather Rear Seats
Classic Soft Trim Door Panels
Paint
Custom Lamborghini 3 Part Orange
The Orange County Register was also on hand for the delivery of the vehicle, and have also done a writeup, as well as took these photos as well.  OCRegister.com – Laguna Hills High auto shop receives car
Photos courtesy of OCRegister.com