STILLEN is proud to announce the availability of the VQ37 supplemental warranty for the STILLEN 500HP Supercharger System!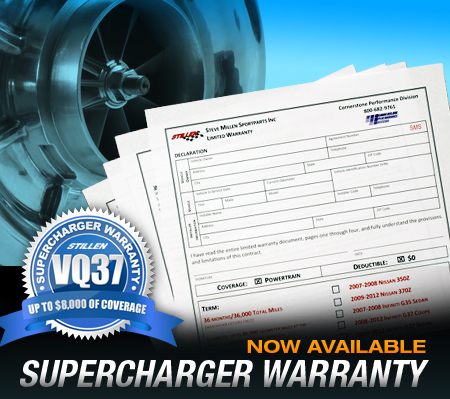 The VQ37 Supercharger supplemental warranty program is available as a 3-year/36,000 total mile term (whichever occurs first), with liability coverage of up to $8,000.  This coverage warrants engine components (including the STILLEN Supercharger), transmission and rear axle components.  The supplemental warranty is valid in the United States and Canada, has a $0 deductible, and is available for $395.
One of the biggest concerns we hear from our customers is the worry of voiding their warranty with the use of aftermarket parts, and we've outlined some information in previous posts regarding this subject, and with the combination of an engine/drivetrain warranty, can give solid piece of mind.
For more information, please contact your STILLEN representative at 866-250-5542.