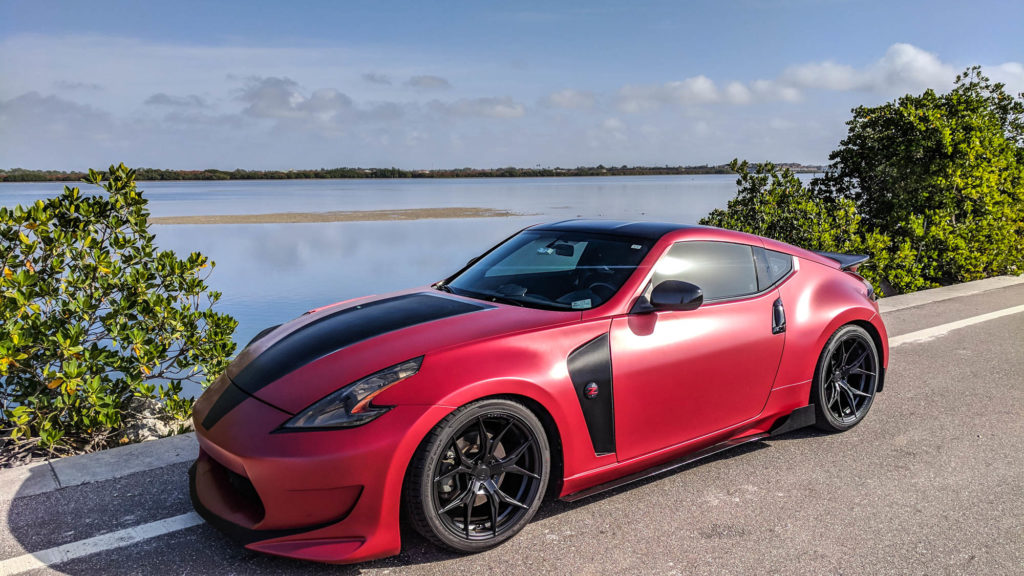 Amuse Vestito Front Bumper / Carbon Signal V1 Fenders / Aeroflow Dynamics Side Splitters / STILLEN Rear Spoiler / Satin Vampire Red/Carbon Fiber 3M Wrap
Rohana RFX5 19×9.5 / 19×11 on Hankook Ventus V12 Evo2 Tires / Tein S-Tech Springs / Hotchkis Sway Bars / 3.7 VLSD
John J is a Z man today- though for years that wasn't the case – and through a strange twist of fate, John found himself both cursed and enamored by Nissan's legendary sportscar. John currently has a 370Z, but picked it up after getting over a bit of tragedy. The pic above you see is one of the photos of the car in its original form – a far cry from the crimson machine in the driveway today. After getting through his suite of Nissan 370Z Mods, fate stepped in to put the original car he'd dreamed about as a teenager and young adult in his driveway.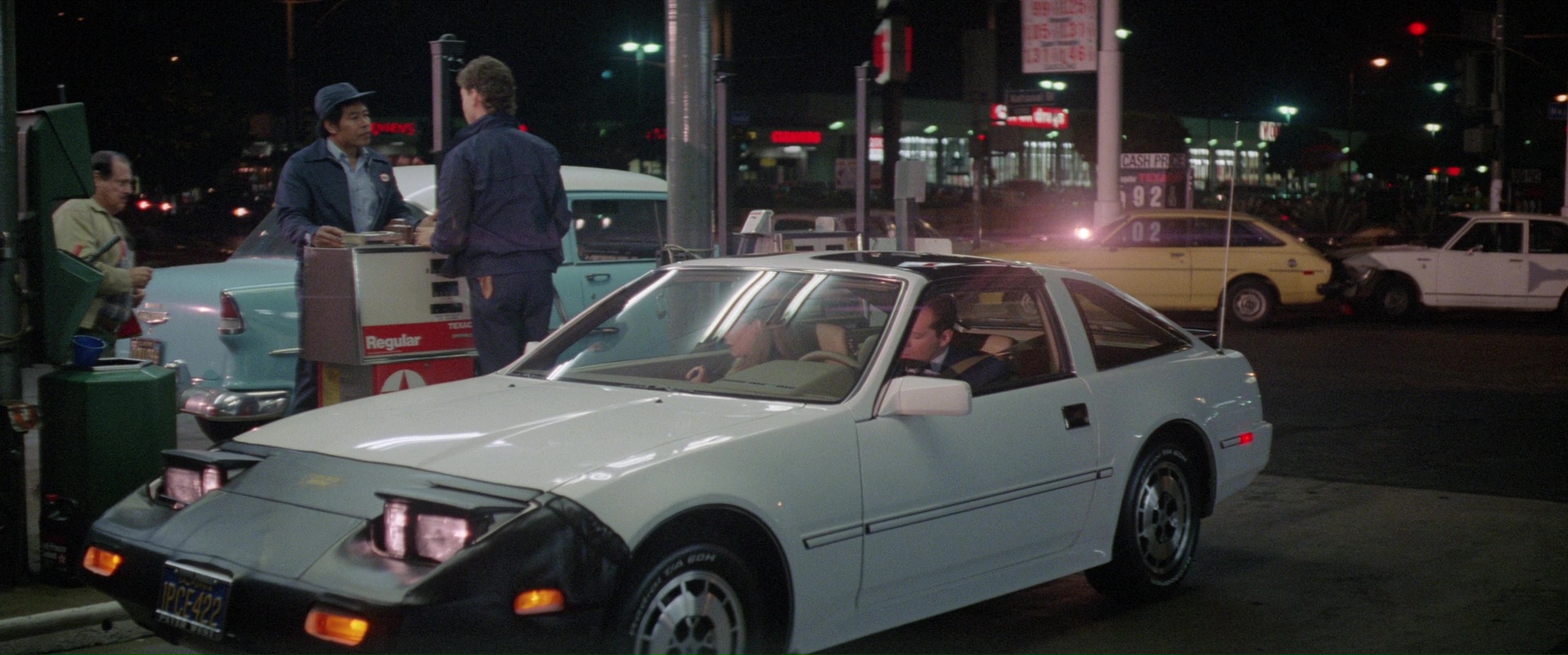 (Bruce Willis, Driving a Z31 300ZX 2+2 in the film Blind Date… read more about that here)
"Naturally, when I was growing up, the Z was one of my favorite cars.  A cross between a muscle car and a roadster.  I fell in love with the Z31 300ZX and the pointy nose driven by Bruce Willis (this is a reference to the film BLIND DATE). For many reasons, I never purchased a Z in my youth.  Money, priorities, responsibilities or whatever it may be…  I never even had the opportunity to ride in a Z!"
That changed one night in 1997, at what was supposed to be the culmination of an awesome night out with friends, John got his first chance to ride in a Z in the back of his dearest friend's boyfriend's Z32 300ZX 2+2.
Buckle up, it's storytime, but stay with us here and you'll see how this all comes full circle.
"At 3:30 a.m. on August 7, 1997,  that long awaited opportunity turned into the beginning of the worst day of my life…"
The Z became a curse in an instant when the car they were riding in side swiped a semi tanker, carrying a fuel even more dangerous than gasoline, Aviation fuel. With the 300ZX travelling at one hundred twenty miles an hour as it struck the fuel tanker, the impact was horrific, hurling the car some 800 feet down the road, pinballing off of the guardrails along the way. Even the best engineered vehicles aren't designed for crashes at that speed – and car versus semi crashes never end well.
John's close friend Jenny, sitting in the front passenger seat was ejected from the car, killing her instantly. The driver was injured badly, but survived the disaster. John and another friend who had also been stuffed into the back seat were very lucky, as John and the other rear passenger climbed out of the ruined hulk with hardly a scratch… but the damage was done. His close friend Jenny was gone at the age of 22, and what was once John's dream car had now become a continuous reminder of that awful event.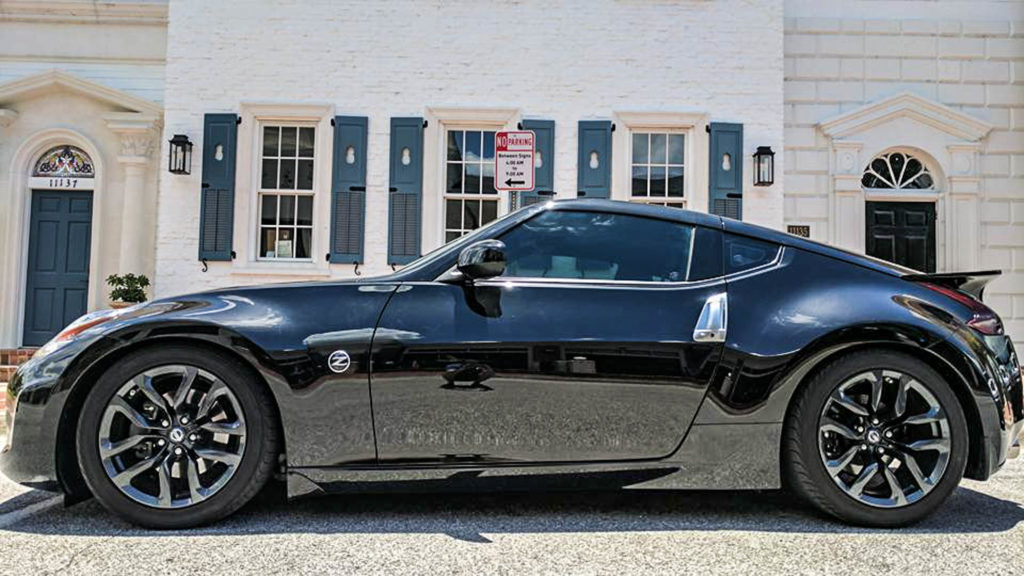 "I barely had a scratch externally… but for years after, I never looked at another Z.  I had no interest whatsoever for obvious reasons that were associated with PTSD from the accident."  Seeing a Z was a trigger that brought back the terrible feeling of 'survivor's guilt'- something all too common among those who endure tragedies of this caliber- questioning your decisions wishing you had made one of a thousand decisions differently that night, and begging to change places with someone you loved, whose life was cut way too short.
John spent almost 20 years distancing himself from Nissan's iconic sports coupe, but a simple trip carshopping for his next daily changed that.
"I didn't look at another Z, not until March of 2016, when my search to lease a new Nissan Murano SUV with my girlfriend and life partner Sandy brought us to the local Nissan dealer.  So we are walking through the lot, talking with our salesperson about trying to get the best lease possible for the next utilitarian vehicle I will be driving, and walking towards the entrance to their dealership when Sandy pointed at these two cars sitting in front of the doors.
Naturally, like any dealership, they had their best on display -a couple of 370Z's were front and center.  Sandy was the first to look closer and asked me to take a look at the car (noticing the affordability in comparison to leasing a Morano).  So I casually glanced at the Z at first, and then I couldn't help staring at the car.  Since that night in 1997 I have always lived my life for two people, Jenny and I.  When presented with a decision that puts him out of his comfort zone, whether it is jumping off of a 30 foot high cliff in Jamaica or buying a defining car in his life John has always asked himself "what would Jenny do?".
 Then it hit me. I thought to myself, I am 46, kids out of the house, I have been thinking about getting something for me, I have a wonderful girlfriend that supports me, and Jenny's memory will be a part of this car and a part of my continuing recovery.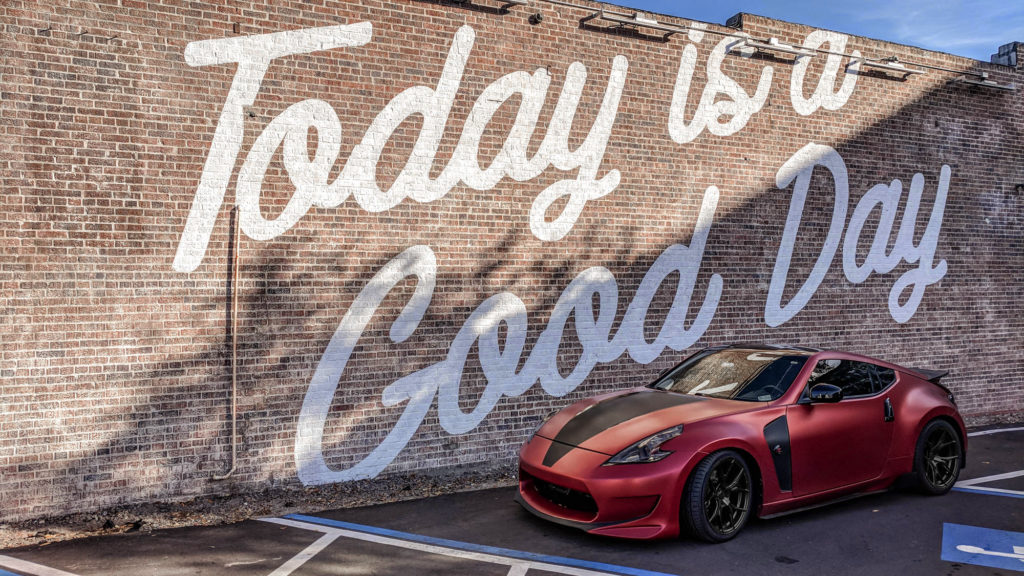 Amuse Vestito Front Bumper / Carbon Signal V1 Fenders / Aeroflow Dynamics Side Splitters / STILLEN Rear Spoiler / Satin Vampire Red/Carbon Fiber 3M Wrap
Rohana RFX5 19×9.5 / 19×11 on Hankook Ventus V12 Evo2 Tires / Tein S-Tech Springs / Hotchkis Sway Bars / 3.7 VLSD
So, rather than the Murano, we purchased the 370Z and started our mod journey to create a car that came from my heart, and bonds me with her.  The 370Z's name is Jenny for that reason." So out of that tragedy, John and Sandy found a way to heal, and like any good Z car, gave the car its own bit of soul – the car itself a way to memorialize a friend gone too soon. It's not at all uncommon amongst gearheads like John, we tend to find ways to rebuild our broken hearts by turning wrenches – go to any busy car show, you're sure to find a vehicle built in the memory of another, a way to remember those who have left our lives too soon, so our hearts never forget.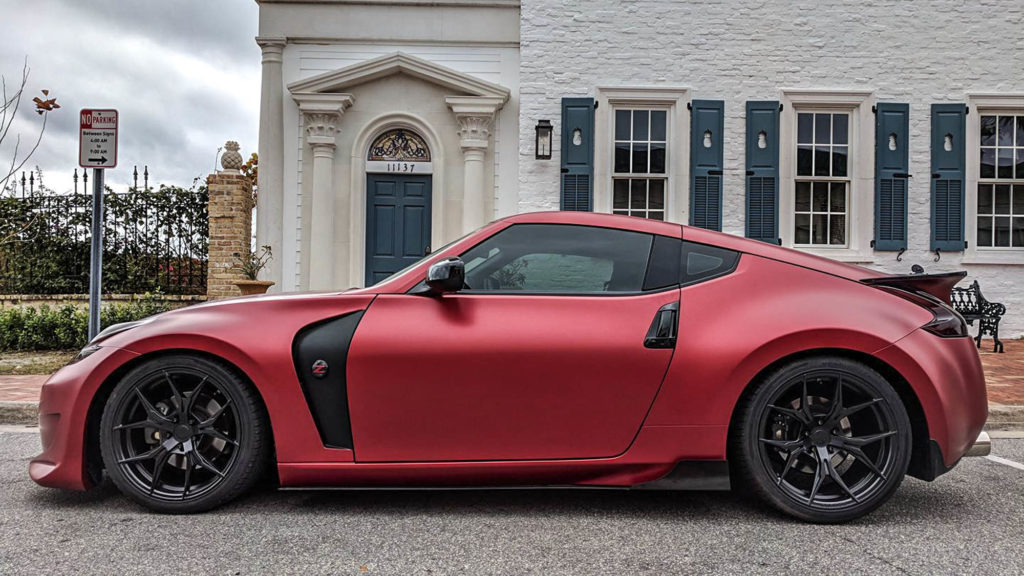 Amuse Vestito Front Bumper / Carbon Signal V1 Fenders / Aeroflow Dynamics Side Splitters / STILLEN Rear Spoiler / Satin Vampire Red/Carbon Fiber 3M Wrap
Rohana RFX5 19×9.5 / 19×11 on Hankook Ventus V12 Evo2 Tires / Tein S-Tech Springs / Hotchkis Sway Bars / 3.7 VLSD
Long after John and Sandy first started their journey with Jenny, their Fairlady 370Z, a spark of inspiration nudged him to pick up a second Z… We'll get into that other "new" car in a moment, but let's talk about what's been done to Jenny, this incredible Satin Red 370Z first.
As so many of us do, John started with audio -the first mod to the 2016 Nissan 370Z was upgrading the radio and audio system – and right after those, first performance parts on the list was the 370Z intake and 370Z exhaust.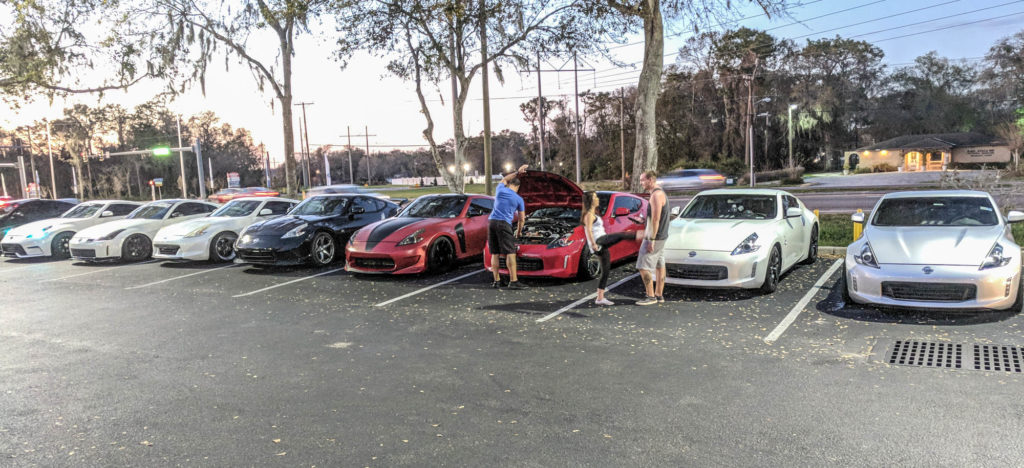 After doing extensive research online, on the forums, and in the local Z/G clubs to pick other enthusiasts' brains about what the best option was, John opted to go with a STILLEN Gen 3 Intake for 370Z, matched with a STILLEN Cat-Back 370Z Exhaust for maximum effect.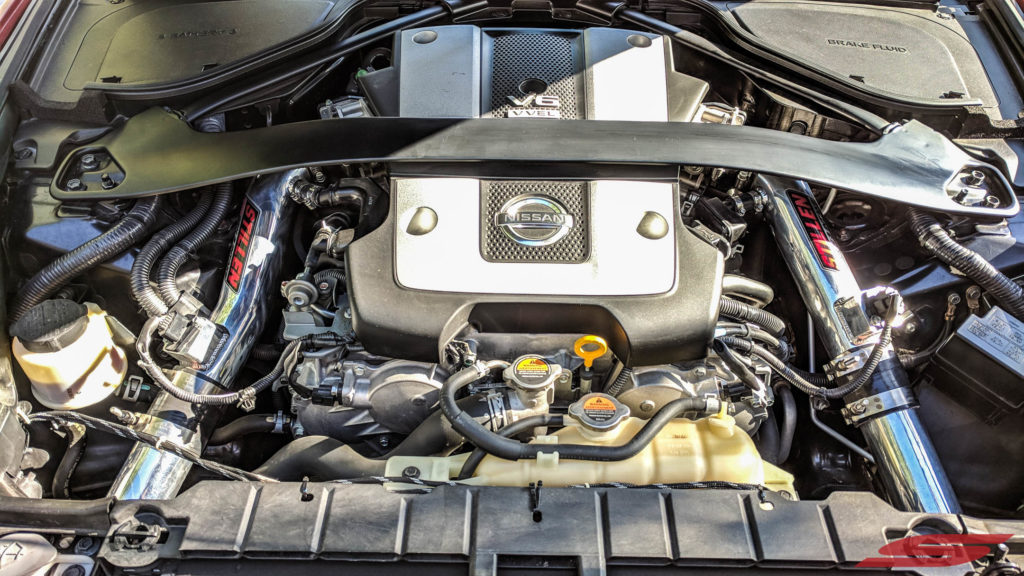 The Stillen Gen 3 intakes feed into a Custom ported upper plenum
"The Stillen Gen 3 intakes are the best in breed and every other intake is referenced to it.  It opens up throttle response and lets the engine breathe.  The Stillen cat back exhaust isn't the loudest and as a daily driver I appreciate that.  I don't hear exhaust drone when cruising while hearing the car roar when accelerating.  Combined, my bolt on NA 370Z tuned at 330+ RWHP (with a large chunk courtesy of STILLEN).  Given their relationship with Nissan, STILLEN are who I trusted to provide the most power from my VQ37, and they came through."
It's no surprise the Gen III intakes are still considered one of the best possible options for naturally aspirated VQ37HR and VQ35HR engined cars – after all, we did go through fifty six – yes, 56, different prototypes before we worked out the design you've come to know and love that delivers the best gains available. Paired with a custom ported Upper Intake Plenum, throttle response is quite sharp.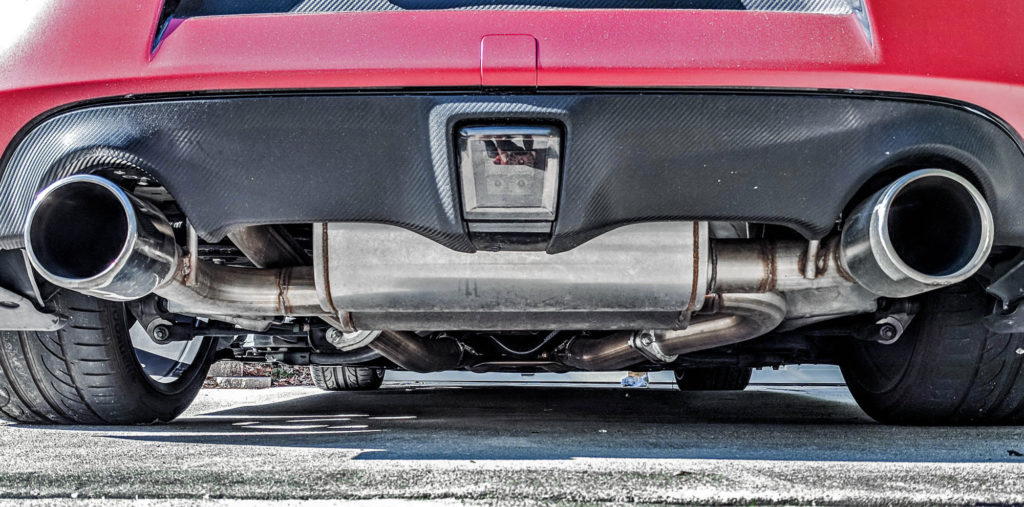 Stillen Cat Back Exhaust / Kinetix HFCs Give the 370Z An Aggressive Roar
As far as the exhaling side of the VQ37HR's breathing was concerned, John opted to enhance flow with the STILLEN Cat-Back Exhaust for Nissan 370Z. The oversized polished tips look great whether ensconced in the factory rear bumper, NISMO or any other option. Offering power, style and sound, the STILLEN Cat-Back is truly the complete package, offering a low-drone way to get a richer, more satisfying exhaust note out of the 370Z – you can still have a conversation with your date, codriver, business partner, dog, or whoever you talk to most often in your Z.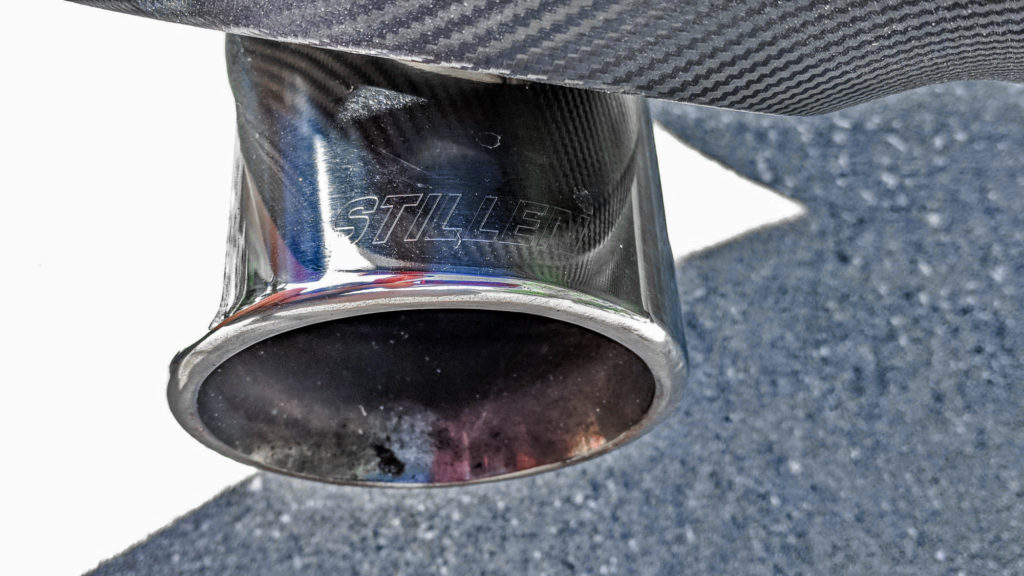 The etched STILLEN logo on each tip gives the system a custom-tailored touch as well. After the performance modifications, next was the exterior – a new bumper, side skirt diffusers, a spoiler and a color change courtesy a custom wrap transformed John's 370Z from 'little black dress' to 'Jessica Rabbit' aesthetic virtually overnight.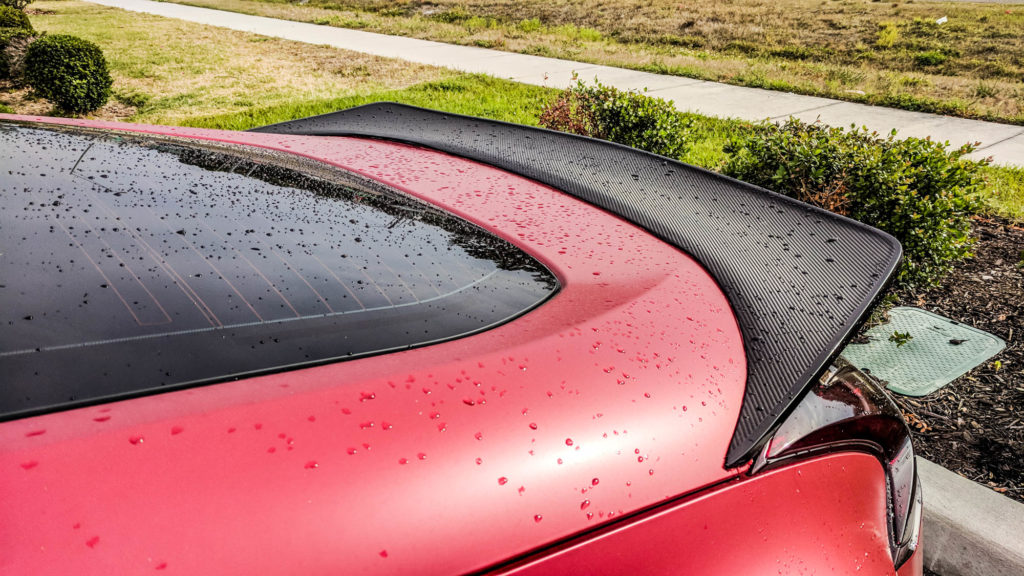 Rounding out the visual modifications is a Stillen rear wing, custom-wrapped in Carbon Fiber look vinyl, adding a nice bit of detail against the intense satin red.
Lowered on Tein S-Tech Springs, the stock wheels have been swapped out for a set of Rohana RFX5 19×9.5 / 19×11 with a set of Hotchkis Sway Bars keeping the suspension compliant. Then to ensure the power is getting to both rear wheels, a 3.7 ratio viscous limited slip rear differential was fitted as well.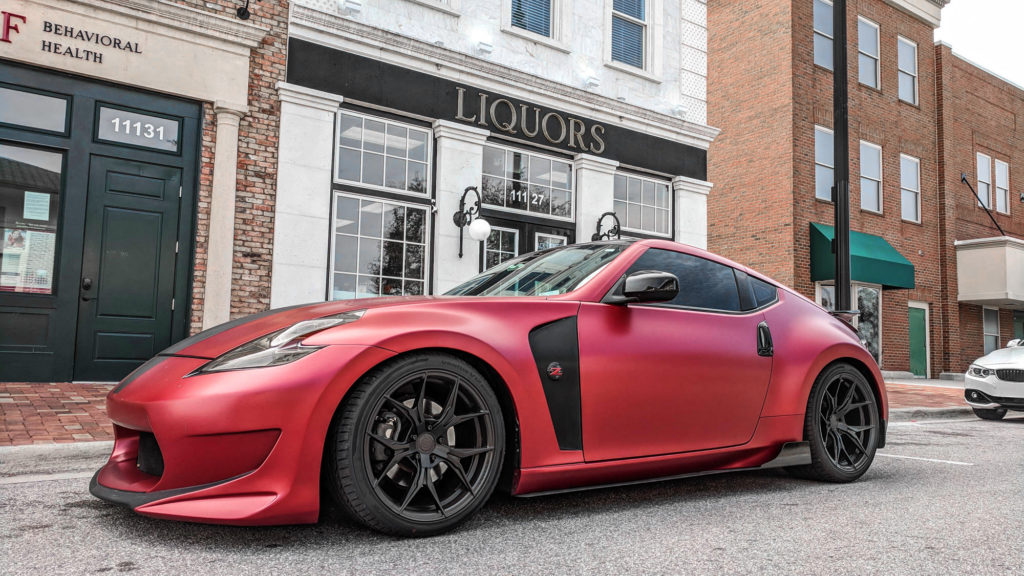 Amuse Vestito Front Bumper / Carbon Signal V1 Fenders / Aeroflow Dynamics Side Splitters / STILLEN Rear Spoiler / Satin Vampire Red/Carbon Fiber 3M Wrap
Rohanan RFX5 19×9.5 / 19×11 on Hankook Ventus V12 Evo2 Tires / Tein S-Tech Springs / Hotchkis Sway Bars / 3.7 VLSD
"With the continuous love and support of my amazingly supportive girlfriend Sandy, we have started this journey with Jenny. I've been given an opportunity to work through another hurdle in overcoming the events of that fateful night and embracing the anxiety of seeing a Z32 as an important step in the healing process… as a result I have fallen back in love with the Z."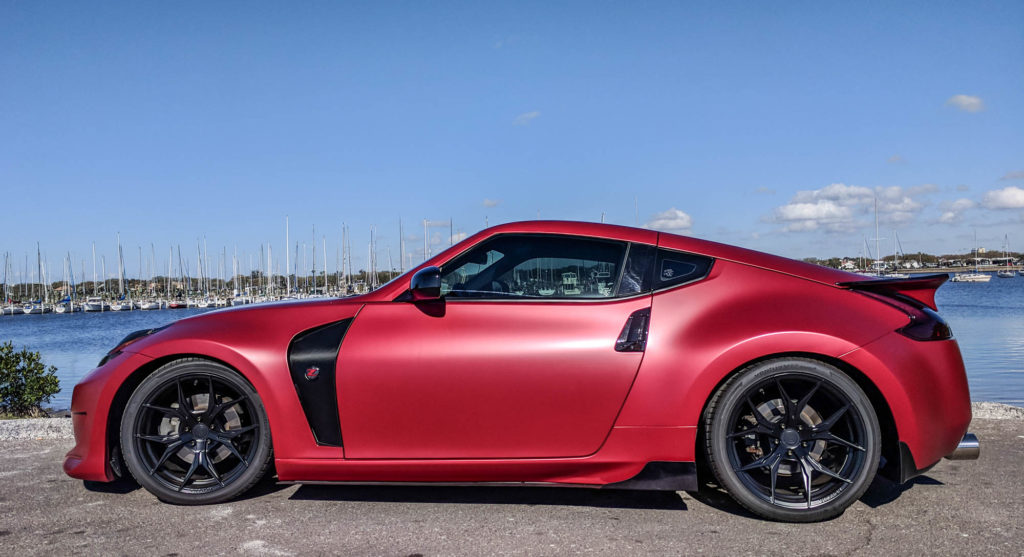 Amuse Vestito Front Bumper / Carbon Signal V1 Fenders / Aeroflow Dynamics Side Splitters / STILLEN Rear Spoiler / Satin Vampire Red/Carbon Fiber 3M Wrap
Rohanan RFX5 19×9.5 / 19×11 on Hankook Ventus V12 Evo2 Tires / Tein S-Tech Springs / Hotchkis Sway Bars / 3.7 VLSD
Check out the rather impressive list of mods the car already sports:
Current:
-Rohana RFX5 wheels 19X9.5/11 with Hankook tires
-Amuse Vestito front bumper
-Carbon Signal V1 fenders
-Aeroflow Dynamics side splitter
-iJDMToy smoked rear 4th brake / fog / reverse light
-3.7 ratio VLSD swap
-Custom Ported Upper Plenum
–STILLEN Cat-Back Exhaust for 370Z
-KINETIX HFC
WRAPPED IN:
-3M Satin Vampire Red primary wrap color with Black Carbon Fiber and gloss black as accent colors
Future Mods:
-Brake Upgrade (in-the-works… Akebono brakes currently at powder coat,  just waiting on new rotors)
-34 row oil cooler (Florida life)
-STILLEN Supercharger (once car is paid off)
-Level 10 built 7AT transmission
-Quaife Rear Differential & Upgraded Housing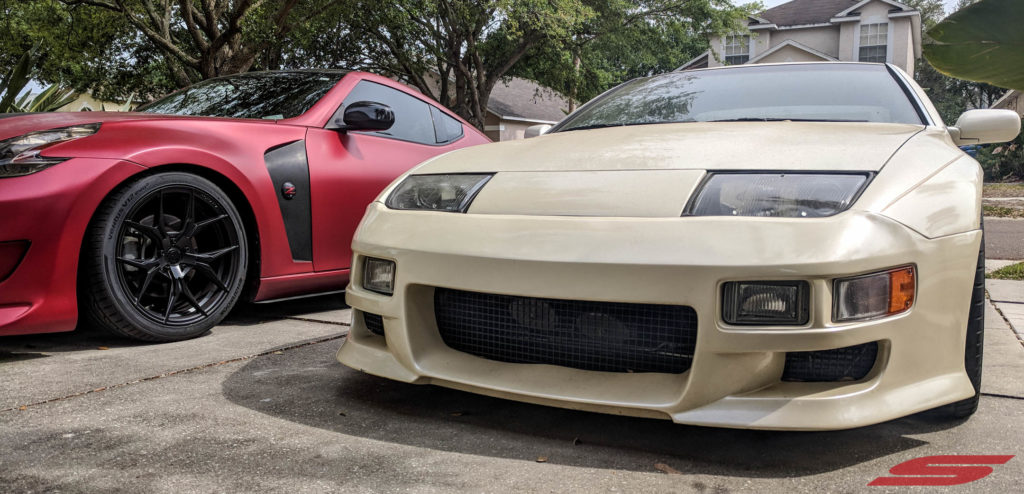 As fate would have it, right after Sandy and John had started talking about what their next car purchase would be. They were considering the 'second car's intended use – they agreed on the idea of a convertible garage queen to drive on the weekends… and then about a month ago, a neighbor two doors down pulled a gorgeous pearl white '90 Nissan 300ZX Twin Turbo [Z32 TT] out of the garage.
"Naturally, I had to talk to him (though we'd only talked twice in the 5 years we'd been neighbors) about the car… and where it came from."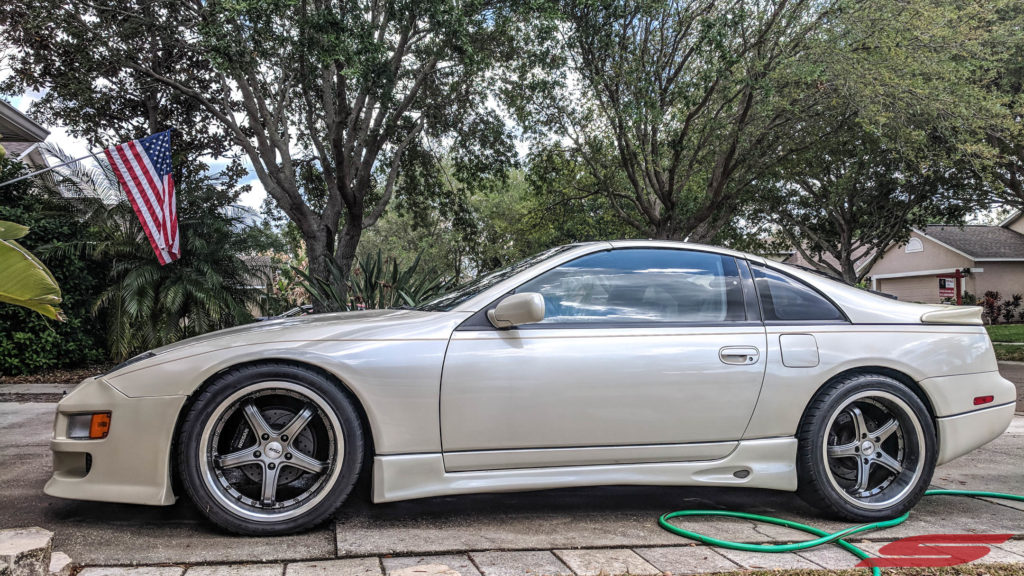 "I tracked down my neighbor and got the story on the Z: It was his wife's father's and had been given to (my neighbors) as a wedding present.  To my disappointment, he said someone had come and put down a deposit already, but did mention whoever it was had not picked it up yet – or paid in full." With the neighbors new car occupying the Z's former spot in the garage, the immaculate Z32 300ZX Twin Turbo now sat in the sun, waiting for its new owner to fetch it. Surely, someone who left a deposit will be back to get the car, right? Well.. maybe not.
A few weeks go by, during which time John and Sandy rented a Mustang convertible – and ended up not liking the convertible experience in a Mustang. This got them talking again about that 'second car', and what they didn't like about a convertible… so a full convertible was out, but both of them agreed they loved T-Tops. So their plan for 'a convertible' had changed to 'a car with T-Tops'. It should go without saying, but while Targa roofs have stuck around, the list of "Cars that Came with T-Tops" hasn't had any new additions in a while.
'Hmm… what car has T-Tops…', they mused… and like a flash of lightning it the idea struck. The Z car sitting two doors down has T-Tops, and it's no longer in a garage and exposed to the sun!
John went to see his neighbor the next day – weeks had passed and the car was still here, so he asked his neighbor what the deal was with the Z's buyer.  John's neighbor said still the guy hadn't come to get it and hadn't heard from him in a while. So, John told him he would be more than happy to take her (the 300ZX) off of his hands right now, if he was good with it. While money talks, for some people, it's also about who the car is going to. John's neighbor accepted, saying, "Absolutely! I know you're going to take care of her (the 300ZX), which will make my wife's father very happy that the Z he loved went to a good home!"
"Naturally, I had to name her (the 300ZX) after the woman that has been there by my side and supported me through this journey. I call her mZSandy.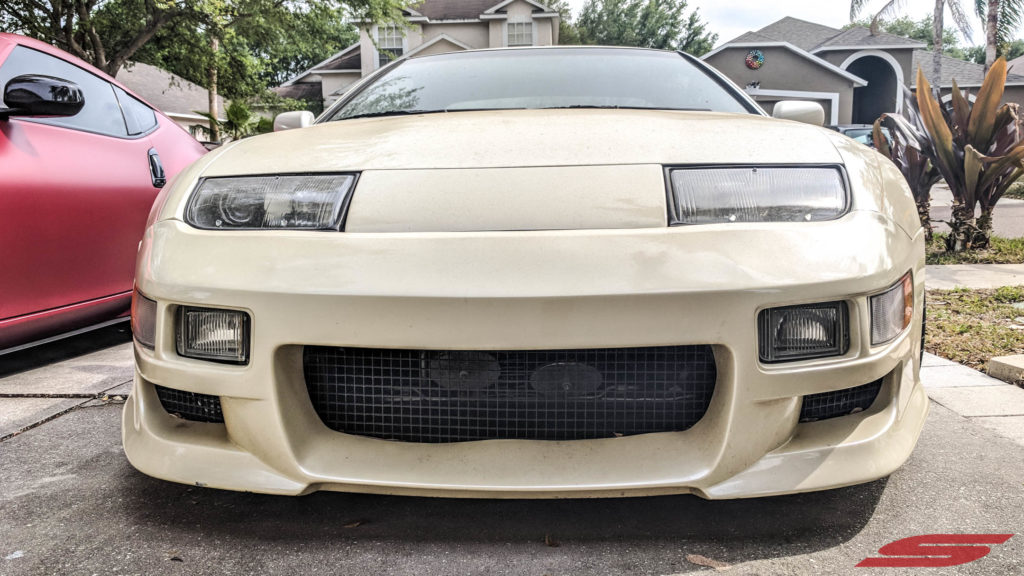 This '90 Z32 Nissan 300ZX Twin Turbo is clearly not stock – while that's not our aero kit (our guess is WingsWest), the STILLEN badging in various places on the car and level of modification suggest there may be a few goodies of ours – either produced by or sourced by us – hidden in there. The modifications are tasteful while also offering a snapshot of 90's tuning trends. John's as in the dark as we are, and the car is currently being gone over at a Z specialist to work out what's been done and what, if anything, it needs.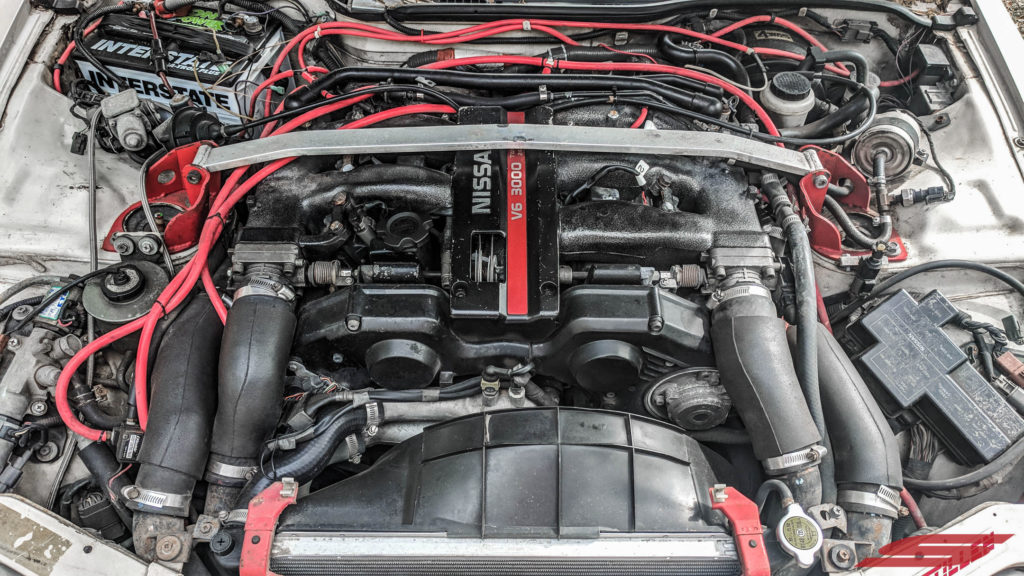 A front strut tower brace firms up the chassis of this T-Top equipped Z32, and as was the trend, there's an abundance of red details like the wire looms and radiator supports.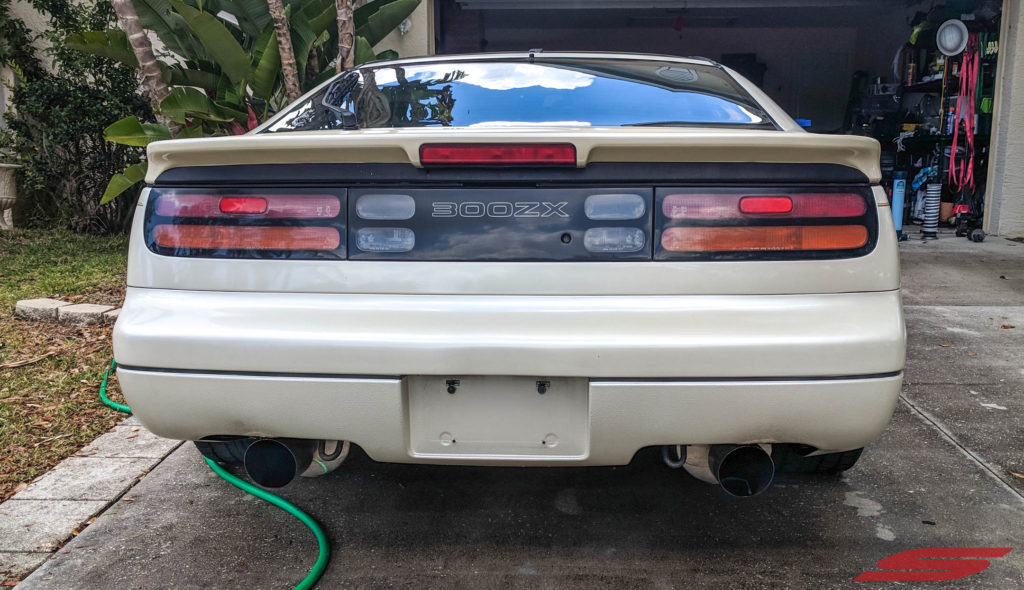 Out back, the polished mufflers of a STILLEN Exhaust for 1990-96 Nissan 300ZX Twin Turbo gives the car a more authoritative growl, sharper response and more power on tap when the twin turbos hit boost.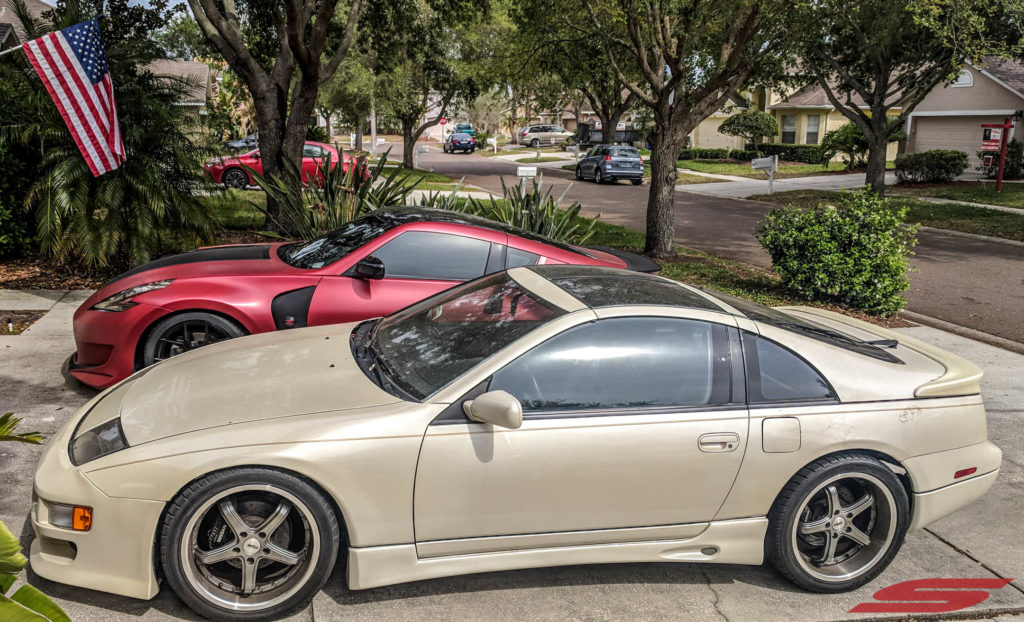 While the plan for now is to work out what's on the car, John's planning a STILLEN Crankshaft Pulley for 300ZX in the future. Once the check-up is complete, this beauty should be a real joy to log miles on this summer.
A big thank you to John for sharing his story & photos with us and for making us a part of his build.
Thanks for joining us, and we hope you enjoyed the photos.
Interested in modifying your Z? Whether you've got a 300ZX or a 370Z, our experts here at STILLEN can help make it even better. Check out the site at STILLEN.com, chat live with the team using the LiveChat window to ask questions and get answers in real time, call us at 1-888-250-5542 7a-5p M-F PST or just stop by the shop during regular business hours. See you next time!