June 30, 2008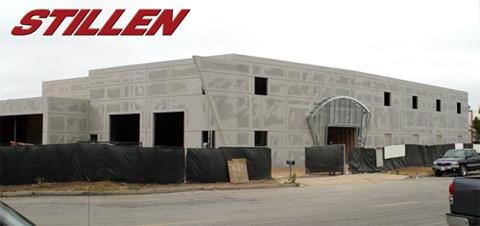 In early 2007 Steve Millen set a goal to expand our manufacturing facility (one of our three buildings in Costa Mesa, California) by the end of 2008. After months of planning and dozens of re-designs the plans to double the size of our fabrication/manufacturing building were finalized. This expansion was necessary to meet the increasing demand for our exhausts, headers, sway bars and other Stillen made products. A little known fact – STILLEN's manufacturing division makes sway bars, headers, exhaust system and other parts for some of the largest and best known brands in the performance industry.
During the last 22 years we have expanded from a small 1,000 square foot facility in Santa Ana, California into a 3 building campus occupying over 100,000 square feet in Costa Mesa, California next to the John Wayne airport. Within these 3 buildings 95% of the parts we manufacture are made in house. Along with the new building will come new machinery for both manufacturing and R&D. So, no matter what you can dream of, STILLEN will always be there pushing the performance envelope!
June 27, 2008
The wait is nearly over, the Altima Coupe Splitter is almost ready. Pictures of this Urethane piece can be seen below installed on STILLEN Customer and NICO Member RJDMMFL1′s clean Altima Coupe.
These splitters can be installed with or without the included stainless steel turnbuckles, but we recommend additional support via screws underneath the piece for added structural support.
The splitters do come painted in flat black, which provides some UV protection for the raw urethane.  These pieces are done with a harder urethane than we use for our typical body components, offering additional rigidity upon installation.
Thanks for coming down RJDMMFL1, those illuminated kick plates looked very cool in person!
June 26, 2008
The folks over at NADAGuides.com, a leading new and used vehicle information site have today launched a new segment, the NADAGuides Garage Blog, aimed at delivering their massive amount of content, new vehicle information, industry news, and enthusiast happenings in a slickly designed blog.
Be sure to subscribe to their RSS feed, and you'll never be out of the loop with all of the new and upcoming vehicles.
NADAGuides was on hand for the 2008 STILLEN Customer Appreciation Day to see the new 2009 Nissan GT-R, 2009 Maxima, and the 2009 Infiniti FX50 in person.  You can see their thoughts here.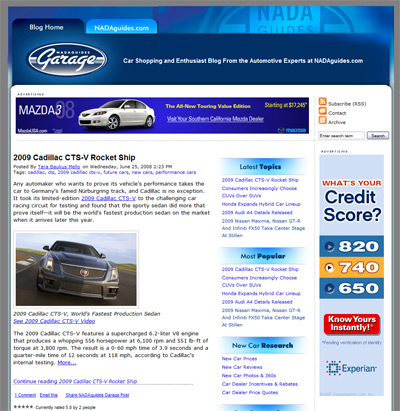 June 26, 2008
STILLEN's G37 Dual Exhaust and Hi-Flow Cats are featured in the Power Pages section in the June issue of Import Tuner. These two parts combined for a total increase of 20 hp and 18.4 lb/ft of torque at the wheels!
Check out the full article in the pdf below, then check out the rest of the Power Pages articles archived on Import Tuner's Site.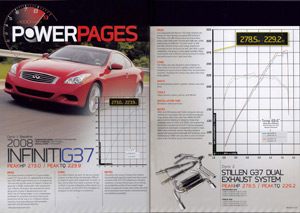 June 25, 2008
STILLEN customer Blaine M. of Missouri was nice enough to send us some photos of his 2007 Altima Sedan with his modification progress with some of the things he's picked up from STILLEN.
Blaine, don't forget the fascia is available and shipping!:  STILLEN Altima Sedan Fascia
Also, we are literally days away from having finished product on the new STILLEN Altima Sedan Lip Spoiler.  Look for more information on that coming soon.
Thanks Blaine!
Here's his current specs:

Engine:
Injen SP Series Short Ram Intake
Exhaust:
STILLEN Stainless Steel Cat-Back
Suspension:
Eibach Pro-Kit Lowering Springs
Wheels and Tires:
Nismo 19 in. on Goodyear Eagle F1
Audio:
Alpine Head unit
JL Audio separates and co-axes
MTX Amps
dual 12″ MTX Subs
June 18, 2008
STILLEN Brake Pros is proud to introduce the AP Racing Rear Big Brake Kit for the 2003-2008 Infiniti FX35 or FX45. This kit utilizes AP Racing 4-Piston Calipers, 15?(378mm) 2-Piece Cross Drilled & Slotted Rotors, high performance Mintex Xtreme brake pads, stainless steel brake lines, and all necessary brackets and hardware. The factory parking brake is also retained.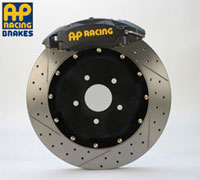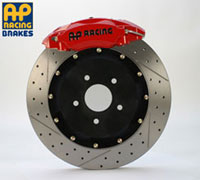 More info after the jump..
Read more
June 9, 2008
Memorial Day.. Beer.. Motorized Cooler.. Beer.. what could possibly go wrong?  Well for this guy in New York, everything, as he was busted for a DUI for "driving" his Cruizin Cooler..  ouch!
For those not familiar with this particular 'vehicle':
"
WHITEHALL – In case you were wondering, a motorized cooler on wheels is a motor vehicle under state law.

A Whitehall man learned that on Memorial Day, when he was charged with driving while intoxicated after police pulled him over for swerving and driving on the sidewalk on a four-wheeled, motorized cooler known as a "Cruzin Cooler."
Leslie J. "Bomber" Marr, 57, could face felony DWI and aggravated unlicensed operation of a motor vehicle charges because of prior arrests and convictions in drinking-and-driving cases, said Whitehall Police Chief Richard LaChapelle.
The electricity-powered Cruzin Cooler that Marr was riding contained 14 beers, the chief said.
LaChapelle said Whitehall Police Patrolman Andrew Mija stopped Marr at about 7:45 p.m. after the officer saw Marr swerving and preparing to cross William Street on the motorized cooler…" The rest of the article is available from the link below.
Source:  Poststar.com / CruizinCooler.com