August 29, 2008
We received the first batch of Mine's Silence VX Pro Titan II Titanium Cat-Back Exhaust Systems for the R35 Nissan GT-R's, and pulled one out of the box to get a closer look at this completely titanium system, see what all of the fuss is about, and shoot some pictures.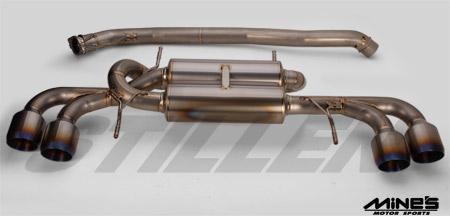 The construction on this exhaust system is beautiful, with every flawless weld point showcasing that signature heat treated titanium color band.
More pictures and information after the jump.. Read more
August 26, 2008
STILLEN has teamed up with K&N to bring you a sweepstakes for 6 lucky winners through the month of September!
We will be giving away the following prizes:


Entering is easy, simply fill out the form located on the Sweepstakes Entry Page, and you'll be all set!  All sweepstakes rules are also available on this page.  Sweepstakes is running from 8/26/08 through 9/30/08.
Get your entry in!
August 21, 2008
Car & Driver released their testing results on several Nissan GT-R's they have had in their October 2008 article from their website.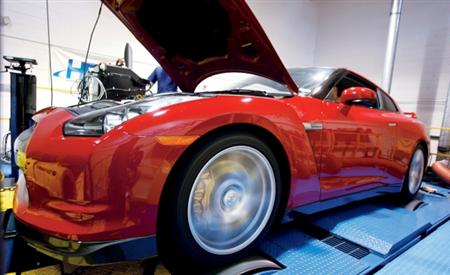 Excerpt from the online article:
On MotorCity Speed's Mustang dyno in Commerce Township, Michigan, GT-R No. 4 produced a peak of 415 horsepower at the wheels. Based on our 20-percent loss estimate, the engine output was 519, or 39 horsepower more than Nissan's stated 480.
More information and dyno sheets after the fold… Read more
August 20, 2008
STILLEN Brake Pros is proud to introduce the STILLEN Front Big Brake Kit for the 2007-2008 Nissan Altima (Coupe or Sedan). This kit utilizes STILLEN / PBR 2-Piston Calipers, 13″ 1-Piece Cross Drilled & Slotted Rotors, high performance Mintex Xtreme brake pads, stainless steel brake lines, and all necessary brackets and hardware.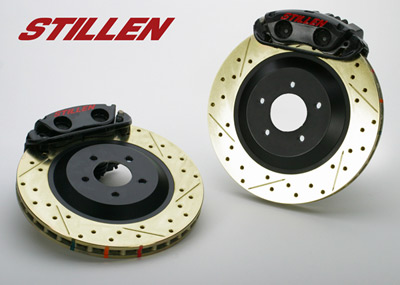 This kit will CLEAR THE STOCK OE 17″ 12-SPOKE WHEELS!
More information after the jump.. Read more
August 18, 2008
Rounding out the 2007-2008 Altima Sedan body components is the two rear treatments offered by STILLEN.  The STILLEN Rear Wing (Spoiler) is a very sleek, subtle and clean way to add an aggressive look to the back of the Altima.  The STILLEN Roof Wing complements both the STILLEN Rear Wing and the OEM wing alike, and adds a unique touch to the car that you can't help but notice.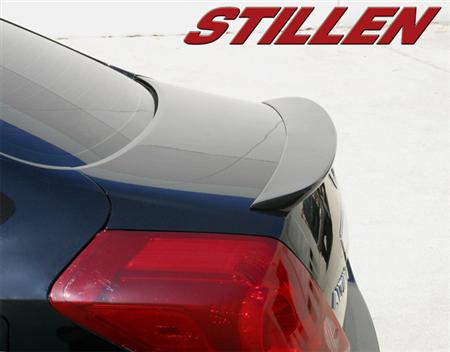 More photos and information after the jump…