October 29, 2010
Racing Day 5 Wrap Up!
I am in my hotel room writing this before Steve and Phillip get into the wharf for the final destination.  They have both done an amazing job and the entire team is very proud of the effort and hard work put in by all!  Steve pulled out some pretty miraculous skills this week and showed that he hasn't lost his edge.  Steve competes in very few of these rallies and really doesn't get much time to get back into the racing lifestyle anymore, so it took a day or two for him to feel fully comfortable with the car, but I'll tell you once he was in the zone he was a machine!  The in-car video footage and the photos tell the story better than I ever could!
 
The car has performed flawlessly all week and Mark and Joe have done a great job maintaining the car and making sure Steve and Phillip have exactly what they needed all week.  Jodi and Vivian (Phillip's wife) have been great team moms and looked after the service crew and the drivers better than anyone could have asked for.  We are all very happy to come home with the drivers and car all together in one piece and with a very Read more
October 29, 2010
Wellington is a lot like it normally is…Cold…Windy…and a high probability of rain!  Not a huge surprise yet very welcomed!  We are holding strong in third place and Steve drove hard today and won a couple stages chipping away time at Quinn and Inkster.  Inkster fought hard and also had a great showing and we are expecting tomorrow to bring an awesome battle!  All three vehicles are running strong and working hard!
Last night I was walking through the parking lot and noticed a car on a trailer covered by a tarp Read more
October 28, 2010
We have made it to New Plymouth and I am writing this update from a Beaurepairs Service Center.  Tonight we went through the car for a mid-week check up, went through the oil change, checked brake wear, tires, etc.  Also the guys are having to fix the front lip after a local at one of the lunch stops guided Steve straight into the curb when he was trying to get into the parking area for lunch.  They had stacked up some blocks of wood to get over the curb and with three guys watching they guided him straight into the curb and pushed the front lip back!  Mark and Joe have had a pretty easy week though compared to Newfoundland so I guess it's good to keep them up for a night.  All is good on the car and the teams spirits are high. 
We came to the service center to rotate the tires on the rims.  Today was another hot day and we saw some pretty serious tire wear occurring and we want to stay ahead of it as tire consumption is a big part of the strategy on the Targa rallies. Read more
October 27, 2010
We are in our second night at Palmerston North and have some good news!  Steve is really enjoying the car and having a great time.  He pushed hard today and caught some ground on Proctor in the Metalman car but unfortunately another car caught more ground and squeaked ahead of us by a few seconds.  So, currently we're running 4th overall but making gains on the competition.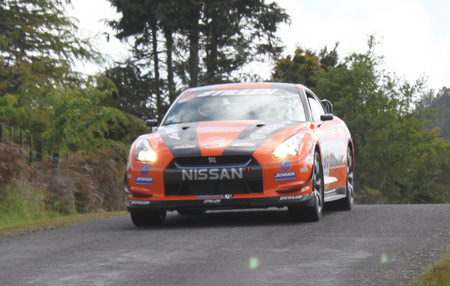 Something I did not include in yesterdays update is the great sportsmanship on this rally.  People work hard to help each other and teams competing against each other have been known to lend a hand and help their competitors to get them back on the road a little sooner.  Last night both Proctor and Dodson developed leaky Read more
October 26, 2010
I am writing this from the hotel in New Plymouth.  The good news is, the STILLEN GT-R is running very well and Steve and Phillip are doing very well and working great together!  Steve took it kind of careful today as he wanted to see how the tires were going to fair.  These Dunlops are looking great and are showing hardly any wear.  We are very excited to see how they work through the week!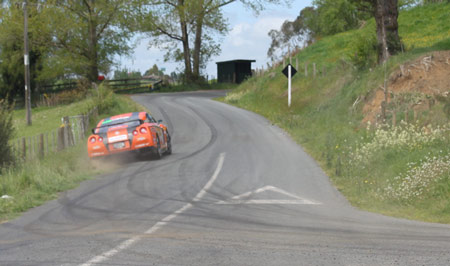 (For a larger version, click here)
 
Today was unusually tough as the weather was uncharacteristically warm..  The roads were hot and we really expected the tires to start wearing heavily.  However, The GT-R is running strong and working very well!  Read more