February 28, 2012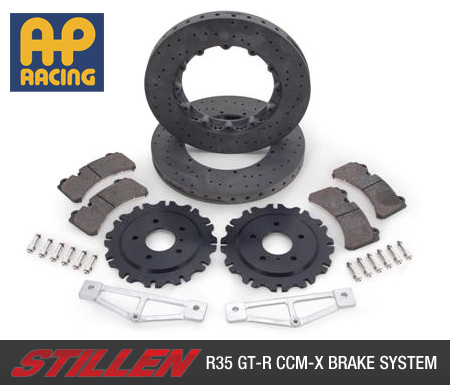 STILLEN Announces CCM-X – The next generation of Carbon-Ceramic Matrix Brakes for the Nissan R35 GT-R
The STILLEN R&D team continues to develop industry-leading performance products with long-standing technical partner AP Racing. Their hard work has resulted in the release of the next generation in Carbon-Ceramic Matrix (CCM-X) brakes for the Nissan GTR. This kit utilizes a new High Thermal Capacity (HTC) process which helps pull the heat from the CCM disc surface deeper into the 3D core to allow the discs to operate cooler through more efficient use of internal venting and air flow.
We have also homologated a new Pagid RSX1 pad material designed specifically for our new CCM-X discs for easier bedding and higher performance, these pads are ideal for use on the street and for track days.
The CCM-X disc assembly hardware has now been updated to include anti-rattle springs that still allow the full benefit of a floating disc, yet eliminates the "noise" associated with this style of disc.
During extreme performance testing at Auto Club Raceway in Fontana, CA, performing back-to-back repetitive testing runs pushing the limits of brake temperatures, the new combination of HTC CCM-X discs and Pagid RSX1 pad material reduced disc temperatures from an average of 1488F to 1346F, that's 142 degrees cooler than the previous generation CCM. These real-world tests confirmed the results of our brake dyno testing at AP Racings lab in Coventry, England.
Once found only on the world's most expensive supercars, Carbon-Ceramic Matrix (CCM) brakes have been developed for the first specifically-tuned aftermarket application – the Nissan R35 GT-R. These 400mm disc assemblies are larger than the standard OE iron discs, yet reduce weight by nearly half. This is rotating and unsprung weight, leading to improvements in all performance categories: acceleration, handling and braking.
After three decades of using carbon-carbon brakes on racing vehicles (even longer on fighter jets), AP Racing CCM discs are the next technological platform. Advancements in materials, process technologies and nanoparticle technology make it possible to use a special carbon fiber precursor along with new, patented process techniques. The unidirectional precursor is needled into a 3-Dimensional, continuous carbon fiber preform. This differs from lower cost technologies that use loose, chopped strand fibers and thin woven face plies bonded on as a friction surface. A true 3D matrix is stronger, more robust and provides longer life than the more brittle alternative. As a comparison, think quality hardwood versus particle board or MDF with a veneer.
Converting the 3D preform to carbon-carbon is done under high heat and pressure via methane cracking during a special carbon vapor infiltration (CVI) process. After initial machine work, a final conversion process results in a full matrix carbon-silicon carbide (CSiC). We call it Carbon-Ceramic Matrix, or CCM for short. The discs are then sent through the final machining, grinding, and balancing. Of course, the CCM discs are now so hard that only special diamond tooling can be used!
Who uses these ultimate CCM discs? The most up-to-date version is found on the Koenigsegg CCX and McLaren MP4-12C. And now – STILLEN and AP Racing have optimized a specific set for your R35 GT-R and its factory brake calipers.
The STILLEN-AP Racing CCM-X brake upgrade kit includes:
• Front & Rear CCM-X brake disc/hat assemblies
• Front & Rear Pagid RSX1 street & track use brake pads
• Caliper spacers
• Active brake cooling package required by Track Users (Not Shown – Sold separately and can also be used with Iron Rotors)
Note: Due to the dramatic reduction in overall mass, brake temperatures will run higher than the O.E. iron disc system given the same usage. STILLEN strongly recommends using AP Racing PRF brake fluid, one of the best high temperature fluids available. PRF is used in the most demanding Motorsports applications around the world.
Photos from Testing at Auto Club Speedway in Fontana, CA:
February 28, 2012
Beaverton Infiniti is bringing some serious heat to the showroom floor with this 2011 Infiniti G37S equipped with a Stillen supercharger custom tuned by PSI in Portland, Oregon to 400whp. They're asking $61691 for this one of a kind G: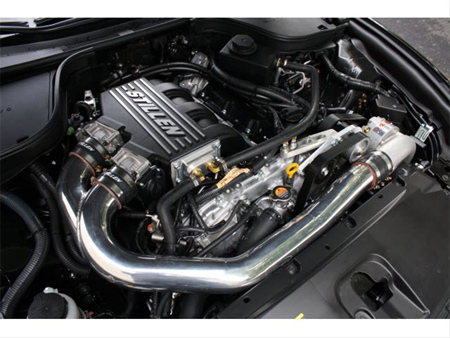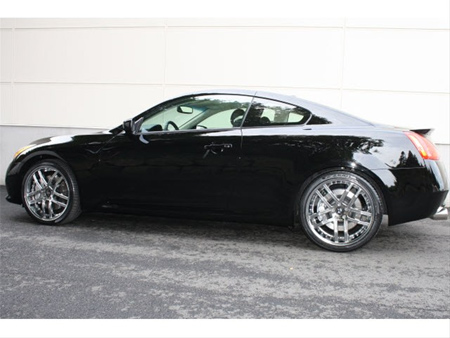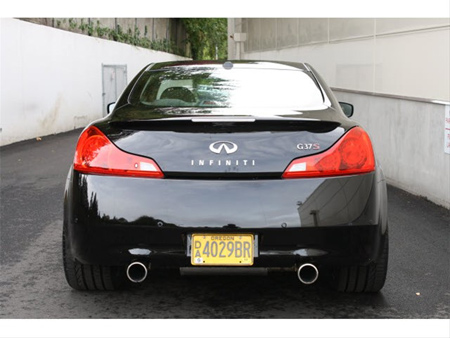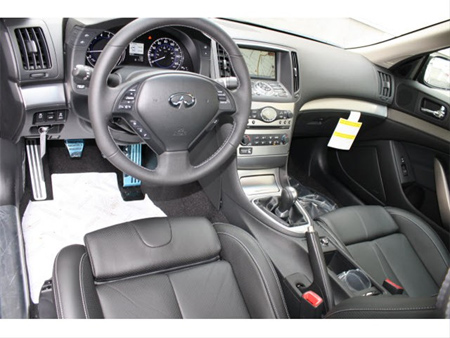 Contact Beaverton Infiniti if you have any questions (503) 626-8822 or check it out on their website.
February 13, 2012
It's not every day that we release our Nissan 370Z demo car into the wild but when the guys from The Smoking Tire asked to stop by and take the car for a spin we had to oblige!  Matt Farah has been here before and went for a spin with Steve in the team STILLEN GT-R Targa rally car.  During that visit Matt saw the 370Z in multiple pieces as it was receiving the STILLEN treatment.  After multiple phone calls, emails, and text messages we were able to schedule a visit for Matt to get into the drivers seat of a STILLEN tuned 370Z.
This car has been reworked from the inside out and from front to back.  With KW Variant III coil overs, adjustable sway bars, adjustable control arms, AP Racing brakes, Enkei GTC-01 wheels and Toyo R888 tires, cat-back exhaust, 370Z supercharger (CARB legal and warrantied) to the urethane 370Z body kit by STILLEN along with the Seibon carbon fiber hood.
Or check out the video at TheSmokingTire.com.
February 10, 2012
Newmarket Infiniti/Nissan's latest build: this stylish 2012 Nissan Maxima.
Parts List
20″ M56S Wheels in Toyo Tires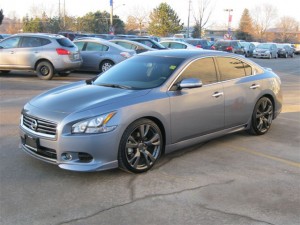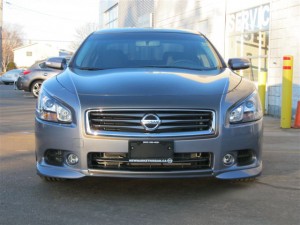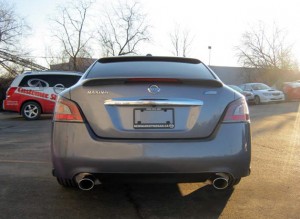 If you're in Ontario, Canada and want to check out this modified Maxima and others like it, stop by New Market Infiniti/Nissan or call Tom @ (905) 895-8785
February 10, 2012
This mean 6.1L hemi-powered Charger is getting a Vortech Supercharger (#4CL218-030L) installation finished up today before getting unleashed on the streets for what's sure to be a good weekend for the owner of this beast.