March 30, 2012
I was sent this article earlier today by Josh in our Marketing department and since we use K&N filters on EVERYTHING we use here at STILLEN, I figured it would be great let our customers know why we do that.
Snagged from K&N's website:
Spoiler alert – K&N reusable air filters are without a doubt worth every copper filled nickel. The scrutiny that their value is even up for debate becomes increasingly more absurd when you understand the facts.
As a writer for K&N I've interviewed hundreds of racers around the world and from every conceivable motorsport. Be it the undisputed Drift Racing Champion of Ukraine, the Mud Nationals mud racing champion, Italian Grand Prix Rookie of the Year Champion, Baja 500 and 1000 champions, monster trucks and snowmobiles, X Games gold, Peaks Pike winners, motocross champions and beyond – every single one credits K&N filters for being a part of their success. I've even written stories about K&N filters stopping bolts, bugs and rocks from getting sucked into engines. Are they worth it some may ask? Are you kidding me I retort?
I don't shop much for birthday presents, especially not for old friends that say "you shouldn't have bought me anything," but then would sulk if I don't. So this year I got my friend Mike Tuohy a K&N air filter for his 2008 Ford F-150. Seriously, it was the only way to stop him from constantly asking for one. I also feel pretty strong about my gift selection being that it's something he'll actually use.
Purchasing a one-time use replacement also makes nothing but common sense. Mike's Ford dealer claims he should change his air filter every 15,000 miles at a cost of 40 bucks a pop. The Ford manual says change the air filter at 30K, with an average DIY replacement cost of $25.00 for a paper filter. However, check any F-150 online forum and realistically most drivers change their air filters between 15,000 and 20,000 miles.
The K&N high-flow air filter Mike installed cost about $45.00 and took him about 5-minutes to replace, with the first couple of minutes wasted looking for his car keys. Applying some rudimentary ciphering, and using the 20,000 mile filter change timetable, Mike will have already saved money from his K&N filter after only two scheduled air filter changes. Then 10,000 miles later, after a normal 50,000 miles of driving, he can simply wash his cotton gauze K&N reusable filter and slide it back in place for another 50k. In fact he could probably drive more than three F-150 trucks into the ground before he'd ever have to buy another air filter. How is that possible you ask? Because his K&N air filter comes with a Million Mile limited warranty.
Some people have a tough time fathoming an air filter can go up to 50,000 miles between cleaning intervals, or will last for up to 1,000,000 miles, but since 1969 K&N has built a reputation as the world's foremost leader in high-flow air filter and high-flow air intake system technology. Millions of drivers have made the one-time filter purchase, and when they immediately noticed the improvements in horsepower and acceleration, they told a million more people. Generally positive recommendations among friends are reserved for good movies and restaurants, yet once he installed his K&N air filter, it was like an automotive epiphany, and Mike just couldn't help from telling the next person.
Above is one of our most popular Intake kits of all time the STILLEN Z-Tube Intake kit for the G35 Sedan and Coupe. We proudly use K&N filters on that as well as every other kit we make.
Think about it, if K&N were purely looking to make money wouldn't single use filters every 20,000 miles make more sense? The secret to their success lies in the long-term achievement of their filters, and the people that use them.
March 30, 2012
March 29, 2012
It's safe to say that we are firm believers in the "Form follows function" principal, all the parts we put our name on serve a purpose OTHER than just looking good. Our 370z front bumper is a testament to that. Not only did we want to make sure that it would channel air to crucial areas of the vehicle (As every front bumper SHOULD do) we also wanted to make sure that it looked good while doing it's job.  We feet as though we combined the two very well with this bumper and apparently so does Tiago's Drifthobby drift team.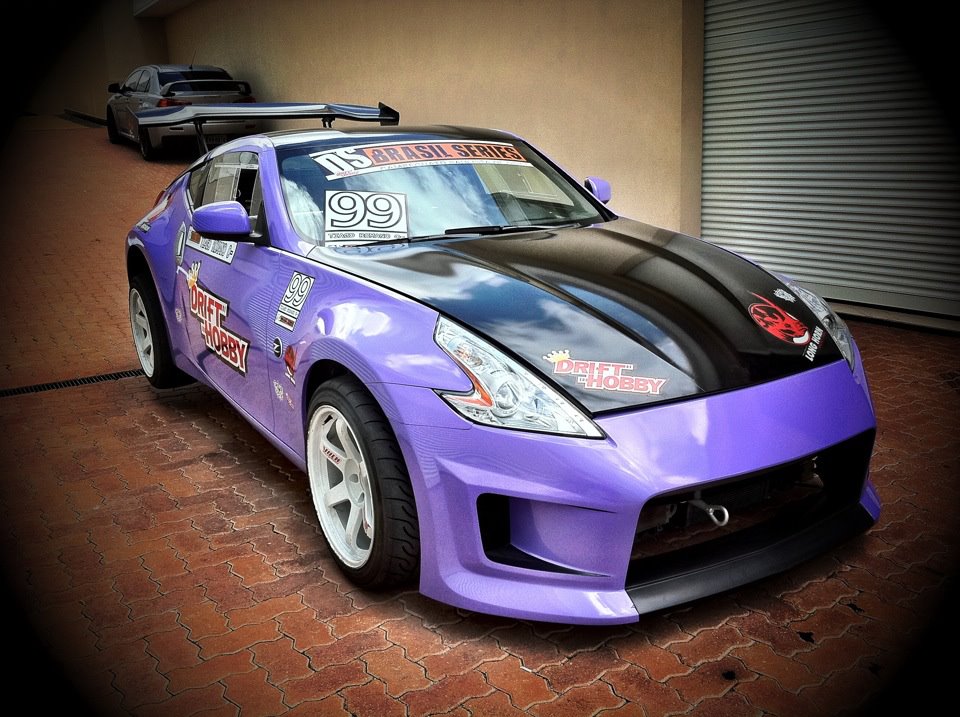 It actually looks pretty good in purple don't you think?
Well if a picture isn't enough for you, check out the quick video these guys put together of this car in action…
March 28, 2012
Often times we get customers who stop by to pick up parts they purchased from our online store and they aren't aware of our fully functioning service bay.  Heck, it even surprised me when I first showed up here. We know that in this day and age it's very rare to have an actual shop that allows local pick up of purchased parts and it's even MORE rare to have a kick ass service bay attached to that shop that will install those parts for you.  We pride ourselves in providing both to our customers.
That was actually the case for the customer with the Ford Mustang Boss 302.  Being an avid ford enthusiast, he has more than one Ford vehicle in his driveway, a (550 hp) Ford GT, a "plain old" (400hp) Mustang GT , and this (440hp) Ford Mustang BOSS 302 are a few of the ponies in his stable.  Guess which one he takes to track the most?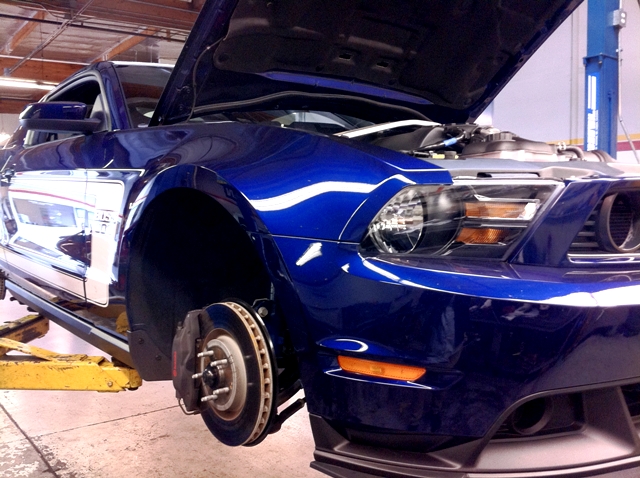 Yeah, I wouldn't take my priceless FORD GT to the track that much either, and the Mustang GT I would probably let the wife use to get groceries and roast boy racers on the weekends. Which leaves only one option… BOSS!
Having a weekend warrior track car usually means that you burn through items such as brake pads and tires pretty quickly, and the only shop he trusts to do all his maintenance work is, yeah you guessed it, STILLEN.
We threw the thoroughbred BOSS 302 up on the lift and swapped out the Brembo brake pads and added new brake fluid in a jif, so our customer can spend more time at the track with rock solid brakes and less couch time.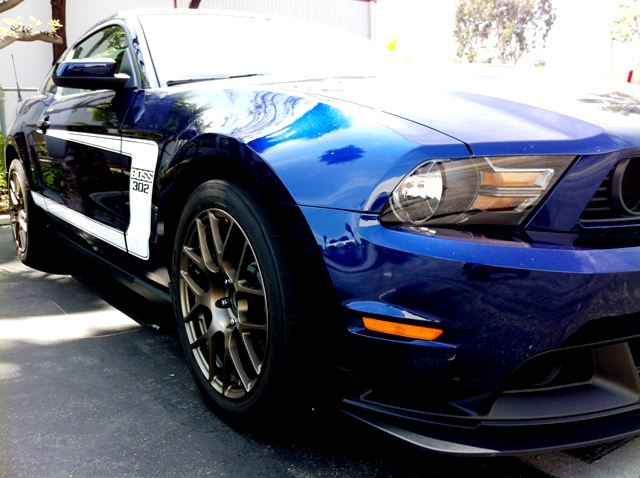 If you have any questions or would like to schedule a service appointment for your car please feel free to give us a call at (888) 366-0686 or go to www.STILLEN.com
March 23, 2012
We are always working on new projects here at STILLEN, and today is a fine example of that. While we can't give you all the details on the Street Scene F-150 project right now, we can give you a little teaser photo of what we are up to.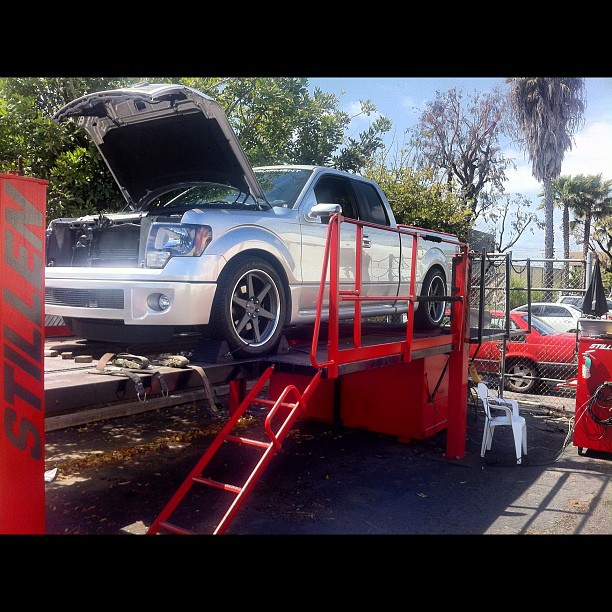 Can anyone guess what numbers this mildly modded bad boy put down? (Lowering springs and cat back exhaust)