July 17, 2013
When a car is just done right, there's that jolt that seems to travel directly from your eyeballs to your brain when you see it, causing you to mouth the word 'whoa…'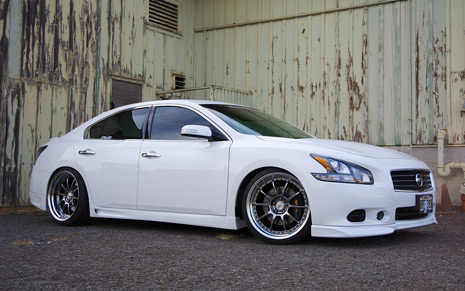 Such is the case with STILLEN customer Alden Arneson and his 2011 Nissan Maxima SV Sport, taking advantage of almost every product STILLEN manufactures for the 7th Generation Maxima and showcasing what a cleanly modified Max can achieve to be.. and he's not done yet!  Alden worked closely with our dealer Revision Audio near his hometown in Hawaii to make his dream a reality.
Alden's Maxima takes everything into account.. Full STILLEN polyurethane body kit, performance products including a cold-air intake and stainless catback exhaust system, suspension system featuring coilovers, sway bar and braces, and what most people seem to forget when building a high performance vehicle, a complete AP Racing big brake upgrade by STILLEN.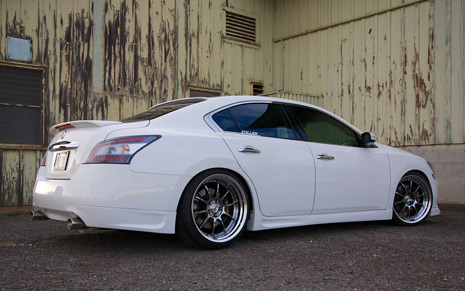 Maxima Modification List
STILLEN Polyurethane Rear Diffuser (On Order)
Megan Racing Coilovers
We asked Alden about his build, why he chose the Maxima, and what he has planned next, and here's his thoughts:
I became interested in the maxima after I had seen the new body style.  I loved how aggressive it looked.  After I took it for a test drive, I was sold.  At first, I told my self that I wasn't going to mod this car.  I previously owned a fully built Mitsubishi Galant.  I was always into building something different.  Needless to say, I got bored.  I decided that I would just drop the car and be done with it.

Well, then came the rims.  The addiction had started again.  I began to look around for parts.  I knew that STILLEN had been making Nissan parts for a long time.  To my amazement, I found a whole bunch of parts for the Maxima.  I knew that I had to have everything that was out there for this car.  Fast forward about a year and the project is still going.  My future plans include a full air bag suspension setup from AirRunner systems.  A full custom audio setup is also in the works currently.

Just want to thank STILLEN for making awesome parts.  I hope there are more in the works.  I also wanna give a shout out to Revision Audio.  They have pretty much built my car from the bottom up.  Special thanks to Samson Mak, Derek Katayama, and Todd Oya for all of your help.
January 22, 2013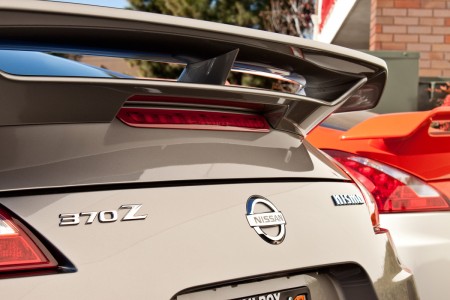 Towards the end of summer we received a phone call from a gentleman who lives in Northern California. He told us he has a Nismo 370Z and enjoys taking the car to Infineon raceway and was looking to make a few upgrades to make it a bit more enjoyable around the track. So, the car was sent to STILLEN with around 1,500 miles on the odometer with a fairly normal build sheet. We were going to install the supercharger kit, oil cooler, power steering cooler, and cat-back exhaust.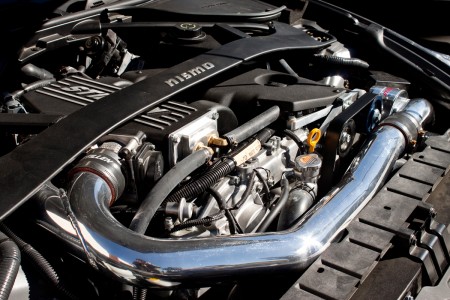 STILLEN Polished Supercharger Kit
STILLEN Custom Street 19 Row Oil Cooler Kit
STILLEN Power Steering Cooler Kit
STILLEN Cat-back Exhaust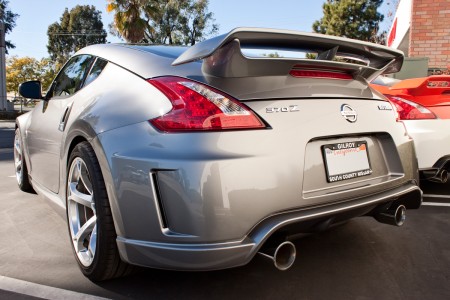 When the car arrived we received another phone call from the owner. He had decided to go ahead and add the ACT 370Z HDSS clutch along with the Aasco lightweight aluminum flywheel. We suggested that while the transmission was already out of the car it would be a good time to install the STILLEN short shifter as well and the customer agreed.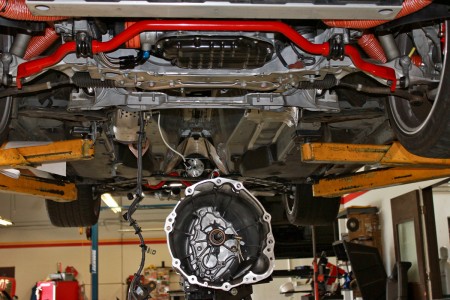 STILLEN Short Shifter
ACT HDSS Clutch Kit & Aasco Aluminum Flywheel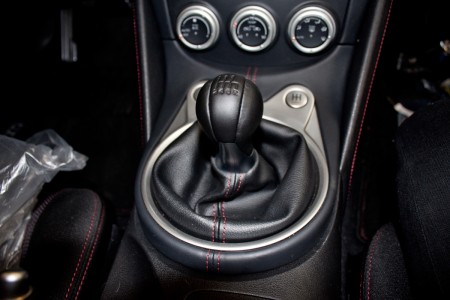 This was a pretty straightforward installation and one our guys have done hundreds of time so we quickly called the owner to let him know the car was ready to go. During this phone call the owner of the car mentioned how he had seen the videos of our red 370Z on youtube and he really liked our front fascia with the functional brake cooling kit as well as the STILLEN sway bars and AP Racing big brakes that were on the red STILLEN 370Z. So, we took one of our fascias over to our local painter and had them do a perfect color-match to the factory gun metallic body panels. We made the recommendation that if we were going to be pulling the wheels off and doing the big brake kit we should really do some H&R spacers as they will flush out the factory Nismo wheels perfectly. The customer agreed so a set of 15mm DRS wheel spacers were installed front and rear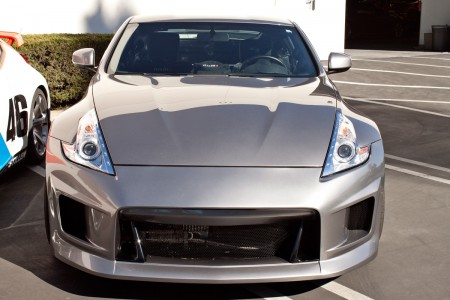 STILLEN Front Fascia with Mesh Grille
STILLEN Brake Ducts
STILLEN "Fangs" Brake Duct Inserts
STILLEN Sway Bars
STILLEN AP Red Front 6 Piston 14.25" Brake Kit
STILLEN AP Red Rear 4 Piston 13" Brake Kit
H&R 15mm DRS Wheel Spacers Front & Rear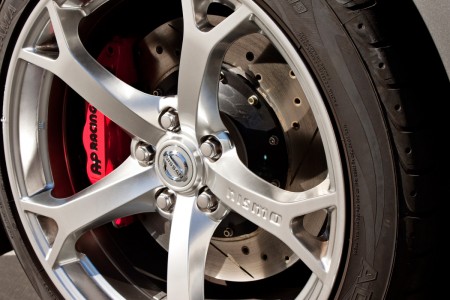 During this conversation the owner of this beautiful Nismo 370Z asked if we could install some gauges for him on the A pillar. This is a fairly common request, unfortunately though, no one actually makes an A pillar gauge pod for the 370Z. So, our talented technicians got together with our in-house design studio where all of our urethane body kits are made and developed this custom, one-off A pillar gauge pod equipped with Auto Meter boost and air/fuel ratio gauges along with a seamlessly integrated Auto Meter LED dimmer control box. To wrap up the project completely the owner of this now fully customized Nismo 370Z knew that the factory differential probably wouldn't survive long with over 500 horsepower when being pushed hard at a demanding track like Sears Point Raceway. So, a quick phone call was made to Kaaz USA where we sourced the 1.5 way limited slip differential.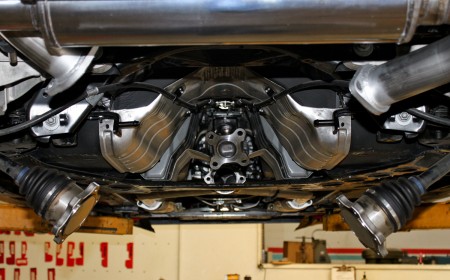 Kaaz 1.5 Way Super-Q LSD
Auto Meter Custom Full Length A Pillar Gauge Pod
Auto Meter Boost & Air/Fuel Ration Gauge
Auto Meter LED Dimmer Box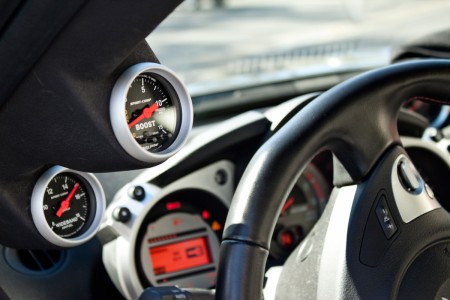 As you can see, this Nismo 370Z went from mild to wild in a short time! Now producing over 500 horsepower and well prepped for track day duty this car will be sure to turn some heads when blasting through the demanding road course. The owner of the car flew down yesterday and made the 350 mile road trip home. So, if you live near Northern California and you see this beautiful grey metallic Nismo 370Z pull next to you at the light…I'd recommend waving him on with a smile and a nod.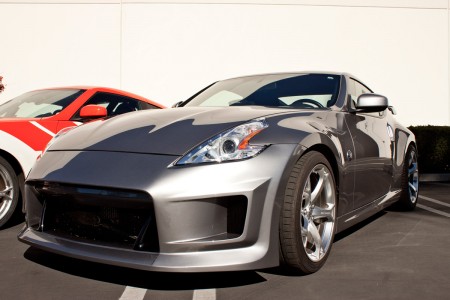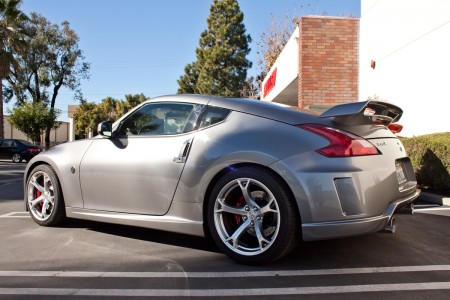 August 23, 2012
If you have been following our blog for awhile, you know we have been gearing up for the Dublin Nissan Hot Summer Dayz car show up in Dublin, CA for awhile now, and guess what? IT'S THIS WEEKEND!!! If you're in the area make sure you stop by and say hello to big red.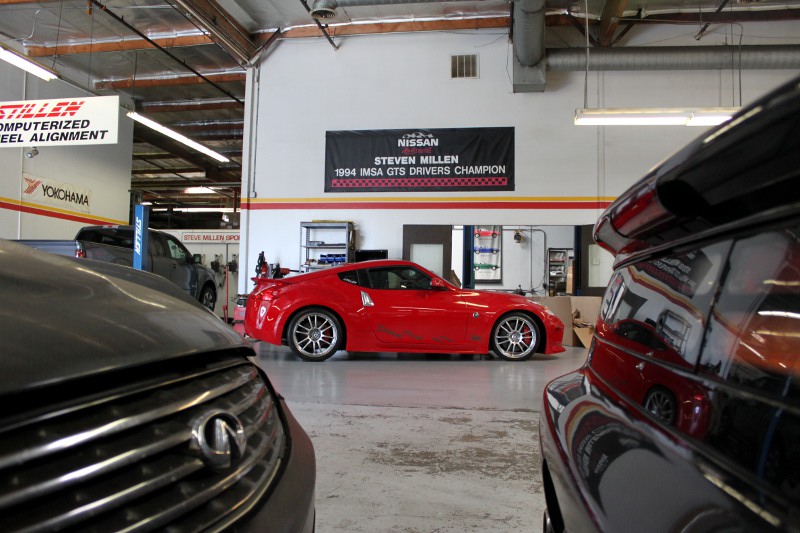 We are getting her all cleaned up just for the event.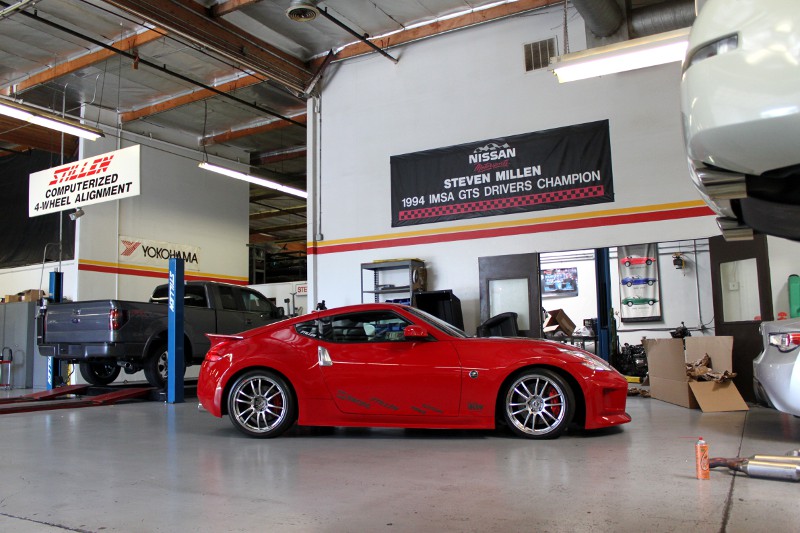 For more information on this event make sure you check out their website http://highoctanetuners.info/index.html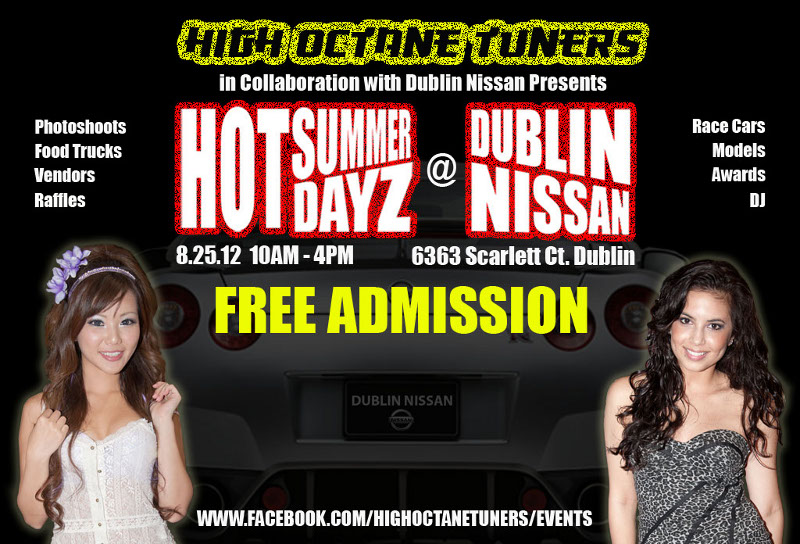 We can't wait to see you there.
August 20, 2012
After sifting through literally 100′s of designs we have narrowed it down to the TOP 5… and boy was that difficult.
There were plenty of exceptional designs and we have spent hours debating the pros and cons of each.  Now it's your turn to tell us what you want….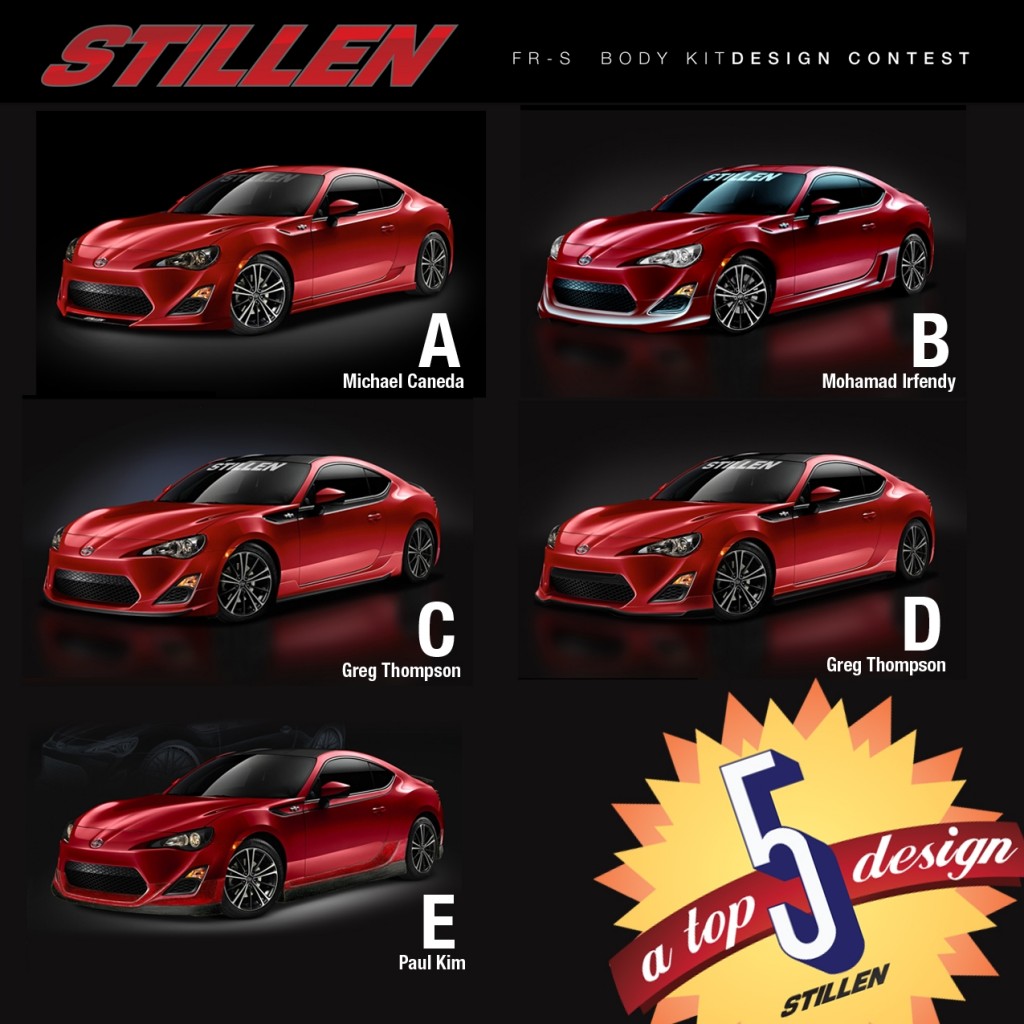 Click here to vote or you can click the image. Either way, we WANT YOUR VOTE!!
August 14, 2012
Muscle cars are built for one reason and one reason only… to go fast! While doing burnouts and donuts in the local empty parking lot is always fun, it's not necessarily legal. In the case of this Ford Mustang, the owner wanted to take the "go fast" concept to a whole new level and build his mustang to be a drag strip king so he could have as much go fast legal fun that he wanted.
Upon first glance this pony looks relatively stock.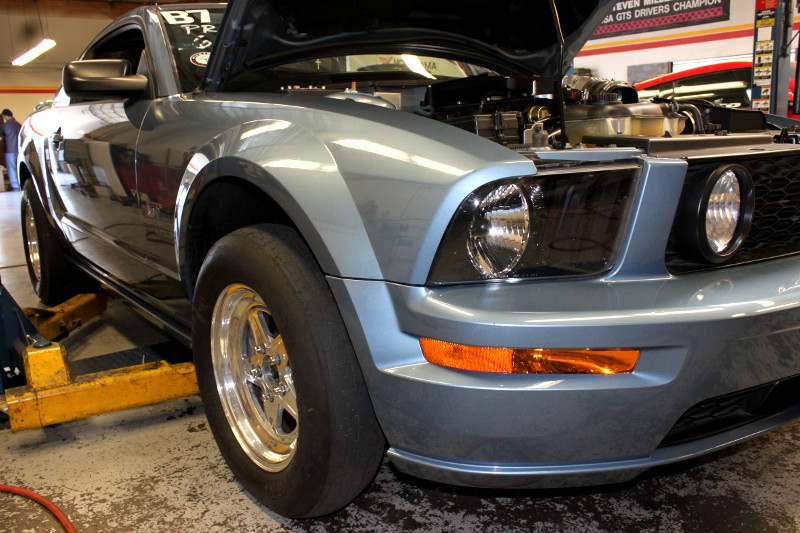 "stock" until you notice the full set of slicks that the car is sporting. This isn't one of those weekend warrior mustangs that just throws a set of slicks on to impress the slowpokes in the bracket racing classes. This thing is build for speed…
Check out the gutted interior and cagework.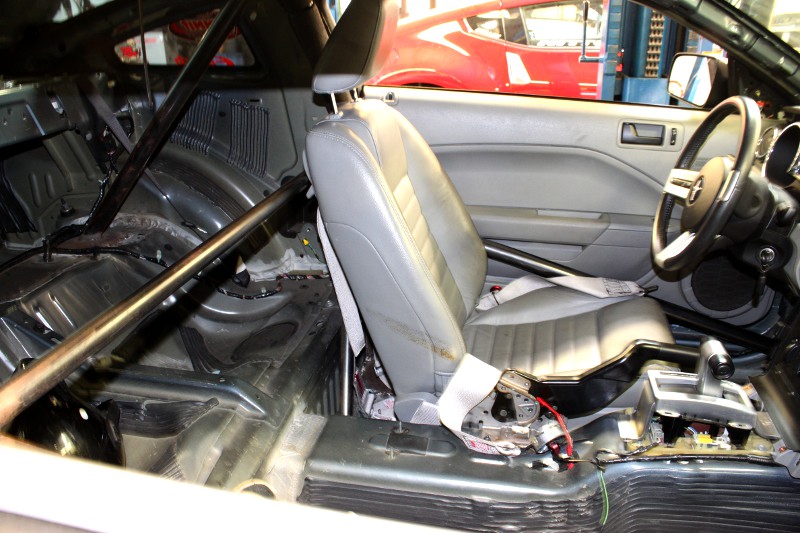 The stock drivers seat helps keep the "sleeper" look but the roll cage and harness that are part of it are hints that this thing can move.
And speaking of moving… how about a SALEEN blower?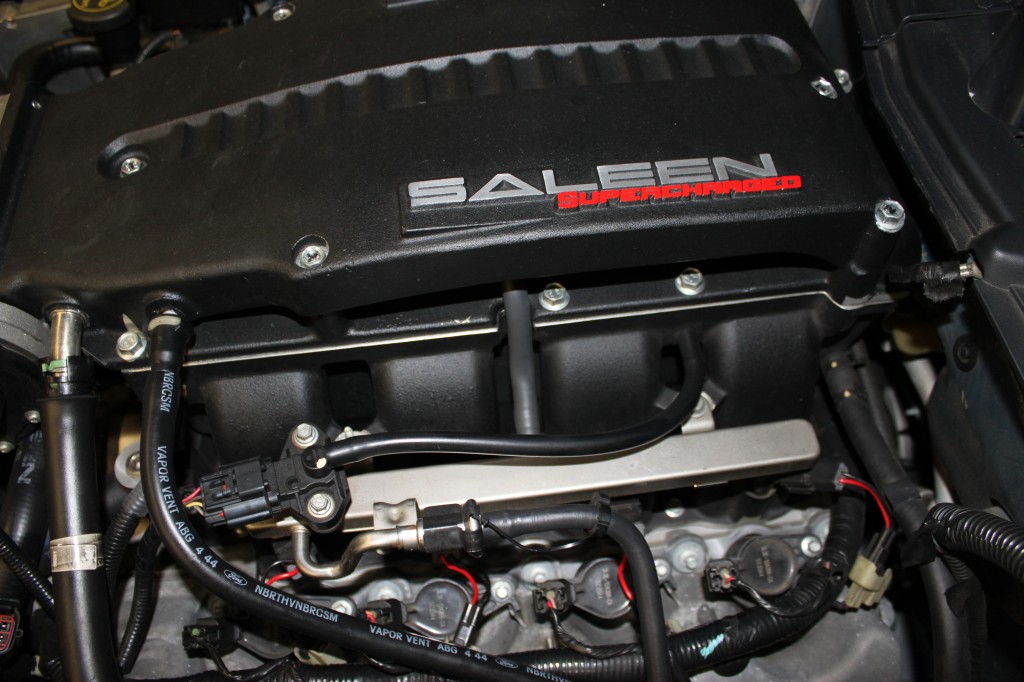 While I don't have all the details on what's in the motor. I hear this car can do 9′s in the 1/8th mile at 109 and lifts the tires all the way through 1st.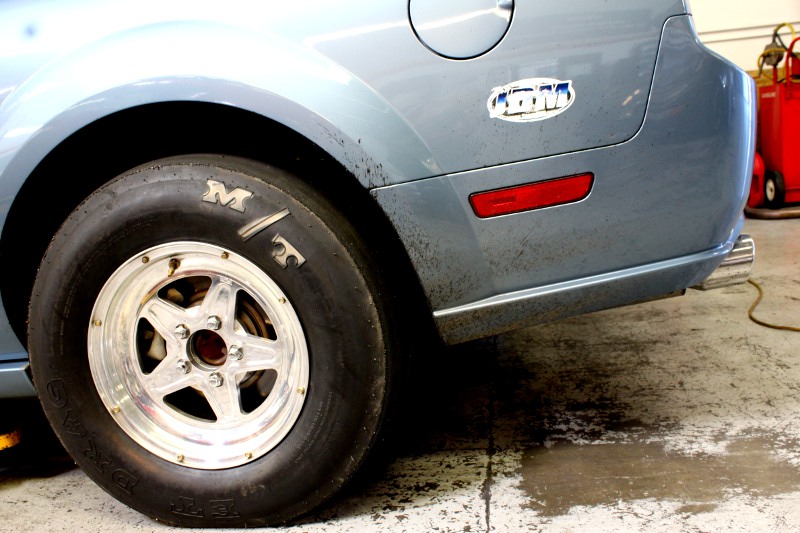 Evidence of a weekend well spent.
Since the customer was so satisfied with our supercharger install and tune, he drops the car off to us on a regular basis to make sure we take care of all the maintenance on this pony as well.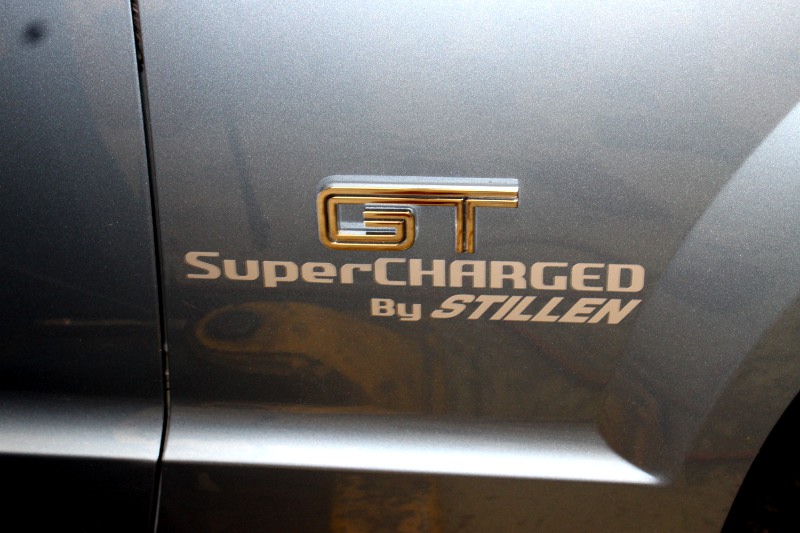 Feel free to give us a call at anytime if you have any build questions or need to dial in your pony to rule the street or strip.
STILLEN Performance Center
(866) 250-5542
sales@stillen.com
3176 Airway Ave.
Costa Mesa, CA 92626