January 10, 2014
Our friends from Lloydminster Nissan are one of the dealerships that we are proud to have in the STILLEN dealership network. Recently, they put together a project Titan with the results being a truly spectacular looking truck. They sent over a few shots for us to take a look at.
The Lloydminster Nissan team started out by adding a STILLEN Dual Exhaust and Cold Air Intake which not only helps gain H.P., but also improves the airflow efficiency in and out of the vehicle. Making the finest performance parts for Nissan cars and trucks has become an obsession for our staff for over 25 years here at STILLEN. We take a huge amount pride in the quality and craftsmanship we put into each and every product that ships out of our facility, and stand firmly behind every one of them. One of the biggest compliments and testaments to the quality of our products is when a dealership like Llodyminster Nissan not only sells our products in their showroom, but also makes it a point to run our products on their own dealership vehicles.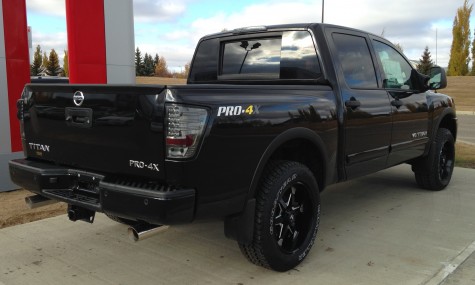 Next, they took on what to do with the wheels and tires and we think they have hit it out of the park with a set of Hostile Knuckles 20 x 9 wheels, and Goodyear Silent Armour 275 60R20 Tires.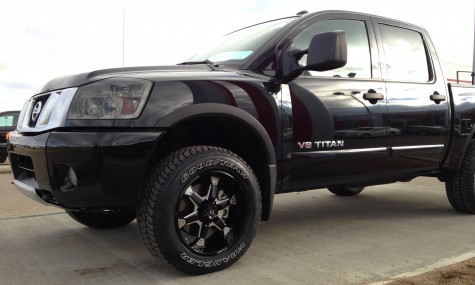 Just to make sure other vehicles can see the truck coming… and going past them, they added Xtasy Halo black headlights and smoke taillights as well as a Rigid "E" Series 20" light bar.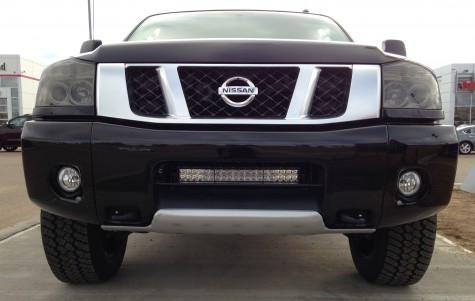 Finally, a PRG Products 1.5" leveling kit was added to balance out the factory ride in addition to installing a Sprint Booster which aims to overcome throttle response delay for ECT-equipped vehicles, providing crisp on-tap acceleration at the driver's disposal. We think they have put one incredible looking truck together.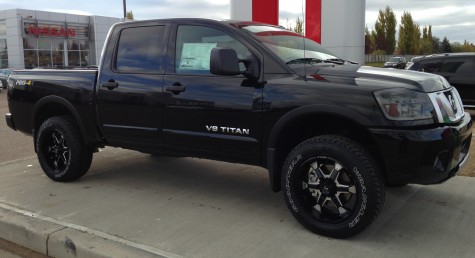 As you can see, the folks over at Lloydminster Nissan are really getting creative with their vehicles and are doing a great job of utilizing all of the assets they have at their disposal. If you are in the area, stop by and see what they've come up with for their latest creation and see what they can do for you.
Lloydminster Nissan is located at 5115 25 St., Lloydminster, AB T9V 3G2. Sales: 1 (888) 273-4071
Additionally, if you have any questions about the STILLEN performance parts that were used, please be sure to contact us at www.stillen.com or by calling 866-250-5542.
December 26, 2013
If you live in the Plano, Texas area, and you're in the market for an Infiniti luxury vehicle, you owe it to yourself to stop by and visit Crest Infiniti. Not only do the guys at Crest Infiniti carry the best cars in the performance luxury vehicle segment, they also understand what it's like to be enthusiastic about those cars. These guys know performance! When the new Infiniti Q50 came out, they immediately saw that what they had was an opportunity to build to the awesome platform that Infiniti had given them, and take it to another level with appropriate, but distinctive modifications.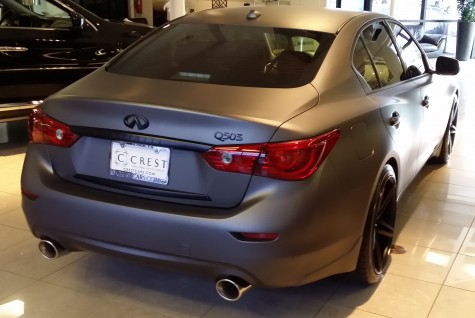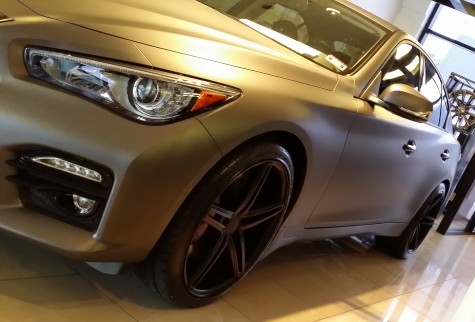 The Infiniti Q50 is already a great looking car. Right out of the gate it's one of if not the most exciting car in its category. From the factory it has incredible styling that is aggressive, yet refined with a strong fascia accentuated by the large grill, menacing headlights and wide stance. Yet somehow, at the same time, the car retains a sense of elegance and class. Not only did Infiniti install their fantastic VQ37 3.7 liter V6 engine producing 328 horsepower between the frame rails, but they took it a step further and actually made hybrids exciting! The hybrid model comes with the tried and true VQ35 3.5 liter V6 and when mated to the state of the art hybrid technology, the car is rated at 360 horsepower! Who thought we'd live in a world where hybrids were exciting!!!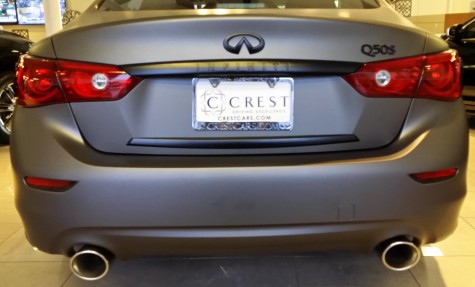 When the team at Crest Infiniti got a hold of this car they knew they had to do something special and do something to take it even further than Infiniti had already managed to. When a car is this new, it can be a challenge to accomplish that, as it takes a while for everyone else to keep up. Fortunately, we were able to support the designers at Crest Infiniti with the STILLEN Infiniti Q50 cat-back exhaust.  Once the exhaust was completed the car received a matte black wrap along with a set of Vossen CV5S wheels to round out the build.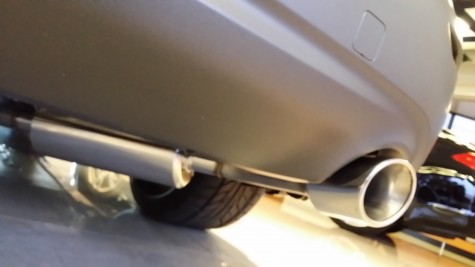 Where to Find the Infiniti Q50 with STILLEN Cat-Back Exhaust
Crest Infiniti has been a trusted STILLEN dealer since 2005 and continues to impress us with each of their project vehicles! If you have any questions about this car, be sure to contact the Crest Infiniti dealership in Plano, Texas for more information. Additionally, if you live in the McKinney, TX area and are looking to customize your car or truck, be sure to contact Whiteside Customs. They did a fabulous job on this Q50! Finally, if you have any questions about the STILLEN performance parts that were used, please be sure to contact us at www.stillen.com or by calling 866-250-5542.
December 20, 2013
It's always exciting for us when we speak with a dealership who understands the real purpose of a car.  The purpose of a car isn't the same as what we do with our cars, or what we use our cars for.  We use our cars to get us from point to point.  We use our cars to haul our families around.  We use our cars to get groceries.  However, the purpose of a car is to enjoy life.  The purpose of a car is to get us from point to point, quicker.  The purpose of the car is to enjoy the road trip with our families.  So to fully enjoy life – and your car at the same time, it's important you work with a dealership that understands how much the true joy of owning an Infiniti Q60 can bring to someone.  Enter Auto West Infiniti of Richmond, British Columbia.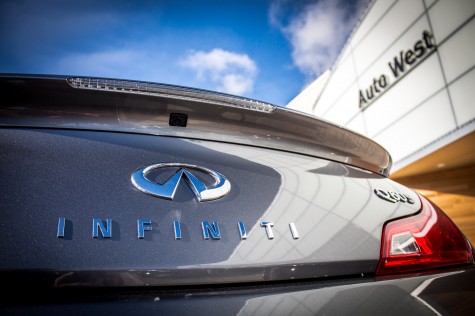 Auto West Infiniti clearly understands what life is all about.  Not only do they sell the highest level of luxury performance cars having chosen the Infiniti franchise, but they have also chosen to outfit those cars with STILLEN performance parts to further enhance the new owners excitement about driving such an awesome car like an Infiniti Q60.  We've decided to do a spotlight on the latest creation by the team at Auto West Infiniti.
Their designers started out with a 2014 Infiniti Q60 XS package.  From there, the master techs in their service department installed the STILLEN Gen 3 Infiniti Q60 cold air intake, STILLEN Cat back exhaust system for Infiniti Q60 with dual wall tips, Infiniti Q60 Eibach Lowering Springs, 20″ Infiniti Accessory Wheels and to preserve the factory bumper, the STILLEN no drill license plate holder.
The end result is this stunning example of what is possible when you head to a dealership who truly understands the reason for owning a high performance luxury vehicle like the Infiniti Q60!  We would like to say great work to the guys at Auto West Infiniti!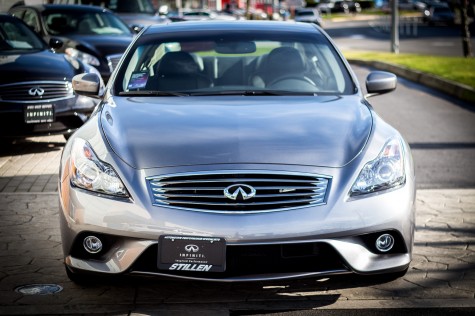 Infiniti Q60 STILLEN Parts List
Where to Find the STILLEN Infiniti Q60
If you have any questions about this car, please be sure to contact the Auto West Infiniti dealership in Richmond, British Columbia for more information. Likewise, if you have any questions about the parts that when into the STILLEN Infiniti Q60, please contact us by visiting www.stillen.com or by calling (866) 250-5542.
October 17, 2013
The number of Nissan Infiniti Canadian STILLEN dealers keeps increasing and quite a few of them have been customizing some great cars with STILLEN products. Of the Canadian STILLEN dealers, Tony Graham Infiniti Nissan in Nepean, Ontario, is no exception. Not only do they carry and display STILLEN product right in their showroom, but the team at Tony Graham uses STILLEN aftermarket parts to modify and customize their vehicles, most recently, a 2014 Nissan Juke and a 2014 Infiniti Q60 S AWD.
In a growing number of Nissan and Infiniti dealers like Canada's Tony Graham Infiniti Nissan, you can walk right into the showroom and see the latest STILLEN products available for your vehicle.
STILLEN Equipped 2014 Infiniti Q60 S AWD
The STILLEN Generation 3 Ultra Long Tube Dual Intake Kit is a cold air intake that allows for optimum cold air flow resulting in a significant increase in horsepower and torque. Combine this cold air intake with the STILLEN stainless steel cat-back exhaust system for the 2014 Q60 S and you will unleash even more power out of the VQ37 motor while generating an authoritative, yet pleasing, exhaust tone.
2014 Infiniti Q60 S AWD Aftermarket Parts Include:
20″ Infiniti Accessory Wheels with Toyo Proxes 4 Plus Tires
Genuine Infiniti Midnight Black Grille
STILLEN Equipped 2014 Nissan Juke
The STILLEN 2014 Nissan Juke Cat-back exhaust system is a mandrel bent, stainless steel system that not only looks and sounds good, but has shown dyno-proven increases in horsepower and torque.
The Tony Graham crew did a beautiful job adding a few subtle exterior touches, including new 18″ SPYN Wheels, Eibach Pro-kit lowering springs and a carbon fiber wrap on the hood, side mirrors and rear spoiler.
2014 Nissan Juke Aftermarket Parts Include:
Eibach Pro-Kit lowering springs FWD (also available for AWD)
18″ SPYN Alloy wheel and Yokohama tire package
Genuine Nissan Accessory Spoiler
Custom Carbon Wrap on Spoiler, Hood and Mirrors
Canadian STILLEN Dealer: Tony Graham Infiniti Nissan
Weather you purchase a vehicle from Tony Graham Infiniti Nissan already equipped with STILLEN performance parts or bring your vehicle in to their top notch service center for an install, you can rest assured knowing that this Canadian STILLEN dealer is aftermarket friendly and will give your modified car the treatment it deserves.
If you are in the Ontario area looking pick up STILLEN product from one of our Canadian STILLEN Dealers, visit our good friends at Tony Graham Infiniti Nissan for all your STILLEN performance part and accessory needs.
Tony Graham Infiniti Nissan
2185 Robertson Rd
Nepean, Ontario
K2H 5Z2
(613) 596-1515
http://www.tonygrahamnissan.com/
http://www.tonygrahaminfiniti.com/
Twitter: @TonyGrahamAuto
Facebook: www.facebook.com/tonygrahaminfinitinissan
All photos courtesy of Tony Graham Infiniti Nissan
March 22, 2013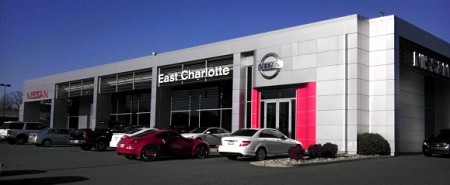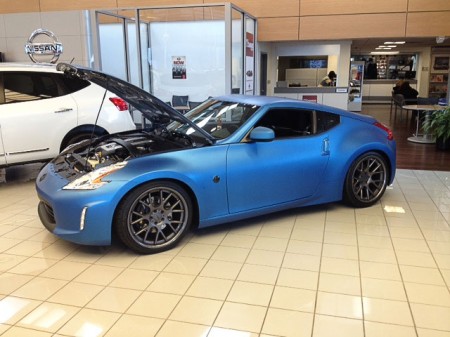 The good folks at East Charlotte Nissan in North Carolina recently built their first full customized 370Z and came to STILLEN to get the proper parts for the build. They started out with a new 370Z and wrapped it in matte blue vinyl, blacked out the emblems and tinted the windows.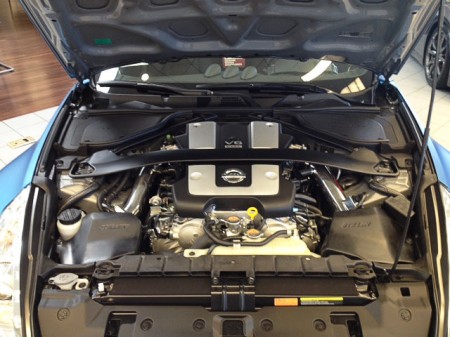 To add a little more horsepower into the already capable VQ37 motor, a full cat-back exhaust system went in along with the STILLEN Generation 2 Long Tube Dual Intake Kit.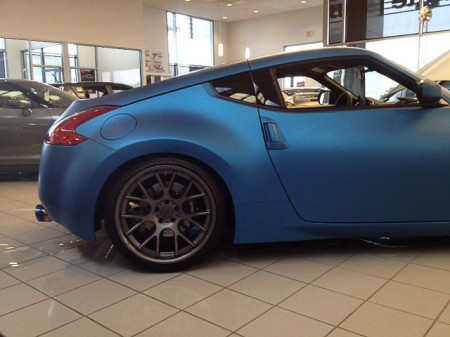 To harness the 370Zs newly acquired power, an AP Racing Big Brake Kit went in behind some 20″ Vossen VVSCV2 wheels fitted with Nexum tires. Eibach Lowering Springs were then installed to fill in the wheels wells and increase handling performance.
An ECU tune is also planned for the 370Z in the near future, but until then it currently sits on the showroom floor of East Charlotte Nissan and is available for purchase.
If you are interested in this blue beauty or looking for a local place in North Carolina to get STILLEN products for your Nissan, give the trained professionals at East Charlotte Nissan a call or visit their website at http://www.eastcharlottenissan.com
East Charlotte Nissan is located at 6901 Independence Blvd. Charlotte, NC 28227.
Sales: 866-814-1195
Service: 866-342-5655