March 31, 2014
Every so often we get a car come through the performance shop that is BIG news here at STILLEN and that happened just a few weeks ago with an Infiniti G37x. It all started a few months ago when one of our performance specialists took a call from a potential customer about a supercharger for a G37x. Over the course of a few months, the performance specialist worked with the customer making suggestions and answering questions until the customer was completely confident in his purchase. By this time, this car had transformed from a very nice G37x into many employees' dream car.
The Infiniti G37x Wish List
This customer is a professional mountain bike racer, who also manufactures mountain bike and motorcycle performance parts. He wanted to make sure that he could modify a G37x to handle and perform as close to a GT-R as possible. To achieve his dream, he was looking to combine GT-R performance with the luxury and practicality of a sedan. Therefore, speed, handling and braking were of utmost importance to him. This car needed to be able to perform and handle the way everyone dreams a sports car will handle, but also be reliable so that the customer could drive on a variety of services with confidence. That meant that he was looking to upgrade the car's power, suspension, braking and also had to make sure he had all of the other performance upgrades necessary to ensure the other aspects of the car were ready for the modifications that were being made.
Performance Upgrades
Supercharger
Parts: STILLEN 407730 Supercharger System, STILLEN 400338 STD Crank Pulley
Since additional horsepower was what had originally drawn the customer to STILLEN, we wanted to make sure we got him set up with the perfect blower for his car.  We recommended the STILLEN Supercharger for Infiniti G37, which comes in a polished or satin finish. This customer elected for the satin finish. While we haven't dyno tested this customer's car, this blower has previously been tested during development to output over 500 horsepower.
Cooling Kits
Parts: STILLEN 400740 Transmission Cooler, STILLEN 400632 Gold Oil Cooler
While power is important, so is longevity. Since this was also one of the customer's concerns, we recommended he add a STILLEN transmission cooler and STILLEN oil cooler to the car. The transmission cooler will help preserve the car and help with power during hill climbs. The oil cooler will help keep the oil at the right temperature to make the supercharger last.
Coilover Shocks
Part: BC Racing BCRV-08U BR Serues  Coilover Shocks*
Since this customer's vehicle is all wheel drive (AWD), our shock selection was admittedly slim. That being said, we found a solid option in the BC Racing coilover shocks. With their swift spring upgrade, it allowed the customer to get a higher quality shock with a more consistent spring rate. These coilover shocks also feature less coils per spring rate, which allow for a larger spoke and better travel.
*Note: These coilover shocks are not available online. Please call 866-250-5542 for more information.
Sway Bar
Part: STILLEN 304375 Adjustable Sway Bar Kit
Being an experienced driver that wants to enjoy a thrill when he drives, this customer was looking for a bit more oversteer than the stock sway bar could provide. With that in mind, we recommended that the stock sway bar be replaced with a STILLEN adjustable sway bar for G37X. This sway bar is made from high strength aircraft grade steel and is specially designed to reduce body roll and improve cornering.
Grounding Kit
Part: STILLEN 606358R Grounding Kit
With all of the upgrades being made to the car, we wanted to make sure that the electrical components were as optimized as possible and the customer agreed. To do this the sales representative recommended a grounding kit be added to the vehicle.  By adding this feature, it will allow the electrical system to work better, allowing the customer to enjoy all the performance benefits of the upgrades he had made.
Cat-Back Exhaust
Part: STILLEN 504377 Cat-Back Exhaust
The STILLEN cat-back exhaust was added for performance gains and sound improvement. Like our other STILLEN exhausts, it features a mandrel bent 304 stainless steel construction and boasts the trademark STILLEN sound that is mild while cruising, but becomes more aggressive as you accelerate.
Big Brake Kit
Parts: AP AP5700R-X Front Brake System, AP AP3752R-X Rear Brake System
When your car packs as much power as this Infiniti G37, it's important to make sure that it has the necessary stopping power to safely slow the car down. In this case, stock brakes just weren't going to cut it. That's why we recommended the cross drilled and slotted AP Racing Brake Kit, which are known for being the top big brake kit manufacturer in the industry.
Wheels
Parts: TSW 1985NUR455114S76 Nurburgring Wheel, TSW 1995NUR415114S76 Nurburgring Wheel*
To complete the makeover, we suggested the customer go with a set of TSW wheels.  This was because the customer's existing wheels would not fit the big break kit that was installed and because he wanted a sportier look with better functionality. Additionally, these wheels have a rotary forged design, which maintains strength and durability, while being light weight.
*Note: These wheels are not available online. Please call 866-250-5542 for more information.
The Results
After the dust settled from all the upgrades were made, the customer was extremely happy with the power and performance he's now getting from the car. As you can imagine, his car has plenty of power and torque to meet his goal of turning his G37 into a four-door GT-R. He's also loved the suspension adjustments that were made with the sway bar and coilover shocks – it's handling wonderfully for him. Plus, he gets to enjoy the stealth factor when street driving. Other drivers have no idea how fast his car can go until he chooses to leave them in the dust!
Check out the slide show below to see the full transformation this car made!
Next Steps
If you have any questions about the Infiniti G37 parts above or want to explore upgrading your car, please contact one of our performance specialists at 866-250-5542. We will be happy to answer any questions you have about our parts, make suggestions of upgrades to make to get the most out of your vehicle, or schedule an installation appointment for you.
February 4, 2014
STILLEN is pleased to announce the release of our new website, www.apradical.com featuring information on our brand new line of AP Racing Radi-CAL Big Brake Kits by STILLEN.  The micro-site has been designed with the user in mind with user-friendly navigation, bold colors, stunning photography as well a contemporary design. The newly designed Web site went live January 31st, 2014.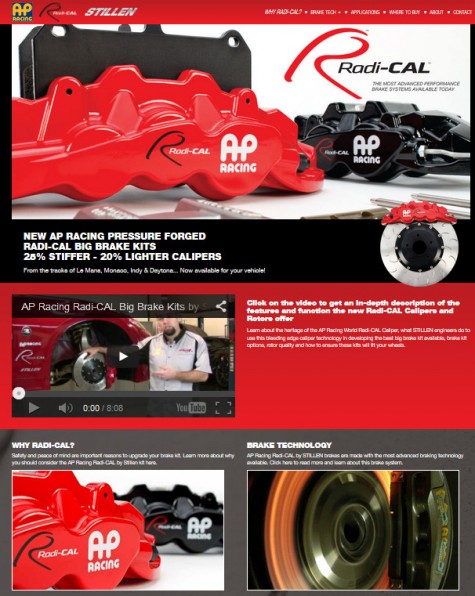 Design, Functionality, Technical Information & More
The site has been broken down into several sections that clearly highlight the different features, functionality, applications and technical information on the kits. It features expanded content and streaming media including an in-depth video filmed in the STILLEN performance garage. Also included is an "About Us" page that provides information on both of the major companies involved in the production of these big brake kits, AP Racing and STILLEN, as well as an applications page in which every viewer can see the list of vehicles this braking system is available for.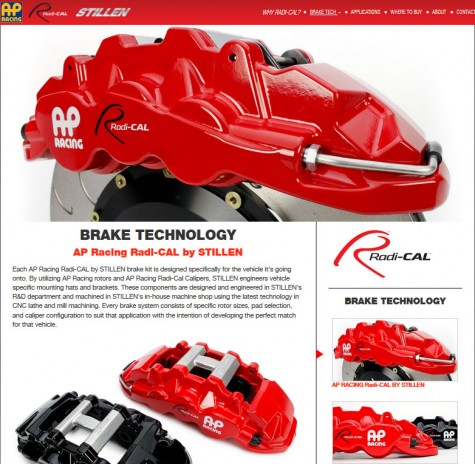 The apradical.com site aims to extend its reach to a broad audience of brake professionals, enthusiasts and wholesalers. Online visitors will now experience a more vibrant and seamless view of the entire Radi-CAL Big Brake Kit system with photography showing the calipers and discs in fine detail.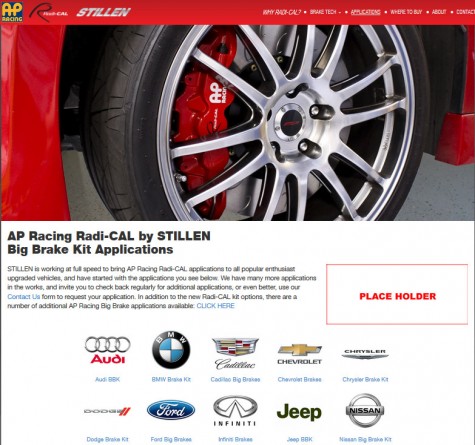 In addition to the huge catalog of beautiful photography, the micro-site showcases pages of technical information our customers have been asking for since we released these brakes at SEMA last year. The site has been organized to provide quick and direct access to all of these resources for all audiences.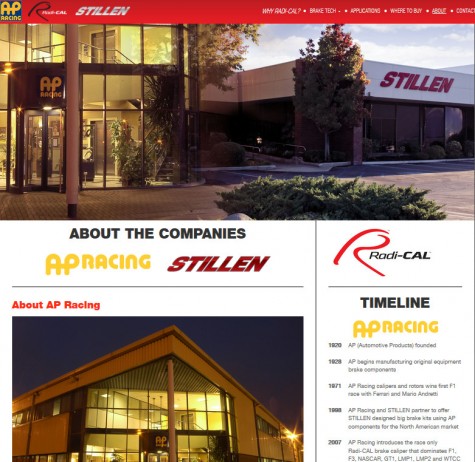 AP Racing Radi-CAL BY STILLEN Informational Video
Learn More About AP Racing Radi-CAL by STILLEN
For more information about the AP Racing Radi-CAL brake kit by STILLEN and to read our full white paper on the Radi-CAL, please visit our website or call us at 800-576-2120 and we will be happy to answer any questions you have! Be sure to check back regularly for information on new applications and to check out new images and reviews from our happy customers!
June 29, 2012
STILLEN is proud to announce the release of the AP RACING 4 Piston and 6 Piston Big Brake Kit for the Scion FR-S and Subaru BRZ.
The 4 Pisont front kit under part number AP3120 uses a 330x28mm two piece disc and you have the option of getting either crossed drilled and slotted or just Slotted. You also have 2 color options when it comes to the 4 piston caliper: Red, or Black will look really nice in the wheel well of any BRZ / FR-S.
RED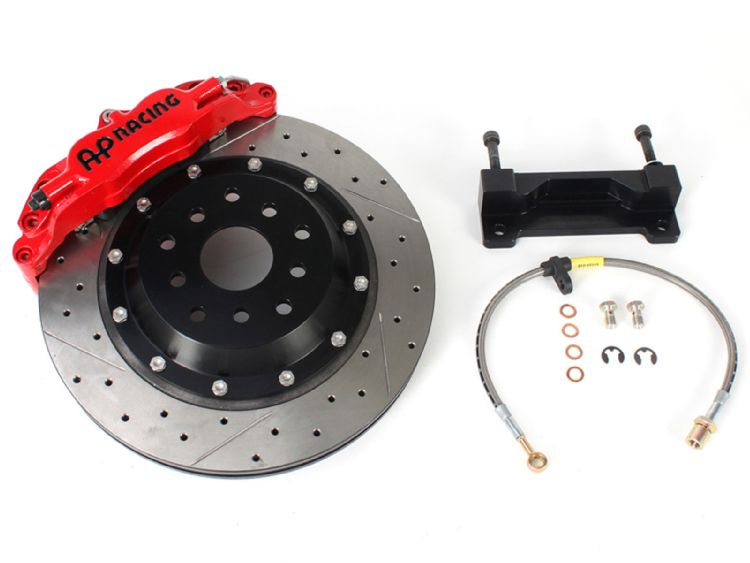 BLACK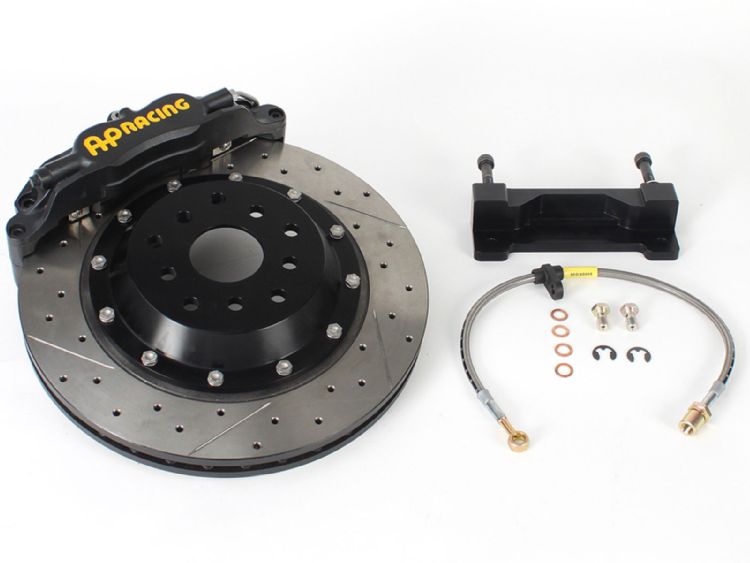 If you're looking for the next level of braking performance we also offer the AP6100 6 Piston kit.
The  AP6100 kit uses the AP RACING 6 piston caliper with larger 355x32mm two piece discs. You also have the option of three different Caliper colors, and two rotor styles.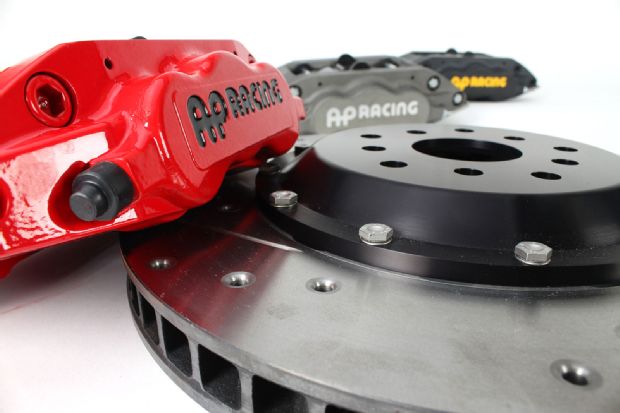 As you can see, we also offer the Slotted and Drilled, or just Slotted rotor options for the AP 6100 brake kit rotors.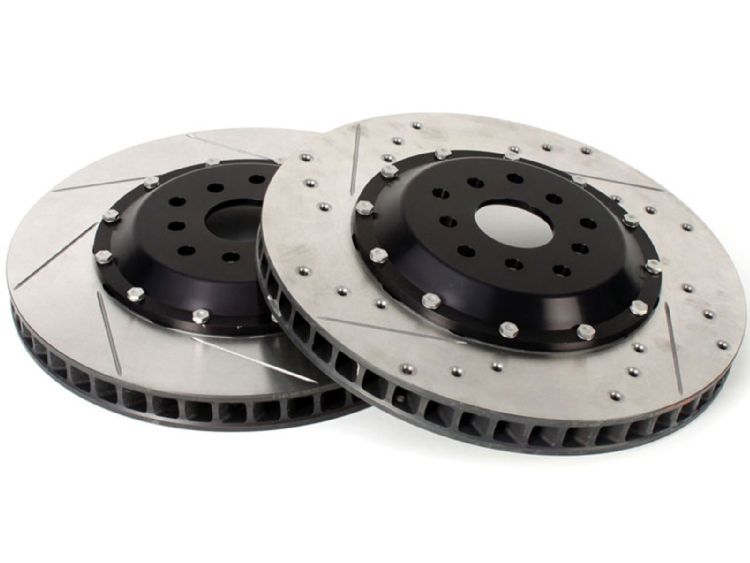 Both of these AP RACING kits bolt up to the factory locations and are designed to work well with the factory ABS systems and brake master cylinder. They also feature dust seals over each caliper piston to ensure reliability and high performance for as long as you own your vehicle.
If you have any questions or would like more information on the BRZ / FR-S AP racing Big Brake kits please give us a call
(800) 891-1058
May 3, 2012
There are a handful of cars in this world that will make any enthusiast stop what they are doing and admire the "collection of parts" in front of them. Those cars will always hold a special place in just about any enthusiasts heart. While there aren't many nameplates that can make just about any enthusiast stop in their tracks, anything with COSWORTH in it's name will always fall into that category. Today, SPEEDHUNTERS.com featured a very special Ford Focus RS Cosworth that spared no expense with the level of quality and detail that went in to the car.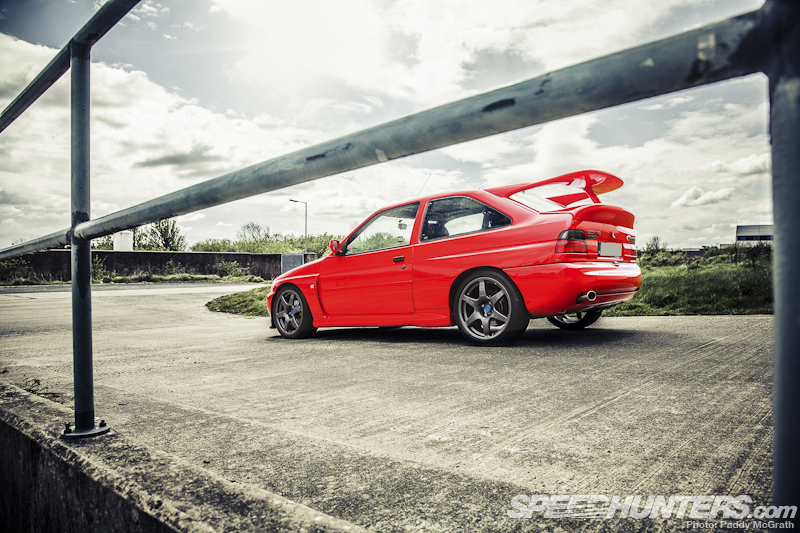 As you can see, this COSWORTH has been meticulously prepared and every area had either been rebuilt or improved. This holds true even with the brakes.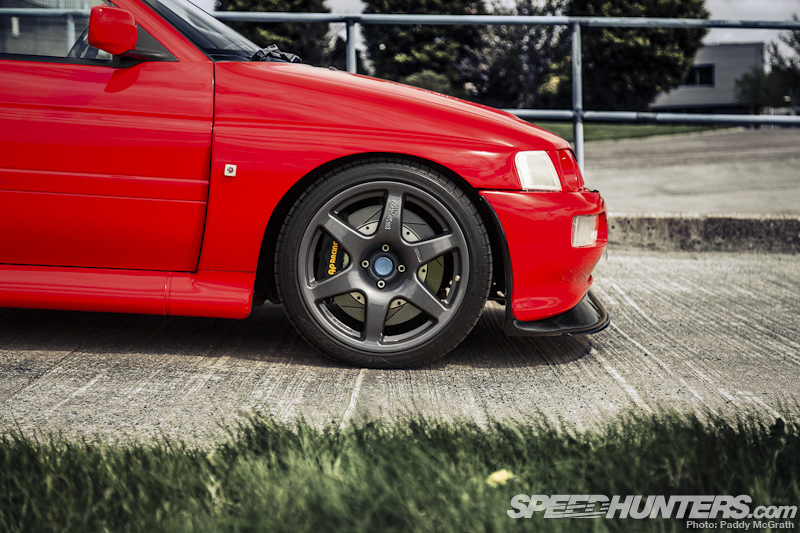 The factory brakes were ditched and replaced with AP Racing Six Piston Front Brakes with Reyland Floating Alloy Bells.
The quality and beauty of this car is hard to ignore and so are those 6 piston AP RACING brakes and 365mm discs.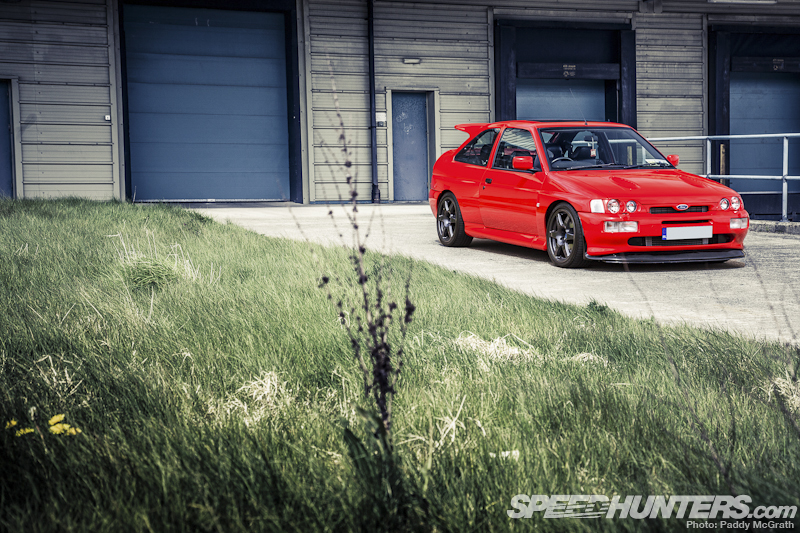 You can catch the rest of the article here…
SPEEDHUNTERS.COM THE LADY IN RED
And for more information on our line up of AP RACING products.. don't hesitate to pay us a visit.
STILLEN.COM AP RACING PRODUCT PAGE 
April 26, 2012
Since we do have a special running our AP RACING products this month, I figured it would be fitting to give you 4 more reasons why AP RACING should be your first choice when it comes to Big Brake upgrades for your car.
Two year's ago, ROAD AND TRACK magazine featured an article that immediately struck a chord with me and I still read that article to this day. They compared the fasted production cars on the road (at that time) vs. their ALMS beefed up twins. What made this article so interesting to me is that the cars in the ALMS (American Le Mans) field are completely based off their production siblings. The ALMS cars use the same motors, drivetrain, and body parts as their street car siblings that come off the assembly line, just much more beefed up. In fact, some of the racecars actually have LESS horsepower than their street ready siblings, go figure.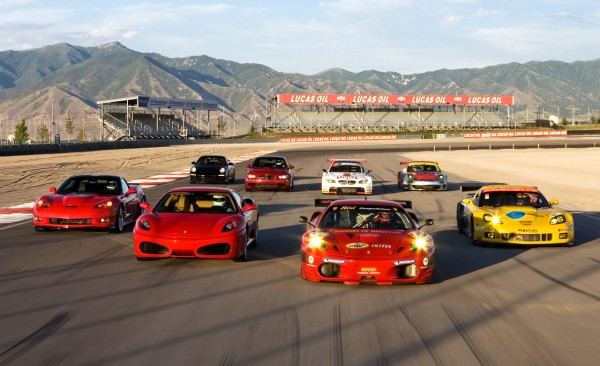 Because the ALMS cars are restricted to use the factory drivetrain layouts, and body componenets (plus some aero components) as their street siblings, you can imagine how competitive this series can be. In order to gain an advantage on the guy next to you, you have to make sure your car uses the highest quality components in every area possible. Every part of the car has to perform at the highest level and this includes the brakes. I was shocked to see that 4 out of the 5 ALMS cars tested dumped their factory big brake options and ran AP RACING.
First up we will start with Team BMW…
The AP RACING big brake upgrade is actually a very popular upgrade with BMW enthusiasts who frequently track their vehicles.
Next up, we have Ferrari… yes Ferrari! The F430 GTC Michelloto team opted to ditch their factory Brembo option and go with an AP RACING J-Hook upgrade.
Ferrari weren't the only guys who opted to ditch Brembo for some
AP RACING goodies
…. Porsche also followed that tried and true formula.
Lastly, we have the extremely competitive Team Corvette…
IF you noticed the lack of a big
AP RACING
sticker on the side of these cars don't be alarmed. That just suggests that these teams ACTUALLY paid for their brake set up and didn't get persuaded into running something inferior in hopes of a kick back for a sticker placement.  If those aren't 4 big reasons why you should consider
AP RACING
as your first choice for
big brakes
, I'll leave you with this….  Since Formula 1′s inception in 1967 AP RACING has tallied up over 228 wins with cars running their brakes.  (That's at least 5 wins a year since the beginning of Formula 1)
If you have any questions regarding applications for your specific vehicle, feel free to give us a call at anytime.
(800) 891-1058