February 4, 2014
STILLEN is pleased to announce the release of our new website, www.apradical.com featuring information on our brand new line of AP Racing Radi-CAL Big Brake Kits by STILLEN.  The micro-site has been designed with the user in mind with user-friendly navigation, bold colors, stunning photography as well a contemporary design. The newly designed Web site went live January 31st, 2014.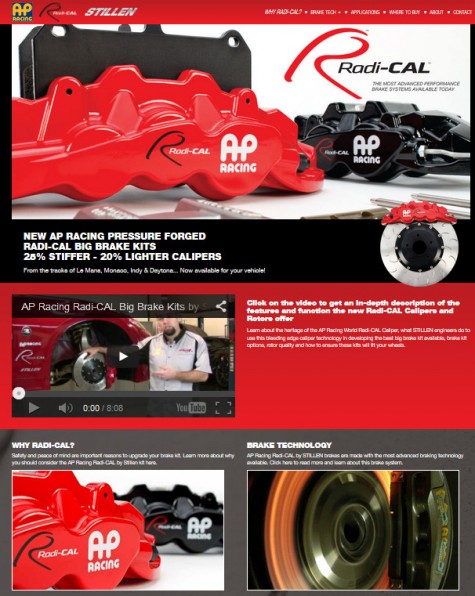 Design, Functionality, Technical Information & More
The site has been broken down into several sections that clearly highlight the different features, functionality, applications and technical information on the kits. It features expanded content and streaming media including an in-depth video filmed in the STILLEN performance garage. Also included is an "About Us" page that provides information on both of the major companies involved in the production of these big brake kits, AP Racing and STILLEN, as well as an applications page in which every viewer can see the list of vehicles this braking system is available for.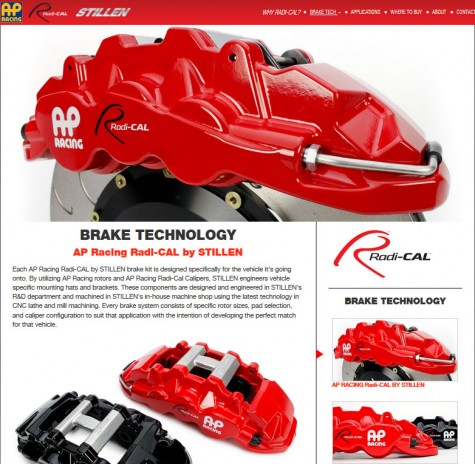 The apradical.com site aims to extend its reach to a broad audience of brake professionals, enthusiasts and wholesalers. Online visitors will now experience a more vibrant and seamless view of the entire Radi-CAL Big Brake Kit system with photography showing the calipers and discs in fine detail.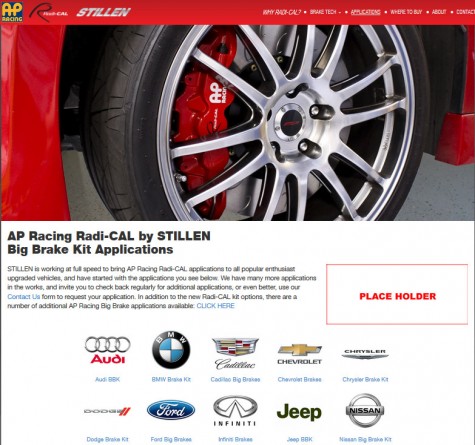 In addition to the huge catalog of beautiful photography, the micro-site showcases pages of technical information our customers have been asking for since we released these brakes at SEMA last year. The site has been organized to provide quick and direct access to all of these resources for all audiences.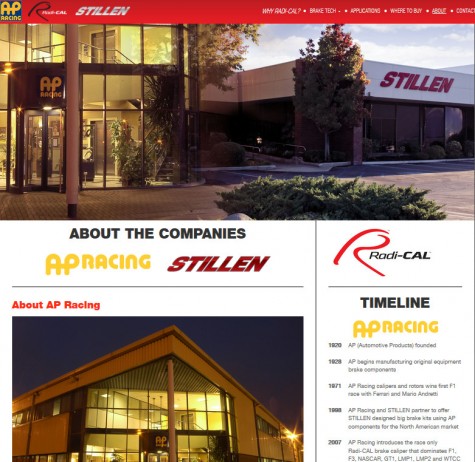 AP Racing Radi-CAL BY STILLEN Informational Video
Learn More About AP Racing Radi-CAL by STILLEN
For more information about the AP Racing Radi-CAL brake kit by STILLEN and to read our full white paper on the Radi-CAL, please visit our website or call us at 800-576-2120 and we will be happy to answer any questions you have! Be sure to check back regularly for information on new applications and to check out new images and reviews from our happy customers!
June 29, 2012
STILLEN is proud to announce the release of the AP RACING 4 Piston and 6 Piston Big Brake Kit for the Scion FR-S and Subaru BRZ.
The 4 Pisont front kit under part number AP3120 uses a 330x28mm two piece disc and you have the option of getting either crossed drilled and slotted or just Slotted. You also have 2 color options when it comes to the 4 piston caliper: Red, or Black will look really nice in the wheel well of any BRZ / FR-S.
RED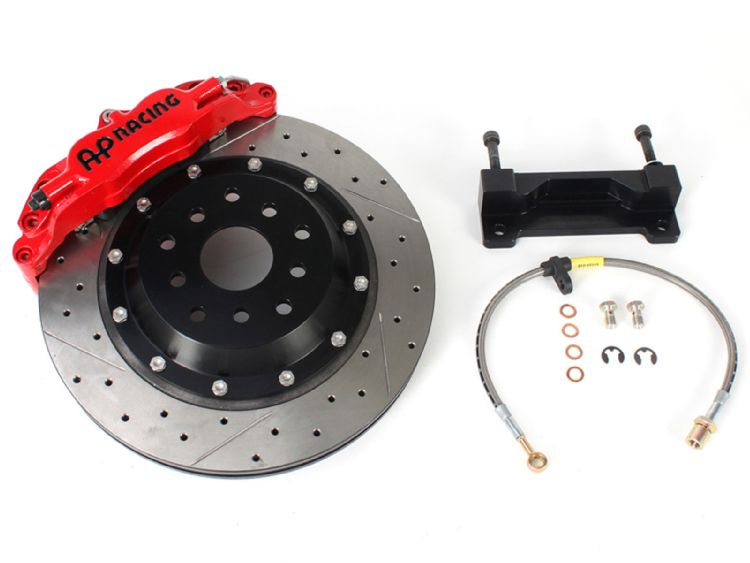 BLACK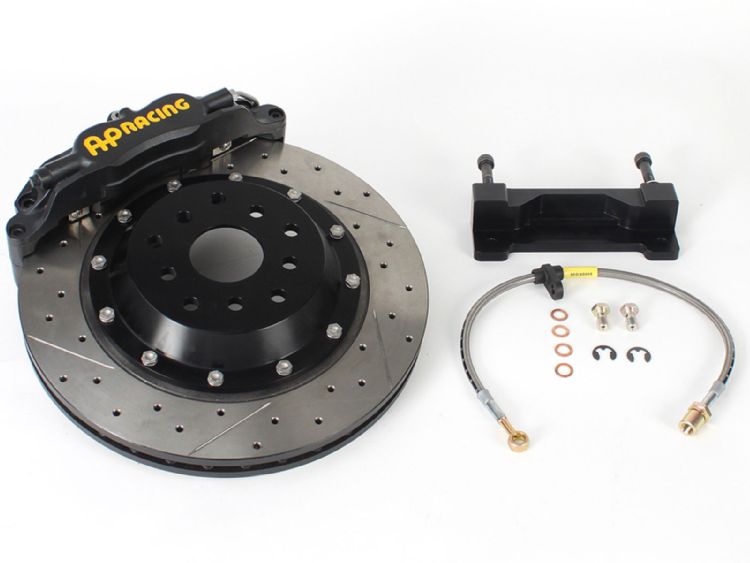 If you're looking for the next level of braking performance we also offer the AP6100 6 Piston kit.
The  AP6100 kit uses the AP RACING 6 piston caliper with larger 355x32mm two piece discs. You also have the option of three different Caliper colors, and two rotor styles.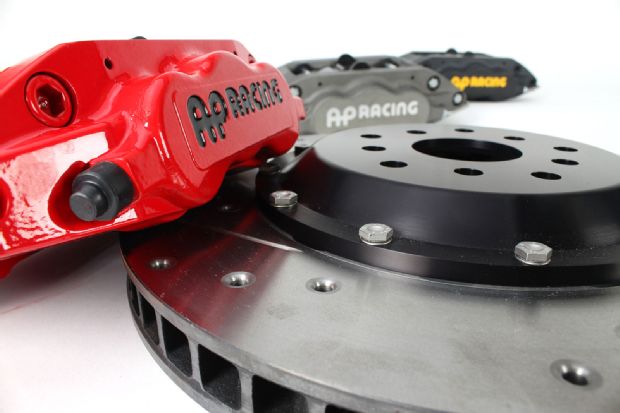 As you can see, we also offer the Slotted and Drilled, or just Slotted rotor options for the AP 6100 brake kit rotors.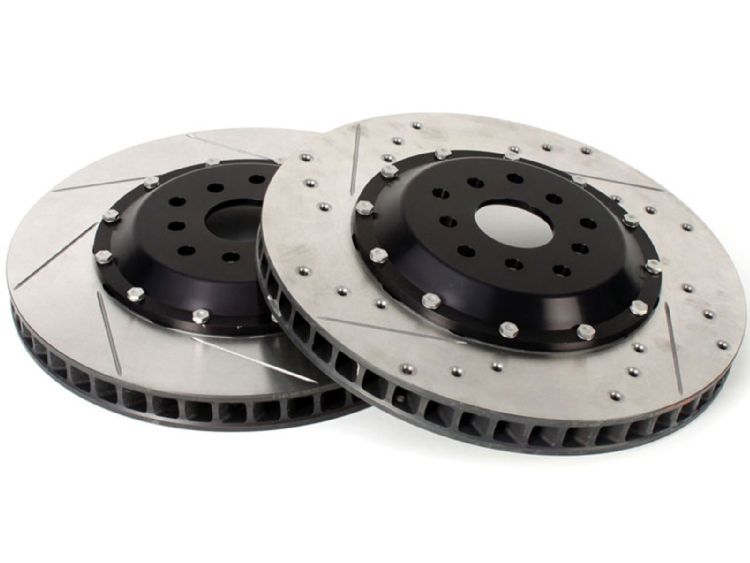 Both of these AP RACING kits bolt up to the factory locations and are designed to work well with the factory ABS systems and brake master cylinder. They also feature dust seals over each caliper piston to ensure reliability and high performance for as long as you own your vehicle.
If you have any questions or would like more information on the BRZ / FR-S AP racing Big Brake kits please give us a call
(800) 891-1058
May 3, 2012
There are a handful of cars in this world that will make any enthusiast stop what they are doing and admire the "collection of parts" in front of them. Those cars will always hold a special place in just about any enthusiasts heart. While there aren't many nameplates that can make just about any enthusiast stop in their tracks, anything with COSWORTH in it's name will always fall into that category. Today, SPEEDHUNTERS.com featured a very special Ford Focus RS Cosworth that spared no expense with the level of quality and detail that went in to the car.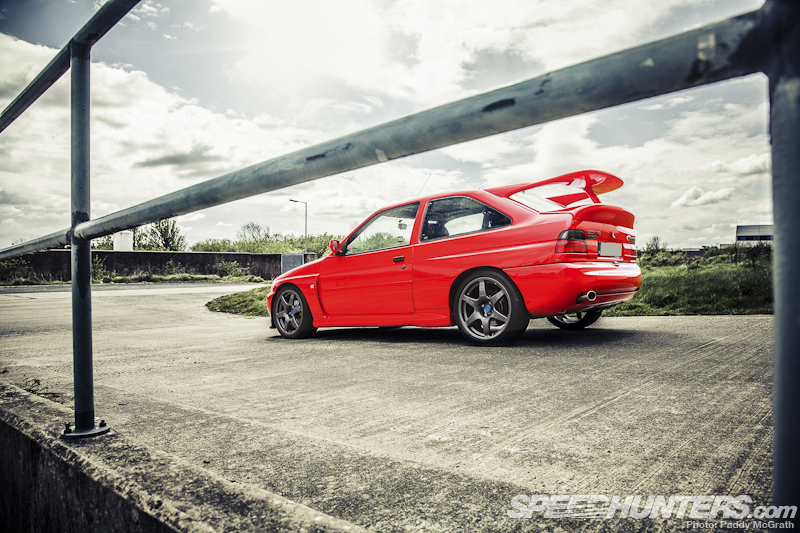 As you can see, this COSWORTH has been meticulously prepared and every area had either been rebuilt or improved. This holds true even with the brakes.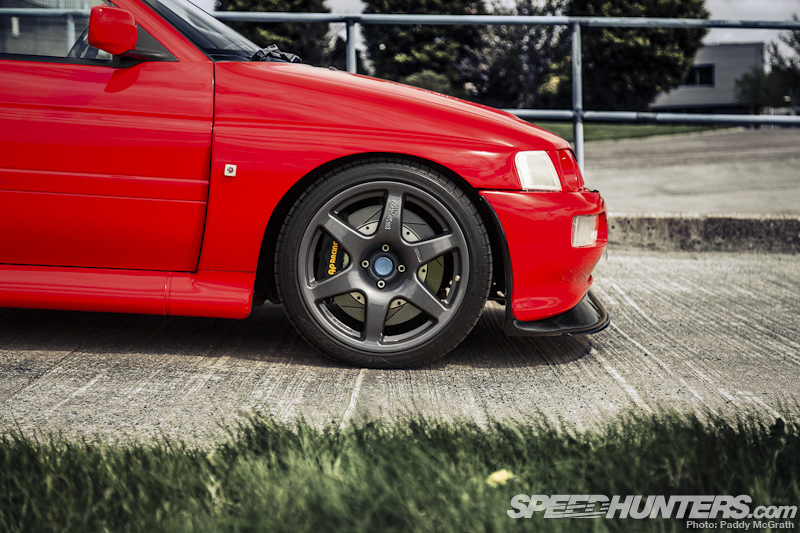 The factory brakes were ditched and replaced with AP Racing Six Piston Front Brakes with Reyland Floating Alloy Bells.
The quality and beauty of this car is hard to ignore and so are those 6 piston AP RACING brakes and 365mm discs.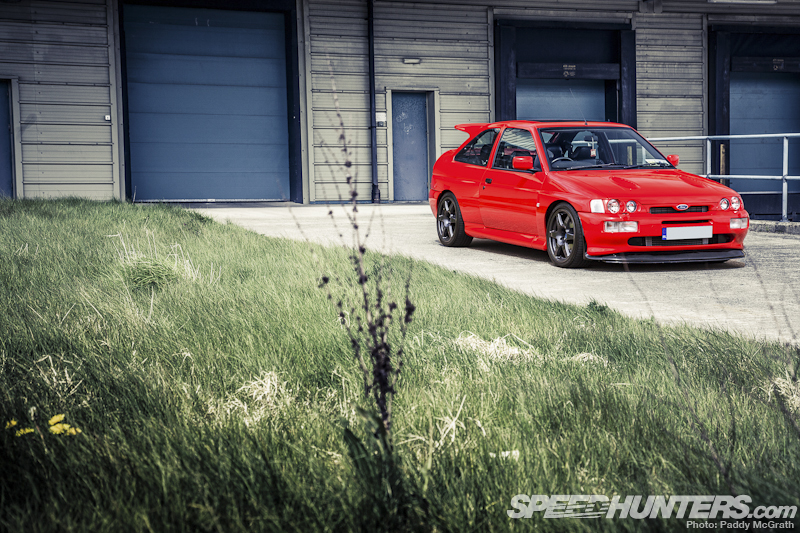 You can catch the rest of the article here…
SPEEDHUNTERS.COM THE LADY IN RED
And for more information on our line up of AP RACING products.. don't hesitate to pay us a visit.
STILLEN.COM AP RACING PRODUCT PAGE 
April 26, 2012
Since we do have a special running our AP RACING products this month, I figured it would be fitting to give you 4 more reasons why AP RACING should be your first choice when it comes to Big Brake upgrades for your car.
Two year's ago, ROAD AND TRACK magazine featured an article that immediately struck a chord with me and I still read that article to this day. They compared the fasted production cars on the road (at that time) vs. their ALMS beefed up twins. What made this article so interesting to me is that the cars in the ALMS (American Le Mans) field are completely based off their production siblings. The ALMS cars use the same motors, drivetrain, and body parts as their street car siblings that come off the assembly line, just much more beefed up. In fact, some of the racecars actually have LESS horsepower than their street ready siblings, go figure.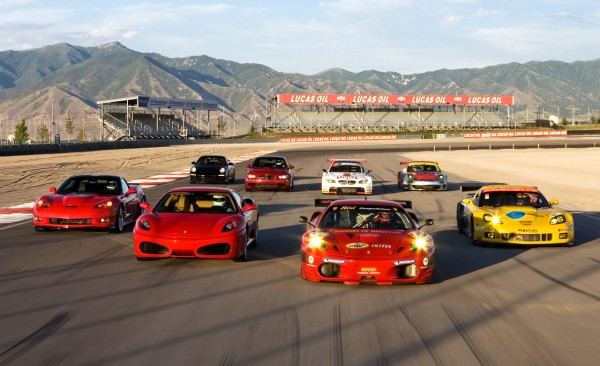 Because the ALMS cars are restricted to use the factory drivetrain layouts, and body componenets (plus some aero components) as their street siblings, you can imagine how competitive this series can be. In order to gain an advantage on the guy next to you, you have to make sure your car uses the highest quality components in every area possible. Every part of the car has to perform at the highest level and this includes the brakes. I was shocked to see that 4 out of the 5 ALMS cars tested dumped their factory big brake options and ran AP RACING.
First up we will start with Team BMW…
The AP RACING big brake upgrade is actually a very popular upgrade with BMW enthusiasts who frequently track their vehicles.
Next up, we have Ferrari… yes Ferrari! The F430 GTC Michelloto team opted to ditch their factory Brembo option and go with an AP RACING J-Hook upgrade.
Ferrari weren't the only guys who opted to ditch Brembo for some
AP RACING goodies
…. Porsche also followed that tried and true formula.
Lastly, we have the extremely competitive Team Corvette…
IF you noticed the lack of a big
AP RACING
sticker on the side of these cars don't be alarmed. That just suggests that these teams ACTUALLY paid for their brake set up and didn't get persuaded into running something inferior in hopes of a kick back for a sticker placement.  If those aren't 4 big reasons why you should consider
AP RACING
as your first choice for
big brakes
, I'll leave you with this….  Since Formula 1′s inception in 1967 AP RACING has tallied up over 228 wins with cars running their brakes.  (That's at least 5 wins a year since the beginning of Formula 1)
If you have any questions regarding applications for your specific vehicle, feel free to give us a call at anytime.
(800) 891-1058
April 4, 2012
We pride ourselves on the quality of products we sell here at STILLEN. From intakes to sway bars to superchargers we make sure that products we put our name on use the highest quality materials and can stand the test of time on any application. The same can be said for our brake selection. It's no secret that we have partnered up with AP RACING on many products in the past. We also happen to be the main U.S. Distributor and Technical Partner for road car's for AP RACING products.  While the reasons for this partnership can go on for days, I'll spare you the details and compile a short list of AP RACING 's accomplishments.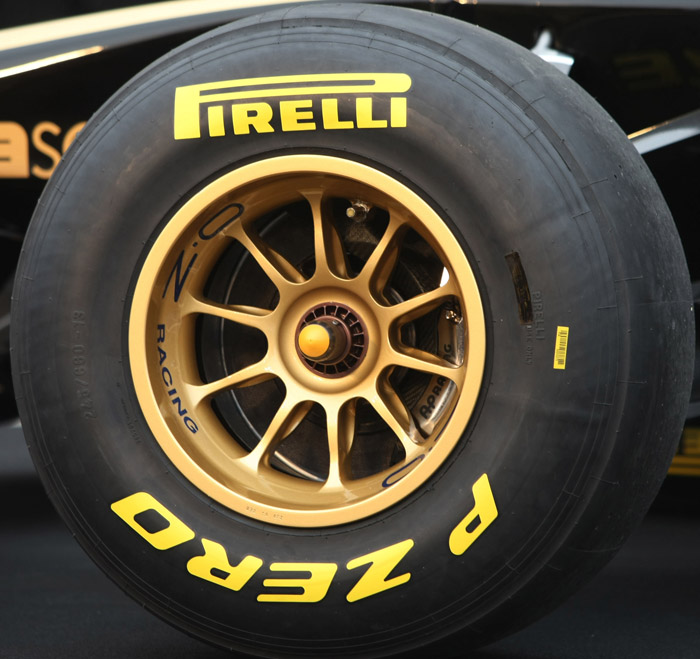 Formula One
"AP Racing's success has been underlined by the fact that every Formula One Championship since 1967 has been won using the company's equipment. Since their first appearance in F1 at the Dutch Grand Prix in 1967, AP Racing has achieved 687 wins with brakes, clutches or both". (Taken from AP RACING's Website)
That statistic alone is enough to sell me on the products but I'll continue. They also have plenty of other success in the world of Motorsport.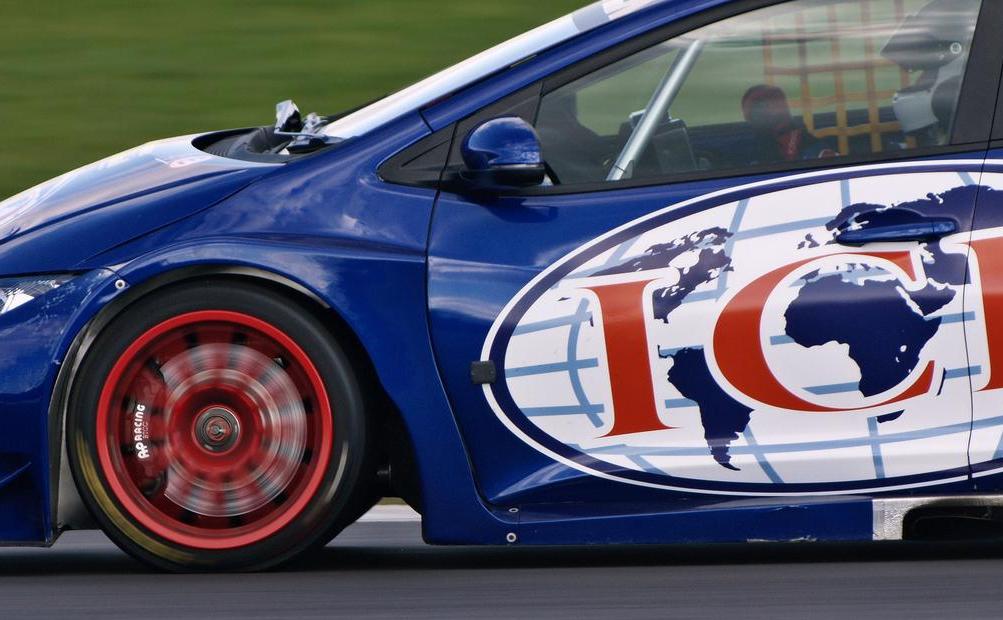 Their brakes are featured on many BTCC, Rally and ALMS teams, quite honestly too many to count.  As a matter of fact, the top 10 finishers of the last ALMS race all sported AP RACING brakes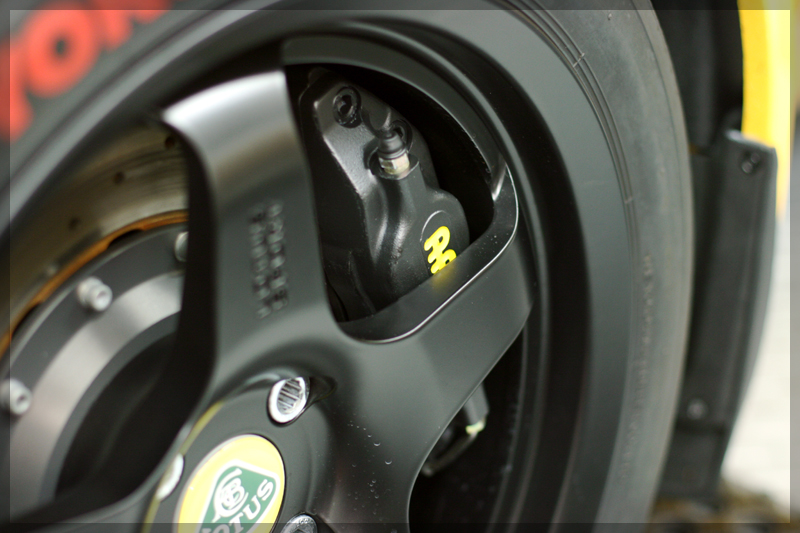 Road Cars
"All of the organisation's products are developed in close co-operation with leading car manufacturers using state-of-the-art, three-dimensional solid modelling/design and Finite Element Analysis CAD facilities, and dynamometers that simulate real world conditions. AP Racing also supplies leading performance car manufacturers with brake and clutch components as well as producing a comprehensive range of bolt on replacement performance brake kits. " (Taken from AP RACING's website)
 Some note able OE placements are:  Aston Martin, Bugatti, Caterham, Ferrari, Ford, HSV,  Lotus, Koenigsegg, Morgan, Seat, and TVR to name a few.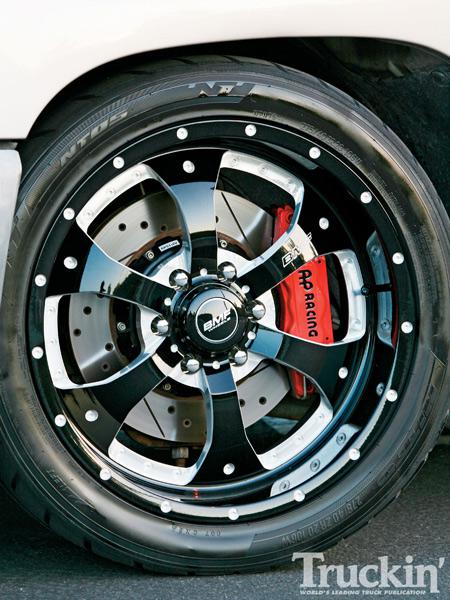 Aftermarket Success
Truckin' Magazine recently tested an AP Racing brake setup on the track with a GMC Sierra, and found that the stopping distance from 80mph was shortened by 144 feet over the stock brake setup., for a total braking distance decrease of around 35%. (Taken from Truckin' magazine's website) That's stopping before going through an entire intersection.  Not only does that make the GMC more fun to drive but you can imagine how much safer that heavy truck now is.
TOP CHOICE OF WORLD CLASS TUNER'S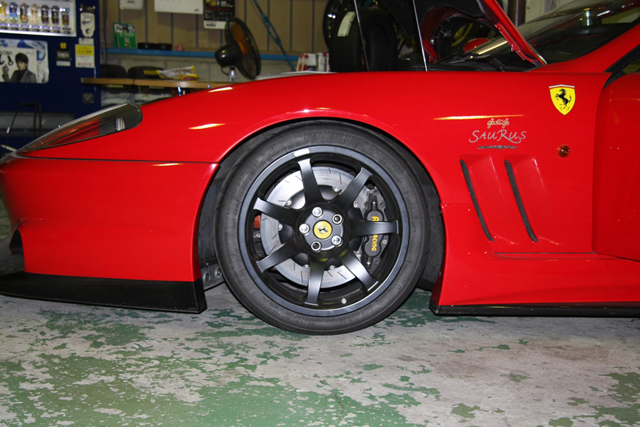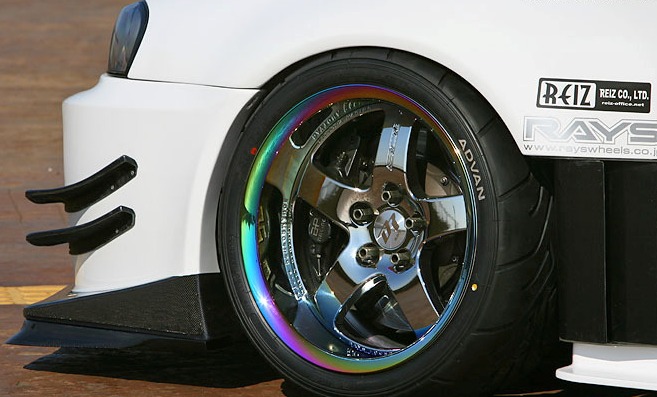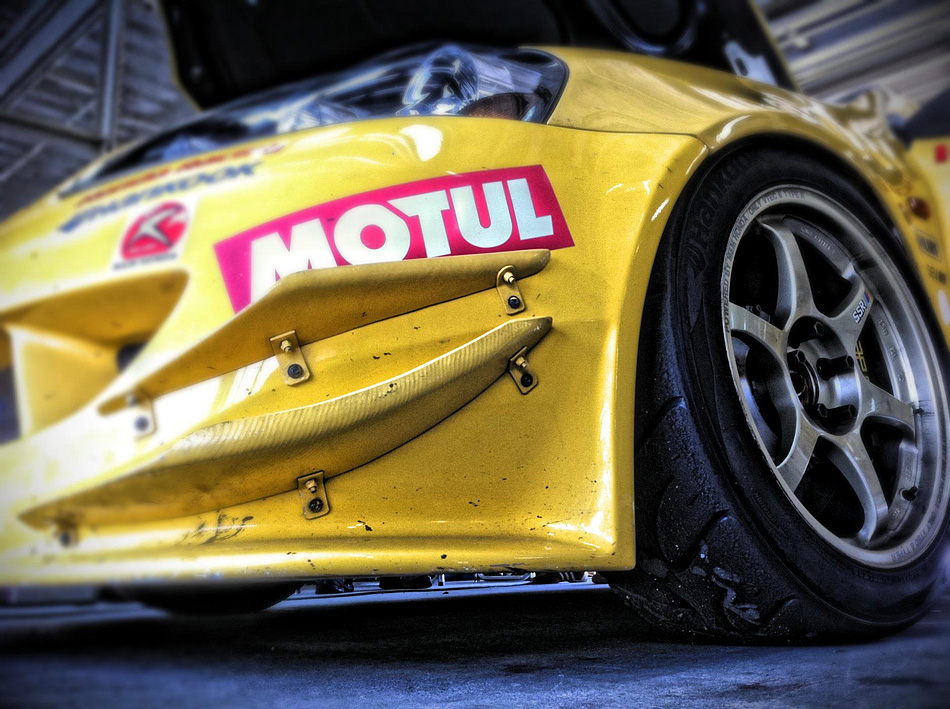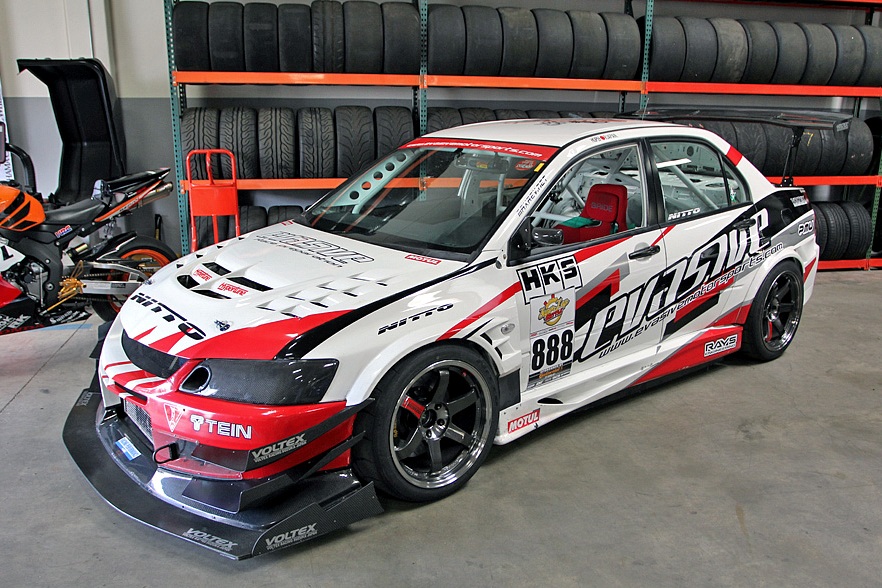 This list of AP RACING applications and accolades can go on for days but I'll digress and leave you with this.
Imagine you just spent $3000 on a set of Big Brakes from an overseas company that everyone says you "must have" because you have seen many advertisements of their cars in a few magazines. You are so excited about your new brakes that you book yourself a track day after you've selected the right set of pads and have bedded them properly just to see what your car can do. Halfway through the track event your brakes end up getting so hot and warped that flames start coming out of your wheel well. The brake fire ends up burning up your fenders, ruining your set of R compound tires and it ends up melting the cool blue paint off your shiny new "JDM" brakes. As soon as you call the company who imported the brakes for you, you quickly find out they can't help you and you are stuck with $3000 paper weights.
That very same thing happened to me on my last project car before I started working at STILLEN and I wish I never made that mistake.
Before AP RACING approves any application from race to street, they make sure to test every single aspect of the product. Lifecycle, fitment, performance, durability, real world conditions, and extreme conditions are just a few items on the quality control checklist before any big brake kit gets put in a box and shipped out.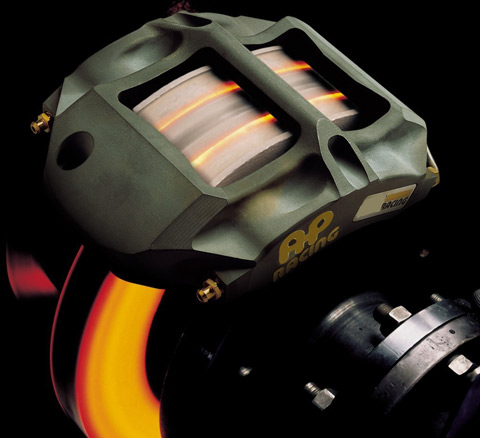 I can't begin to tell you how important it is to me for a company to stand behind their products and that's exactly what we do here at STILLEN. If you have any problem what-so-ever with your AP RACING brakes, we are just a phone call away. Since we are the MAIN U.S. Distributor and Technical Partner for road cars we will be able to solve any problems or questions you may have with your brakes. So don't hesitate to call. Plus as an added bonus… ALL AP RACING KITS are on special this month.
If you are interested in a 4 Piston or 6 Piston AP RACING kit for your Car, Truck or SUV. Please click the following to find out more:
AP RACING 4-PISTON BIG BRAKE KIT
AP RACING 6-PISTON BIG BRAKE KIT
We look forward to hearing from you.