Rounding out the 2007-2008 Altima Sedan body components is the two rear treatments offered by STILLEN.  The STILLEN Rear Wing (Spoiler) is a very sleek, subtle and clean way to add an aggressive look to the back of the Altima.  The STILLEN Roof Wing complements both the STILLEN Rear Wing and the OEM wing alike, and adds a unique touch to the car that you can't help but notice.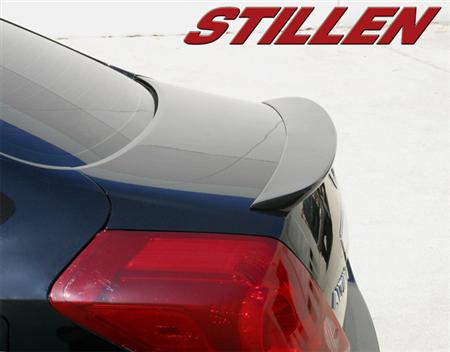 As with most STILLEN items, these pieces are made of high-quality urethane, have a limited lifetime warranty for a long life and OEM quality.  The warranty ensures workmanship of the material against cracking or breakage for as long as you own the vehicle.  These pieces come raw urethane, ready for priming and painting.
Step by step instructions are included, and 3M tape is pre-installed, making installation of these pieces extremely easy.
Special thanks goes out to NICO members Jose3.5 again for use of his vehicle for the Rear Wing, and to ursus for getting us pictures back on the Roof Wing.
Click Here to see the other body components available for the Altima Sedan.