October 31, 2008
Well, there have been a lot of changes and shake ups today. In one of the stages 7 cars went off! It was a very tricky stage and caught a lot of people out. Many of them will come back tomorrow but some have ended their week a day early.
October 30, 2008
We've been working so hard on the three vehicles we have going to SEMA (2009 Nissan Maxima, 2009 Infiniti G37 Coupe and 2008 Chevy Silverado.. more info to come on the other two builds soon), we've been a little laxed in our updates, and for that I apologize..
EDIT 11/08/08:  View the STILLEN Maxima in the Nissan Booth at SEMA
So here's the final info on the 2009 Nissan Maxima build: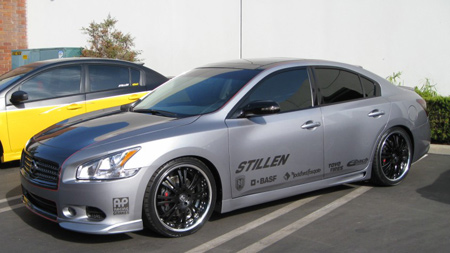 More information and tons of photos after the jump… Read more
October 30, 2008
Well, this is going to be a short one. I just got into the hotel and it's 11:00 P.M. and I am absolutely BEAT. Today was a looooong day!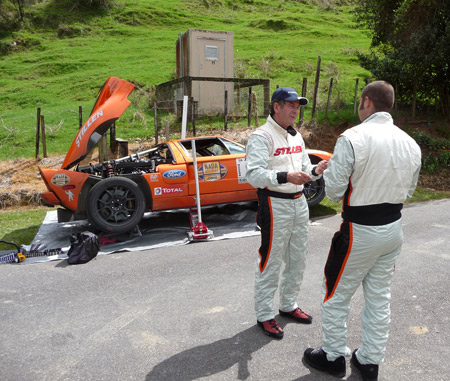 One thing I forgot to mention yesterday was the violence I experienced in the navigator seat.
Read more
October 29, 2008
WOOOO HOOOO!!!! We're doin' great!!!! Dad and I have been getting comfortable with each other's styles and we are starting to lay down some great times through these stages. The GT is absolutely incredible. The upgrades that we did over the past two years have made a world of difference. With the 3.9 gear ratio this car pulls HARD in ANY gear. It is simply amazing. The Michelin tires are handling the abuse and weather much better than expected and offer a surprising amount of traction.
October 28, 2008
Well, today was an awesome day. Absolutely incredible. We ran the first eight stages of the event. Well, seven stages at least. One was canceled due to a bad accident/car fire. One of the Ford Escorts tumbled, rolled, flipped and crashed for about 100 feet before landing on its roof and bursting into flames. Fortunately both the driver and co-driver were able to escape with no injuries. However, stage 7 was closed and we continued on to the final stage.