We have never been busier here at STILLEN, with the R&D department at full throttle, new products launching left and right (515hp 370Z/G37 Supercharger, 370Z Body Kit, just some of the recent launches), the sales team busy on the phones, and all of us putting the final touches on what is shaping up to be a great Open House event here this Saturday!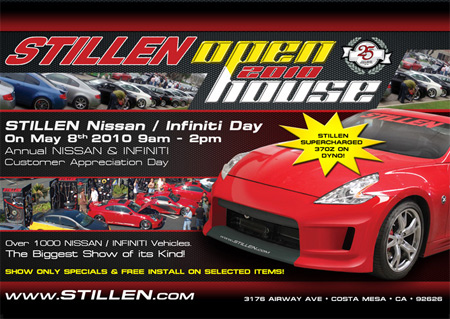 (High Resolution Version – Click Here)
We've been getting tons of feedback for our 25th year in business and are just as excited as the Nissan and Infiniti owners who are making the journey (from 5 different states!) out to the STILLEN headquarters this weekend to help us celebrate. We've done our part to make this event special.  In our previous post we've outlined some details of the event (and they are recapped below), and we're working hard to make this even even more special.