January 10, 2014
Our friends from Lloydminster Nissan are one of the dealerships that we are proud to have in the STILLEN dealership network. Recently, they put together a project Titan with the results being a truly spectacular looking truck. They sent over a few shots for us to take a look at.
The Lloydminster Nissan team started out by adding a STILLEN Dual Exhaust and Cold Air Intake which not only helps gain H.P., but also improves the airflow efficiency in and out of the vehicle. Making the finest performance parts for Nissan cars and trucks has become an obsession for our staff for over 25 years here at STILLEN. We take a huge amount pride in the quality and craftsmanship we put into each and every product that ships out of our facility, and stand firmly behind every one of them. One of the biggest compliments and testaments to the quality of our products is when a dealership like Llodyminster Nissan not only sells our products in their showroom, but also makes it a point to run our products on their own dealership vehicles.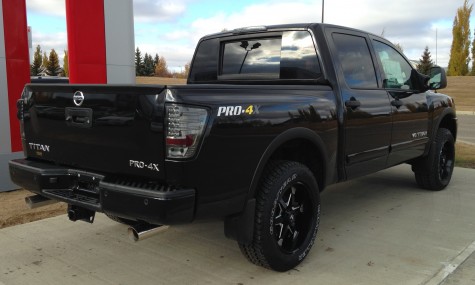 Next, they took on what to do with the wheels and tires and we think they have hit it out of the park with a set of Hostile Knuckles 20 x 9 wheels, and Goodyear Silent Armour 275 60R20 Tires.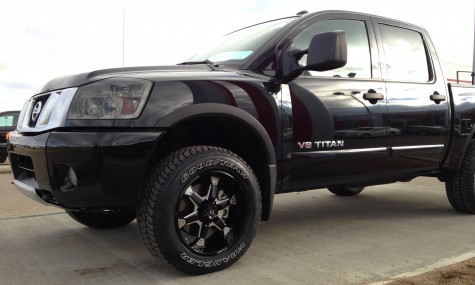 Just to make sure other vehicles can see the truck coming… and going past them, they added Xtasy Halo black headlights and smoke taillights as well as a Rigid "E" Series 20" light bar.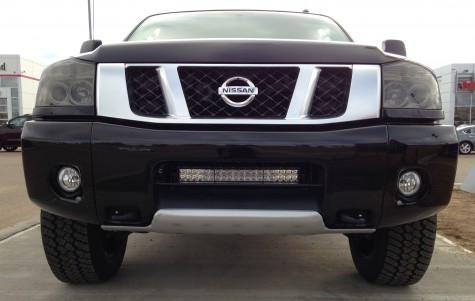 Finally, a PRG Products 1.5" leveling kit was added to balance out the factory ride in addition to installing a Sprint Booster which aims to overcome throttle response delay for ECT-equipped vehicles, providing crisp on-tap acceleration at the driver's disposal. We think they have put one incredible looking truck together.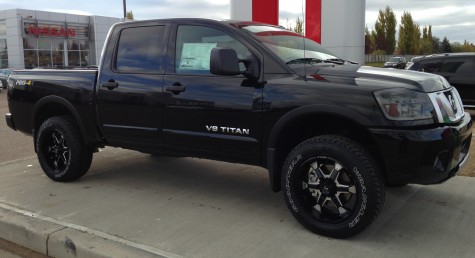 As you can see, the folks over at Lloydminster Nissan are really getting creative with their vehicles and are doing a great job of utilizing all of the assets they have at their disposal. If you are in the area, stop by and see what they've come up with for their latest creation and see what they can do for you.
Lloydminster Nissan is located at 5115 25 St., Lloydminster, AB T9V 3G2. Sales: 1 (888) 273-4071
Additionally, if you have any questions about the STILLEN performance parts that were used, please be sure to contact us at www.stillen.com or by calling 866-250-5542.
December 31, 2013
Since STILLEN signed the agreement with Whipple Superchargers to become the only recognized and warranty certified installer in the Southern California area, the STILLEN Performance Shop  has been booked solid installing these beauties. The dominant car has definitely been the Chevrolet Camaro, but the latest installation was on this absolutely gorgeous Ford F150 6.2 Liter SVT Raptor.
To say we were excited to get right into the Ford Raptor supercharger install would be a huge understatement, the whole office was buzzing and taking bets (no money was exchanged- just bragging rights) on how much h.p. this beast would pull on the Dyno after the install.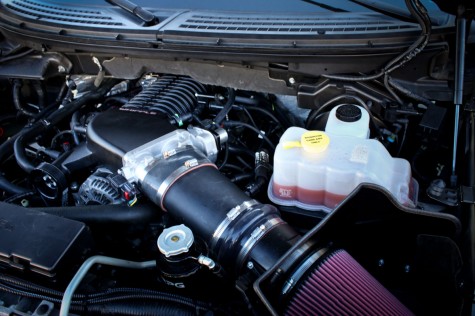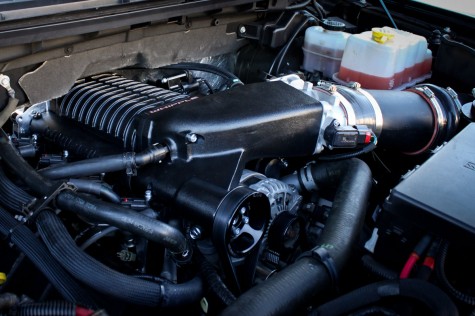 We've had plenty of trucks come through the doors here to get work done, but this was the first Raptor, and a heavily modified one at that with a full RPG suspension, cat-back exhaust, LED lights, winch, 37's, etc.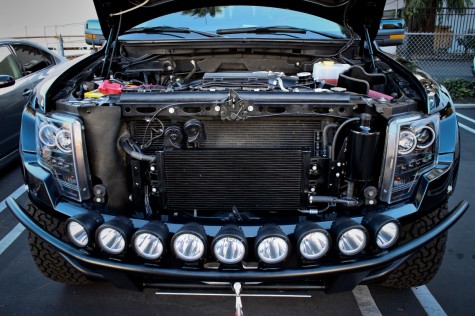 With the latest technology, the all new Whipple supercharger kit creates more power than any other superchargers on the market and is 100% complete and designed for stock engines, but also has enough capability to work with the heaviest of modified engines. With this in mind, we were expecting the Whipple to add about 25% extra horsepower at the wheel to this truck's already impressive resume!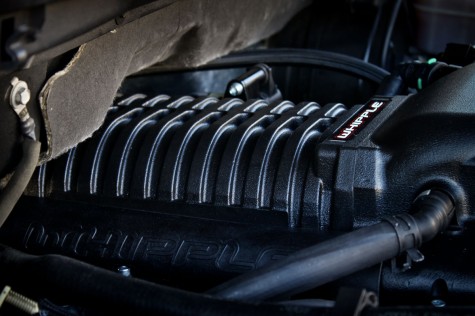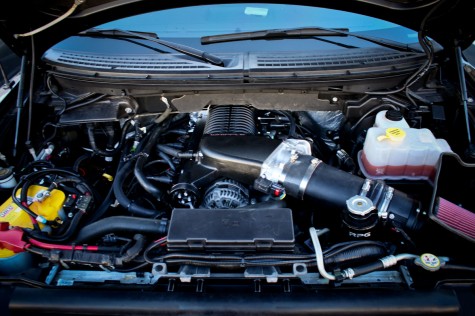 After the Ford Raptor Supercharger Install
On the baseline run on the Dyno the truck pulled 360 h.p. at the wheel. After the install, we mounted it up again and this time the results were drastically different!!! The truck laid down 502 h.p., an almost 40% increase.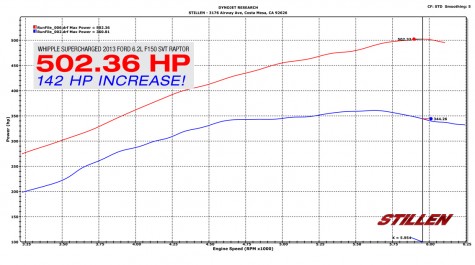 Additionally, our customer saw an increase from 386 to 485 in FT Lbs. of Torque, a 25% increase!!!!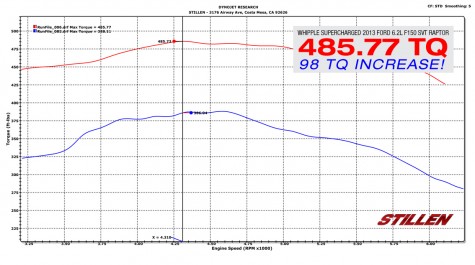 To say our customer was happy after the Ford Raptor supercharger install would be an understatement…..he was over the moon!!! He knew in an instant he had made the right choice on not only the Supercharger, but also on the highly skilled team of technicians at STILLEN to get it installed correctly!! Click on the video below to see second Dyno pull and check out the results.
Whipple Superchargers Installed By STILLEN
STILLEN continues to be the only recognized and warranty certified installer in the Southern California area for all Whipple Supercharger installations. When you have your supercharger kit installed by the STILLEN Performance Shop you can be rest assured that your vehicle will be eligible for coverage under the Whipple Supercharger 3-year/36,000 mile, 5-year/60,000 mile or even the 5-year/100,000 mile warranty options!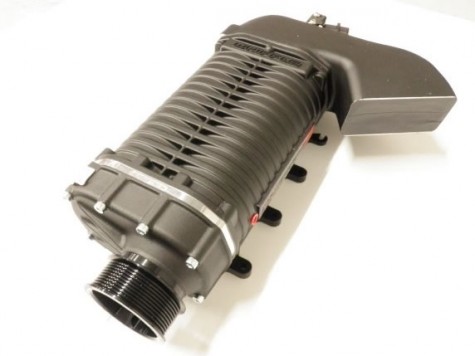 Whipple Superchargers are designed and manufactured in the US and utilize their innovative Twin Screw Compressor technology and only require oil replacement every 100,000 miles. We have Whipple Supercharger kits available and ready to install on your American Car, Truck, or SUV! Call the STILLEN Performance Shop today at (866) 250-5542 to schedule an appointment.
December 26, 2013
If you live in the Plano, Texas area, and you're in the market for an Infiniti luxury vehicle, you owe it to yourself to stop by and visit Crest Infiniti. Not only do the guys at Crest Infiniti carry the best cars in the performance luxury vehicle segment, they also understand what it's like to be enthusiastic about those cars. These guys know performance! When the new Infiniti Q50 came out, they immediately saw that what they had was an opportunity to build to the awesome platform that Infiniti had given them, and take it to another level with appropriate, but distinctive modifications.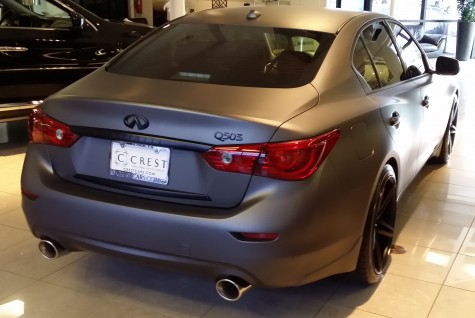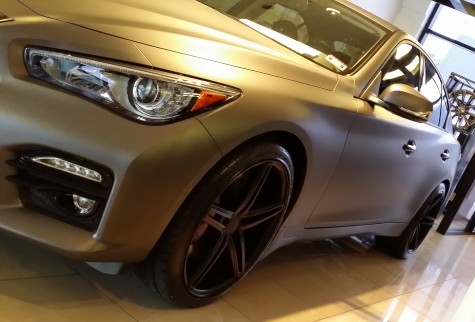 The Infiniti Q50 is already a great looking car. Right out of the gate it's one of if not the most exciting car in its category. From the factory it has incredible styling that is aggressive, yet refined with a strong fascia accentuated by the large grill, menacing headlights and wide stance. Yet somehow, at the same time, the car retains a sense of elegance and class. Not only did Infiniti install their fantastic VQ37 3.7 liter V6 engine producing 328 horsepower between the frame rails, but they took it a step further and actually made hybrids exciting! The hybrid model comes with the tried and true VQ35 3.5 liter V6 and when mated to the state of the art hybrid technology, the car is rated at 360 horsepower! Who thought we'd live in a world where hybrids were exciting!!!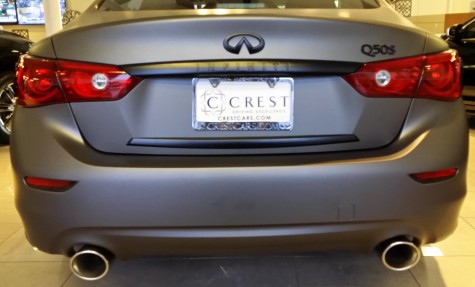 When the team at Crest Infiniti got a hold of this car they knew they had to do something special and do something to take it even further than Infiniti had already managed to. When a car is this new, it can be a challenge to accomplish that, as it takes a while for everyone else to keep up. Fortunately, we were able to support the designers at Crest Infiniti with the STILLEN Infiniti Q50 cat-back exhaust.  Once the exhaust was completed the car received a matte black wrap along with a set of Vossen CV5S wheels to round out the build.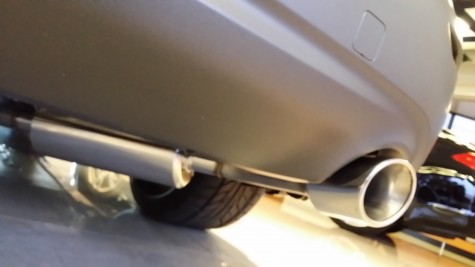 Where to Find the Infiniti Q50 with STILLEN Cat-Back Exhaust
Crest Infiniti has been a trusted STILLEN dealer since 2005 and continues to impress us with each of their project vehicles! If you have any questions about this car, be sure to contact the Crest Infiniti dealership in Plano, Texas for more information. Additionally, if you live in the McKinney, TX area and are looking to customize your car or truck, be sure to contact Whiteside Customs. They did a fabulous job on this Q50! Finally, if you have any questions about the STILLEN performance parts that were used, please be sure to contact us at www.stillen.com or by calling 866-250-5542.
September 23, 2013
The Chevy Camaro SS has been a staple in the STILLEN Performance Shop for a while now and is always welcome for a Camaro LS3 supercharger install. We bolted on a Magnuson Supercharger to the 6.2L V8 motor, but this time with a different look… a Wrinkle Red finish.
Magnuson Camaro LS3 Supercharger Install
You may remember the beautiful Victory Red Camaro SS in the shop back in June, but this Camaro LS3 supercharger install is slightly different, this Magnuson Supercharger has a wrinkle red finish. The wrinkle red Magnuson Supercharger is not as common as the black finished version, in fact, you'll be hard pressed to find one as we have sold out of this color and is now only available as a special order, but the bright red color gives an aggressive look and style to this black Camaro LS3 engine bay.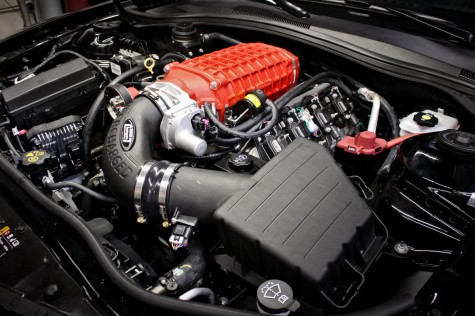 The Magnuson Camaro LS3 Supercharger is a hybrid-roots supercharger with OEM-like fitment that does not require any modifications to the hood.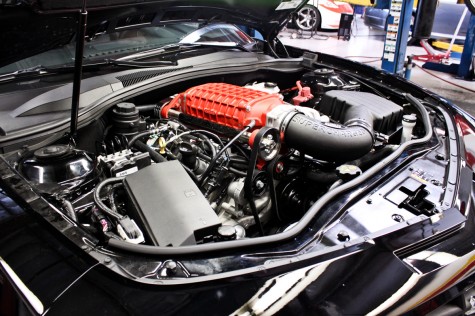 You can rest assured knowing this bolt-on system carries a 3-year / 36,000 mile warranty on supercharger hardware and a 1-year limited warranty on electronics. Magnuson also offers an optional 3-year / 36,000 mile, 5-year / 60,000 mile or 5-year / 100,000 mile powertrain warranty for the Camaro LS3 supercharger at an additional cost. Visit the Magnuson Superchargers website for more warranty information.
In addition to Magnuson Superchargers, STILLEN is an authorized dealer and installer for Edelbrock Superchargers, Vortech Superchargers, and Whipple Superchargers.
Camaro Magnaflow Exhaust Install
A Camaro Magnaflow Exhaust is a perfect companion to any Supercharger install, creating better exhaust airflow as well as a smooth deep tone. The Magnaflow 100% Stainless Steel Cat-back Exhaust System shows dyno proven increases in both horsepower and torque and carries a lifetime warranty.
For more information on the Camaro LS3 Supercharger Install, the Camaro Magnaflow Exhaust Install, or any other aftermarket performance parts for your vehicle, please give us a call at (888) 366-0686 or visit the STILLEN website.
September 20, 2013
The 2001 Chevy C5 Corvette is back in the shop after the Magnuson Corvette Supercharger install, running strong and with a freshly painted hood. Now it's time for the Corvette dyno tune to dial in the Supercharged LS1 V8.
Supercharged Corvette Dyno Tune
The California sun was beating down on the fresh black paint and pushing temperatures close to 100 degrees, which isn't ideal for optimal horsepower gains. Powering through the heat and after a few pulls, the Corvette dyno tune showed increased power to 394HP on the Magnuson supercharged C5!
To schedule a Corvette dyno tune or dyno tuning for any vehicle, please contact the STILLEN Performance Shop in Orange County at (888) 366-0686 or visit the Performance Shop webpage for more information.