April 21, 2014
Since it's been a while since we last checked in with the STILLEN performance shop, we thought it's time for an update. Our shop techs have been extremely busy with all sorts of cars, trucks & SUVs, but we've all been happily surprised by the number of Ford vehicles making their way into the shop to visit us. It seems the STILLEN performance shop is quickly becoming the top Ford Performance Shop in Southern California!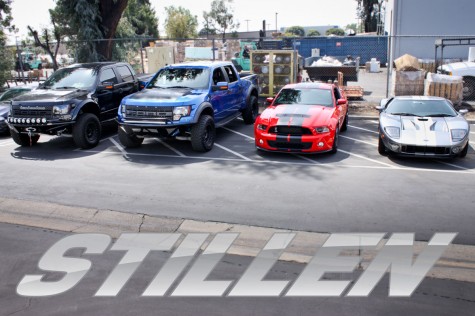 Ford Performance Shop: Raptor Supercharger Installs
Being the only Whipple warranty certified installer in Southern California, our performance shop technicians been extremely busy installing superchargers for American muscle cars and imported sports cars. However, they have been especially busy installing superchargers for various trucks and prerunners. The blue Ford SVT Raptor featured in the photo above, is just one of the many trucks that has gotten a supercharger installed by the STILLEN performance shop over the past few weeks and there are even more on the schedule!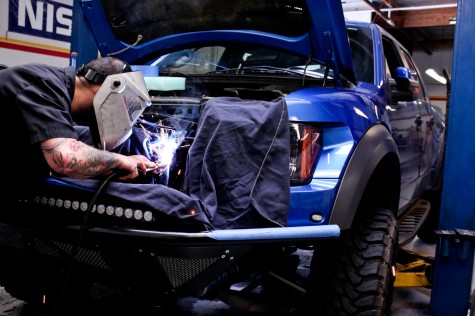 As you can see from the photo below, the owner is already having a blast off-roading with this Raptor after they got their supercharger installed!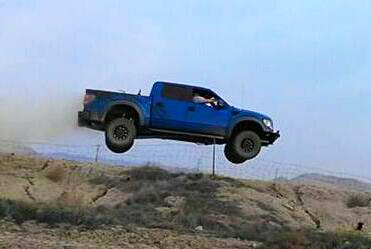 Raptor with Supercharger Service
After adding a supercharger to your car's engine, you don't want to be taking it to the dealer service center or the service center down the street. You want to take it to someone you know you can trust and who knows how to service performance cars and trucks. This is why we are seeing the black Raptor featured in this photo. As many of you will remember, the STILLEN performance shop installed the supercharger on this prerunner a few months ago (click here to see the full write up on this Raptor). The owner brought it back for service.
GT500 Supercharger Pulley Installation
Now, if you're looking to get a bit more from your supercharger, the STILLEN performance shop is definitely the place to come and this is why the Ford GT500 came in. The owner brought his car in because he wanted to get a bit more horsepower from his supercharged engine. With that in mind, the STILLEN team installed a new supercharger pulley to create more boost and get the horsepower the owner was looking for.
GT Service
Like the cars and trucks that have superchargers installed, you don't want to trust your Ford GT servicing to just anyone. Over the years, the STILLEN performance shop has seen its share of Ford GT's come in for service and has earned a sterling reputation for working with these vehicles.
Scheduling Your Appointment with the Top Ford Performance Shop in Southern California
Whether you have a Ford GT and need to bring it in for servicing, you have a Ford Mustang or Ford Raptor that you want to bring in to get a supercharger, and everything in between, the STILLEN performance shop is who you want to trust your vehicle with. We have nearly 30-years' experience working with performance cars. To make your appointment, simply call (866)250-5542 and we will be happy to help you.
March 31, 2014
Every so often we get a car come through the performance shop that is BIG news here at STILLEN and that happened just a few weeks ago with an Infiniti G37x. It all started a few months ago when one of our performance specialists took a call from a potential customer about a supercharger for a G37x. Over the course of a few months, the performance specialist worked with the customer making suggestions and answering questions until the customer was completely confident in his purchase. By this time, this car had transformed from a very nice G37x into many employees' dream car.
The Infiniti G37x Wish List
This customer is a professional mountain bike racer, who also manufactures mountain bike and motorcycle performance parts. He wanted to make sure that he could modify a G37x to handle and perform as close to a GT-R as possible. To achieve his dream, he was looking to combine GT-R performance with the luxury and practicality of a sedan. Therefore, speed, handling and braking were of utmost importance to him. This car needed to be able to perform and handle the way everyone dreams a sports car will handle, but also be reliable so that the customer could drive on a variety of services with confidence. That meant that he was looking to upgrade the car's power, suspension, braking and also had to make sure he had all of the other performance upgrades necessary to ensure the other aspects of the car were ready for the modifications that were being made.
Performance Upgrades
Supercharger
Parts: STILLEN 407730 Supercharger System, STILLEN 400338 STD Crank Pulley
Since additional horsepower was what had originally drawn the customer to STILLEN, we wanted to make sure we got him set up with the perfect blower for his car.  We recommended the STILLEN Supercharger for Infiniti G37, which comes in a polished or satin finish. This customer elected for the satin finish. While we haven't dyno tested this customer's car, this blower has previously been tested during development to output over 500 horsepower.
Cooling Kits
Parts: STILLEN 400740 Transmission Cooler, STILLEN 400632 Gold Oil Cooler
While power is important, so is longevity. Since this was also one of the customer's concerns, we recommended he add a STILLEN transmission cooler and STILLEN oil cooler to the car. The transmission cooler will help preserve the car and help with power during hill climbs. The oil cooler will help keep the oil at the right temperature to make the supercharger last.
Coilover Shocks
Part: BC Racing BCRV-08U BR Serues  Coilover Shocks*
Since this customer's vehicle is all wheel drive (AWD), our shock selection was admittedly slim. That being said, we found a solid option in the BC Racing coilover shocks. With their swift spring upgrade, it allowed the customer to get a higher quality shock with a more consistent spring rate. These coilover shocks also feature less coils per spring rate, which allow for a larger spoke and better travel.
*Note: These coilover shocks are not available online. Please call 866-250-5542 for more information.
Sway Bar
Part: STILLEN 304375 Adjustable Sway Bar Kit
Being an experienced driver that wants to enjoy a thrill when he drives, this customer was looking for a bit more oversteer than the stock sway bar could provide. With that in mind, we recommended that the stock sway bar be replaced with a STILLEN adjustable sway bar for G37X. This sway bar is made from high strength aircraft grade steel and is specially designed to reduce body roll and improve cornering.
Grounding Kit
Part: STILLEN 606358R Grounding Kit
With all of the upgrades being made to the car, we wanted to make sure that the electrical components were as optimized as possible and the customer agreed. To do this the sales representative recommended a grounding kit be added to the vehicle.  By adding this feature, it will allow the electrical system to work better, allowing the customer to enjoy all the performance benefits of the upgrades he had made.
Cat-Back Exhaust
Part: STILLEN 504377 Cat-Back Exhaust
The STILLEN cat-back exhaust was added for performance gains and sound improvement. Like our other STILLEN exhausts, it features a mandrel bent 304 stainless steel construction and boasts the trademark STILLEN sound that is mild while cruising, but becomes more aggressive as you accelerate.
Big Brake Kit
Parts: AP AP5700R-X Front Brake System, AP AP3752R-X Rear Brake System
When your car packs as much power as this Infiniti G37, it's important to make sure that it has the necessary stopping power to safely slow the car down. In this case, stock brakes just weren't going to cut it. That's why we recommended the cross drilled and slotted AP Racing Brake Kit, which are known for being the top big brake kit manufacturer in the industry.
Wheels
Parts: TSW 1985NUR455114S76 Nurburgring Wheel, TSW 1995NUR415114S76 Nurburgring Wheel*
To complete the makeover, we suggested the customer go with a set of TSW wheels.  This was because the customer's existing wheels would not fit the big break kit that was installed and because he wanted a sportier look with better functionality. Additionally, these wheels have a rotary forged design, which maintains strength and durability, while being light weight.
*Note: These wheels are not available online. Please call 866-250-5542 for more information.
The Results
After the dust settled from all the upgrades were made, the customer was extremely happy with the power and performance he's now getting from the car. As you can imagine, his car has plenty of power and torque to meet his goal of turning his G37 into a four-door GT-R. He's also loved the suspension adjustments that were made with the sway bar and coilover shocks – it's handling wonderfully for him. Plus, he gets to enjoy the stealth factor when street driving. Other drivers have no idea how fast his car can go until he chooses to leave them in the dust!
Check out the slide show below to see the full transformation this car made!
Next Steps
If you have any questions about the Infiniti G37 parts above or want to explore upgrading your car, please contact one of our performance specialists at 866-250-5542. We will be happy to answer any questions you have about our parts, make suggestions of upgrades to make to get the most out of your vehicle, or schedule an installation appointment for you.
March 12, 2014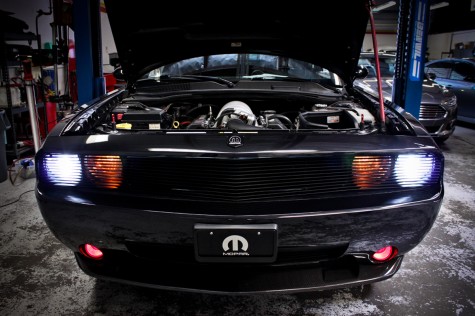 It's been a while since we've posted an update from the STILLEN Performance Shop, but that doesn't mean there has been a shortage of awesome vehicles to roll through. From exhausts to superchargers, our mechanics have been busy installing, tuning and everything in between to get upgrades completed for our customers so they can get back on the road.
Magnuson Supercharged Challenger SRT8
A few months back this menacing black SRT8 came through for a Magnuson Supercharger install. It was already boasting some heavy modifications like upgraded suspension, cat-back exhaust, carbon fiber front lip, hood and trunk.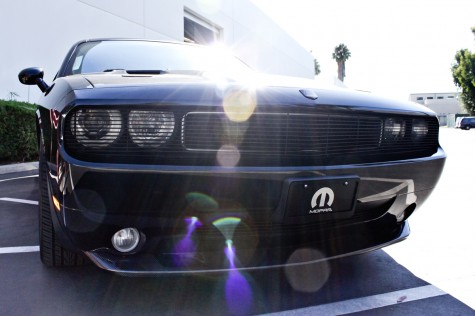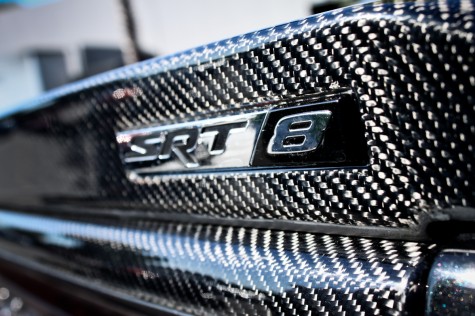 Check out the lighting set up on this black beauty!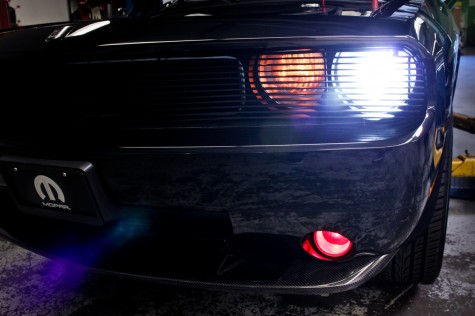 There are a few supercharger options available for the Dodge Challenger, including forced induction kits from Whipple and Edelbrock, but it seems like the Magnuson has been the favorite for the 6.1L Hemi as of late.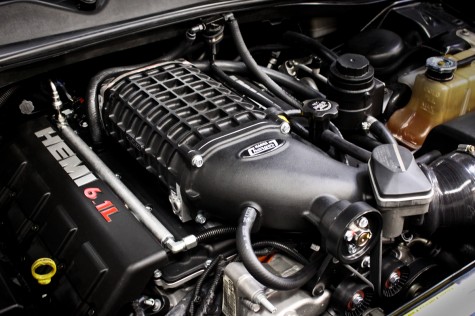 The Magnuson Supercharger is a CARB approved Hybrid Roots supercharger that is a 100% bolt-on system and is said to produce approximately 120 horsepower and 120 ft pounds of torque to the wheels.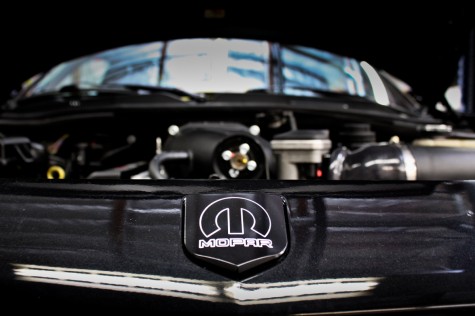 Magnuson Supercharged Challenger SRT8 Specifications
Produces approximately 120 horsepower and 120 ft-pounds of torque
CARB approved EO# D-488-16
Only requires an oil change every 80,000-120,000 miles
No hood modifications are required
Standard 3-year/36,000 mile Warranty on the Magnuson supercharger hardware
Standard 1-year Limited Warranty on electronics
Optional 3-year/36,000 mile, 5-year/60,000 mile, or 5-year/100,000 mile Powertrain Warranty (additional cost)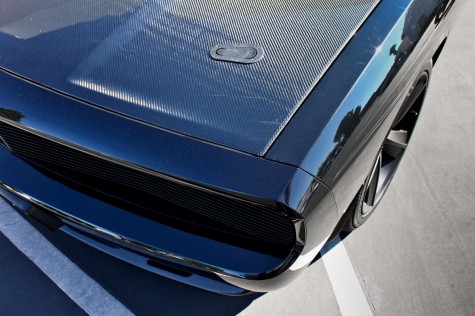 For more info on Magnuson Superchargers or to schedule an appointment with the STILLEN Performance Shop for an install, give us a call at (888) 366-0686 or visit http://www.stillen.com. Our performance shop also specializes in exhaust installations, body component installations, dyno-tuning and more!
January 10, 2014
Our friends from Lloydminster Nissan are one of the dealerships that we are proud to have in the STILLEN dealership network. Recently, they put together a project Titan with the results being a truly spectacular looking truck. They sent over a few shots for us to take a look at.
The Lloydminster Nissan team started out by adding a STILLEN Dual Exhaust and Cold Air Intake which not only helps gain H.P., but also improves the airflow efficiency in and out of the vehicle. Making the finest performance parts for Nissan cars and trucks has become an obsession for our staff for over 25 years here at STILLEN. We take a huge amount pride in the quality and craftsmanship we put into each and every product that ships out of our facility, and stand firmly behind every one of them. One of the biggest compliments and testaments to the quality of our products is when a dealership like Llodyminster Nissan not only sells our products in their showroom, but also makes it a point to run our products on their own dealership vehicles.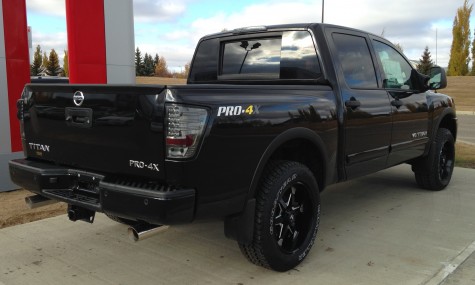 Next, they took on what to do with the wheels and tires and we think they have hit it out of the park with a set of Hostile Knuckles 20 x 9 wheels, and Goodyear Silent Armour 275 60R20 Tires.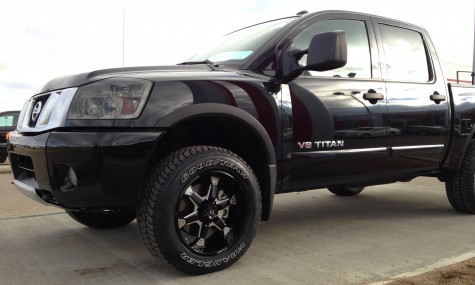 Just to make sure other vehicles can see the truck coming… and going past them, they added Xtasy Halo black headlights and smoke taillights as well as a Rigid "E" Series 20" light bar.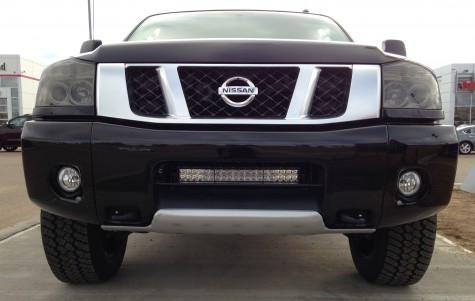 Finally, a PRG Products 1.5" leveling kit was added to balance out the factory ride in addition to installing a Sprint Booster which aims to overcome throttle response delay for ECT-equipped vehicles, providing crisp on-tap acceleration at the driver's disposal. We think they have put one incredible looking truck together.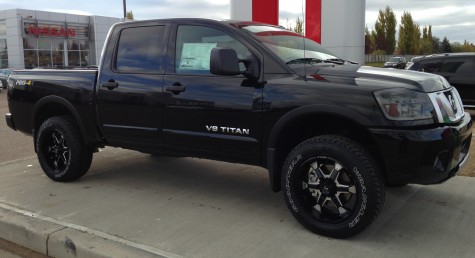 As you can see, the folks over at Lloydminster Nissan are really getting creative with their vehicles and are doing a great job of utilizing all of the assets they have at their disposal. If you are in the area, stop by and see what they've come up with for their latest creation and see what they can do for you.
Lloydminster Nissan is located at 5115 25 St., Lloydminster, AB T9V 3G2. Sales: 1 (888) 273-4071
Additionally, if you have any questions about the STILLEN performance parts that were used, please be sure to contact us at www.stillen.com or by calling 866-250-5542.
December 31, 2013
Since STILLEN signed the agreement with Whipple Superchargers to become the only recognized and warranty certified installer in the Southern California area, the STILLEN Performance Shop  has been booked solid installing these beauties. The dominant car has definitely been the Chevrolet Camaro, but the latest installation was on this absolutely gorgeous Ford F150 6.2 Liter SVT Raptor.
To say we were excited to get right into the Ford Raptor supercharger install would be a huge understatement, the whole office was buzzing and taking bets (no money was exchanged- just bragging rights) on how much h.p. this beast would pull on the Dyno after the install.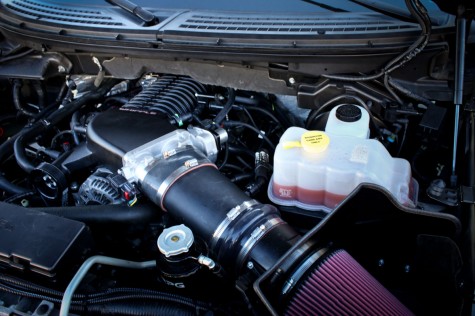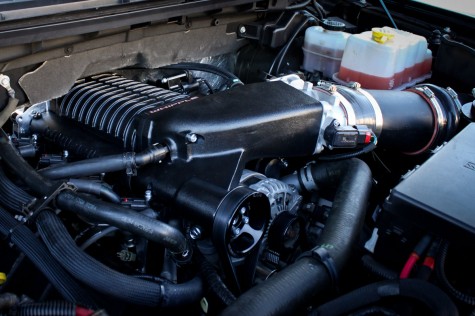 We've had plenty of trucks come through the doors here to get work done, but this was the first Raptor, and a heavily modified one at that with a full RPG suspension, cat-back exhaust, LED lights, winch, 37's, etc.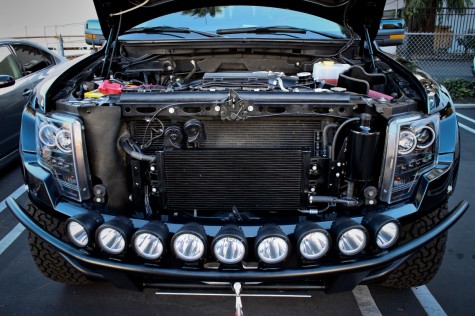 With the latest technology, the all new Whipple supercharger kit creates more power than any other superchargers on the market and is 100% complete and designed for stock engines, but also has enough capability to work with the heaviest of modified engines. With this in mind, we were expecting the Whipple to add about 25% extra horsepower at the wheel to this truck's already impressive resume!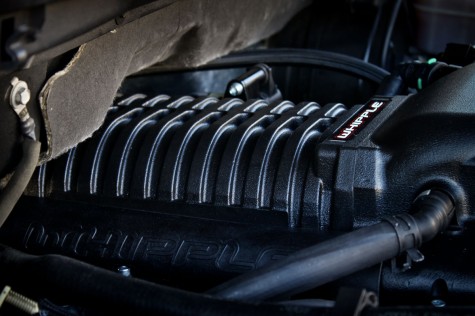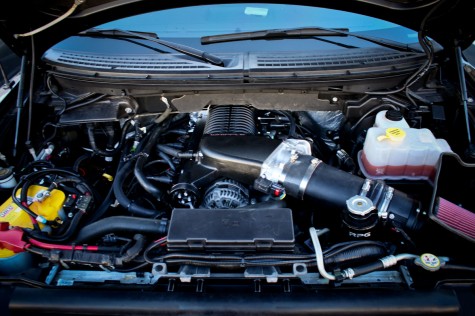 After the Ford Raptor Supercharger Install
On the baseline run on the Dyno the truck pulled 360 h.p. at the wheel. After the install, we mounted it up again and this time the results were drastically different!!! The truck laid down 502 h.p., an almost 40% increase.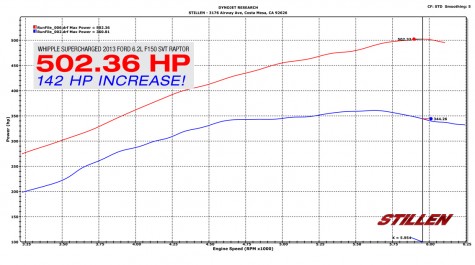 Additionally, our customer saw an increase from 386 to 485 in FT Lbs. of Torque, a 25% increase!!!!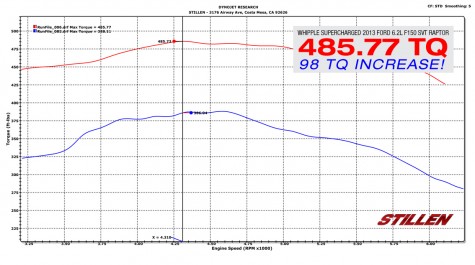 To say our customer was happy after the Ford Raptor supercharger install would be an understatement…..he was over the moon!!! He knew in an instant he had made the right choice on not only the Supercharger, but also on the highly skilled team of technicians at STILLEN to get it installed correctly!! Click on the video below to see second Dyno pull and check out the results.
Whipple Superchargers Installed By STILLEN
STILLEN continues to be the only recognized and warranty certified installer in the Southern California area for all Whipple Supercharger installations. When you have your supercharger kit installed by the STILLEN Performance Shop you can be rest assured that your vehicle will be eligible for coverage under the Whipple Supercharger 3-year/36,000 mile, 5-year/60,000 mile or even the 5-year/100,000 mile warranty options!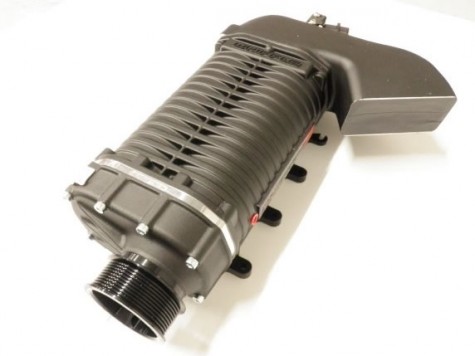 Whipple Superchargers are designed and manufactured in the US and utilize their innovative Twin Screw Compressor technology and only require oil replacement every 100,000 miles. We have Whipple Supercharger kits available and ready to install on your American Car, Truck, or SUV! Call the STILLEN Performance Shop today at (866) 250-5542 to schedule an appointment.