May 29, 2013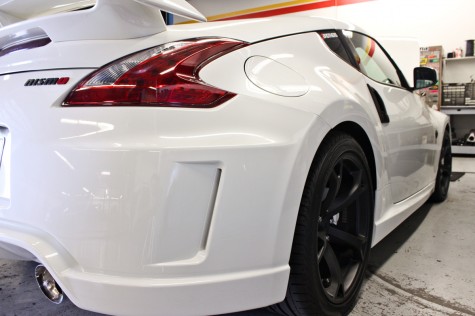 I think it's safe to say that most of you don't get tired of seeing superchargers, especially when they go into a Nissan 370Z Nismo as clean as this one. Already having it's share of mods, including the STILLEN 370Z Gen 3 Intake, the owner decided it was time to supercharge the VQ37.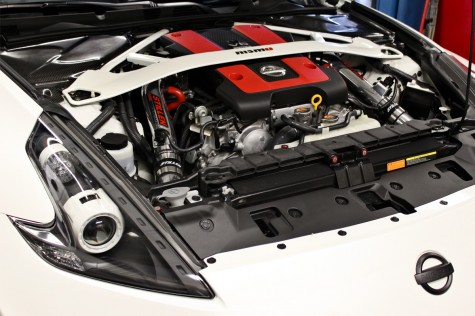 The attention to detail on this white 370Z Nismo is very impressive. White powder coated front strut bar, flat black headlight housing with white projector rings, red carbon fiber interior accents, flat black wheels and white brake calipers are only a few of the custom touches that make this Z stand out.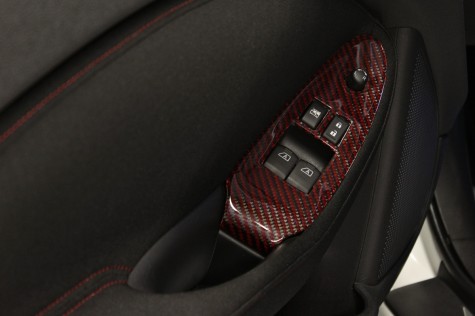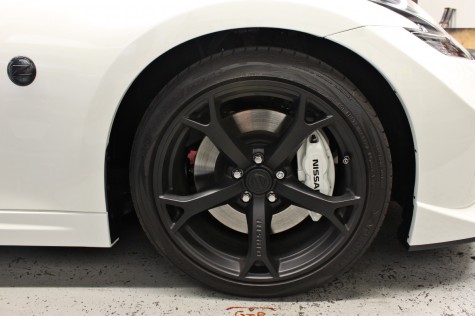 The STILLEN 370Z Supercharger is a 50 State legal, bolt-on install that uses the Vortech V3 self-lubricating supercharger system. This force induction kit has shown a dyno proven increase to over 500 horsepower!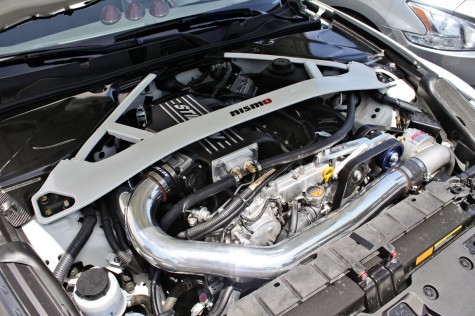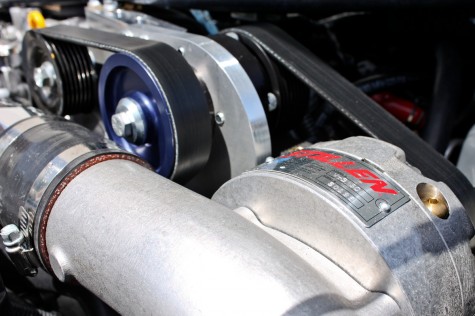 The 370z Supercharger was designed with OEM fitment in mind and clears the stock strut tower brace without any modification.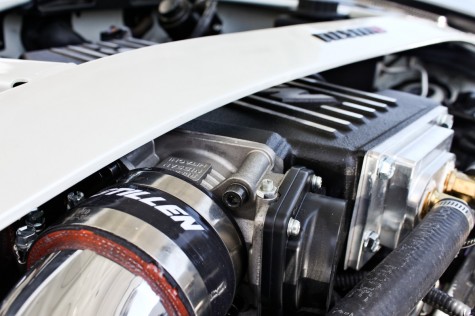 This Z looks happy to be supercharged.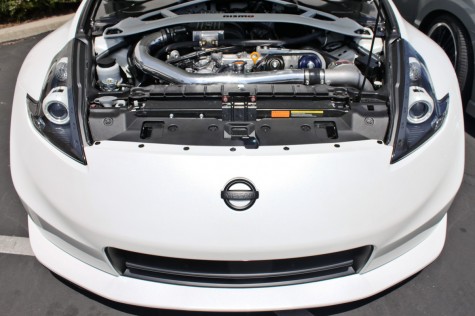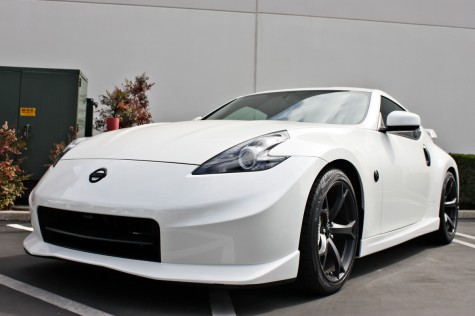 For more information on the STILLEN 370Z Supercharger and other products for the entire Z family, visit http://www.stillen.com/ or call (866) 250-5542.
May 23, 2013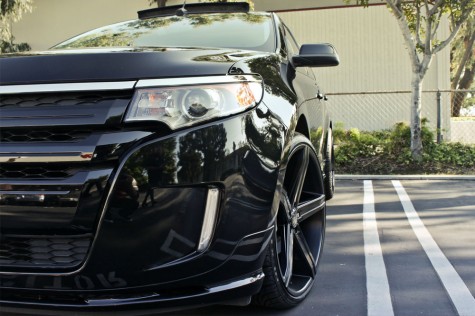 It's not everyday a 2011 Ford Edge shows up in our shop, so we were excited when this black one, with monster 24″ wheels, came in wanting to reduce some of the wheel gap. The customer wanted to change the look without sacrificing the ride quality, so he opted for some H&R Sport Springs for his Ford Edge Sport.
The 2011 Ford Edge H&R Sport Springs (Part #HR51605) are roughly a 1.75″ drop in the front and 1.5″ drop in the rear. In addition to reducing the wheel well gap, the Ford Edge H&R Sport Springs lower the center of gravity while reducing body roll for better handling. The Sport Springs have a progressive spring rate design which provides excellent ride quality and comfort.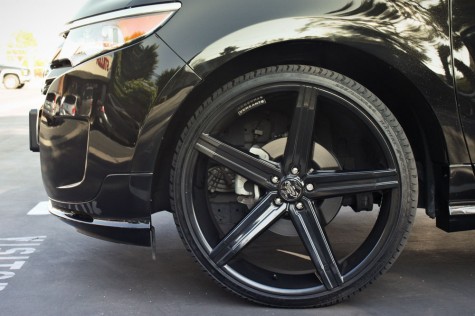 The Ford Edge has some fairly large wheel wells, so even with the 24s there is plenty of room for the suspension to travel without rubbing.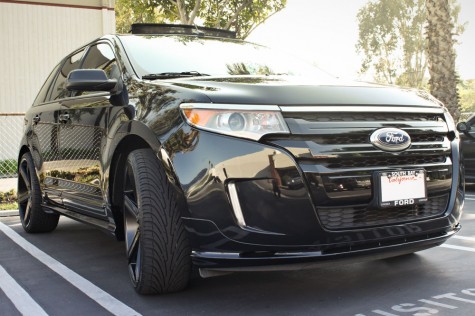 For more information on H&R Suspension products or other suspension options for your vehicle, please call (866) 250-5542.
May 20, 2013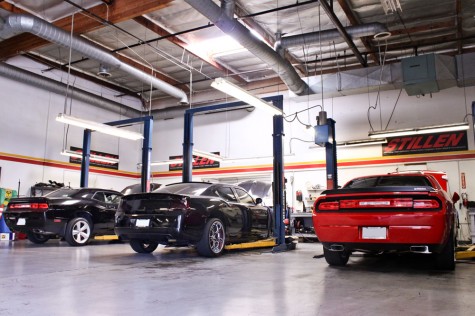 Your heart definitely starts to race when you see this Dodge lineup in the shop all getting supercharger work done. What's even better are the options these American muscle cars have available for aftermarket performance parts, especially when it comes to horsepower.
We here at STILLEN get pigeon-holed sometimes thinking we are just a 'Nissan Shop' or that we just push products around, but don't do service work at our facility.  Both aren't true, as you see these 3 MOPAR beauties getting some STILLEN treatment in our 5-bay service shop.  And in the best kind of way.. forced induction!
We have done numerous mods on this Vortech supercharged Dodge Charger SRT8 over the years. It is back now getting some custom internal engine parts installed.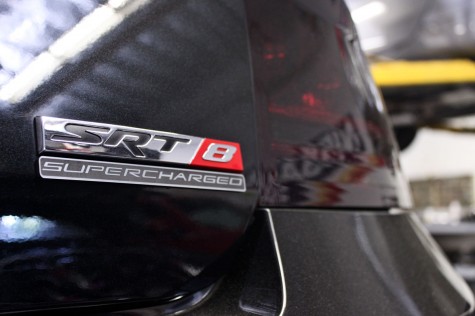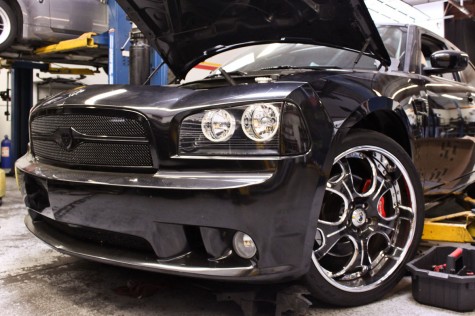 This beautiful red, 2009 Dodge Challenger SRT8 was already packing some power under the hood when it came in stock, but the owner wanted it's true potential to come out and opted for a Magnuson Supercharger to drop on to the 6.1 Liter Hemi.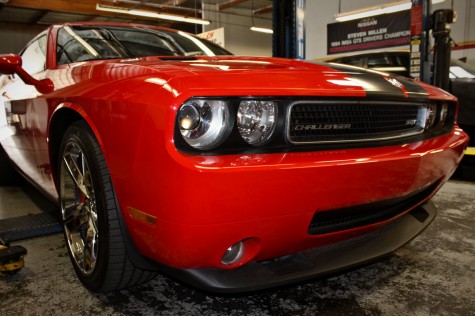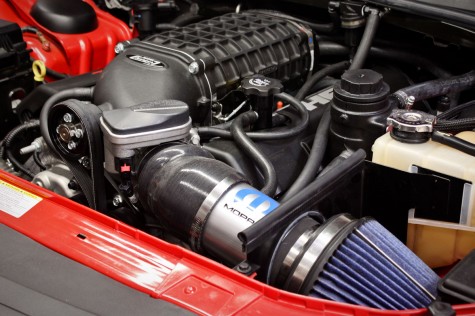 Magnuson Supercharger installed on the 6.1L Hemi
This black 2010 Dodge Challenger SRT8 decided to go a different route and will be getting a Vortech Supercharger.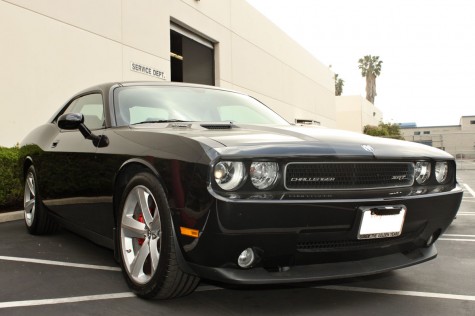 Along with the Vortech Supercharger a Centerforce Clutch was added to get smoother engagement and high-end holding capacity.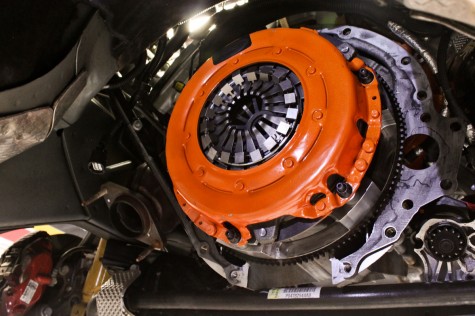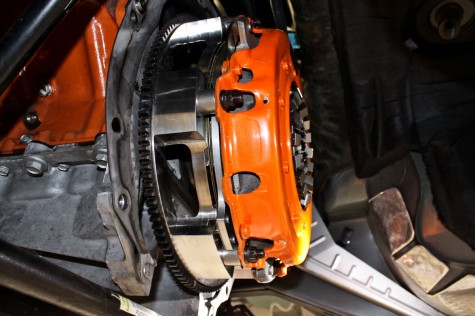 Be on the lookout for some heavy Mopar horsepower to be hitting the streets soon!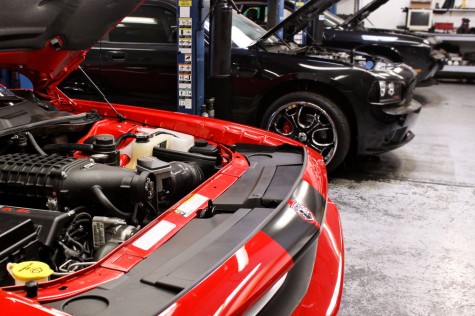 For more info on Mopar performance products we carry here at STILLEN, please give our American Muscle department a call at (888) 366-0686
May 10, 2013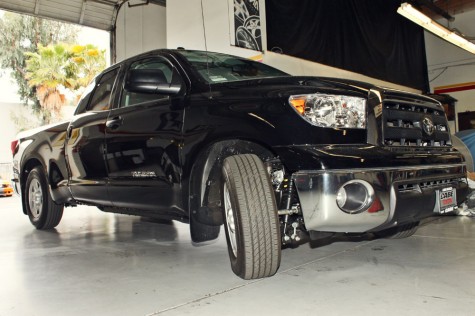 A brand new 2013 Toyota Tundra Double Cab came into the shop for a McGaughys Lowering Kit install. This mild 2/4 kit is a 2" drop spindle up front and 4" flip kit in the rear along with McGaughys rear shocks. It is a bolt on kit that is CNC machined, made in the USA and designed to work with the factory suspension components without any major modifications to the truck.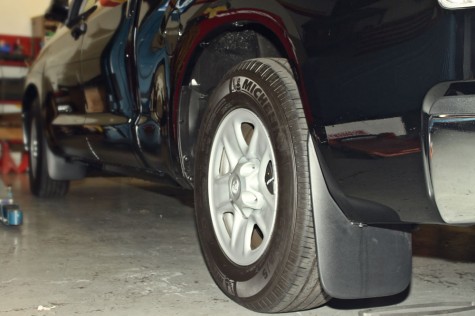 After lowering any car or truck, it is key to get it aligned to take full advantage of the new suspension and to avoid irregular tire wear. Our 4-wheel computer alignment got the 2013 Tundra back into spec.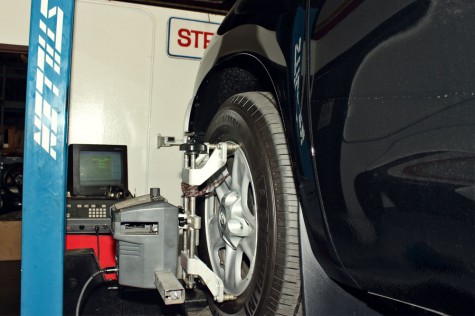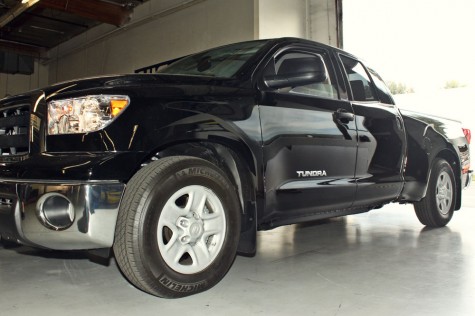 With just a simple drop this 2013 Toyota Tundra now has a nice lower stance with improved handling. Can't wait to see what the owner has in store next for this great truck.
Call (866) 250-5537 today for more information on McGaughys products for your truck or SUV.
May 3, 2013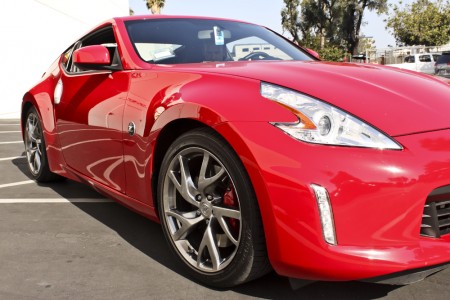 A customer brought in his brand new, bright red 2013 Nissan 370Z with Sport Package recently to add a few finishing touches to his ride. It arrived already equipped with our STILLEN 370Z Stainless Steel Exhaust System installed by the dealer, but needed one more piece for maximum air flow; the STILLEN Generation 3 Ultra Long Tube Dual Intake Kit.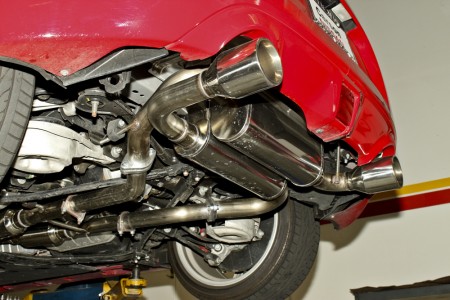 This STILLEN 370Z Cat-back Exhaust and Gen 3 Intake combination is a bolt-on upgrade that has shown to put an additional 35 horsepower to the wheels!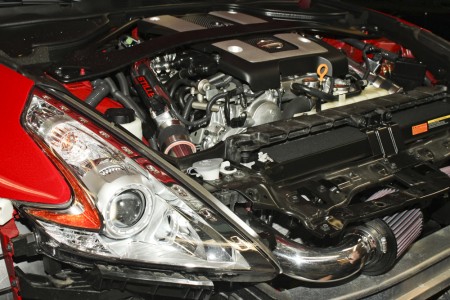 The new 2013 370Z design is similar to previous years, with a few minor upgrades. A stand out is the LED lights on both corners of the front fascia, but more notably the Sport Edition comes with a new set of 19″ Ray's Wheels. This new twisted design, like previous Ray's versions, are forged, lightweight, and look great.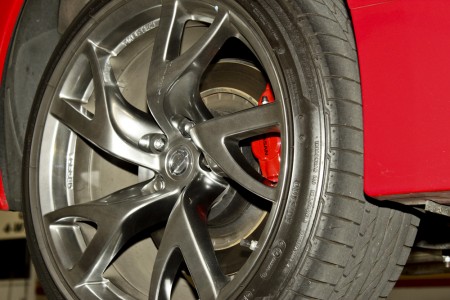 The Sport Package 370Z also comes equipped with Nissan's Performance Brake system. But to push these brakes to the next level, Goodridge Stainless Steel Brake Lines and AP Racing Brake Fluid were installed. Upgrading to a high performance brake fluid and stainless steel brake line increases pedal feel and response while reducing volumetric expansion, or "mushy brakes" caused by stock rubber brake lines. If you are interested in upgrading your brake system, call (866) 250-5542 today to find out what high performance brake fluid and brake lines will best fit your car and driving style.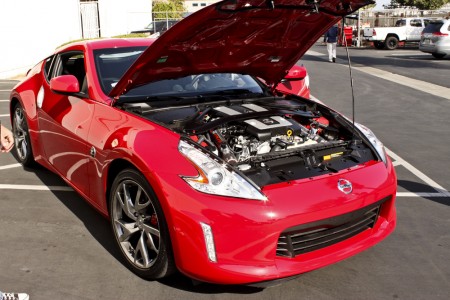 To view these and other products for the Nissan 370Z, visit the STILLEN website here: http://www.stillen.com/vehicles/nissan-370z/