October 25, 2011
Today was the first  day of actual racing.  It was a great day and Jen and Steve did a fantastic job.  Their still getting to know each other's styles and figure out what the other one wants to say as well as hear.  It always takes a bit of time to develop that relationship between driver and co-driver.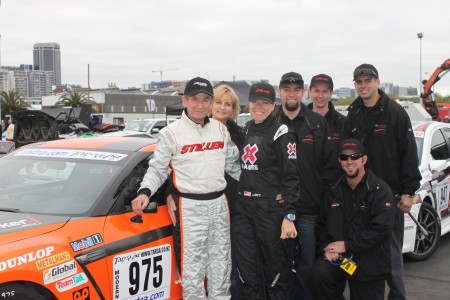 (Team STILLEN – Steve Millen, Jodi Millen, Jen Horsey, Kyle Millen, Conrad Healy, Joe Nagy, Mark Ungles)
The car is running well.  We're ending the night in Whangarei ("wonG uh ray" or "phonG uh ray" if you say it the Maori way).  We're very excited to be on new roads this year.  It really helps level the playing field.  When the organizers put these events on they have to get the approval from every single person who lives on the roads we're going to be racing on.  It takes about five months and they see around 9,000 people.  It's truly impressive and even more impressive that they were able to branch out to new parts of the country!  Peter Martin and the crew at Targa New Zealand have worked hard to put on the best possible event!
Conrad and I did quite a lot of traveling today and got to see three stages!  Got some great action shots as well as a few "uh oh" moments from some of the competitors.  Steve has been up and down in the standings all day.  The first couple of stages were a bit rocky but later in the day they started making some great times and even beating some of the front runners like Tony Quinn.  It's still very early in the race though.
Wish us luck and follow along as the rally continues!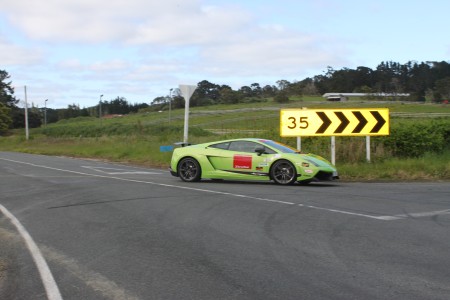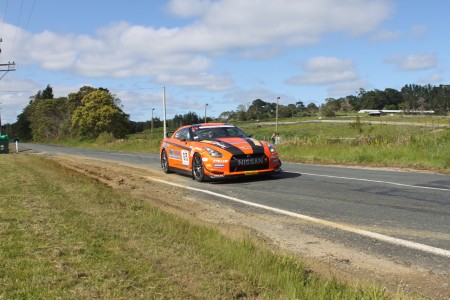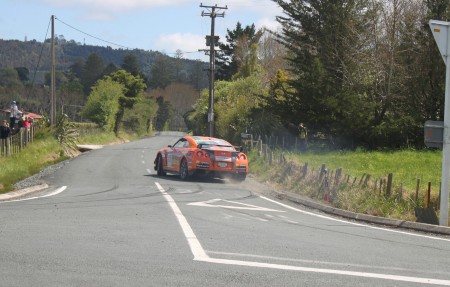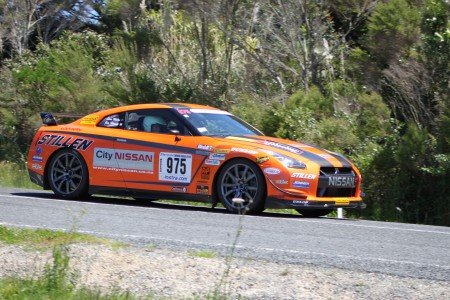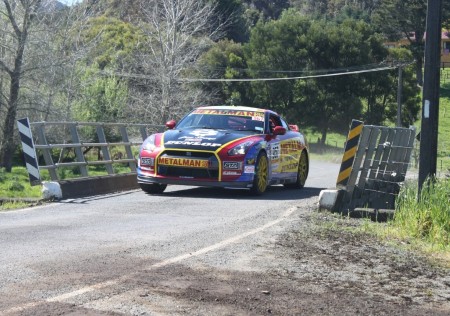 All 2011 Targa New Zealand Coverage
================================================
October 24, 2011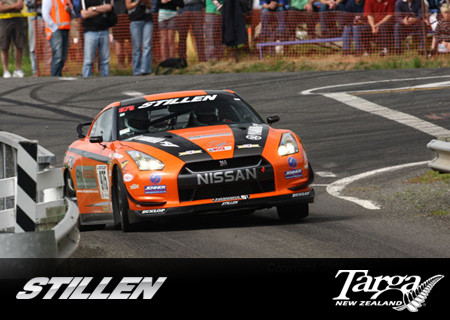 Well, we're back in New Zealand for the Targa Rally.  Today was the first official day of the event and it started with scrutineering in the viaduct in Auckland Harbor.  Last night was pretty exciting as the All Blacks (New Zealand rugby team) won the world cup!  Today was a bit busy in Auckland as they shut down the main streets and had a ticker tape parade for the team.  GO ALL BLACKS!!!!!
Once we got down to the scrutineering location we let Steve and Jen (more on Jen later in this post) do their thing with the organizers of the event.  Mark and Joe (you know them from years past) have to follow up with their crew meeting.  Conrad and I cruised through the park ferme (parking area) to check out some of the competitors cars.  The BS has already started as some of the other GT-R teams are telling us they aren't running as much power as we know they are….That's OK…we're not going to tell them everything we've done either!!! Read more
September 7, 2011
For over 25 years STILLEN has been recognized as a leader in Nissan/Infiniti tuning. With a history of setting "first time" milestones in the aftermarket for these great vehicles, STILLEN has established themselves as the company to follow when it comes to Nissan and Infiniti product development. STILLEN was the first company to develop the HICAS eliminator system for the 300ZX Z32 platform. When the Z33 350Z was introduced, STILLEN was once again the leader with the first forced induction solution, as well as the first to offer CARB legality, and AGAIN the first with a 3-year/36,000 mile engine warranty.
Well, STILLEN has done it again as Team STILLEN is proud to announce the CARB approval of the Nissan 370Z (Z34) G37 Supercharger Kit.

STILLEN has not only been the first company to achieve CARB legality of a forced induction solution on the VQ37, we have also been the first company to achieve such an accomplishment while tuning through Nissan's sophisticated ECU with larger injectors. This is a major accomplishment for Team STILLEN and one that will join the many other first time landmarks STILLEN has achieved in the Nissan/Infiniti tuning world.

CARB (California Air Resources Board) is the division of the California state government that controls all aspects of air quality and standards. With standards getting stricter it is getting more and more difficult to achieve CARB legality. CARB is recognized as the toughest emissions control in the country and is therefore recognized in all 50 states as an emissions standard for all performance parts. If a performance part achieves CARB legality, it is recognized as 50-state legal.

The power the STILLEN Supercharger system delivers is dramatic, taking the factory 3.7L V6 from 332hp to over 500hp! The system is designed to work with both automatic and 6-speed vehicles, including convertible and AWD models.

The STILLEN VQ37 Supercharger features a new cast aluminum intake manifold engineered specifically for this kit, complete air-to-water intercooler system, and boost is derived from a Vortech V-3 Supercharger unit. The V-3 features a quiet V-belt design, and a self-contained oiling system for easy maintenance.

In the past year STILLEN has shipped supercharger systems around the world. Fantastic reviews and reports are coming in from:
Australia
New Zealand
Singapore
Russia
Thailand
Korea
Canada
Switzerland
Taiwan
France
Unite Arab Emirates
China
Hong Kong
United Kingdom
Not to mention all of the kits that have been installed with great success across the United States at Nissan/Infiniti dealerships and performance shops. This is a bolt-on system, capable of being installed by any qualified ASE-certified automotive performance shop, or at hundreds of Nissan and Infiniti dealerships across the country, or right here at STILLEN at our in-house install facility.
Once again, STILLEN has successfully accomplished all of its goals with another great forced induction solution for the Nissan/Infiniti vehicles.
STILLEN 3.7L Supercharger System Features Include:
Vortech V-3 Centrifugal Supercharger Unit
STILLEN purpose designed cast aluminum intake manifold with long runners for increased torque
Installs under the stock hood – No modifications needed
Complete system includes pre-assembled Vortech V-3 supercharger assembly, air intake with polished air charge pipe and genuine K&N intake filters, fuel injectors, air-to-water intercooler, UpRev ECU Tuning cable/software and detailed installation instructions.
Made in the USA
50-State Emissions Legal (E.O. Number D-436-17)
httpvh://www.youtube.com/watch?v=RRpUC72wV8M
About STILLEN
STILLEN, located in Costa Mesa, CA, is a premier manufacturer and distributor of a select line of high performance products for late model import and domestic vehicles — developed by enthusiasts for enthusiasts. Founded in 1986 by renowned professional driver and race car builder, Steve Millen, STILLEN incorporates cutting edge race proven technology and advanced aerodynamic designs into the company's proprietary performance and appearance product lines. Millen is known worldwide for achieving the greatest number of wins in IMSA GT history during the course of an impressive racing career that spans 30 years and numerous wins in series around the globe – from Le Mans to the 24 Hours of Daytona. Still family owned and operated, STILLEN branded products include exhaust systems and components, superchargers, fuel systems and components, brake kits and components, and urethane body styling products. The company's race heritage and continued participation in motorsports has added special focus on motorsports proven R&D, manufacturing processes and materials, and expert, enthusiast-based customer support, distinguishing STILLEN in the field of performance manufacturers. In addition, STILLEN is an online reseller of many high performance products for late model cars and trucks, import and domestic, and creator of unique, one-of-a-kind performance project vehicles.
August 10, 2011
Continuing in the development of body kit components for the new Camaro, STILLEN is proud to announce the availability of our newly designed Polyurethane Lip Spoiler!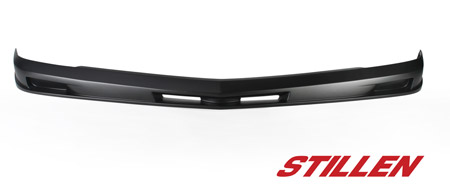 The STILLEN Camaro SS Lip Spoiler adds aggressive styling while keeping the flow and design of the new body style.  Set your Camaro apart from the rest with this bolt-on lip!
Urethane has significant benefits over fiberglass, most notably with the subtle flexibility like the OEM body, versus the rigidity found with fiberglass.
As with all STILLEN urethane body components, this lip was designed and developed at our in-house studio in Southern California. STILLEN body components come ready to prep and paint, and also include installation instructions Read more
June 27, 2011
Meet Paul and Robyn Mullen of Australia, who are taking a neat trip on the historic Route 66 from California to Chicago.  The Mullen's are recently married, and taking their honeymoon on the road, after purchasing the Ford Mustang we built and hitting the pavement hard on a multi-state US trip!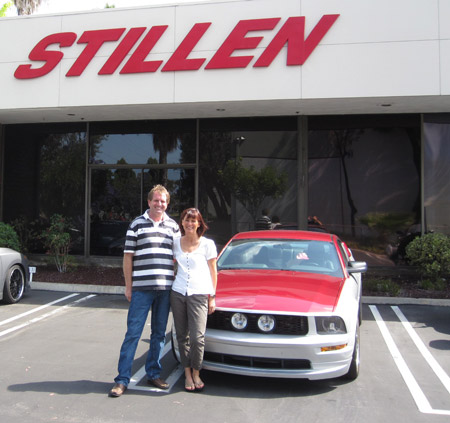 Paul Mullen and Steve Millen have known each other for years and years, with Paul heading up Black Magic Media, a television production company which has handled coverage on numerous New Zealand Targa Rallies Steve has raced in.  Read more