June 1, 2011
We gave you the heads up earlier this month that we were in development of the STILLEN Protective Skid Plate for the new 2012 DBA-R35 GT-R's, and we're proud to announce that these have been completed and are now shipping!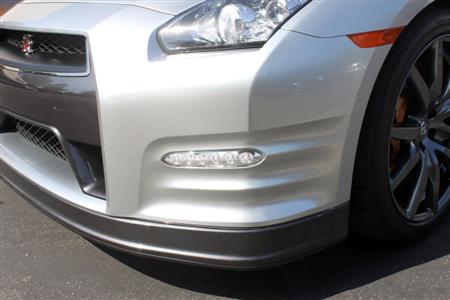 Here's the product text from the STILLEN website:
It's every GT-R owners worst nightmare, scraping the front bumper on anything from driveways, dips, speedbumps, and pulling into that parking spot with the raised curb and making contact.

.

STILLEN has developed a urethane Skid Plate which protects the OEM fascia and paint from scrapes and light bumps. This piece is specifically molded to the GT-R's front bumper, and installs with 3M automotive acrylic foam tape and self-tapping screws to the underside. Durable urethane construction ensures no cracking, and doesn't require painting, although can be color matched if desired.

.

As with all STILLEN urethane body components, these are proudly designed and made in the USA at our Costa Mesa, California facility.
February 28, 2011
STILLEN is proud to welcome another Infiniti Dealership into the family of dealers selling and installing STILLEN products. Infiniti Marin, located in the San Francisco Bay Area (San Rafael, CA), has a long-standing reputation for treating customers well, and providing quality sales and service of Infiniti vehicles.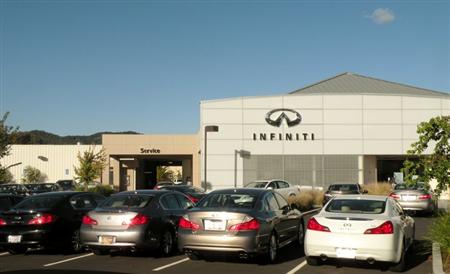 They have now expanded their offerings to include STILLEN performance products, joining the ranks of hundreds of dealerships across the country that recognize the quality and reliability of STILLEN-branded upgrades.

Infiniti Marin has a state-of-the-art installation and repair facility, and also provides expert painting and installation of STILLEN body components through their certified body shop. Take comfort in having your STILLEN performance products or body components installed by quality factory-trained technicians and a dealership comfortable with aftermarket upgrades.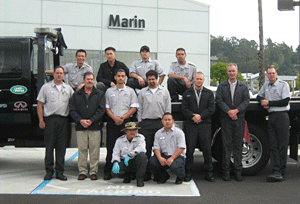 You can give their parts and service professionals a call at 800-314-1594 or drop by to visit their showroom and see some STILLEN products in person. Don't forget they also service and upgrade Nissan's as well!
January 7, 2011
One of the most common questions and fears we get from customers or potential customers is a valid one: "Will adding aftermarket parts void my warranty?"
It's a scary premise, and unfortunately one some uneducated dealerships seem to drill into their customers, that using non-OEM parts or upgrades will void the factory warranty, and leave you the new car owner to fend for yourself, without support from the vehicle maker.

Thankfully this isn't the case, and there is legislation in place to protect you, the consumer, from these types of situations.  The Magnusson-Moss Warranty Act was passed way back in 1975 to combat this exact subject, and ensure that you have the freedom to choose aftermarket parts and upgrades without having your warranty stripped or voided.
Dealerships and car companies are required to prove that any modification of the vehicle with aftermarket parts is the cause of the failure.   Read more
December 17, 2010
Keeping an eye to the future includes everything from new vehicles, new products, and even new enthusiasts.  This past Wednesday, December 15th, Steve Millen and the STILLEN crew delivered a modified Nissan Altima to the Coastline ROP Automotive Technology class at Laguna Hills High School.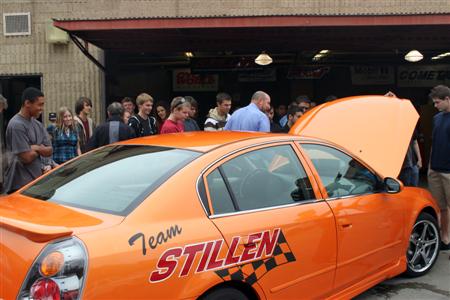 This car was one of the main display vehicles for Nissan when they released the new model Altima, and was also an R&D project and show car for STILLEN for many years.  The car has been outfitted with a long list of performance modifications, suspension improvements, brake upgrades, aesthetic enhancements by way of a body kit and custom interior.  The car is even sporting a 3 part paint job featuring Lamborghini Orange. Read more
December 11, 2010
STILLEN has added another application to the popular Front License Plate Bracket kits available for most Nissan and Infiniti vehicles with the inclusion of the new 2011 Nissan Juke!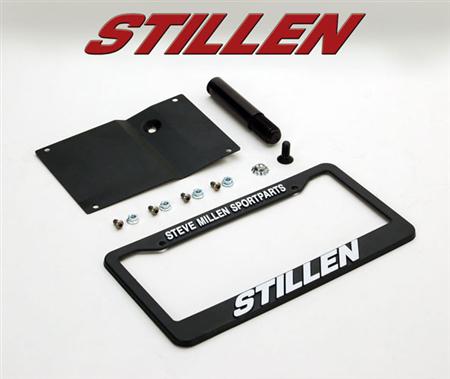 For all of you who don't want to have to drill the factory plastic license plate brackets into your bumper, damaging it and leaving you without options if you don't want to run a front license plate, this kit is for you.  This kit uses the factory tow hook on the front of the vehicle, which is accessible by a small removable panel in the fascia, and makes it easy to add or remove whenever necessary. Read more
November 19, 2010
News Release
For Immediate Release
 
STILLEN OFFERS RUGGED AP RACING BRAKE UPGRADE
FOR 2000-2010 GM 2500/3500 TRUCKS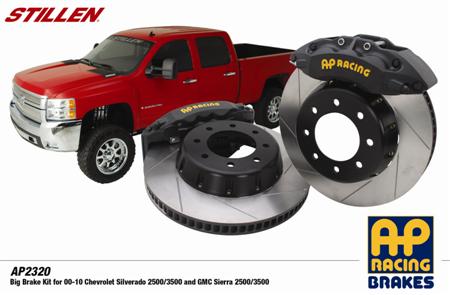 Costa Mesa, Calif.– STILLEN announces the availability of a new front and rear big brake system for the 2000-2010 Chevrolet Silverado 2500/3500 and GMC Sierra 2500/3500 (including Dual Rear Wheel models). This rugged, state-of-the-art brake upgrade is based on AP Racing brake technology, the number one choice for a wide range of professional race teams that compete at the highest levels (i.e. NASCAR, FORMULA 1).
 
Available from the STILLEN brake product division, these GM Truck brake upgrades Read more
November 11, 2010
Every year towards the end of October, teams from around the world gather together in Auckland, New Zealand to start the 5 day Dunlop Targa Rally.  The Targa Rally is a grueling test of man and machine that takes place over closed country roads that would normally be open to the public.  The roads get closed down for just a few hours, just long enough to funnel 100+ "rally" cars through.  Competitors arrive in all types of vehicles, from a Ferrari F430 World Challenge race car, a Maserati and a few Porsche GT3 super cars to WRC-prepared Subaru and Mitsubishi rally cars, and even the older classic cars come out in force, like the old Mark 1 Escort's and even a Datsun 240Z with a supercharged LS2 engine and sequential gearbox.  2010 however was the year of Godzilla.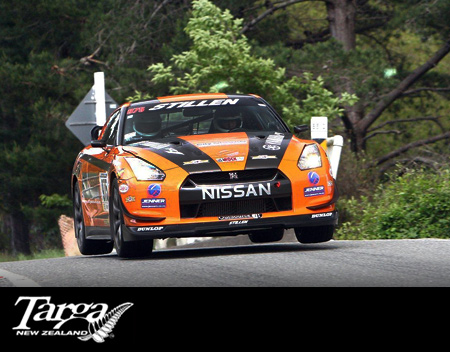 In the 2010 running of the New Zealand Dunlop Targa Rally there were four Nissan R35 GT-R's competing in the actual race, and one GT-R competing in the Targa "Tour", an event which takes place on the same closed roads and along the exact same route as the actual rally, the only difference being the Tour drivers are limited to a much lower top speed and do not compete for any sort of winner's prize.  The four GT-R's this year were piloted by some of the most experienced Targa Rally competitors, including Tony Quinn.  Tony has won 3 Targa's now and competes in Australia and New Zealand with his GT-R in numerous different Targa's each year.  Steve Millen took the STILLEN-prepared GT-R to the event Read more
October 29, 2010
Racing Day 5 Wrap Up!
I am in my hotel room writing this before Steve and Phillip get into the wharf for the final destination.  They have both done an amazing job and the entire team is very proud of the effort and hard work put in by all!  Steve pulled out some pretty miraculous skills this week and showed that he hasn't lost his edge.  Steve competes in very few of these rallies and really doesn't get much time to get back into the racing lifestyle anymore, so it took a day or two for him to feel fully comfortable with the car, but I'll tell you once he was in the zone he was a machine!  The in-car video footage and the photos tell the story better than I ever could!
 
The car has performed flawlessly all week and Mark and Joe have done a great job maintaining the car and making sure Steve and Phillip have exactly what they needed all week.  Jodi and Vivian (Phillip's wife) have been great team moms and looked after the service crew and the drivers better than anyone could have asked for.  We are all very happy to come home with the drivers and car all together in one piece and with a very Read more
October 29, 2010
Wellington is a lot like it normally is…Cold…Windy…and a high probability of rain!  Not a huge surprise yet very welcomed!  We are holding strong in third place and Steve drove hard today and won a couple stages chipping away time at Quinn and Inkster.  Inkster fought hard and also had a great showing and we are expecting tomorrow to bring an awesome battle!  All three vehicles are running strong and working hard!
Last night I was walking through the parking lot and noticed a car on a trailer covered by a tarp Read more
October 28, 2010
We have made it to New Plymouth and I am writing this update from a Beaurepairs Service Center.  Tonight we went through the car for a mid-week check up, went through the oil change, checked brake wear, tires, etc.  Also the guys are having to fix the front lip after a local at one of the lunch stops guided Steve straight into the curb when he was trying to get into the parking area for lunch.  They had stacked up some blocks of wood to get over the curb and with three guys watching they guided him straight into the curb and pushed the front lip back!  Mark and Joe have had a pretty easy week though compared to Newfoundland so I guess it's good to keep them up for a night.  All is good on the car and the teams spirits are high. 
We came to the service center to rotate the tires on the rims.  Today was another hot day and we saw some pretty serious tire wear occurring and we want to stay ahead of it as tire consumption is a big part of the strategy on the Targa rallies. Read more